8 things to see and do in and around Doha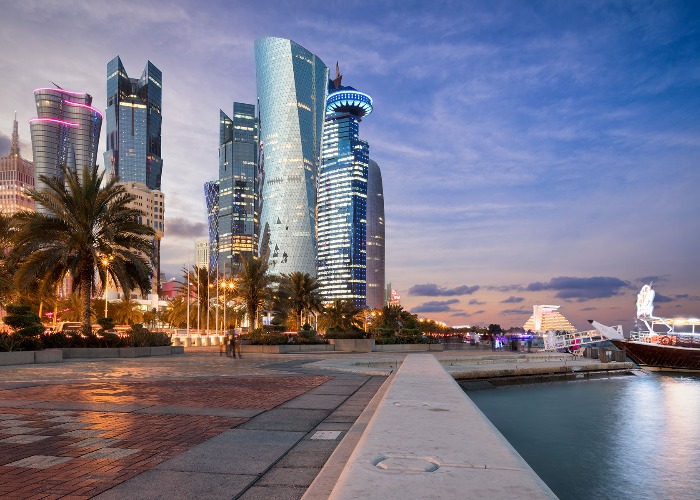 Doha has plenty more to entice holidaymakers aside from football. From museums to art, we highlight some of the Qatari capital's impressive cultural draws.
Doha, Qatar's ultra-modern capital, has come a long way in a relatively short space of time. From a traditional pearling and fishing village, it now sports a glitzy skyline, beautiful hotels, luxury shopping and a backdrop of the incredible desert, and has drawn comparisons with Dubai, the jewel in the UAE's crown.
Qatar is set to welcome football fans as the host country of the FIFA World Cup 2022, with eight stadiums located in and around Doha. But what exactly does the Qatari capital have to offer aside from football? Here we highlight some of the many things to see and do in Doha.
1. Learn about Qatar's history at the National Museum of Qatar
A visit to Doha wouldn't be complete without a trip to the National Museum of Qatar. Before you even step foot inside, you won't be able to miss the building's amazing architecture, designed by Pritzker prize-winning architect Jean Nouvel. Impressive and surreal in equal measure, the building's crystal-like formations were inspired by the desert rose – a natural cluster formed out of sand grains that's found in sandy deserts such as Qatar's.
Spanning a huge 430,500 square feet (39,994 sqm), the museum celebrates Qatar's heritage and future, and houses 11 galleries. This is not your standard museum – it's a multi-sensory experience, with a series of interactive and dynamic displays, including oral histories, archival images and even aromas evoking particular times and places.
Our top tip, if visiting before 14 January 2023, is to get immersed in Your Brain to Me, My Brain to You. This rather brilliant installation by Swiss artist Pipilotti Rist comprises 12,000 LED lights strung on cables throughout the gallery. While visitors are encouraged to take a break from tech to fully immerse themselves in the experience, we can't deny that it also offers amazing photo opportunities for the 'gram!
People interested in sport and Qatar's role as host country of the FIFA World Cup should visit the 3-2-1 Qatar Olympics and Sports Museum. Packed with interactive exhibits and inspiring artefacts, such as Muhammad Ali's boxing gloves from his title fight in 1964 against Sonny Liston, as well as activity areas (great fun for big and little kids), it delves into both the value and positive impact of sport in Qatar and other nations.
Make sure you head to the fourth floor for a healthy and delicious lunch in stunning surroundings at Michelin-star chef Tom Aikens' Naua restaurant.
National Museum of Qatar, Qatar Tourism
2. Eat traditional Qatari cuisine
There's plenty of traditional cuisine to enjoy in Doha. A must-try is national dish Machboos – a delicious slow-cooked meal consisting of rice, meat, spices and vegetables, typically made with lamb or chicken. Dates and seafood are other tasty Qatari delicacies.
If you're looking for a modern-day twist on tradition, then Saasna in Msheireb downtown Doha offers traditional Qatari cuisine blended with modernity. And, to experience true Qatari culture, head to one of the restaurants in and around Doha that offer a traditional 'majlis' informal dining experience. Translated to 'a place of sitting', this relaxed dining experience with low-level seating on cushions will ensure you dine like the locals do.
Chicken Machboos, Saasna
3. Shop like a local at Souq Waqif
The souq remains an important part of everyday life in Qatar, and no visit to Doha should be without a visit to Souq Waqif. Enjoying a central location within Doha, it's a popular spot for both locals and visitors.
Whether you're in the market for souvenirs or Middle Eastern merchandise, such as delicious dates and spices or perfumes and stunning textiles, you'll find it all here. Do not miss Al Hallab Sweets for delicious and dangerously moreish baklava. Then relax and refuel in one of the many tempting cafés and restaurants.
While you're navigating the lanes, keep an eye out for the Pouce art installation by César Baldaccini. Almost impossible to miss, this giant bronze thumb marks a crossroads in Souq Waqif and offers a modern juxtaposition in the traditional marketplace.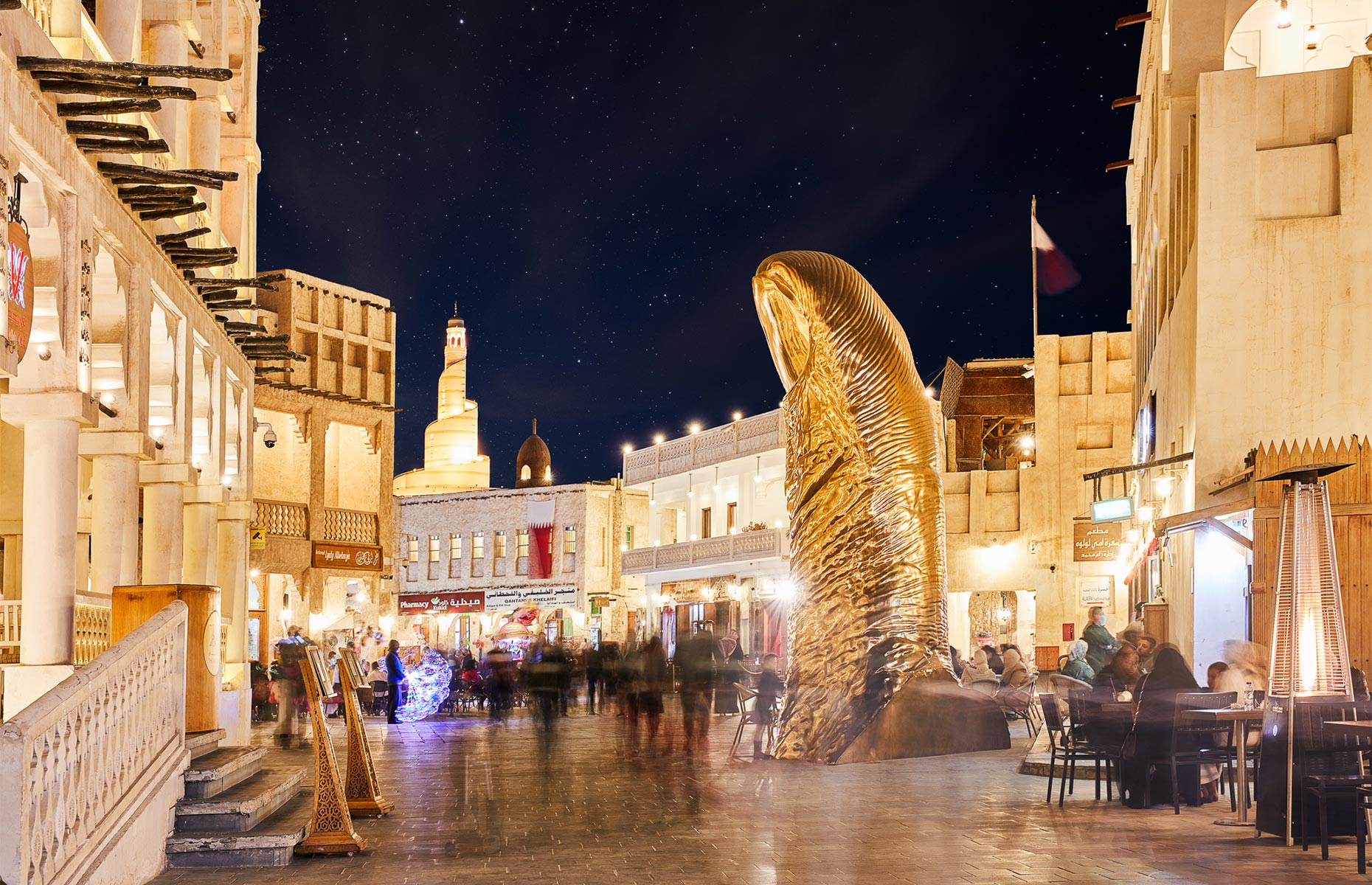 Souq Waqif, Qatar Tourism
4. Head to the desert
Away from the bright lights of downtown Doha, a visit to the desert offers another insight into local culture, and the landscapes are breathtaking. There is an activity for everyone here, whether you're looking to calmly enjoy the sunset or want to get the adrenaline going with high-octane activities, such as dune bashing in a 4x4.
For a memorable desert experience, take a camel ride, or join a traditional Bedouin-style camping trip, topped off with an unforgettable Arabic majlis dinner.
Fancy venturing out for some art? Just north of Doha in the Brouq Nature Reserve in Zekreet is Richard Serra's East-West/West-East installation. Located between limestone rock formations, it comprises four steel plates, which stand in stark contrast to the desert.
East-West/West-East, Qatar Tourism
5. Appreciate beautiful art; it's everywhere
Art surrounds you in Doha and throughout Qatar, with an impressive street art programme ahead of the World Cup. In Doha, the impressive public art installations make exploring the city even more fun, with thought-provoking works by leading international artists in many key areas. A must-see is Jeff Koons' humungous dugong, or sea cow, which can be found at Al Masrah Park in the Corniche.
For traditionalists and culture vultures, take a stroll to the Museum of Islamic Art which is positioned on an island peninsula. Designed by Pritzker Prize-winning architect I.M. Pei, the museum contains four floors of exhibitions, featuring beautiful art, ceramics and textiles, and it's also home to a heritage library, with an impressive collection of 21,000 books, including 2,000 rare editions in Arabic and English.
Offering a more casual, East London arty vibe is the Fire Station Gallery, which was used as a fire station for over 30 years. In 2012, the space was converted and became part of the Qatar Museums' network. Now a contemporary art space, the gallery showcases artists and fosters emerging talent through its artist-in-residence programme.
6. See the sights on a dhow cruise
The best way to see the sights of Doha is to take a traditional dhow boat cruise. There are several companies offering cruises, which range from short jaunts to trips that take in numerous sights – such as the Doha Corniche, West Bay, Pearl Island and Katara Cultural Village – from the sea over several hours.
Love exploring at night? We recommend an evening cruise to not only take advantage of the cooler temperatures, but to take in a magical, twinkly skyline.
A traditional dhow, Fitria Ramli/Shutterstock
7. Visit Katara Cultural Village
For all things art, culture and cuisine, Katara Cultural Village is Doha's go-to destination. Enjoy climate-controlled luxury shopping at 21 High Street, stroll around the giant, present-shaped Children's Mall with your kids and enjoy dining at any time of day in one of the diverse eateries. You can also take in a show at the Katara Amphitheatre, which blends classical Greek theatre with Islamic features.
Nearby is the Katara Masjid (or mosque), one of the most beautiful mosques in Qatar. Designed by globally-recognised Turkish mosque designer Zainab Fadil Oglu, it is beautifully decorated with turquoise and purple mosaics and is just as striking inside. The design was inspired by famous mosques found throughout the Muslim world.
Katara Masjid, Benny Mart/Shutterstock
8. Stay in Al Wakra for a slower pace
If you're after a more low-key beach holiday away from Doha's dazzling lights, then the resort of Al Wakra offers a more traditional Qatari experience. Al Wakra beach is packed with family facilities such as children's playgrounds to keep the little ones busy, while beachside activities, parasols for lounging and a beautiful stretch of beach make the journey from Doha well worth it.
Al Wakra is also home to another great souq, the beachside Souq Waqif Al Wakra, which features traditional winding lanes plus coffee shops and restaurants. If you fancy staying in Al Wakra, the Souq Al Wakra Hotel Qatar by Tivoli offers traditional Qatari traditional features with five-star service, right on the beach. Bliss!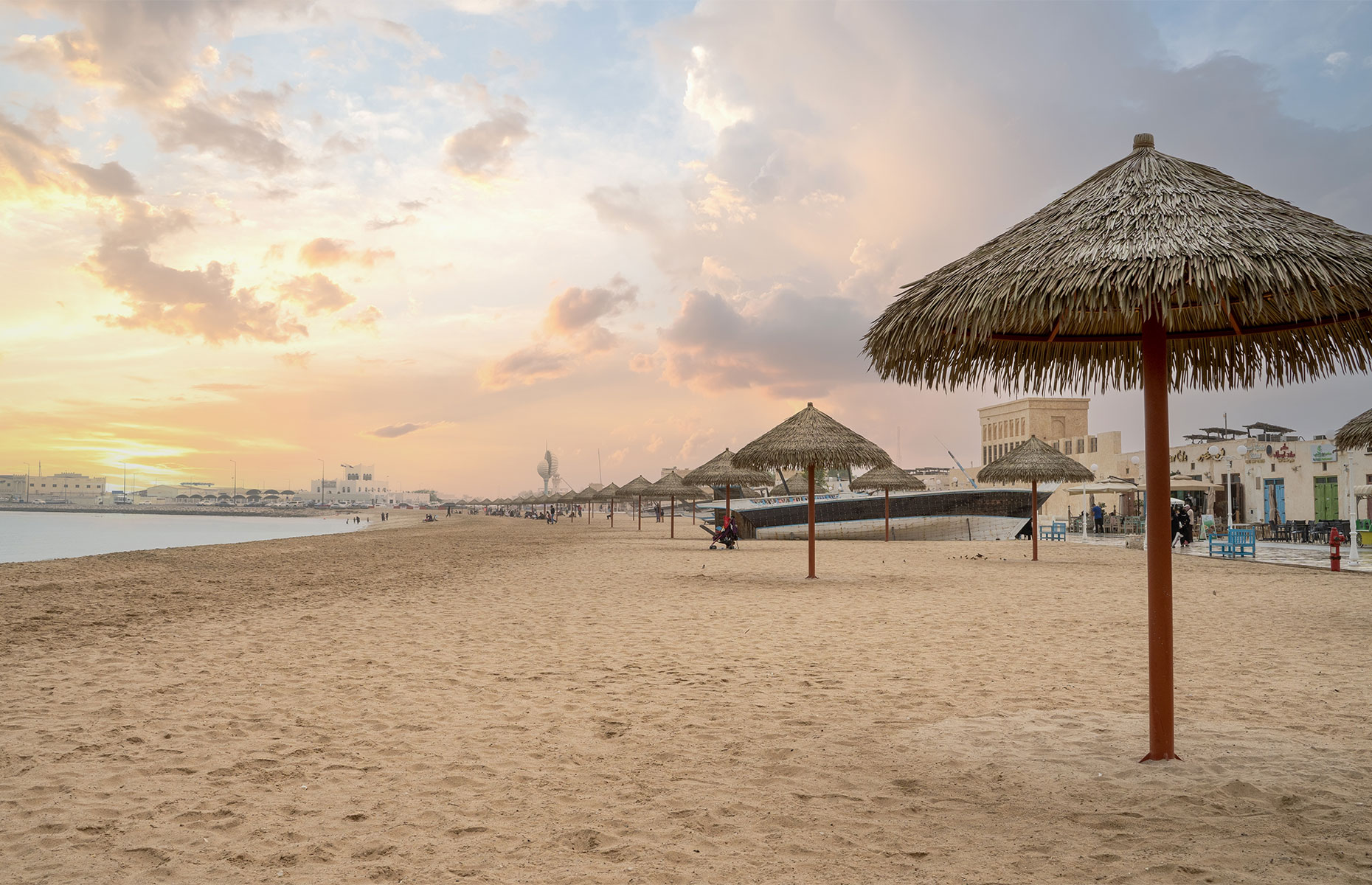 Al Wakra beach, SLSK Photography/Shutterstock
For further information and to plan your visit to Qatar, head to visitqatar.com
Lead image: Sven Hansche/Shutterstock
Be the first to comment
Do you want to comment on this article? You need to be signed in for this feature