5 reasons to visit Alberta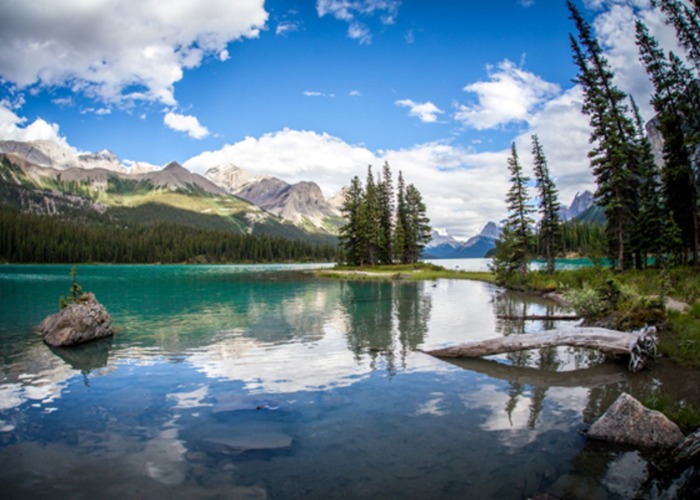 Rich Indigenous culture, spectacular road trips, award-winning local food and endless adventure, all set against the awe-inspiring Canadian Rockies – this is why Alberta should be your next North American trip.
"Take a risk. It's the most Edmonton thing you can do." This slogan is just one of the murals that greets you downtown in the city of Edmonton, a vibrant urban centre and the capital of Alberta. And it's a statement that could easily apply to the Western province as a whole.
The art of risk-taking seems to permeate everything from Alberta's calendar of mountain sports to the independent businesses that make its cities so unique. Yet this propensity for pushing boundaries always goes hand-in-hand with a deep respect for people, places and the planet.
Like the clouds that crown the Rockies, Alberta doesn't stay still for long. Innovation – whether it's channeling or challenging the province's past – means there's always something new to discover, and visiting off-season will reveal secrets that summer vacationers won't see. Here are five reasons why Alberta should go straight to the top of your bucket list.
Sameer Ahmed @sameer.design
1. There are breathtaking national parks
There are five national parks in Alberta: Banff (which became Canada's first national park back in the 1880s), Elk Island, Jasper, Waterton Lakes and Wood Buffalo. Between them, these areas cover 24,324 square miles (63,000sq km) of wilderness, ranging from lush forest and prairie land to otherworldly icefields. With an additional 76 provincial parks to boot, Alberta promises more than even the most intrepid explorer could hope to cover in a lifetime.
If you want to tour the national parks under your own steam, you'll be spoilt for choice. Whether you're looking for an intense workout or you want to slow down, unwind and let the mountain air work its magic, there are plenty of opportunities for hiking, horseriding, kayaking, skiing or cycling in Alberta.
Want the best of both worlds? Embark on an e-bike tour from Johnston Canyon to the town of Banff, a route that will take you on the national park's Legacy Trail – a recreational paved trail built to celebrate Banff's 125th anniversary – via the stunning Vermilion Lakes and Bow Valley Parkway. Allow for regular stops to soak in the scenery and take pictures. You might even need to pull over to let the local wildlife pass!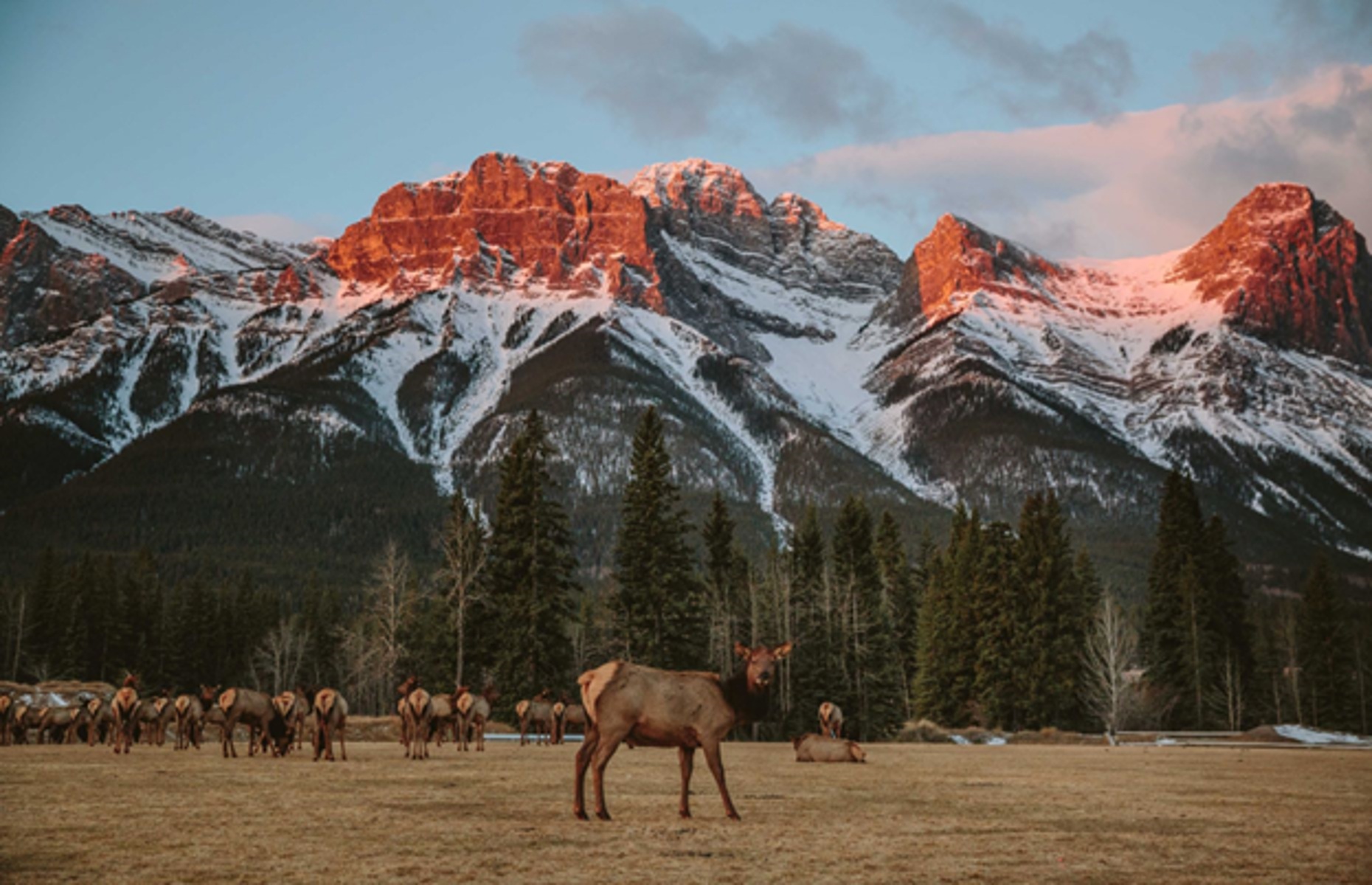 @mikeseehagel
Alberta's national parks aren't hidden off the beaten track. Whether you're craving a city break or want the ultimate rural retreat, the province's prairies and mountains never feel far away, transforming even the most functional journey from A to B into a voyage you'll never forget. The ultimate road trip for petrolheads and nature lovers alike? Highway 93, better known as the Icefields Parkway. This 144-mile (232km) highway connecting the town of Jasper to Lake Louise is surrounded by ancient glaciers, glittering icefields and soaring mountains. No wonder it's consistently rated one of the best drives on the planet.
Floris Siegers/Unsplash
READ MORE: Where Ontario gets its name from and more interesting Canada facts
2. It's a foodie's idea of heaven
Think you know what to expect on the menu? Think again. Alberta might be famous for its beef, but there's plenty to sample beyond steaks in the province, whether you're looking for a quick pit-stop or a sit-down dining experience. Many restaurants have a strong French influence – this is Canada, after all – but rarely do Albertans get hung up on tradition. That means you should expect to be surprised by everything from the presentation to the flavour combinations.
In Edmonton, Biera offers a gourmet sharing menu that's grounded by a selection of local beers from Blind Enthusiasm brewery. The award-winning European-inspired food has been created by chef Christine Sandford to pair beautifully with Blind Enthusiasm's ales, lagers and barrel-aged beers, and there's a brewhouse onsite at the restaurant. You might have travelled thousands of miles to be here, but nothing else has: from the beer to the ingredients in Sandford's dishes, everything is as local as possible as part of Biera's field-to-table policy.
@biera_yeg
Meanwhile in Calgary, Alberta's largest city, food can be the very opposite of a sit-down affair. Alberta Food Finder is an interactive self-guided food tour game that was originally launched during the pandemic, and is now available in neighbourhoods throughout the province. Easily walkable and packed with independent eateries, the small district of Kensington in Calgary is the ideal place to start. All you need is a GPS-enabled device – and your appetite, of course.
READ MORE: These photos will make you fall in love with Canada
3. The museums are one of a kind
If the word 'museum' conjures images of silent exhibition rooms, traditional artworks and 'Do Not Touch' signs, prepare to shake up your expectations. Alberta is home to some of the world's most original museums, housing millions of objects that hum with history. The humming isn't always metaphorical; if you're a music lover, head on down to Studio Bell: Home of the National Music Centre in Calgary, where you'll find exhibits such as Elton John's piano, extraordinary on-stage outfits worn by your favourite acts, and even recording booths where you can test out your skills.
Travel Alberta & Chris Amat
For an experience that comes alive after dark, Edmonton's Neon Sign Museum makes the perfect after-dinner destination. Found on the 4th Street Promenade, this outdoor installation is made up of 21 vintage neon signs, all collected by volunteers and now mounted on the east wall of the city's TELUS building and south wall of the Mercer warehouse. The signs commemorate an Edmonton that's gone but very much not forgotten – and with no admission fee, it's perfect if you're looking for free things to do in Alberta.
Prefer your history supersized? It's not just people that have shaped Alberta's past; its prehistoric residents ranged from dinosaurs to woolly mammoths, and their stories feel more tangible here than almost anywhere else in the world. (The province even has its own local dinosaur genus, the Albertosaurus). At Canada's only museum that's dedicated to the prehistoric era, the Royal Tyrrell Museum in Midland Provincial Park, you'll find one of the largest displays of dinosaur fossils and skeletons on the planet: a reminder that while there's no shortage of new things to do in Alberta, you don't have to scratch far beneath the surface to find the relics of its remarkable history.
READ MORE: Canada's coolest neighbourhoods you have to visit
4. There are world-class beauty spots…
With such an abundance of national parks, it's hardly surprising that Alberta boasts unforgettable scenery. But did you know it's also been rated the most eye-catching in the world? According to a study by luxury travel company Kuoni, which used AI to monitor the eye movements of participants as they looked at pictures of 50 famous natural landmarks, Peyto Lake in Banff is the most striking beauty spot on the planet – beating the Maldives, the Northern Lights, Niagara Falls and the Grand Canyon to first place.
Brandon Jean/Unsplash
It's hard to disagree once you've seen it for yourself. Minerals from the surrounding glaciers give Peyto Lake its distinctive turquoise blue colour (if you've seen photos, they're probably not filtered), which looks even more beautiful against the snow if you're travelling outside the summer months.
5. You'll discover exciting new artists
Artists have been taking inspiration from Alberta for thousands of years and the province is passionate about its creative output. Not shut away on the walls of museums, art is an everyday encounter in Alberta, from Edmonton's street murals to the outdoor installations in Calgary's East Village. In the latter, don't miss artist Julian Opie's LED animation Promenade – featuring computerised figures walking through city streets, the piece reflects the constant thrum of life in this vibrant neighbourhood.
Through its Percent for Art programme, Edmonton allocates around 1% of eligible public funding to commissioning new artworks. The City of Edmonton Public Art Collection currently consists of more than 200 pieces, and is owned by local residents as a way to democratise the acquisition of art. Many of these installations have been inspired by Alberta's unique landscape and its generations of Indigenous culture. To take it all in, hop on a YEG Scoot Mural Tour of Edmonton's Downtown and Whyte Avenue district before stopping off at a local restaurant to fuel up for the road.
Getting there
Purely Canada offers a 10-night package trip to Alberta, with flights, car hire and accommodation included. Departing on 8 May 2023, you'll take West Jet flights from London Gatwick to Edmonton (via Calgary) before spending nine nights at some of Alberta's best hotels: JW Marriott Edmonton ICE District; Fairmont Jasper Park Lodge; Fairmont Banff Springs Hotel and the Dorian Hotel in Calgary. Discover more at PurelyCanada.co.uk.
READ MORE: Canada's most adorable coastal towns and villages
Lead image: Parks Canada
Be the first to comment
Do you want to comment on this article? You need to be signed in for this feature