9 places not to miss in Hauts-de-France
Hauts-de-France is an underrated French region that's awash with medieval architecture, sprawling sand beaches and fine Champagne.
The Hauts-de-France region is home to vibrant cities like Lille, the gorgeous coastline of the Côte d'Opale and an amazingly rich cultural heritage, from UNESCO-listed medieval belfries to the stunning Louvre Lens. There's stacks of history and a whole slew of architectural gems, including the early Gothic cathedral in Laon and a 16th-century town hall in Arras – yet, with just a few exceptions, it sees far fewer visitors than most other parts of France.
Located in the northeast corner of France and encompassing the departments of Pas-de-Calais, Nord, Aisne, Somme and Oise, this is a hugely rewarding part of the country to visit, whether you're after beaches, world-class museums, fabulous food, a romantic escape for two, active adventures or a genuinely memorable family holiday. Here are nine must-visit places in the region.
READ MORE: France's most beautiful villages
1. Côte d'Opale
In a country with no shortage of stunning coastline, the Côte d'Opale of Pas-de-Calais and Nord is all too often overlooked – which is a shame, because its gorgeous sandy beaches seem to go on forever and it's got wild dunes, breathtaking cliffs and plenty of history to boot. Anyone who only knows Calais as a cross-Channel ferry port is definitely missing a trick or two too.
The town of Le Touquet has one of the most popular beaches in northern France, its huge Paris Plage a great sweep of pale sand (pictured below). Not so well known is laid-back Étaples-sur-Mer, just across the La Canche inlet, yet the beach is still easy enough to reach by bike, along good cycle lanes.
Cap Gris Nez is the closest part of the French coast to England, and there are stupendous views across the Channel from here, as well as from the 440-foot (134m) high cliffs at Cap Blanc Nez. For impressive areas of sprawling sand dunes, head for Bray-Dunes or Ambleteuse.
Given its location, there are numerous sites associated with the First and Second Word Wars along the Côte d'Opale. The Étaples Military Cemetery is the largest Commonwealth War Graves Commission Cemetery in France, while the Wimereux Communal Cemetery includes the grave of Canadian poet and soldier John McCrae, author of the poem In Flanders Fields.
Oliver Hoffmann/Shutterstock
2. Boulogne-sur-Mer
France's largest fishing port, with some 35,000 tonnes of fish being landed each year, Boulogne-sur-Mer is an ideal base for exploring the Côte d'Opale.
Don't miss the fortified old town, with its narrow, cobbled streets, UNESCO-listed medieval belfry and stout castle. Standing over all of this is the striking dome of the Basilica of Notre-Dame, built in the 19th century and – rather remarkably – designed by a local priest, who had never built anything before. The crypt is one of the largest in France.
Down on the waterfront, Nausicaá is an impressive aquarium with a staggeringly large tank – the largest in Europe. You only realise its true scale at the end of your visit, when you arrive in front of a 66-foot (20m) by 16-foot (5m) wall of glass, with kaleidoscopic fish, sharks and rays swimming past – including an enormous manta ray, which makes quite an impression as it glides past your nose.
Oliver Hoffman/Shutterstock
3. Louvre Lens
Located in the small town of Lens at the heart of a former mining region, the Louvre Lens was opened in 2012, with the aim of making some of the Louvre's priceless collections accessible to a new audience and a different region – and it's worthy of a trip to northern France in itself.
READ MORE: Discover coast and countryside in Northern France
Forget the experience of viewing well-known artworks in the often crowded rooms of the Louvre in Paris, wonderful as those hallowed halls may be – at the Louvre Lens you'll find more than 200 masterpieces from across the world and spanning several millennia, arranged in one huge space, with plenty of room to breath.
The artworks are arranged chronologically, regardless of their provenance – meaning that you'll be looking at paintings from, say, Renaissance Italy alongside ceramics from the Ottoman Empire. This gives a whole new dimension to how you see the history and development of art, as part of a wider story rather than in isolation.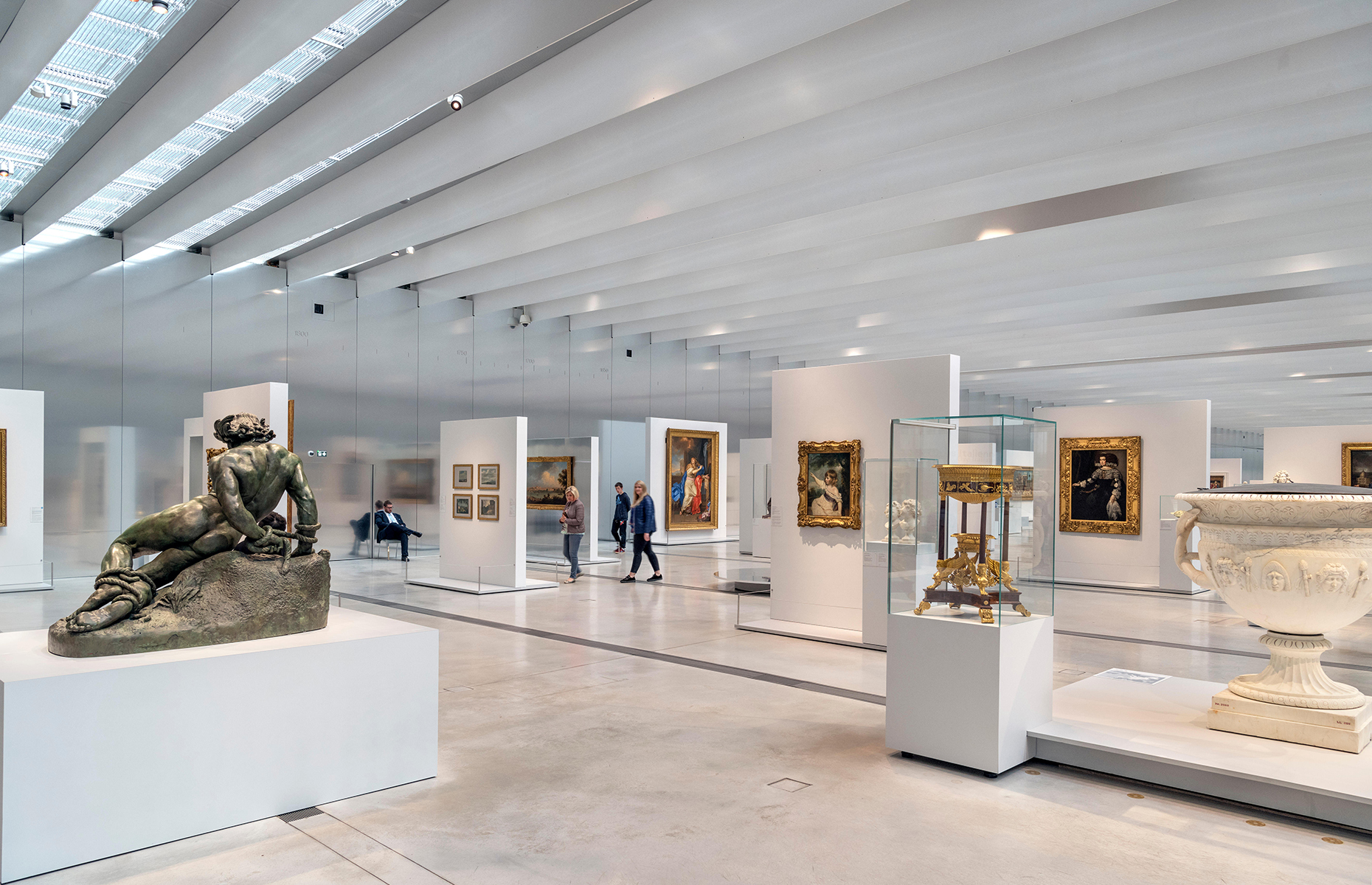 Ian Dagnall/Alamy
4. Dunkirk
No trip to this part of France is complete without spending some time in Dunkirk (Dunkerque). Learn more about the evacuation of Dunkerque during the Second World War at the Dunkirk 1940 Museum, and don't miss the excellent LAAC – a dazzling collection of contemporary art, beautifully displayed, including a genuinely breathtaking collection of graphic works.
There are superb views from the top of the UNESCO-listed medieval belfry, and one of the 'Little Ships' of Operation Dynamo, the Princess Elizabeth, is moored in the inner harbour, and is now a restaurant. The city's main beach is a huge swathe of sand, stretching off towards the Belgian border.
Vlasyuk Inna/Shutterstock
5. Saint-Omer and the Marais Audomarois
Saint-Omer is a lovely little town, just 25 miles (40km) inland from Calais. It's home to one of the last great Gothic cathedrals built in France, and next door to this the former Palais de la Cathédrale is one of the most interesting historic homes you could hope to visit anywhere; a place which completely breaks down the usual barriers between museum and visitors.
But the real show-stealer is the Marais Audomarois – the vast, sprawling area of wetlands that surrounds it – one of the most extensive in France, criss-crossed by umpteen kilometres of water channels, canals and dykes, and home to an amazing variety of birdlife, as well as a patchwork of small-scale market gardens, of a kind that have largely disappeared elsewhere in France. Take a boat tour on a traditional wooden bacôve (a type of flat-bottomed boat) from Clairmarais or the Maison du Marais.
Saint-Omer also makes a good base for visiting the former V2 rocket launch site La Coupole and Le Blockhaus d'Eperlecques.
Photo-Graphia/Shutterstock
6. Arras
Less well known than Lille, Arras has a beautifully preserved old town centre, at the heart of which are two large main squares, La Grand Place and La Place des Héros (pictured), surrounded by 17th- and 18th-century Flemish townhouses. The amazing 16th-century town hall and belfry stand at one end of La Grand Place – they were almost completely destroyed during the First World War, but rebuilt in the 1920s following the original style as closely as possible.
Join a tour of the Boves – an underground network of tunnels and galleries built from the 9th century onwards, stretching for some 12 miles (20km), around 39 feet (12m) below the city's cobbled streets and squares.
Arras is home to the largest Christmas market in northern France and there's also a massive citadel built by Vauban. These days Arras hosts the annual Main Square Festival at the beginning of July.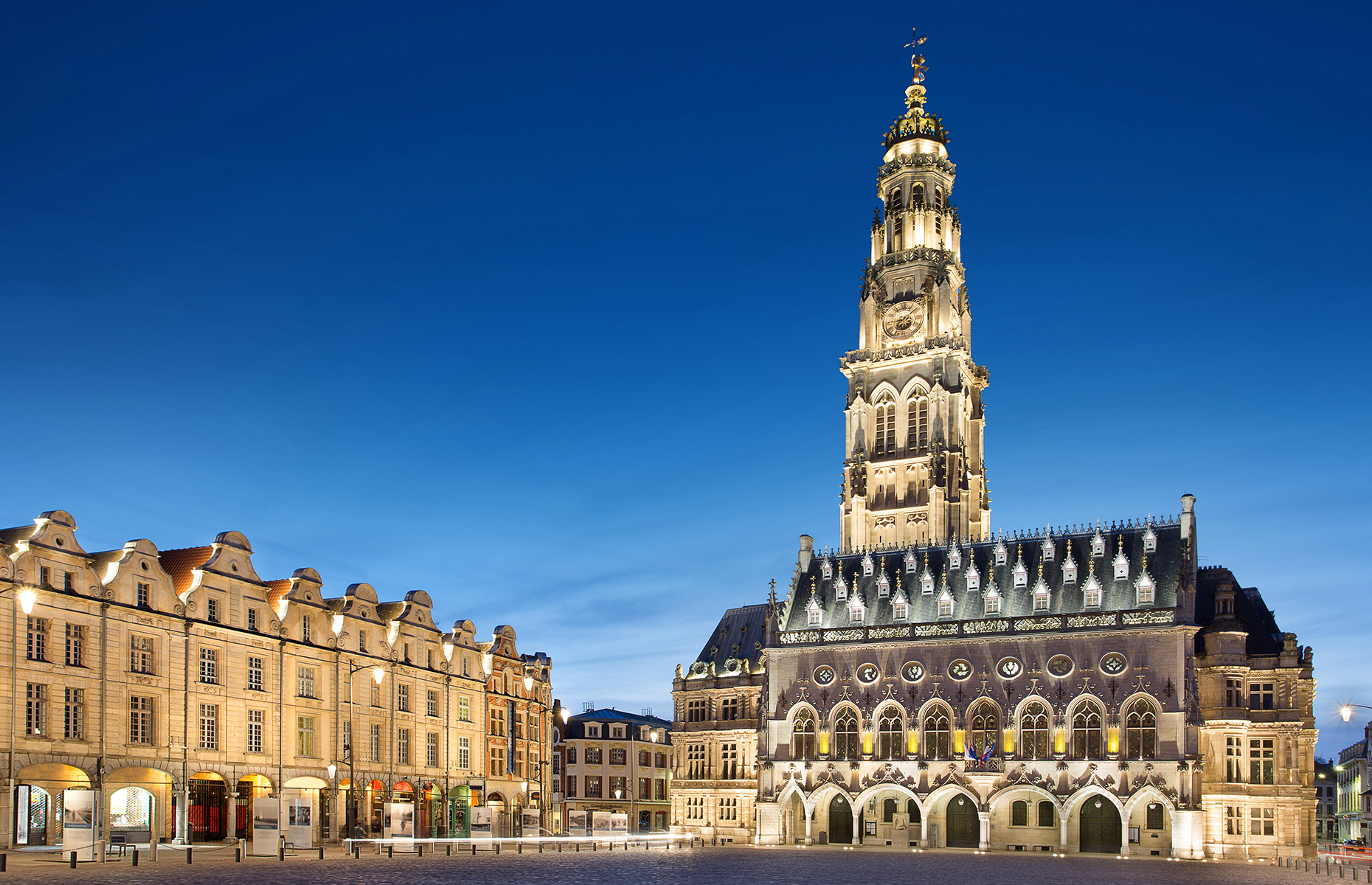 Production Perig/Shutterstock
7. Baie de Somme
The Baie de Somme is a huge estuary – a landscape of salt meadows and marshes, sand dunes and forest, which forms a fantastically rich habitat for birdlife. It's one of France's top spots for bird watching, particularly during the spring migration – more than 300 species of bird have been recorded here – and you can also see harbour seals and grey seals (it's home to the largest seal colony in France).
The Baie du Somme is perfect for exploring on two wheels or by canoe, or on the network of walking trails – or come in April for the Bird and Nature Festival and enjoy guided nature excursions with expert guides, including crossings of the bay on foot at low tide.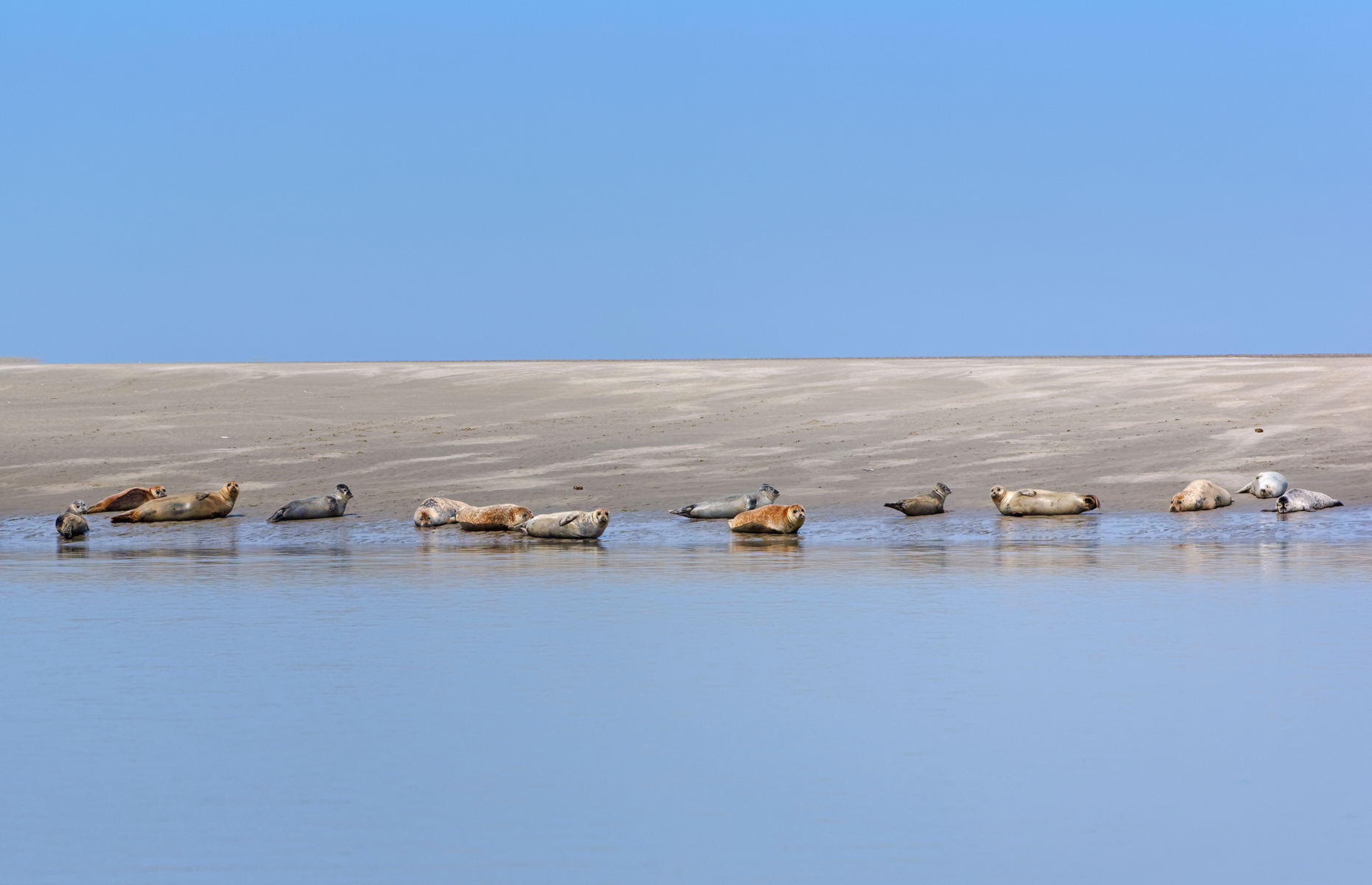 bensliman hassan/Shutterstock
8. Laon
The exquisitely beautiful city of Laon in Aisne is one of those places that it's almost impossible not to fall in love with – its hilltop setting means it stands like a beacon above the surrounding landscape, earning it the nickname "La Montagne Couronnée" ("The Crowned Mountain").
It's the former Carolingian capital and its walled old town centre comprises the largest single area of protected monuments in France – yes, even bigger than Versailles. The cathedral is particularly beautiful and one of the finest examples of early Gothic architecture in France. The large 13th-century rosette window of the north transept is highly unusual, depicting different aspects of science and knowledge rather than religious subjects – and gives an indication of just how much of an important centre of learning Laon was during this period.
Beneath the city lies a labyrinth of passageways and catacombs, reaching down four levels in places – the limestone used to build the city was quarried from directly below it, and below this limestone lies a bed of sand which was also quarried. Guided tours can be booked at the Tourist Information Office (there's a genuine risk of getting lost, so visiting with a guide is mandatory).
Guido Vermeulen-Perdaen/Shutterstock
9. Champagne in the Aisne
When people think of Champagne, it's generally the big houses around Épernay and Reims in the Marne department which come to mind. But 10% of the AOC Champagne region lies within the Aisne department, stretching along the Marne Valley to the east of Château-Thierry and associated in particular with the Meunier grape.
While the quality of Champagne in the Aisne region is every bit as good (and under the same rigorous controls) as the rest of the Champagne region, you can expect fewer people here and lower prices for top notch bubbly – what's not to like? There are some 36 villages in the Aisne portion of the Champagne AOC, with two standout producers being Pannier and Météyer.
READ MORE: Time travel in France – the country's most historic attractions
Lead image: MisterStock/Shutterstock
Be the first to comment
Do you want to comment on this article? You need to be signed in for this feature