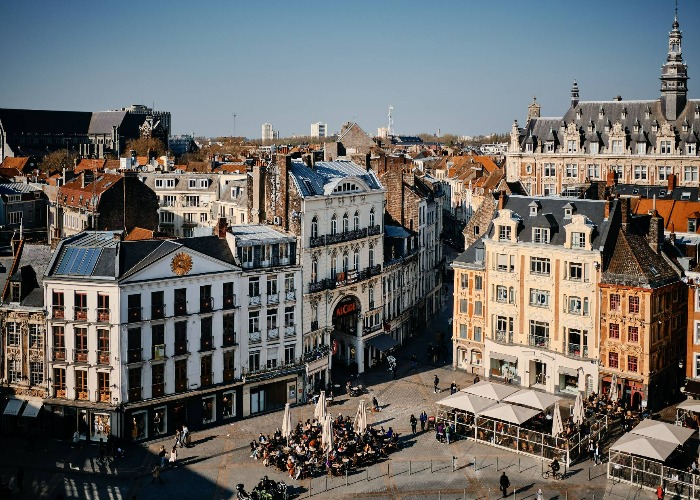 The handsome and lively city of Lille on the French-Belgian border is a weekend winner, with its Flemish-influenced architecture, arts and food.
Don't just whizz through Lille en route to Amsterdam or Brussels – this cosmopolitan city on the French-Belgian border makes for an easy weekend break. As the unofficial capital of French Flanders, it has a distinct Flemish influence to its architecture and food, along with a strong cycling and arts culture. Its history as a merchant hub means there's a range of splendid buildings and museums, while the strong student scene makes for vibrant nightlife.
A mere hour and 20 from London by Eurostar, it's an accessible alternative to British destinations – and an eco-friendly foreign choice. It's a shopper's paradise too, with boutique chocolatiers, antiques stores and one of the largest daily markets in France, plus an atmospheric Christmas market on Place Rihour complete with giant tree and Ferris wheel.
Dziorek Rafal/Shutterstock
Here's how to make the best of a weekend in Lille…
Friday
Check in to: Mama Shelter Lille, a design hotel just a stone's throw from Lille Flandres and Eurolille stations, with bold style at a tempting price. The rooms are comfortable and there's plenty of social space, including a terrace with beach huts and a funky restaurant.
Get a culture fix with: the city's celebrated arts scene, particularly the Palais des Beaux Arts on Place de la Republique. Nicknamed 'the second Louvre', the permanent collection alone spans more than two millennia and includes works by Picasso, Monet and Goya.
The building itself is a masterpiece – one of France's first major museums, it was built on the orders of Napoleon I as part of a broader effort to popularise art. Today, it mixes classic Belle Epoque architecture with modern elements, including two colourful chandeliers in the main lobby and a slick 1970s extension. The central atrium is a relaxed spot to grab a coffee and take in your surroundings.
MisterStock/Shutterstock
Grab a beer on: la Grand Place, the bustling main square which is lined with restaurants and bars and perfect for people watching. It's overlooked by Colonne de la Déesse (Column of the Goddess), a memorial to the siege of 1792 when locals held out for nine days in the face of bombardment by Austrian troops.
READ MORE: Secret France: amazing places you might not know about
Dine at: Estaminet au Vieux de la Vieille on Place aux Oignons, a tiny plaza with bags of character. Estaminets are a cross between bistros and pubs and are unique to northern France and Belgium, offering beer, traditional foods, games and rustic style. They were originally men-only spaces and were at the heart of the trade union movement, with Lille the birthplace of socialist anthem the Internationale.
This estaminet serves up hearty portions of Flemish dishes like croquettes aux crevettes, carbonnade flamande (a slow-cooked beef stew) and tarte au maroilles, made from a local cheese that crops up in a lot of Lille recipes. It also specialises in 'Le Welsh', a variation on Welsh Rarebit, best washed down with a pint of own brew 'Les Sept Peches' (The Seven Sins).
Saturday
Eat breakfast at: Café Le Voltaire. This 1960s time warp with a flare for flambéed flavours has cosy booths and an extensive menu of sweet crêpes and savoury galettes to enjoy any time of day.
ilolab/Shutterstock
Take a walk around: the city's historic centre and heart, Vieux-Lille (Old Lille), with its colourful and eclectic 17th-century brick houses and cobbled streets. The architecture is flamboyant and quintessentially Flemish, and almost every building sports unique little flourishes and features.
The best spot to start is La Vieille Bourse, the Old Stock Exchange. Opened in 1653, it is considered Lille's most splendid building thanks to its ornate Renaissance-style red and yellow exterior. It's made up of 24 identical little houses around a central courtyard, where you'll find a flea market. Here you can pick up old books, records and artwork, and in summer you might spot chess players and tango demonstrations too.
ilolab/Shutterstock
Afterwards, stroll past the opera house towards Cathedrale Notre-Dame de la Treille, a basilica quite unlike any other. Started in 1854, it took until 1999 to fully finish this epic building, and its design juxtaposes a Gothic exterior with a warm, peaceful interior, completed with a dramatic neo-Gothic facade.
READ MORE: The world's most beautiful cathedrals you should visit once in your lifetime
Get a history fix at: Maison Natale Charles de Gaulle, the house where French war hero and former president Charles de Gaulle was born in 1890. The building is a national monument and has been preserved in the style of the day, while visitors can peruse artefacts from the family archive.
Meiqianbao/Shutterstock
Alternatively, Le Musee de l'Hospice Comtesse is a beautiful red-brick Flemish convent built between the 15th and 18th centuries, though its roots go back further. Once a hospital, then an orphanage and old people's home, for the last 60 years it's housed a collection of porcelain, paintings, tapestries and ceramics from the region, with the rooms sympathetically styled to create a flavour of times past.
Each lunch at: Peniche Archimede. This smart bar and restaurant on a barge moored on the banks of the Deule Canal has industrial-style decor and bistro food, with good value set menus. There's also a great cocktail list, best enjoyed on the top deck overlooking the park.
Explore: Parc de la Citadelle, set on an island in the canal. The focal point is the Citadelle de Lille, an impressive five-sided military fort constructed by King Louis XIV of France between 1667 and 1670, after he seized Flanders from the Spanish.
Ralf Siemieniec/Shutterstock
It's still used as an army base and houses a NATO rapid reaction force, so you won't be able to go inside, but the 60 hectares of surrounding greenery offer walking routes, cycle tracks and places to spot herons. You can hire bikes from Le Grand Huit, who also offer pedal-powered guided tours.
The island also has a small but immaculately maintained zoo, home to monkeys, meerkats and macaws, and Cita Parc, a delightful children's fairground, which has woodland-themed rides and an extensive adventure play area.
martin chivers/Shutterstock
Dine at: La Bellezza. This green-fronted Italian restaurant in the heart of Vieux-Lille has a romantic interior coupled with an innovative, seasonal menu that changes monthly. The Neapolitan pizzas are the speciality of the chef, whom diners can watch from their tables. Be sure to save space for the elaborate desserts.
READ MORE: 9 tips for eating well on holiday
Go bar hopping: along Rue Royale, with its eclectic and lively selection of bars that stay open until the small hours. There's something for every taste and mood, from the hip pink brewpub Bierbuik-Bloemeke, which serves an upmarket Flemish menu and its own beers, to cosy L'Illustration, with its art-covered walls and cocktail menu.
Sunday
Buy gifts at: the Halles de Wazemmes, a covered market that's one of the largest in France, located in the working class Wazemmes quarter. The 25 permanent food stalls are joined by up to 400 open-air stands every Tuesday, Thursday and Sunday – its busiest day. Get there from 8am to enjoy crêpes and pastries and pick up cheese and paté, before browsing antiques, bric-a-brac, clothes and flowers on the stands outside.
Take in the view at: Hotel de Ville. This Art Deco masterpiece by architect Emile Dubuisson is a UNESCO World Heritage Site, and has a 344-foot (105m) belfry that you can climb to enjoy a 360-degree view of the city. Certain times require advance booking so check before you visit.
Jacky D/Shutterstock
Shop til you drop on: the streets of Vieux-Lille. The old town is shopping central, so stock up on everything from chic homeware and hand-crafted toys to dried flowers and jewellery. Foodies will be in heaven thanks to bottle shops selling local brews and fancy chocolatiers, along with specialist traders like Oliviers & Co (olive oil), La Belle-Iloise (tinned fish) and Signorini Tartufi (truffles).
Last but not least, make space in your case for a stop at Meert, Lille's oldest and best-known patisserie. It sports a wood-panelled tea shop and a counter selling brightly coloured macarons, but the speciality is the waffles – finger-shaped delicacies made from brioche pastry and filled with vanilla paste.
Before you head home stop off at Euralille, the futuristic quarter built around the Eurostar and TGV Terminal in the mid-1990s. There's a huge Westfield shopping centre, along with modern apartments and office blocks, and the eight-acre Parc Henri Matisse.
READ MORE: France's most beautiful villages
Lead image: Wirestock Creators/Shutterstock
Be the first to comment
Do you want to comment on this article? You need to be signed in for this feature