Scenic cycling: why you should explore Italy's Friuli Venezia Giulia region by bike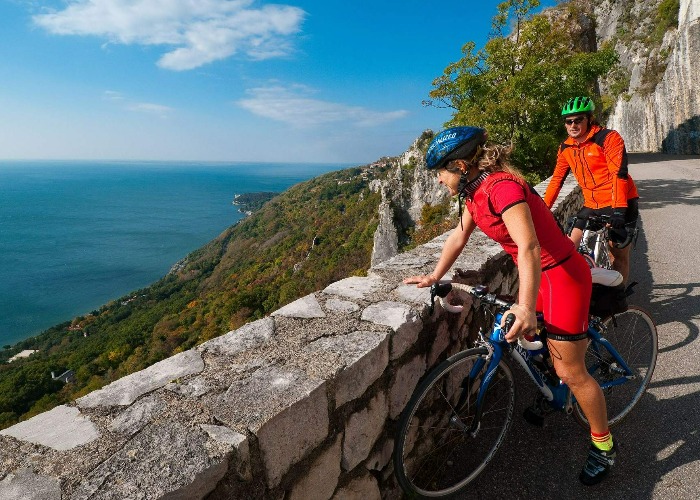 Endless vineyards, mountain vistas and the azure Adriatic: Friuli Venezia Giulia is the most picturesque part of Italy you've probably never heard of. Here's why cycling is the most rewarding way to explore this overlooked area of Italy, and the routes that show the region at its best…
Tucked away in the country's often-neglected northeast, Friuli Venezia Giulia (FVG) is one of Italy's smallest regions. You can drive from one side to the other in around an hour, but it still boasts around 70 miles of coastline, rolling landscapes and gorgeous villages – think Tuscany, without the tourists.
BearFotos/Shutterstock
The whole region is criss-crossed by an extensive network of cycle routes. They're well-signed, and feature a mix of compacted gravel tracks, paved lanes and quiet roads, meaning there's safe cycling for families. Even the mountainous areas near the coast rarely rise above a Category 4 climb – not too strenuous – though an e-bike might be helpful for casual riders.
One of Italy's five administratively autonomous regions, Friuli Venezia Giulia is used to doing its own thing. You'll find four official languages (Italian, Friulian, Slovene and German), a distinctive local dish called frico (a sort of cheesy potato pancake), flavourful orange wine and a roundabout with a fighter jet stuck in its centre.
Euripides/Shutterstock
Despite its eccentric charm, the region was long avoided by holidaymakers flocking to Italy's west coast, due in part to a border with communist Yugoslavia, leaving the area to develop into the quiet, relaxed countryside it is today. These are the best cycle routes to explore...
Laguna di Marano
Route length: 20 miles (32km), from Lignano Sabbiadoro to Titiano.
Duration: Three hours.
Difficulty: Easy.
Most trips around Laguna di Marano start at Lignano Sabbiadoro, a seaside town and harbour described as Italy's Little Florida by Ernest Hemingway. Set on a peninsula fringed by golden sands, it was developed through the 1960s and 1970s, and, despite plenty of domestic tourism, retains a charming serenity.
Studio MDF/Shutterstock
Starting on Viale Italia (literally Italy Avenue), cyclists trail along the beachfront to the lagoon, where an elevated gravel path runs beside the shore to the mouth of the Tagliamento, one of the few free-flowing rivers left in Europe. This six-mile (10km) section passes two nature reserves, which, thanks to the lagoon's varying salt levels, boast an impressive array of biodiversity and bird life.
READ MORE: The world's most beautiful coastal towns and villages
A further eight miles (13km) along FVG Trail 6 takes you across a swing bridge over the Litoranea Veneta (Venetian coastal canal), a former Roman route, before joining the FVG 2 Adria cycle path all the way to the mouth of the River Stella. Another 5.5-mile (9km) riverside stretch delivers you to the Chiesetta della Neve (Snow Chapel) in Titiano.
Elio e Stefano Ciol
Finish the day by stocking up on carbs – local pasta and frico, the recipe varying from village to village – and a well-earned glass of skin-fermented orange wine, a regional speciality.
Udine to Preval
Route length: 30 miles (48.5km), from Udine to Santuario del Preval.
Duration: All day.
Difficulty: Moderate.
Right in the heart of Friuli Venezia Giulia – both geographically and culturally – Udine is the perfect spot for an overnight stop. Rustic Venetian architecture rims squares full of alfresco restaurants and coffee shops, while its Renaissance sastle, recently found to be sitting atop an artificial hill, serves up spectacular views across the region.
Nicola Brollo
The journey from Udine to Cividale follows FVG Trail 4, linking two of the area's prettiest towns along a flat 12-mile (19.5km) path through the Friuli upper plain. Church bells ring out from village spires, amid well-preserved meadows and fields of sunflowers and corn.
Riding into Cividale, you pass through modern suburbs before reaching the historic stone streets of the UNESCO-listed old town, and crossing the vertiginous Ponte del Diavolo (the Devil's Bridge). A visit on the last Sunday of the month is a particular treat, as the streets give way to a sprawling flea market.
Fulcanelli/Shutterstock
The town was founded in Roman times (it was originally named Forum Iulii, Julius' marketplace, from which the name Friuli derived), and has seen its fair share of hardship in the two millennia since. In the mid-1300s Cividale was so ravaged by plague that recently-discovered documents feature familiar advice on social distancing and quarantine.
On leaving Cividale, follow an uphill seven-mile (11.5km) section of FVG Trail 3 to Rosazzo Abbey. A traditional meeting point between east and west, the abbey's terrace offers panoramic views across the border to Slovenia, over miles of hillside vineyards, and all the way to the Gulf of Trieste. A final 11-mile (17.5km) stretch brings you almost to the Slovenian border, to the petite Santuario del Preval.
Luigi Vitale
San Michele del Carso to Doberdo del Lago
Route length: Seven miles (11.5km), from San Michele del Carso to Gradina Visitor Centre.
Duration: One hour.
Difficulty: Moderate.
This up-and-down route begins with a modest climb through rocky karst mountain terrain, affording splendid views of Friuli Venezia Giulia on one side and Slovenia on the other.
Catch your breath at the summit of Mount San Michele, a fiercely contested battleground during the First World War. The area remained heavily militarised until the fall of communism in the early 1990s, and dugouts and disused arms caches still pepper the landscape. On Mount San Michele itself, you can still see a series of rock-cut rooms which once held cannons.
Luigi Vitale
Free your wheels and descend, amid droning cicadas during the summer months, to the Gradina Visitor Centre above Doberdo del Lago, and the port city of Monfalcone.
Slivia to Prosecco
Route length: 10 miles (16.5km).
Duration: Two hours.
Difficulty: Moderate.
A second route along FVG Trail 2 begins further south in Slivia. Along the way is the magnificent Grotta Gigante, a karst cave that has been welcoming tourists since 1908. The cave is 374 feet (114m) high and 919 feet (280m) long, making it one of the largest natural open underground spaces in the world.
READ MORE: The world's most beautiful caverns and caves
This route is particularly well-stocked with interesting villages. Many still contain traditional karst houses with roofs made of limestone slabs, surrounded by typical karst walls.
Leonid Andronov/Shutterstock
End your journey in the village of Prosecco, and yes, it's that Prosecco. Enjoy a well-earned glass of bubbly served with local prosciutto ham and spectacular panoramas spanning from the coastal city of Trieste across the expanse of the Adriatic Sea.
Getting to and from Friuli Venezia Giulia
Several airlines run flights to Trieste Airport from around Europe. To the west, Venice is the closest major airport, servicing European and long-haul destinations.
READ MORE: 10 brilliant bike rides: the best cycle routes in the UK
Lead image: Marco Milani
Be the first to comment
Do you want to comment on this article? You need to be signed in for this feature