6 reasons to explore Colorado's great outdoors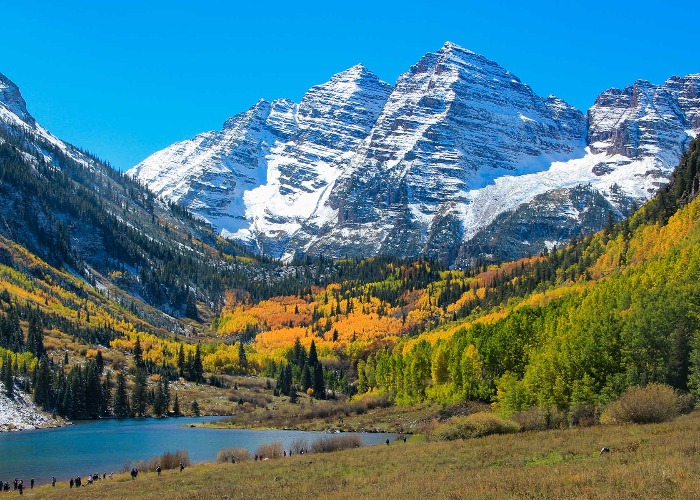 Embrace Colorado's widescreen landscapes and delve into a spectacular state where life is lived to its fullest in the great outdoors.
Colorado is good at first impressions. The thrill of seeing the Rocky Mountains' luminous peaks rise above Denver's cityscape for the first time is an alluring indicator of what awaits, and there are myriad ways of making the most of your time in the Centennial State.
So put your hiking boots on and head west, where great wide plains and craggy red foothills eventually give way to rising mountains covered in thick green foliage and soaring snow-capped summits. From hiking through alpine trails at 12,000 feet (3,657m) to bouncing over whitewater rapids, no American state is more restorative or life-giving than Colorado.
Here are six reasons to come and take in its pure mountain air:
1. For wild whitewater rafting
As well as rugged mountain ranges, Colorado is also pierced by free-flowing rivers and traversing either isn't for the faint of heart. Thankfully, the hardy locals here love nothing more than taking everything the elements can throw at them and are more than willing to guide apprehensive beginners through the rush of whitewater rafting for the first time.
River Runners Colorado/Facebook
The Arkansas River gushes from its source high in the Rocky Mountains down into Browns Canyon where River Runners does a fine job of navigating its untamed waters with consummate ease. While newcomers should be able to tackle the frothing Class 3 rapids without any hitches, be prepared to take a pounding from the rolling river's waves.
The reward is a satisfying cold beer at the Riverside Bar and Grill in Buena Vista's gorgeous unspoiled surroundings.
READ MORE: America's most beautiful mountain towns
2. For some epic views
Of the 100 highest mountains spanning the 3,000-mile-long (4,800km) Rocky Mountains, 78 are located in Colorado. Needless to say, if you want an ethereal landscape to marvel at for a while then you've come to the right place.
Snowmass Village in Aspen is famous for its skiing, but the summit of Elk Camp Peak boasts a jaw-dropping panorama that includes a unique view of the towering Maroon Bells, America's most photographed mountains. There's a handy gondola to the top, though the snaking Elk Camp Trail offers a rewarding challenge through the forested hillsides.
David A Litman/Shutterstock
Further north in Rocky Mountain National Park, the short but steep Alpine Ridge Trail leads to a cinematic 12,000-foot (3,657m) summit surrounded by distant snow-capped peaks. Make sure to stay hydrated in the thin air at this elevation (the trail's nickname of "Huffers Hill" will take your breath away in more ways than one).
READ MORE: 14 reasons why Colorado should be your next American adventure
3. For playing out your cowboy fantasies
There's no hospitality quite like cowboy hospitality and, while you may not quite resemble Clint Eastwood or John Wayne, Colorado's expansive guest ranches are a sight to behold.
Nestled within the pine-covered western foothills of Rocky Mountain National Park, C Lazy U Ranch offers the sort of seductive Americana that can only be found this far west. Days are passed herding cattle and hitting bucolic horseback trails, while evenings are spent in gregarious haybarn dances or with tranquil fireside beers under the stars.
Cross over the Continental Divide to Sylvan Dale Guest Ranch, where the gentle folks offer scenic Steak Rides ('Chow Down' rides) that might be as close to a cowboy fantasy as you might manage. This particular horseback trail scales stunning clay-coloured foothills and climaxes with a sizzling steak barbecue overlooking a serene hillside with just the sound of birdsong for company.
Sylvan Dale Guest Ranch
READ MORE: Saddle up at America's coolest dude ranches
4. For seeing quirky outdoors art
While Denver's arts scene is well-regarded, make the journey north to the evocatively-named Loveland where the city has a penchant for bringing its art out into the elements.
Since the very first 'Sculpture in the Park' event in 1984, Loveland's breezy Benson Sculpture Garden now displays over 170 pieces of art on permanent public display. A 10-acre outdoor park, it features primarily bronze sculptures covering realistic, stylised and abstract designs (don't miss the bizarre 10-foot-tall/3m Monument in Right Feet Major by Todd Kurtzman).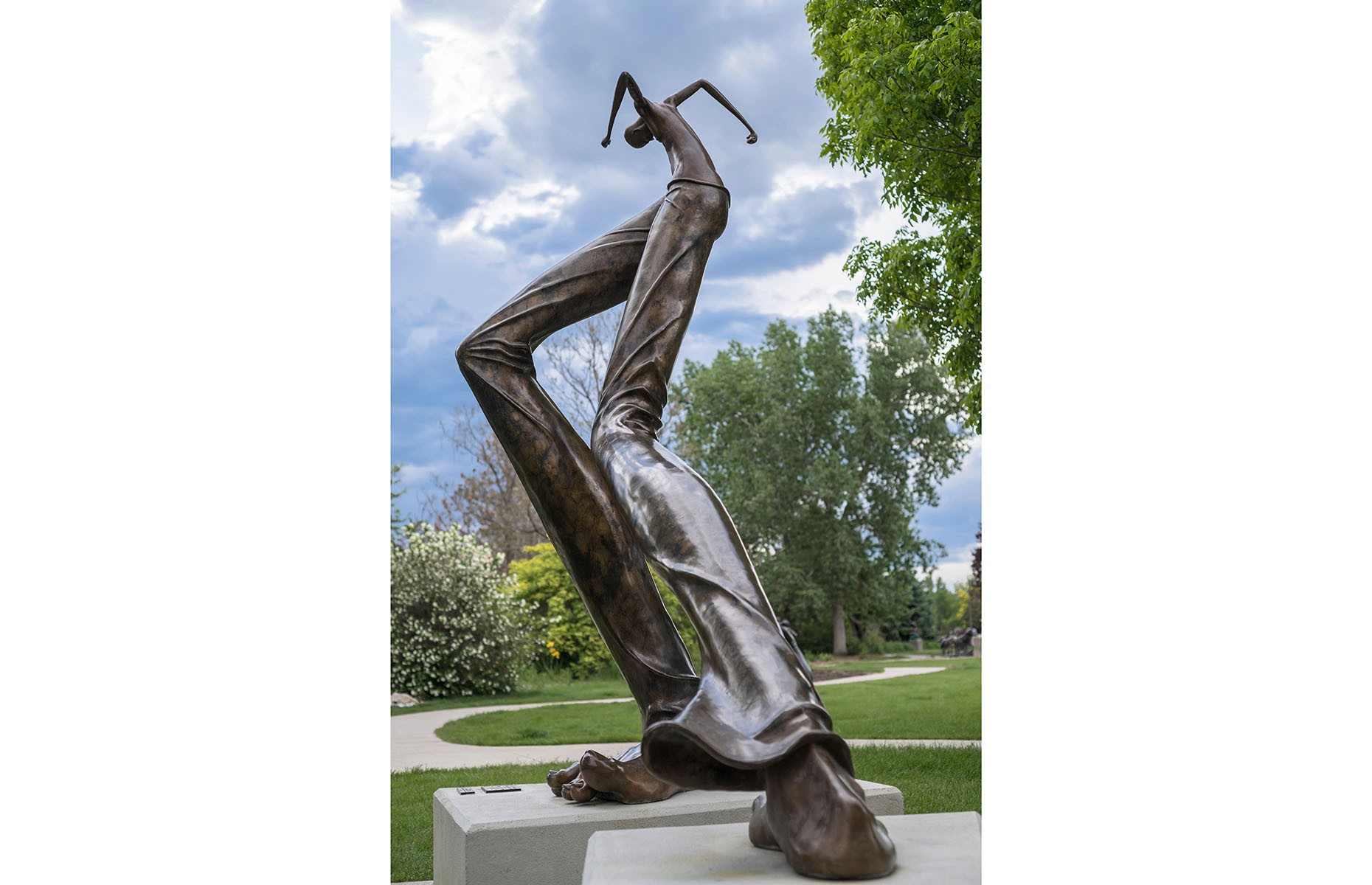 Norman Wharton/Alamy
Back in Snowmass lies Anderson Ranch Arts Center, a friendly cultural hub with workshops and artists in residence. The quiet grounds are also dotted with pieces of art from around the world, with the six-foot-deep (1.8m) Love Grave by Ghada Amer making for a striking and thought-provoking entrance.
5. For sublime craft beer
The perfect freshwater running down from the Rocky Mountains is just one reason why Colorado has become a craft beer haven in recent years. That water feeds hundreds of breweries and the mountain air is perfect for sitting outside and sipping the amber nectar.
Located around 65 miles (105km) north of Denver, Fort Collins is peppered with exceptional taphouses and brewpubs and few spots are better than New Belgium Brewing's vast green terrace. From the classic Fat Tire red ale to tropical wheat beer Summer Bliss, its beers pair perfectly with the garden's colourful food trucks and foot-tapping live music in the summer.
In downtown Fort Collins, Equinox Brewing Co's beer garden is smaller but its range of 18 taps is impressive, while the mountain views from Odell Brewing's large patio is a constant reminder of what makes this brewery's beer so popular.
6. For some grand wildlife spotting
With its wide U-shaped valleys and high alpine tundra, there's plenty of room for wildlife to roam in Rocky Mountain National Park. In fact, it covers 265,769 acres of wilderness and the well-preserved trails and roads mean there's always a chance of spotting moose, elk and deer in the wild. Just remember to respectfully admire them from afar and don't approach.
The elegant Rocky Mountain bighorn sheep was designated the official state animal of Colorado in 1961 and can be found treading carefully across rugged terrain like canyons and craggy hillsides.
Judith Andrews/Shutterstock
Keep your eyes to the sky too, where more than 400 species of bird – including red-tailed hawk, American kestrels and bald eagles – glide through the crisp mountain air.
British Airways and United fly direct to Denver daily from London Heathrow. For more in information, visit colorado.com
Lead image: liyang0518/Shutterstock
Be the first to comment
Do you want to comment on this article? You need to be signed in for this feature