10 unique and unusual things to see in Brighton
The buzzing seaside resort of Brighton on England's south coast is known for its cool status and bohemian atmosphere, but away from the party and the pier, there are more activities to while away the summer (and beyond).
Most of the 10-million-plus visitors are drawn to Brighton each year to walk its famous pier, snoop inside the Royal Pavilion and partake in its infamous hedonistic nightlife – but there are plenty of under-the-radar activities to enjoy here too. Here are our top unique and usual spots that give a different take on seaside city life.
1. Brighton time capsules
Discovering these two shiny, stainless steel time capsules on Brighton Palace Pier offers an alternative way to appreciate the city's busiest tourist attraction. They're set on the outside wall of the Palace of Fun arcade, one of the pier's original buildings, and were installed on 11 July 2020 to mark the pier's 200th anniversary.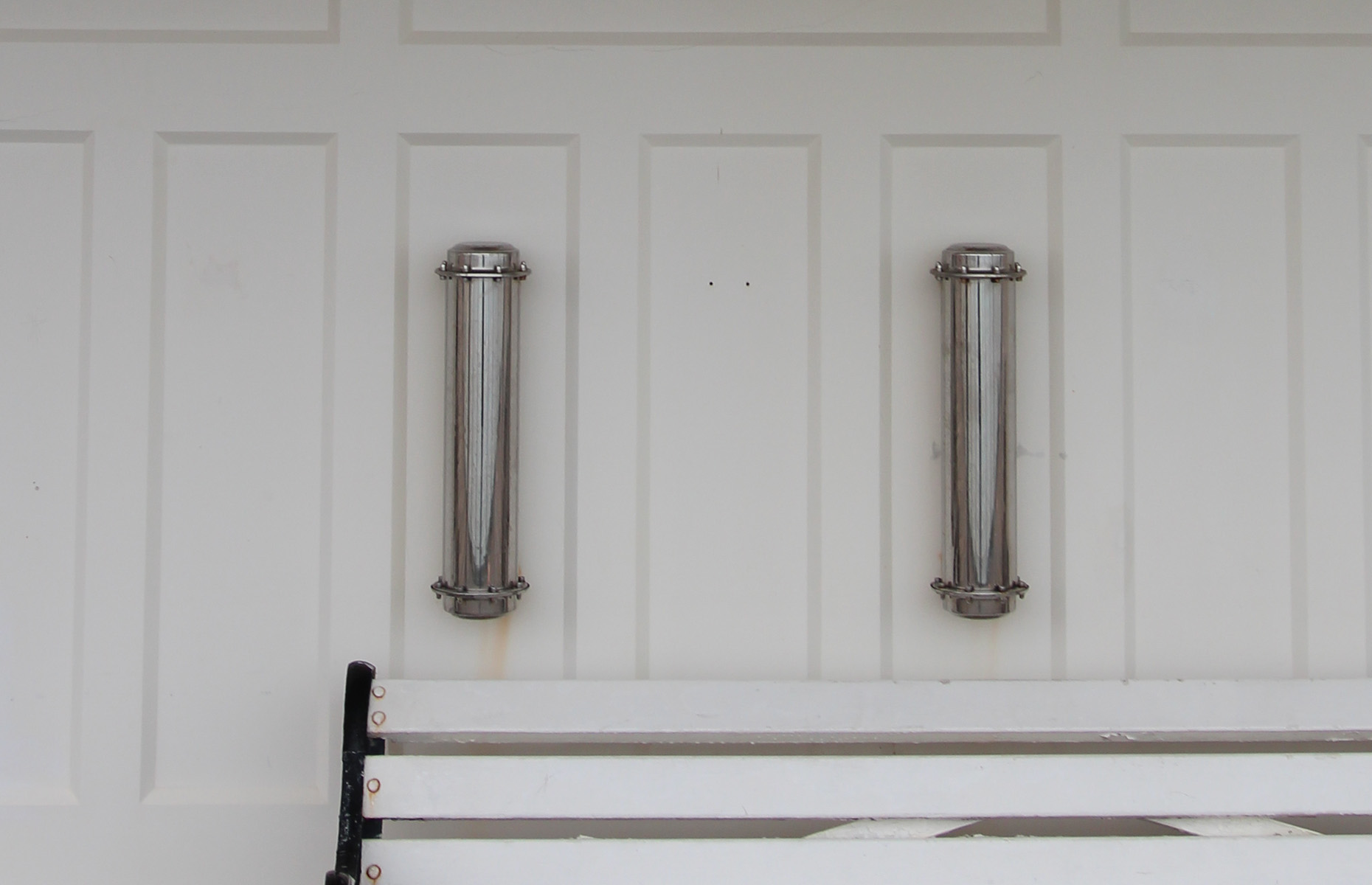 Lyndsey Haskell
The contents of each offer a historical snapshot for those who open them in 50 years, on 20 May 2070. One documents the mood of 2020, through newspaper reporting of the COVID-19 pandemic as Brighton became the epicentre of the virus in the UK. The other reflects the work and heritage of the pier, through various memorabilia including architects' plans, old photographs and video footage.
READ MORE: How to spend the weekend in buzzing Brighton
2. Shelter Hall
Brighton seafront is dotted with curious architectural features that remind us of a time when it was a popular destination for fashionable, rich Victorians and Edwardians. Shelter Hall near the faded West Pier is one of these places. An ornate circular structure, it was built in 1899 as a refuge from the rain. Over time its elegance faded and it became unsafe. Today, after a multi-million-pound refurbishment, it's an exciting indoor street food destination which hosts Sussex chefs across seven independent professional kitchens. There are also two craft beer, wine and cocktail bars.
cktravels.com/Shutterstock
3. The Feminist Bookshop
This is Brighton's most radical and newest bookshop. You'll find it in the leafy neighbourhood of Seven Dials – in founder Ruth's former lounge. She started it as a feminist book club which popped up in members' living rooms around Brighton and Hove, as a way for her to make new friends and share a love of feminist literature.
The community grew fast, which inspired her to set up the shop in 2019 after a successful crowdfunding campaign. As the name suggests, every book in The Feminist Bookshop is either written by a female author or takes a feminist stance. It's small, cosy and modern inside and manages to fit in a little café serving drinks and cakes.
4. The Cascade
Thousands of visitors enjoy Brighton's biggest green space, Preston Park, every year. Very few know that hidden away in the rock garden opposite – a city secret in itself – is Brighton's only waterfall. This rock garden – considered the biggest in Britain – is set on the side of an old railway bank across the main road from Preston Park.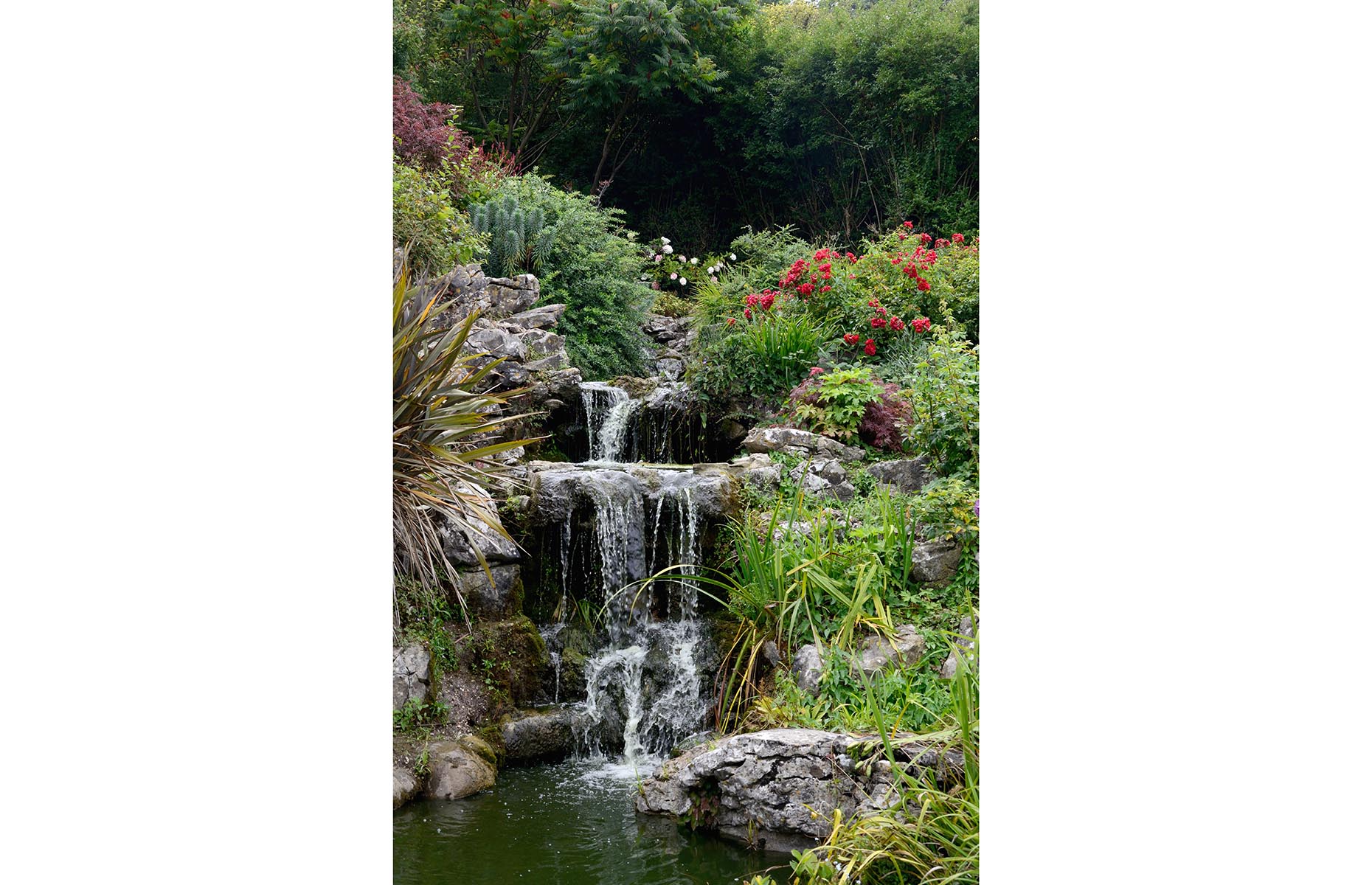 Lucy Sharpe
This secret 98-foot-high (30m) water feature is known as The Cascade and trickles down a series of rocks into a pond filled with lilies. The gardens were built between 1934 and 1936 and landscaped using 1.3 tonnes of rocks bought from a quarry in the West Country for £4,000. A special railway line was laid at the top of the garden to transport them into the new park.
READ MORE: The world's most charming historic piers and boardwalks
5. Fabrica Gallery
Brighton bursts with all kinds of little galleries and craft shops, but there's one in the city centre that stands out for its unusual setting in the former Brighton Trinity Chapel. It was built in 1817 by architect Amon Wilds, especially for Thomas Read Kemp, the developer of the area east of Brighton Palace Pier known as Kemptown. The church closed in 1985 and became the temporary home for an exhibition on Brighton history before a group of artists established the Fabrica Gallery in the space in 1996.
Nowadays, the organisation hosts three main exhibitions a year, which are often developed in partnership with other cultural organisations in the local community, such as the Brighton Festival, or with artists it commissions to make new work specific to the unique gallery space.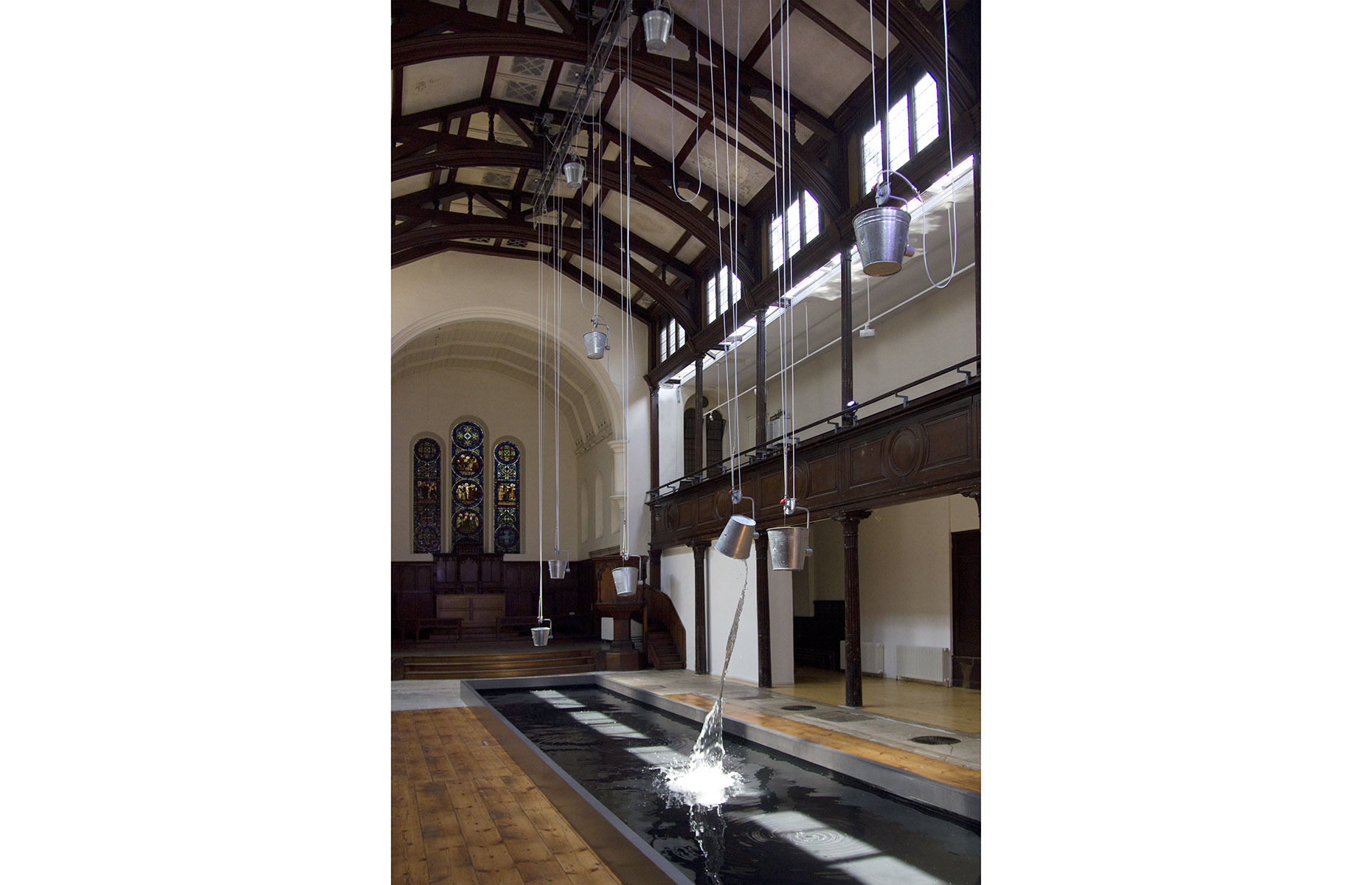 Fabrica Gallery
6. Preston Manor
Secluded by tall trees, people often walk past Preston Manor without realising it. Those who have heard of it often don't know much about what it's used for, what's inside or anything about its history. Once you find it, take a wander up the gravel drive and head in through the big front door and you'll discover a magnificent historic home that paints an evocative picture of Edwardian and post-Edwardian life both upstairs and downstairs. Preston Manor is also said to be the most haunted house in Britain. Meanwhile, outside in the period walled garden is a family pet graveyard hidden in the flower beds.
READ MORE: 30 abandoned UK places too scary to visit
7. The Hand in Hand Pub
This tiny, colourful pub in peaceful Kemptown village is overlooked by most weekenders to Brighton in favour of the town centre nightlife, but it's worth making the detour to see its curio-filled interior. The walls are lined with newspapers and decorated with all kinds of flea-market finds, like ties pinned all over the beams and ceramic beer mugs hanging from the ceiling. It's one of few places you can play a Sussex-centric pub game, Toad in the Hole – you throw coins (toads) into holes in the top of a wooden box. It also hosts jazz nights on Sundays.
There's also a miniature microbrewery onsite – the smallest in the country, apparently – called the Hand Brew Co. It makes a range of unusual beers sold in other Brighton pubs.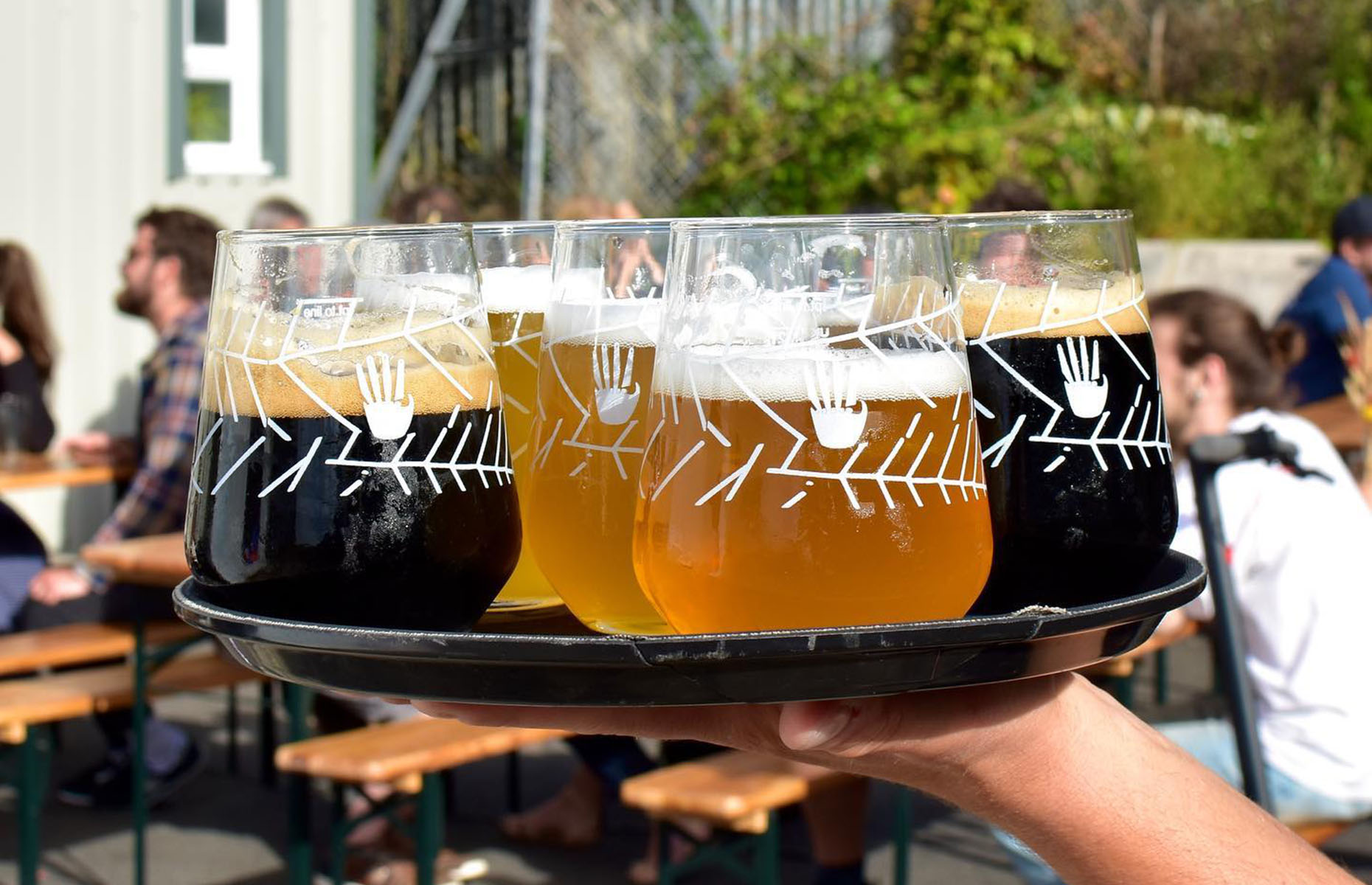 Hand Brew Co/Facebook
8. Secret Garden Kemptown
A former Victorian pleasure garden in Kemptown is the setting for a hidden sculpture space and arts venue most locals don't know is there. The garden was once linked by a tunnel to the owner's property at a time when most of the grand buildings on Sussex Square were single-family homes. Today they're mostly flats. The Secret Garden Kemptown was once part of a garden that served 32 Sussex Square. Today it's a unique community arts venue and the only garden of its type in the city, where major outdoor works of sculpture are shown in a secure setting. It's open every Sunday throughout summer.
9. The Time Ball
The Grade II-listed clock tower on the junction between North and West Streets in the city centre is one of Brighton's best-loved landmarks, apparently second only to the Royal Pavilion. It was commissioned by local advertiser James Willing to commemorate Queen Victoria's Jubilee in 1887 and was completed the following year.
Stand and stare long enough at the shiny copper ball at the top and you'll see it start to rise hydraulically up the mast as it reaches the hour, then drop after the hour is struck. This feature is known as the 'time ball'. It was created by mad-cap German inventor Magnus Volk, who devised the Volk's Electric Railway and the ill-fated Daddy Long Legs railway through the sea, the idea being passing ships could set their chronometers by it.
ShutterStockStudio/Shutterstock
10. Anna's Museum
Anna's Museum isn't a museum in the traditional sense – it's an old Brighton shop window filled with curious pieces of natural history, geology and taxidermy. You can stop and look from the outside on an amble along the attractive Upper North Street.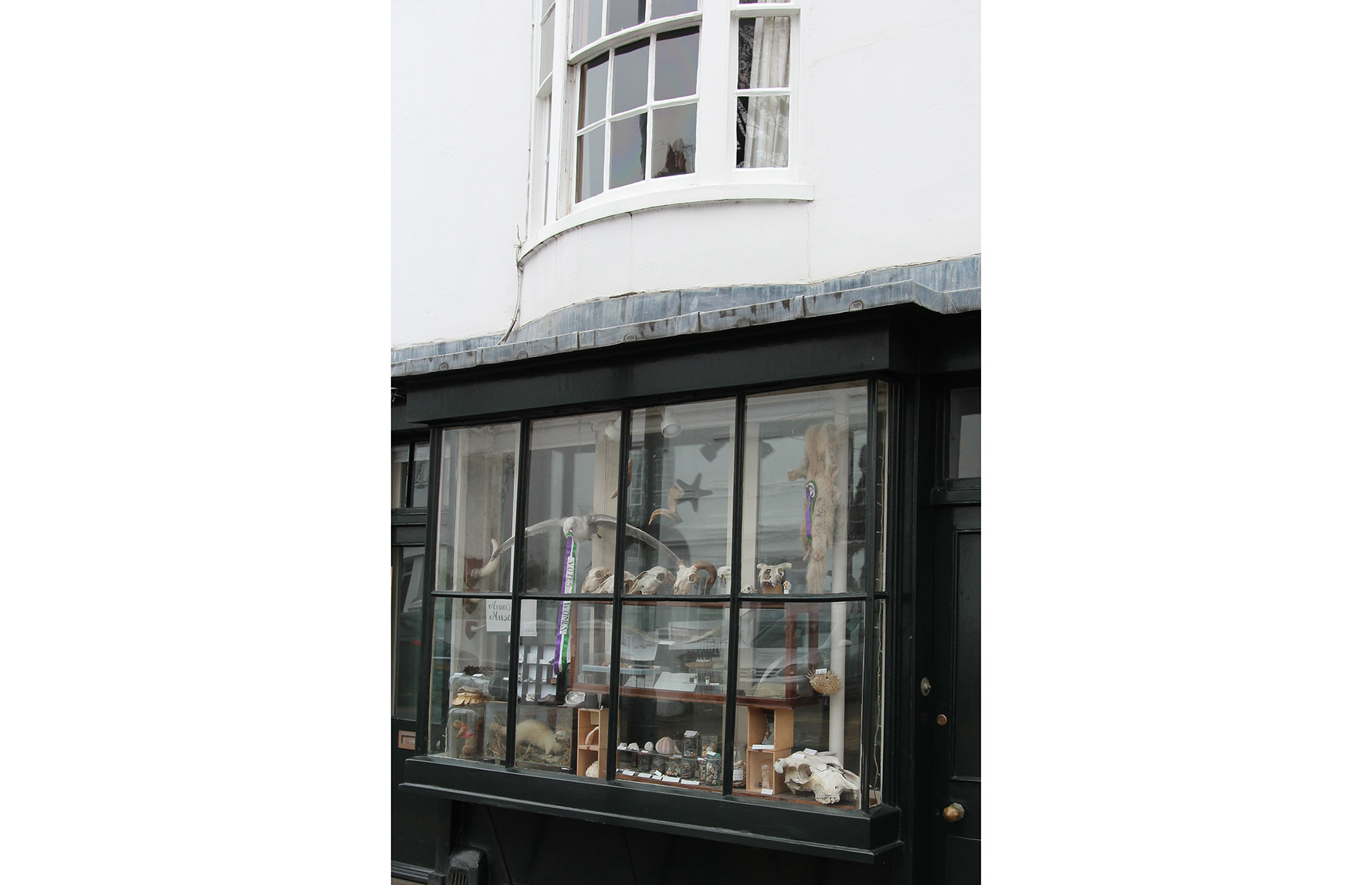 Lyndsey Haskell
The place belongs to young Brighton resident and natural history collector Anna Rubinstein, whose collection grows and changes over time and includes things that animals leave behind, like antlers and teeth, wasps' nests and shed skin. There are also bits of bone and a few skulls, as well as pieces from far-away places – shells, fossils and rocks from the French-Italian border, precious stones, an earring from a tribe in Borneo and an arrangement of stone eggs.
Ellie Seymour is a travel writer, blogger and author of Secret Brighton: An Unusual Guide
READ MORE: These are the world's most curious museums
Lead image: Michaelasbest/Shutterstock
Be the first to comment
Do you want to comment on this article? You need to be signed in for this feature