How tourism can support Thailand's growing number of ethical elephant sanctuaries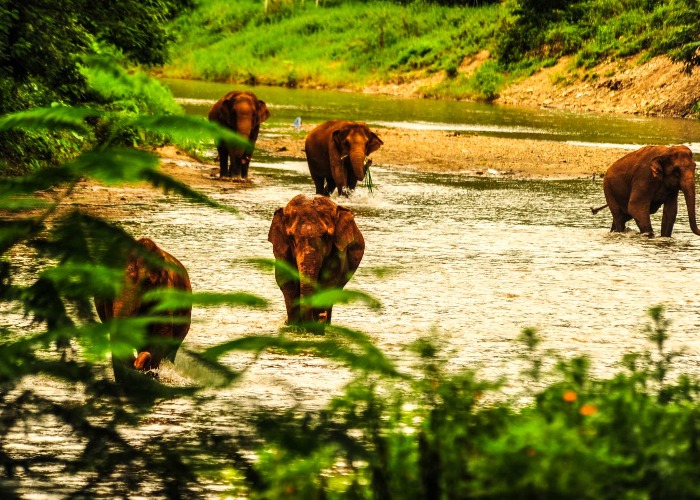 A growing number of community-based projects and eco-volunteer programmes in Thailand aim to protect the welfare of the country's elephants. Mark Stratton visits several projects and explores how tourists can support ethical elephant initiatives on their travels.
If baby Moe Sae has any inhibitions about human contact, she isn't showing it. Amid snarled jungle in the Northern Thai forests of Om Koi, with her mother, Mho Bar, peacefully browsing nearby, the five-month-old dynamo rushes around with wide-eyed excitement. When the mahout (elephant handler) watching over her tries to calm her down she aims playful kicks at him. "Perhaps they should've named her Muay Thai (Thai kickboxing)," laughs our guide, Jok.
I'm an eco-volunteer for a week at a new project called Om Koi Evolution. During COVID-19 many elephant-riding camps closed as tourism collapsed. Their closure precipitated a welfare crisis for Thailand's captive elephants who faced starvation as the camps closed.
Image: Mark Stratton
The riding camps mostly rent the elephants and could not afford to feed them. So in the case of Om Koi, the elephants' actual owners, who are Karen hilltribe villagers, brought them back to their jungle home, but their income from renting them out was gone.
With the financial support of an American non-profit, Gentle Giants, the villagers have agreed to keep their 59 elephants in their jungle and accept paying eco-volunteers to stay within community homestays. This is a new model of ethical elephant tourism. The deal requires their elephants to remain unchained in the jungle and it compensates them for not sending them to the riding camps, where their treatment is routinely barbaric.
READ MORE: Ecosystems that have bounced back from the brink
During a week with the Karen, learning about their culture and sleeping in a stilted timber-framed hut, I spend hours in the jungle watching the elephants feeding, bathing and interacting socially. It's a joyous experience knowing my money is helping to give them a better life reconnecting with their natural instincts.
Image: Mark Stratton
Hands-off approach
With Thailand's wild elephants in perilous decline, its captive population of 3,800 continue to endure a cycle of abuse precipitated by unethical tourism.
To ensure compliance, whether being ridden, begging or performing circus tricks, they are taken from their mothers as babies and broken by a savage process of beating and stabbing, called pajaan.
You may not see their mistreatment at an unethical attraction but be certain their mahout will control them by inflicting pain by using nails or scythe-like implements called bullhooks. At night, the elephants are chained out of tourists' eyeshot.
"No rides, no selfies, no bathing, no painting elephants, no circus tricks. If tourists refuse to do any of this, even if the owners offer, the abuse will end," advises Diana Muñoz, co-founder of Gentle Giants.
"We hope the Om Koi project achieves true change in the way tourists interact with these gentle ones," she says. "Our expectation is a 100% hands-off project to allow elephants to be themselves and at the same time allow people to learn about true elephant behaviour by just observing them in their natural habitat."
The British-based organisation, Save the Asian Elephant, has been lobbying the UK parliament to make it illegal for tour operators to advertise attractions that exploit elephants yet promised legislation to enact this has been slow in materialising.
Ethical encounters
Fortunately, travellers now have multiple options as ethical elephant experiences increase across Thailand. Perhaps the most well-known, a beacon for ethical tourism across Asia, is Elephant Nature Park (ENP), just north of Chiang Mai.
Similarly, I volunteer there for a week too. My funding helps towards the care of 118 elephants that owner and renowned conservationist, Lek Chailert, has bought into her sanctuary. Most of Lek's elephants are elderly females, who have endured lives of hardship, first through logging and then tourist riding. Some have disabilities through abusive overuse.
Image: Mark Stratton
Volunteering at ENP is an enjoyable way to get close to the elephants, yet without touching them. My tasks range from shovelling up elephant poo in the chain-free shelters they sleep in to chopping up ripe pineapples into more chewable portions as many of the older girls have worn down their teeth.
The elephant interactions are sublime. One afternoon we watch the two smallest babies, Pyi Mai and Cha Ba, lolloping in an ochre-coloured mud pool. The latter was rescued recently from a riding camp where she was chained to her mother. And we wade down the river one evening alongside the impressive Kham La clan. ENP rescued Kham La and her mother from a riding camp. She was quickly adopted by a retinue of older females, or nannies, who now protectively follow her everywhere.
ENP also hosts bull elephants, who face the worst treatment of all as they are largely noncompliant for tourism and can be dangerous. Captive ones spend much of their lives in chains and without shelters. Here the bulls have their own two-acre enclosures but are separated because they may fight. Lek's vision is to buy more land and release them to live freer lives.
Image: Mark Stratton
Her sanctuary has inspired many ethical elephant attractions, but she urges travellers to do their research.
"There are 'sanctuaries', 'retirement homes' and 'conservation centres', a lot of names, but sometimes only for marketing," she says. "In some case the elephants will be chained and suffer the bullhook, not in front of tourists but after they've gone home".
I seek out some of the best offerings during my remaining time in Thailand.
READ MORE: Why the Jungfrau Region is the sustainable star of Swiss Alps
Tourism as a force for good
Two hours south of Bangkok is Wildlife Friends Foundation Thailand, where the owner, Dutchman Edwin Wiek, has rescued 24 elephants. Other than feeding – and it's entirely at the elephants' discretion if they want to be fed – visitors may only watch them from the terrace of his eco lodge and are not allowed inside their spacious enclosures.
Image: Mark Stratton
Other sanctuaries permit walking with them at popular tourist hotspots such as Koh Samui and Phuket, where both riding and bathing is forbidden. And I visit Pattaya Elephant Sanctuary, which has only three residents and provides a rare opportunity to walk with a bull, the good-natured Frank. He's eight years-old and rescued from a previously harsh young life of begging on the city streets.
I take a jungle walk with the trio and watch Frank dote upon his older nanny, Thangthai. The mother he never had. At their water pool, the climax of the walk, Frank splashes around like a baby, his growing tusks now shining clean ivory.
My guide is Chadchya, who once worked at a riding camp. "It broke my heart to see how the mahouts hurt them with bullhooks, so I quit and came here," she says.
The sanctuary has struggled because of COVID-19 and currently just a few paying customers are bringing in desperately needed revenue each week. A three-hour visit plus lunch costs £60. But as we walk, Chadchya receives a call from a party of six who want to visit that afternoon. "YES," she exclaims, punching the air, tears rolling down her cheeks.
Like other ethical elephant attractions, they will only continue to thrive based upon the ethical choices we make as travellers to visit sanctuaries that truly give these gentle giants the peaceful lives they so richly deserve.
How to recognise an ethical elephant experience
Absolutely no riding, with or without a saddle. It damages their spines, and they work exhaustive hours.
Bathing with them may seem innocuous but elephants can wash themselves and are spitefully treated to comply, just the same as riding.
Ideally, no feeding although this is not harmful and ethical sanctuaries will let them choose whether they want to eat your offered fruit. Most do!
An ideal experience features a jungle walk and watching them bathe.
responsiblethailand.co.uk offers a pick of ethical sanctuaries.
Visit thegentlegiants.org or elephantnaturepark.org for more information.
READ MORE: Striking new images showcase the beauty of Africa's wildlife
Main image: Mark Stratton
Be the first to comment
Do you want to comment on this article? You need to be signed in for this feature