Review: A CroisiEurope barge cruise through Provence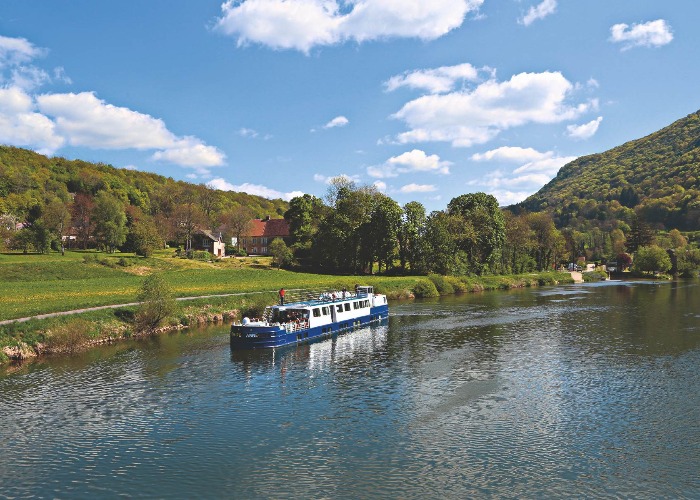 A barge cruise in Provence offers an unhurried way of seeing the region's sights – and enjoying its culinary riches – all from the comfort of a small luxury vessel. Rachael Hogg embraces the slow travel trend onboard.
It couldn't have come at a better time. After more than two years of chaos, stress and uncertainty, I got to stop. When you're peacefully sitting on top of a barge drifting through Provence, with zero signal, the only sounds birdsong, the hooves of the Camargue horses and the gentle thrum of the boat's motor, you don't really have a choice but to pause.
The slow travel trend has been on the rise for the last few years and is expected to keep growing in popularity by 10% every year. Forget tourist burnout, running around cities, trying to tick off as many cafés, restaurants and sights as humanly possible, or hopping from one red-eye flight to another. Slow travel is about leisurely strolls, connecting to the world around you, taking a gentler approach and swapping that plane for a train, bike or boat, such as this one.
What's it like onboard?
Image: Jean Beveraggi/Courtesy of CroisiEurope
Barges are considerably smaller than cruise ships or river boats. Ours, Anne-Marie (all CroisiEurope's vessels are named after members of the family that owns the company) carried a maximum of 22 people in 11 cabins. And it's slow, cruising along at just four miles an hour (6km/h). On the seven-day Provence cruise, you'll only travel around 50 miles (80km). Yes, you could cover that distance in an hour by car, but why would you, when you could see the world this way?
The old-school image of barge cruising – with dark cabins lurking under the water's surface and days of doing literally nothing – still sits in people's minds, but this is a world away. Although days are leisurely, there's plenty to do. And there's even a hot tub onboard. It really doesn't get more delightful than sipping a glass of Crémant, sitting in a Jacuzzi while floating sedately down the Petit-Rhône.
Image: Courtesy of CroisiEurope
What are the cabins like?
Cabins aren't huge, as you'd expect, but they're light with large windows and there's plenty of room and lots of clever storage, including above the two single beds, under the beds and in a large hidden cupboard by the desk.
The cabins are well-designed with nice features and touches: there's space to pen a postcard to friends missing out back home or relax and watch a bit of television before bed. The bathrooms are surprisingly large, with room to dry off and a great shower a fellow guest said had better pressure than the one in her flat.
Outside of your cabin, you can relax with a cup of coffee (or perhaps more likely a glass of wine) in the outdoor bistro-style seating area sheltered by parasols, bask in the sun on the top deck, kick-back inside on sofas in the lounge or enjoy conversation with new friends in the family-style dining room.
Image: Courtesy of CroisiEurope
When the boat is moored up, it doesn't get more French than a game of boules on the riverside or taking one of the available bikes for a leisurely cycle. You might even find yourself pedalling along more quickly than the boats.
READ MORE: Check out our weekend guide to Strasbourg, where bicycles are the easiest way to get around
What's included?
Although barge cruising is more expensive than river cruising (it's about double the price) you get a lot for your money. All meals and drinks (apart from a few premium drink options), excursions, use of the bicycles and port taxes are covered. Plus you're getting the exclusivity and the intimacy.
There were six friendly and helpful crew members onboard: captain, helmsman, purser, chef, waitress and hostess, available for whatever you might need.
Image: Fabrice Rambert/Courtesy of CroisiEurope
With the barges being small, CroisiEurope tries where possible to ensure all passengers speak the same language, even from different groups. We had a mix of French, Belgians and English during our cruise, but the staff moved easily between languages: all were at least bilingual, if not multilingual. And the other passengers were friendly too, with everyone getting along well, even across different languages (my restaurant-French was pushed to its limits, but it felt like part of the immersive experience).
Although the majority of people booking a CroisiEurope trip are in their 50s-70s in couples or small groups, an increasing number of families are booking trips. It's also possible to hire the entire boat for larger families or friendship groups for the ultimate exclusivity.
READ MORE: Discover the world's best new cruise destinations
What's to eat and drink?
Image: Courtesy of CroisiEurope
At the heart of a CroisiEurope barge cruise experience is outstanding food and drink. Chef Jonathan Niçoise proudly announces the menus before each meal in French and English, getting everyone excited for what's to come.
Changing with the seasons, the food reflects the region: we were served Provence on a plate. Niçoise said one of the great things about cooking on a barge cruise is that ingredients and produce are available en route. We enjoyed fruits de mer pasta with seafood from the fishing port at Sète, while beef for the gardiane de taureau – a rich beef stew – was sourced from the region's famous black bulls. Taking lunch in the sunshine with the imposing rampart walls of Aigues-Mortes as our backdrop, we devoured local fougasse for dessert: a light focaccia-like bread made sweet with orange blossom water and citrus zest, served with crème Anglaise.
Image: Courtesy of CroisiEurope
It's guaranteed you'll never go hungry, to the point that you'll wonder if you'll ever need to eat again. Breakfasts are relatively light, with small fresh croissants and pains au chocolat, fruit salad, yogurt, cereal and meats and cheeses.
That sets you up perfectly for the four-course lunches. These are paired with wine and include an impressive display of regional cheeses, complete with background information passionately delivered by Hans Vereecken (officially the "purser" but also flexing his sommelier and cheese knowledge). We left armed with facts and history about the likes of Langres, Morbier, Brie de Meaux, Saint-Nectaire and Ossau-Iraty.
Image: Rachael Hogg
Dinner is served around 7.00-7.30pm and is a three-course affair with more paired wines. There's also a gala dinner on one evening which is a bigger five-course menu. Typically, people get a little more dressed up for that, but the entire vibe of the boat is very casual, and you'll never see anyone waltzing around in a tuxedo or ball gown. But of course, you'd be more than welcome to if that's your thing.
If that doesn't sound like enough, you also try canapes like saucisson d'Arle – a sausage made with the region's pork and beef and tapenade-topped toasts – to enjoy with your aperitifs before both lunch and dinner.
Image: Courtesy of CroisiEurope
Speaking of aperitifs, Hans is importantly in charge of the bell – rung at 12.30pm and 6.30pm on the dot each day. We'd all eagerly gather round and await the tale behind each drink (typically fruity cocktails at lunch and regional drinks in the evening). As well as a lovely ritual, it's a great way to get everyone onboard bonding before meals.
READ MORE: The world's most beautiful cruise ships
What excursions are there?
Image: Alexander Demyanenko/Courtesy of CroisiEurope
Which way you're travelling will determine how your itinerary works. As we were cruising south-west from Arles to Sète, excursions were in the morning (typically 9.00am-12.00pm), with cruising in the afternoon. Of course, we always had to be back onboard for Hans' aperitif bell. The next week, cruisers would be sailing north-east from Sète to Arles and enjoying their excursions in the afternoons.
When you think of Provence, it'll likely conjure up images of bright purple lavender fields and acres of vineyards bursting with grapes ready to make your favourite rosé wine.
We saw things a little differently. At first, hopping on a coach we passed through typically gorgeous quaint French towns and villages on our way to Moulin de la Coquille, a family-owned, award-winning olive oil mill. Here we saw how five different olive varieties: Aglandau, Grossane, Salonenque, Verdale and Picholine are shaken from 10,000 trees every autumn, processed within 24 hours of being picked and blended into the fresh, fruity and viscous liquid.
Then it was onto a walking tour of historic Arles, known as the 'little Rome' of Provence due to its impressively well-preserved amphitheatre. Strolling around this bustling town, which was especially busy due to it being 1 May when the Festival of the Herdsmen is celebrated, we saw many of the places Van Gogh was inspired by during his time in the city, with many of the buildings still painted in vivid blues and yellows.
Soon after setting sail from Arles, the landscape shifted dramatically, opening up into big skies and wetlands. Huge black bulls grazed in fields next to a flamboyance of flamingos, and the famed white horses galloped past the boat. Every tree seemed to be home to a new set of birds, from nesting storks to cattle egrets and the landscape was peppered with the occasional marsh reed thatched cottage. The Camargue region looks like nowhere else in France.
On another walking tour, we wandered around the quiet Saintes-Maries-de-la-Mer, where the Petit Rhône joins the Mediterranean Sea, and enjoyed the large deserted beach – yet another huge shift in the landscape.
Image: Pascale Gueret/Courtesy of CroisiEurope
Then it was sailing slowly onto Aigues-Mortes with its pedestrianised cobbled streets, cute shops where you can buy local rice, wine and meats, and one mile (1.6km) of well-preserved medieval ramparts, surrounded by impressive salt flats. A tour of the flats takes you on a small train around the vast, pink-tinged waters, with the chance to climb a salt hill and stare out at the walled-town in the distance. It's almost otherworldly.
Image: PictureFlex/Courtesy of CroisiEurope
On other days, there are visits to experience a manade – a group of Camargue cattle led by a herder – and to the Étang de Thau lagoons where some of France's finest oysters are farmed. You can also take a look around Saint-Guilhem-le-Désert, one of the most beautiful villages in France.
READ MORE: What's it like to sail on the world's biggest cruise ship?
The verdict
Image: Courtesy of CroisiEurope
The CroisiEurope barge cruise through Provence is an immersive experience through stunning, ever-changing scenery, with carefully planned excursions and meals showcasing the best of the region. Take all the hassle and stress out of travelling, sit back and watch the world go by at four miles an hour.
Departing on various dates between March and August 2023, prices for the seven-day cruise between Arles and Sete start from £2,380 per person, with all meals and drinks, all excursions, use of onboard bicycles and port taxes included. Price excludes flights. Visit www.croisieurope.co.uk for more information.
Main image: Courtesy of CroisiEurope
Be the first to comment
Do you want to comment on this article? You need to be signed in for this feature