The 10 best walks in New Zealand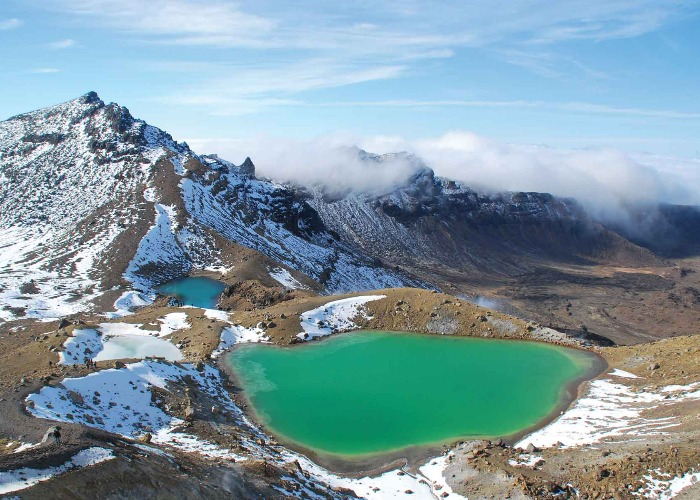 With New Zealand's borders set to open to vaccinated UK visitors on 1 May, it's time to celebrate not just the country's reopening but the 30th anniversary of their Great Walks programme.
These selected multi-day walks are considered among the best in the country. Lace up your hiking boots and head out to explore coastal trails, native forests and diverse wildlife in national parks and culturally significant protected areas.
Here's our selection of New Zealand's greatest walks to tackle in 2022 and beyond.
1. Abel Tasman Coast Track, South Island
This 37-mile (60km) walk winds past forest along a coast-hugging track. The Abel Tasman Coast Track is slightly challenging in parts but don't worry – the elevation and terrain aren't too unbearable. While the route takes three to five days, there are plenty of picnic spots along the way, and the area's mild climate means it's accessible year-round.

Abel Tasman Coast Track/Tourism New Zealand
Venture through Abel Tasman National Park and kick back on a number of golden beaches en route. There's a tide crossing which you'll need to time with low tide; it's best to check a tide schedule before you start this route.
Walkers can either stay in beachside huts (dreamy!) or pitch their own tent at designated camping spots. Wilsons Abel Tasman offers guided day or multi-day trips.
2. Kepler Track, South Island
Enjoy the best nature Fiordland has to offer on this three- to four-day walk along the Kepler Track. During the 37-mile (60km) route you'll take in towering mountains, native forests, spectacular waterfalls and glacier-carved valleys, all just two hours from Queenstown. Trips and Tramps offer guided walks.

Kepler Track/Tourism New Zealand
With high elevations and changeable weather conditions, make sure you're feeling fit for this route. That said, its high points are exactly that; even the toilet located towards the top of the hike provides breathtaking views.
During the walk you'll also likely encounter keas, the world's only alpine parrot. These olive-green birds are cheeky, curious and intelligent and they know how to pinch your food – you've been warned…
READ MORE: The world's 60 unmissable wonders
3. Heaphy Track, South Island
Wind your way through an ancient Māori trail on the Heaphy Track. This longer walk covers 49 miles (78.4km) and takes four to six days to cross tussock downs, lush forests and nīkau palms culminating at the awe-inspiring wild West Coast.

Heaphy Track/Tourism New Zealand
Roughly one hour from Westport and Takaka, this path was once walked by Māori pounamu (jade) hunters due to its position on the rivers of Westland. And on the topic of natural history, the rocks here are some of the country's oldest at a staggering 500 million years old. You might even spot an elusive great spotted kiwi.
Between May and November you'll share the track with mountain bikes. As it's not a loop route you'll need to sort out transportation from the end point, but you'll be happy to rest your feet after this walk.
4. Tongariro Northern Circuit, North Island
Challenge yourself with a hike through New Zealand's oldest national park. Tongariro is home to Mount Ngauruhoe, and it's this 28-mile (44.9km) route that circles the active volcano. Just 45 minutes from Ohakune or 1.2 hours from Taupo, you'll witness craters, explosion pits and lava flows, complete with rugged volcanic landscapes.
Tongariro Northern Circuit/Tourism New Zealand
The Tongariro Northern Circuit gives you the opportunity to explore a World Heritage Area of natural and cultural significance and potentially spot a native falcon or karearea, who fly at over 100km/hr. They're also capable of catching prey up to six times their body weight – probably best to leave the kids at home for this one…
Despite the route's popularity, it's worth noting that there's exposed and uneven surfaces, although Adrift Tongariro and Chris Jolly Outdoors are experienced guiding operators who provide an extra layer of safety and comfort on your hike. To guarantee a spot into the park, book in advance and travel by shuttle bus to avoid frustrating car park queues.
READ MORE: 25 amazing lakes bigger than countries
5. Routeburn Track, South Island
Embrace the best of both worlds on this 21-mile (33km) route that's only 45 minutes from Queenstown or one hour from Te Anau. While the Routeburn Track is the shortest on this list, there are several challenging aspects with steep and rocky sections bringing you to 4,417 kilometres (1,255m) above sea level.
Routeburn Track/Tourism New Zealand
Over the two to four days you'll take in both Mount Aspiring National Park and Fiordland National Park with their huge valleys, cascading waterfalls and crystalline lakes. Not only will you walk the same route as early Māori who searched for pounamu (greenstone), but it's teeming with native birdlife too.
Make sure you bring your camera – there are unending scenic spots to snap with one highlight being Earland Falls, a 571-foot-tall (174m) waterfall. This isn't a loop route so you'll need to sort out transportation from the end point, but Ultimate Hikes offer guided trips on this track, with meals and private-lodge accommodation provided.
6. Milford Track, South Island
One of the more historic routes takes you along the Milford Track, a route that hikers have enjoyed for over 150 years. This is New Zealand's most famous walk, and with unrivalled alpine and fiord scenery, it's not hard to see why.
Milford Track/Tourism New Zealand
Covering 33 miles (53.5km) this four-day hike is just twenty minutes from Te Anau or 2.2 hours from Queenstown and you'll take in dizzying heights, like Mackinnon Pass at 3,786 feet (1,154m) above sea level and Sutherland Falls which stands at 1,903 feet (580m) high. You might even spot endangered wildlife like the blue duck or whio.
Make sure you've got the right gear – one of the most exhilarating times to visit is after it's rained. You'll witness Mother Nature at full force with water streaming down steep mountainsides, but this makes the track itself steep, slippery and muddy. You'll also need to book boat transport to access and depart this route. Ultimate Hikes and Trips and Tramps offer guided walks.
READ MORE: Mother Nature's greatest spectacles will inspire you
7. Rakiura Track, South Island
Switch off and reconnect with nature both around and above you on this walk. The Rakiura Track is a 20-mile (32km) route that covers 80% of Stewart Island in three days, also passing through Māori land and early Māori settlement sites.
Rakiura Track/Tourism New Zealand
Stewart Island (aka Rakiura) is the world's fifth International Dark Sky Sanctuary and is a majestic place to marvel at the aurora australis, or the Southern Lights. This is no recent discovery; Rakiura in Māori means 'land of the glowing skies'.
Embrace peace and solitude on this route that requires either a flight (30 minutes from Invercargill) or ferry (one hour from Bluff) to access. Ruggedy Range and RealNZ are great options for this track.
8. Paparoa Track and Pike29 Memorial Track
The Paparoa Track winds through alpine tops, limestone landscapes and lush rainforests, all creating a mesmerisingly scenic hike from start to finish. Walk in the footsteps of former gold miners and settlers, with a stamping battery (a type of pounding machine) and a 1930s miners' hut to check out.
Paparoa Track/Tourism New Zealand
Located just 40 minutes away from Greymouth or four hours from Christchurch, it takes three days to complete this 34-mile (55km) long route. Note that this isn't a loop track so you'll need to find your own way there and back, but you can certainly make the most of your time here by extending your walk.
The soon-to-be-opened Pike29 Memorial Track will connect to the Paparoa Track. Its addition will commemorate the 29 miners who tragically lost their lives in the Pike Mine Disaster in 2010, and allows walkers to visit the site of the former Pike River Mine.
READ MORE: The 50 best reasons to visit New Zealand
9. Whanganui Journey, Whaganui River
This isn't your conventional walk. In fact, although it's listed as a Great Walk, the Whanganui Journey actually sees you kayak or canoe down the Whanganui River. Embark on either a three-day (54 miles/87km) or five-day (90 miles/145km) route, but being able to swim is vital. This experience is ideal for groups as the wide river means you can paddle alongside each other.
Whanganui Journey/Tourism New Zealand
In fact, the river is deemed a legal person due to its significance to Māori. There's a strong spiritual connection with the area, with many culturally significant sights dotted along the route. The huts you'll stay in are located in a former pā (Māori village) called Tieke Kāinga.
As you glide past towering canyons and luscious forests, keep an eye out for short and long tailed bats – the only native mammal in New Zealand – which flutter around at dusk. Owhango Adventures and Whanganui River Canoes both offer great trips.
10. Tuatapere Hump Ridge Track – The Next Great Walk
Due to launch in 2023, the Tuatapere Hump Ridge Track will be a 38-mile (61km) route taking in the best of the gorgeous south coast. This three-day route will be just one hour from Invercargill, 1.5 hours from Te Anau and two hours from Queenstown.
Tuatapere Hump Ridge Track/Tourism New Zealand
The Tuatapere community built the track on a voluntary basis and will be a private walk owned by a charitable trust. There are three ways to walk the track: the Freedom Walk, which offers multi-share accommodation at Okaka and Port Craig Lodges; the Prime Package, for more luxurious stays; and a guided walk for the complete experience.
It's fair to say it's one of the more challenging walks with one of the days including an ascent of 3,280 feet (1,000m), so make sure you pack light (don't worry, the lodgings provide more than enough food). During your hike you'll spot native flora and fauna including rimu, kākā and even Hector's dolphins playing in Waewae Bay. Time your visit between February and April for the best weather.
Be the first to comment
Do you want to comment on this article? You need to be signed in for this feature