6 reasons why you should visit Hungary's Lake Balaton this summer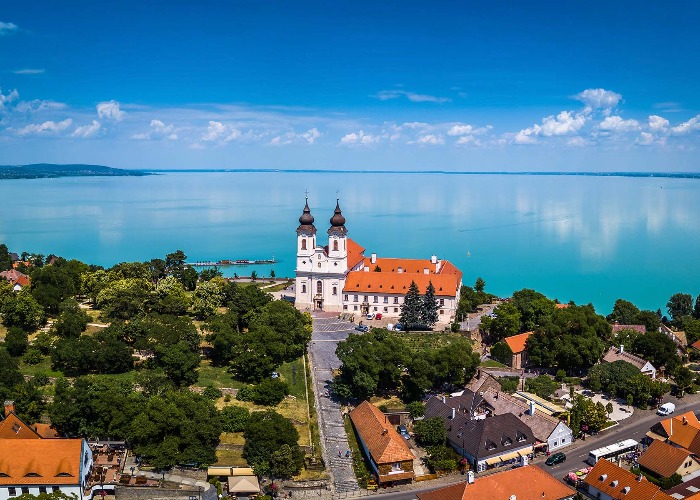 From the calming thermal waters of Lake Hévíz to bouncing summer music festivals like Balaton Sound, this spot holds a unique allure and is a perfect excuse to explore Hungary beyond the seductive sights of Budapest.
With 64 beaches, 73 harbours and a shoreline defined by small towns and bobbing sailboats, it's perhaps no surprise that Lake Balaton has long been referred to as the 'Hungarian Sea'. But this famous resort area isn't quite so well known beyond Hungary's borders. Flanked on its northern side by rolling hills pockmarked by castle ruins and tumbling vineyards, there are myriad landscapes, culture and history to explore around Central Europe's largest lake.
1. Take in some epic scenery
Whether it's from the ornately carved Walkó lookout on the southern shores or high up in the multi-layered Őrtorony tower above the Tihany Peninsula, the cinematic scenery of Lake Balaton is a prime factor in why Hungarians keep returning here. The Balaton Highlands on the northern side offer several spectacular hiking trails through volcanic buttes and geological formations, while the aforementioned Tihany Peninsula is blanketed with both geyser and lavender fields.
For cyclists, the 130-mile (210km) jaunt around the Balaton Bicycle Circuit means an ever-changing perspective and a chance to sample the culture and hospitality in each passing town. Although, if you are visiting on two wheels, then break up the journey into chunks and enjoy the lake's many vistas at a slower pace.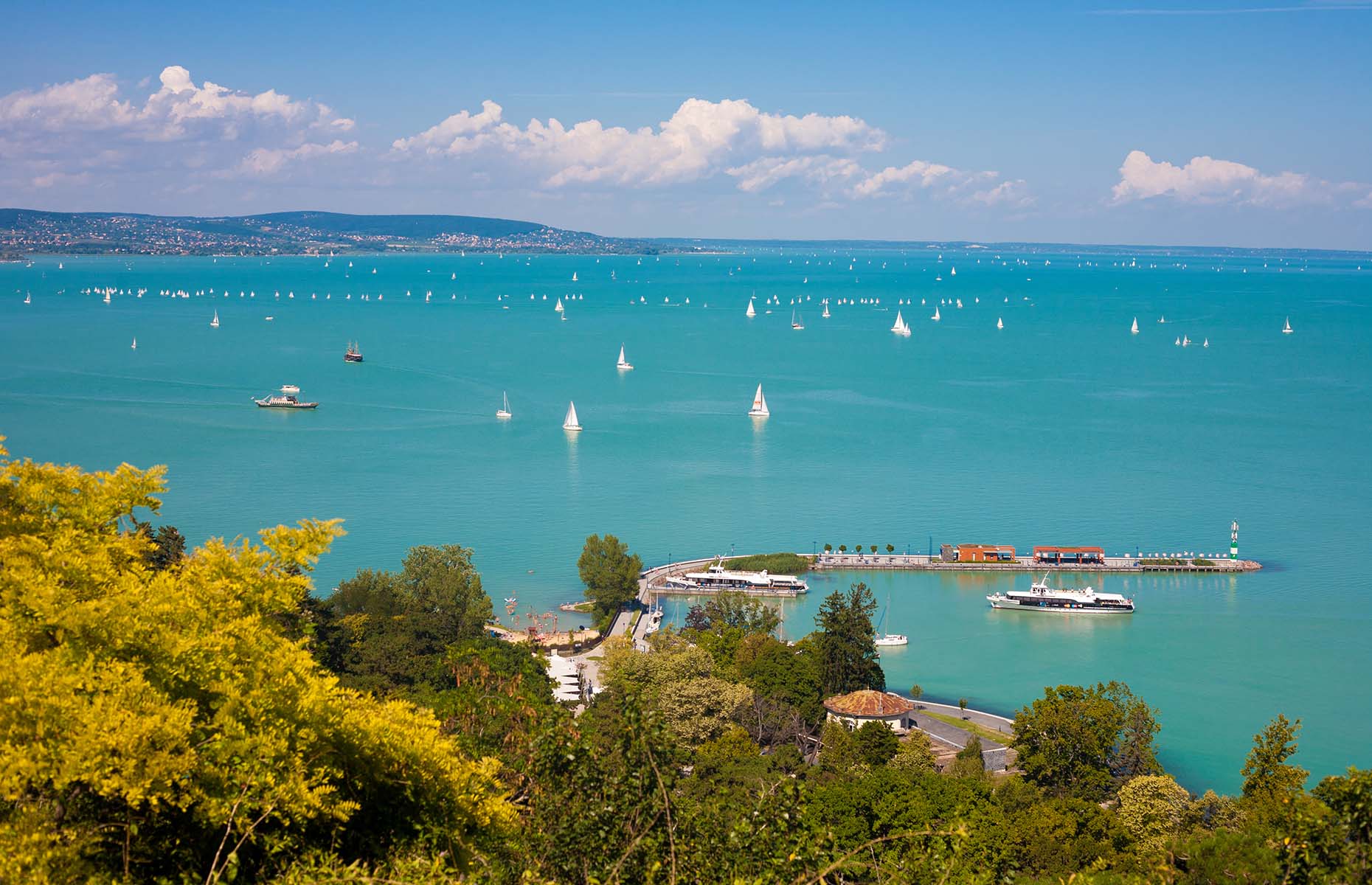 andras_csontos/Shutterstock
2. Relax in the world's largest swimmable thermal lake
Only the aptly named Frying Pan Lake in New Zealand is bigger than Lake Hévíz, although its waters are far too hot for swimming. But over on the western end of Lake Balaton, people have been bathing in this soothing spot, located just a few kilometres from the coastal town of Keszthely, since the Roman period.
Thanks to its rich mineral composition, the thermal water offers a remedy for muscle aches and there's also a wellness and therapy centre inside the modern wooden structure stretching across the lake. The healing sulphuric waters of Lake Hévíz are naturally heated to around 30°C (86°F) and the traditional Hévíz therapy consists of mud packs and traction baths. There's even a famous story of an elephant named Nelly who bathed here in the summer of 1914 and had her painful foot cured (apparently photos actually exist of this event).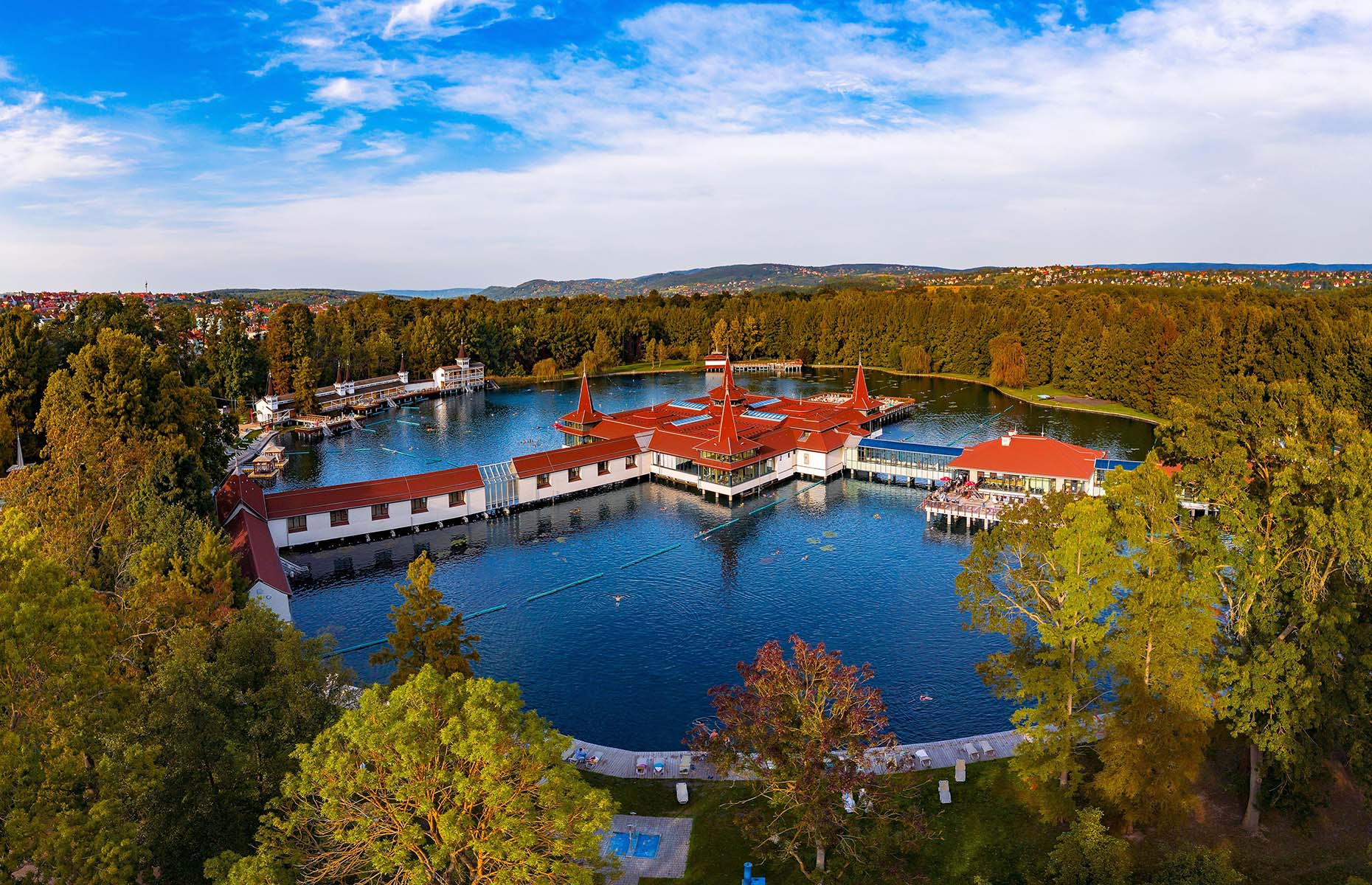 Geza Kurka/Alamy Stock Photo
READ MORE: The most incredible hot springs in the world
3. Discover the wines of Central Europe
On reaching the climax of the short 70-minute drive down from Budapest, the rolling vineyards of Lake Balaton's northern slopes are impossible to miss. In fact, they cover over 24,000 acres in the area and this hilly landscape produces some of Europe's finest and most underrated wines.
With crisp acidity and complex aromatics, these wines can be sampled at several wineries around the region and many offer beautiful views down to the lake itself. The Badacsony region is perhaps the largest and most spectacular, so head up to Rózsakő on Badacsony Hill and take in the scenery alongside a drop of the local white wine.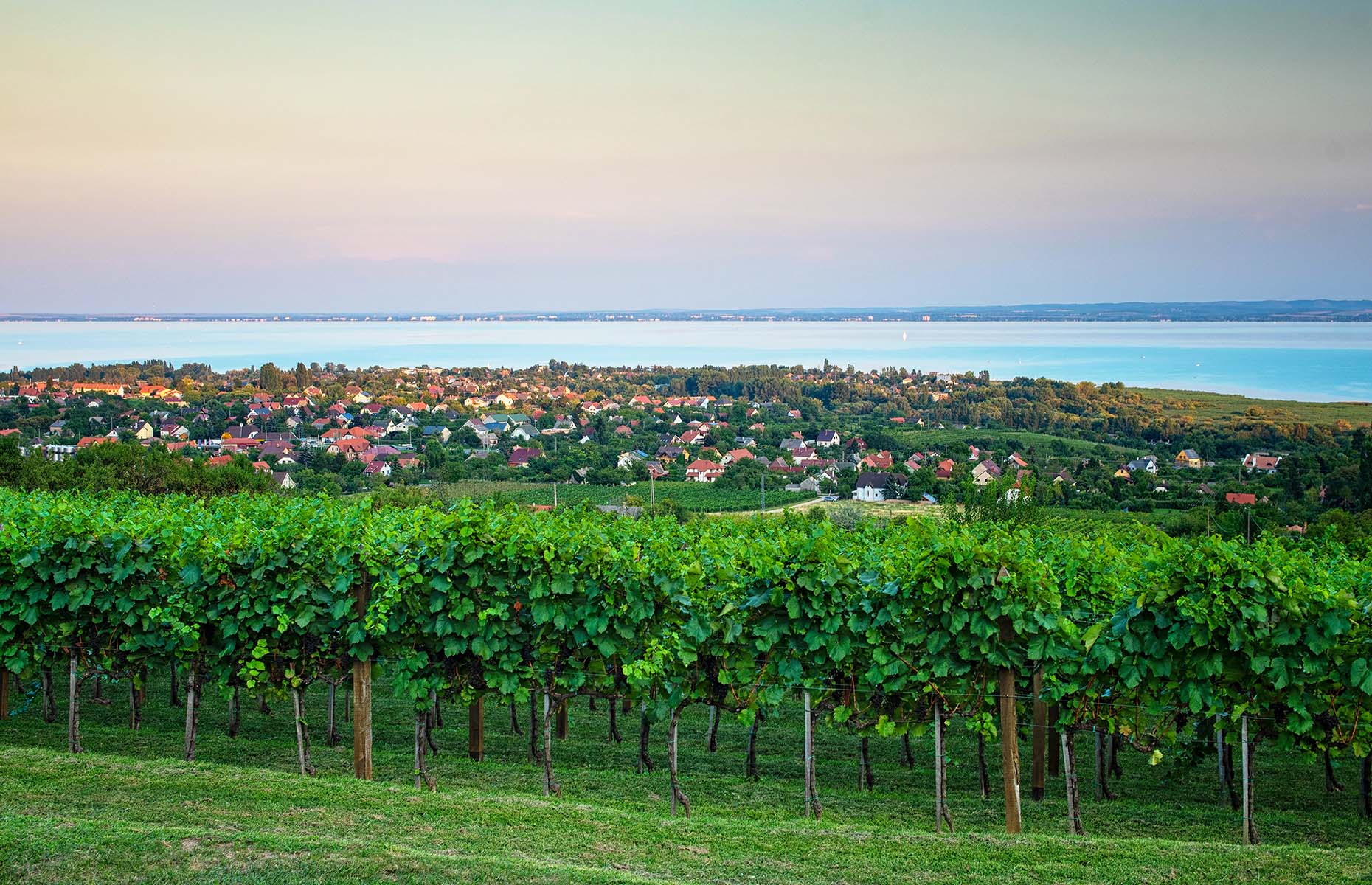 Botond Horvath/Shutterstock
4. Enjoy one of Europe's biggest music festivals
Something a little more energetic takes place every year on the flatter southern shores of Lake Balatonand it has become a Hungarian institution. Launched in 2007, Balaton Sound has grown into one of Europe's biggest open-air electronic music festivals and attracts thousands of revellers every year at the end of June.
Taking place in Zamárdi, the five-day event has seen big-name DJs such as Tiësto and Steve Aoki performing and the site features floating bars, food trucks, chill-out zones and even bungee jumping. For a more laid-back atmosphere, head to the Paloznak Jazzpiknik on the northern shores in early August which focuses on the relationship between good wine and good music.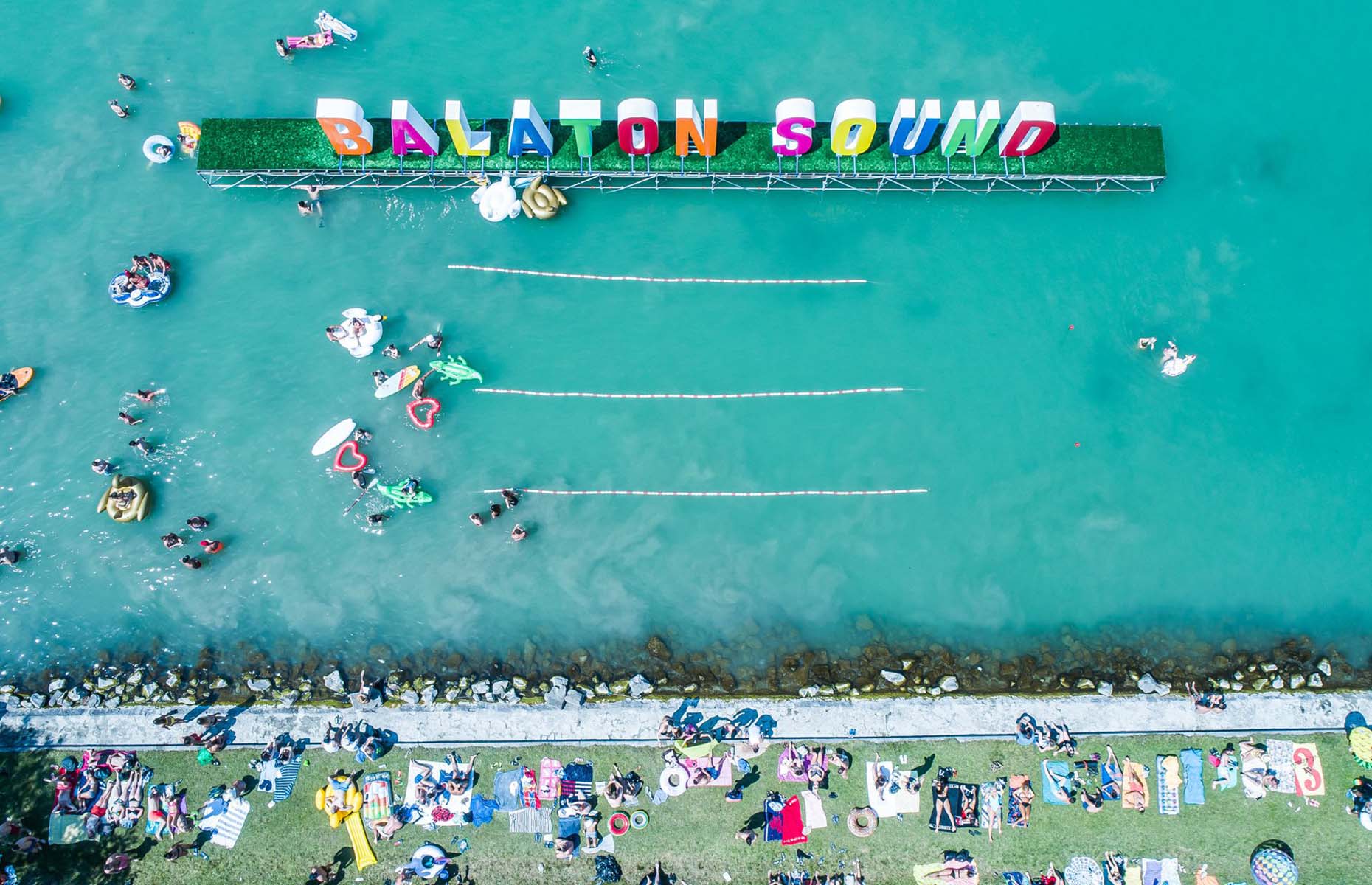 Balaton Sound Official/Facebook
5. Step back into medieval life
Perched high up on a solitary 886-foot (270m) hill in the western part of the Bakony Mountains, the Castle of Sümeg has been looking out over Lake Balaton from its lofty vantage point since the 13th century. Built by Béla IV of Hungary, it's been under siege several times and survived two fires but is somehow still standing. As well as being able to visit historic rooms and the old prison, there are realistic recreations of medieval jousting contests, long-distance archery and sword combat.
A more ornate time period is on show at the elaborate Festectics Palace on the western shores of the lake at Keszthely. Inhabited by the aristocratic Festectics family, the vast palace's construction lasted over a century and the stunning oak library is worth the admission alone.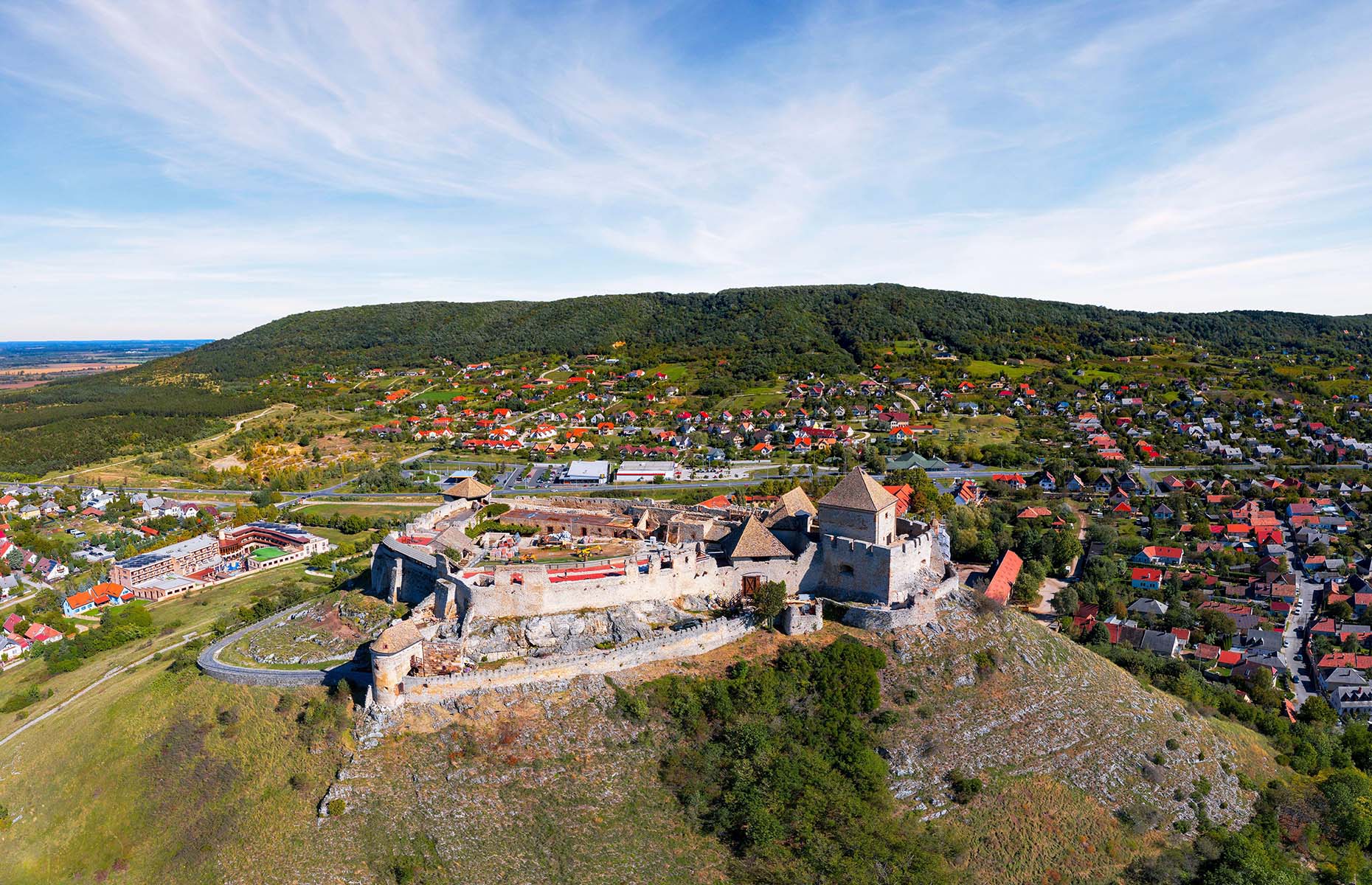 Geza Kurka/Alamy Stock Photo
6. Hit the water
With a total ban on motor-powered boats (electric boats are fine), one of the most noticeable things about Lake Balaton is the lack of noise pollution. It's one of the reasons why it's such a pleasure to sail and there are plenty of well-equipped marinas around the lake to rent a boat, with or without a captain. You could even try your hand at windsurfing or kitesurfing.
Every summer, Lake Balaton's prestigious Blue Ribbon (Kékszalag) sailing competition sees competitors navigate a 99-mile (160km) route around the lake in the fastest time possible within a 48-hour period. With its gaudy length and a field of more than 500 boats, it's Europe's longest round-the-lake sailing event and is well worth coming to see if you'd prefer to watch the best in the business from the comfort of the shore.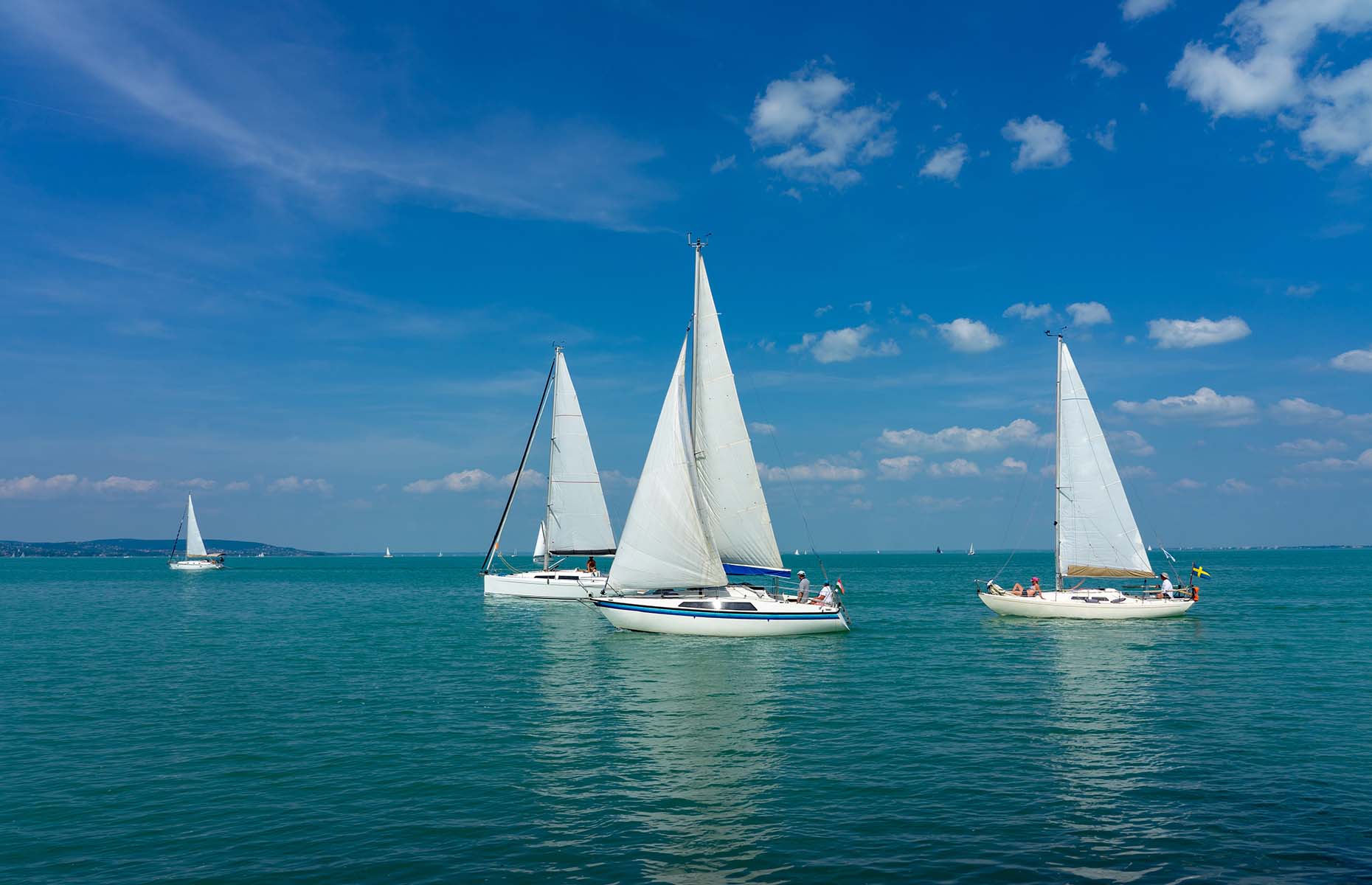 berni0004/Shutterstock
READ MORE: Europe's biggest natural lakes you can visit
Discover more at: visithungary.com.
Lead image: ZGPhotography/Shutterstock
Be the first to comment
Do you want to comment on this article? You need to be signed in for this feature