5 experiences that make Blackpool rock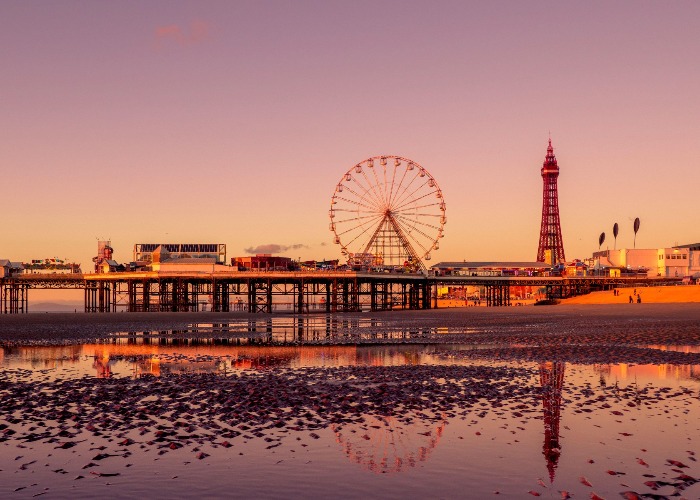 Dubbed the 'Vegas of the North' thanks to its famous illuminations, there's more to this retro seaside town than its sticky rock and white-knuckle rides.
Blackpool is a buzzing northwest town-by-the-sea that is a riot of colour, energy and fun – and that's just the seafront (brimming with arcades, edible rock shops and souvenirs). And while there will always be sandy sandwiches, ice cream trucks and the distant sound of a Hammond organ playing in the background, there is a modern transformation brewing. Think luxury townhouse apartments, trendy noodle bars and afternoon tea with a difference.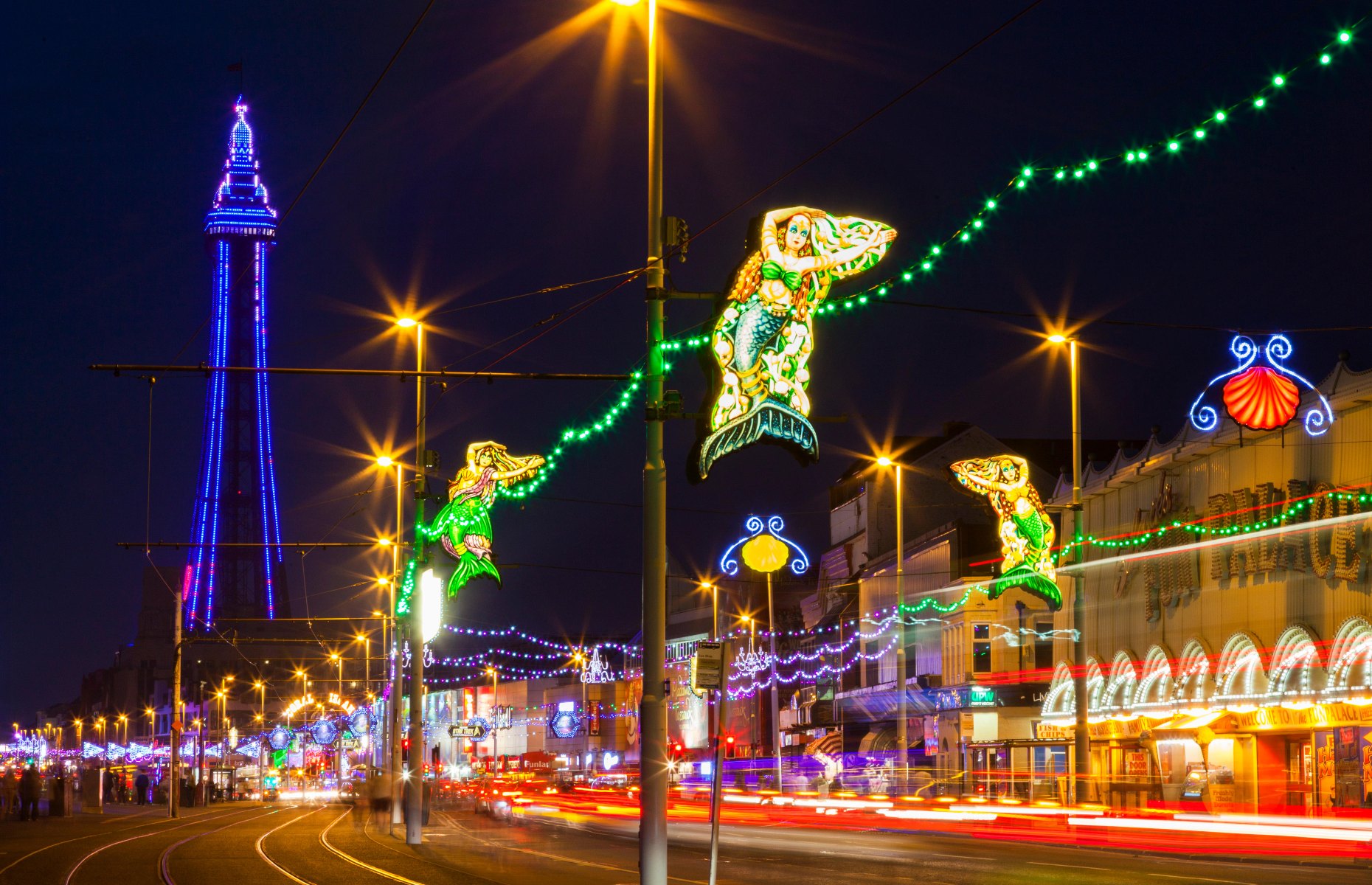 robertharding/Alamy
Visit in time for the world-famous Blackpool Illuminations (on from September to January), stretching for six miles (10km), they include traditional festoons, tableaux on the cliffs at North Shore and momentous projections blasted onto The Blackpool Tower.
Stop by the North Pier, dating back to 1863, for a bite of Victorian grandeur with snug tea rooms, carousels and mystical palm readers – anything goes. But a visit to Blackpool is not complete without testing your nerve on the Big One et al, so head there first...
1. Hit the rides
You'll probably hear the screams on approach to Blackpool Pleasure Beach, but don't let that put you off. Home to the UK's largest roller coaster, the aforementioned Big One stands at a vertigo-inducing height of 235 feet (72m) and reaches speeds of 85 miles per hour (137km/h). Not scary enough for you? How about climbing up it? You can now Walk The Big One – if you're feeling brave.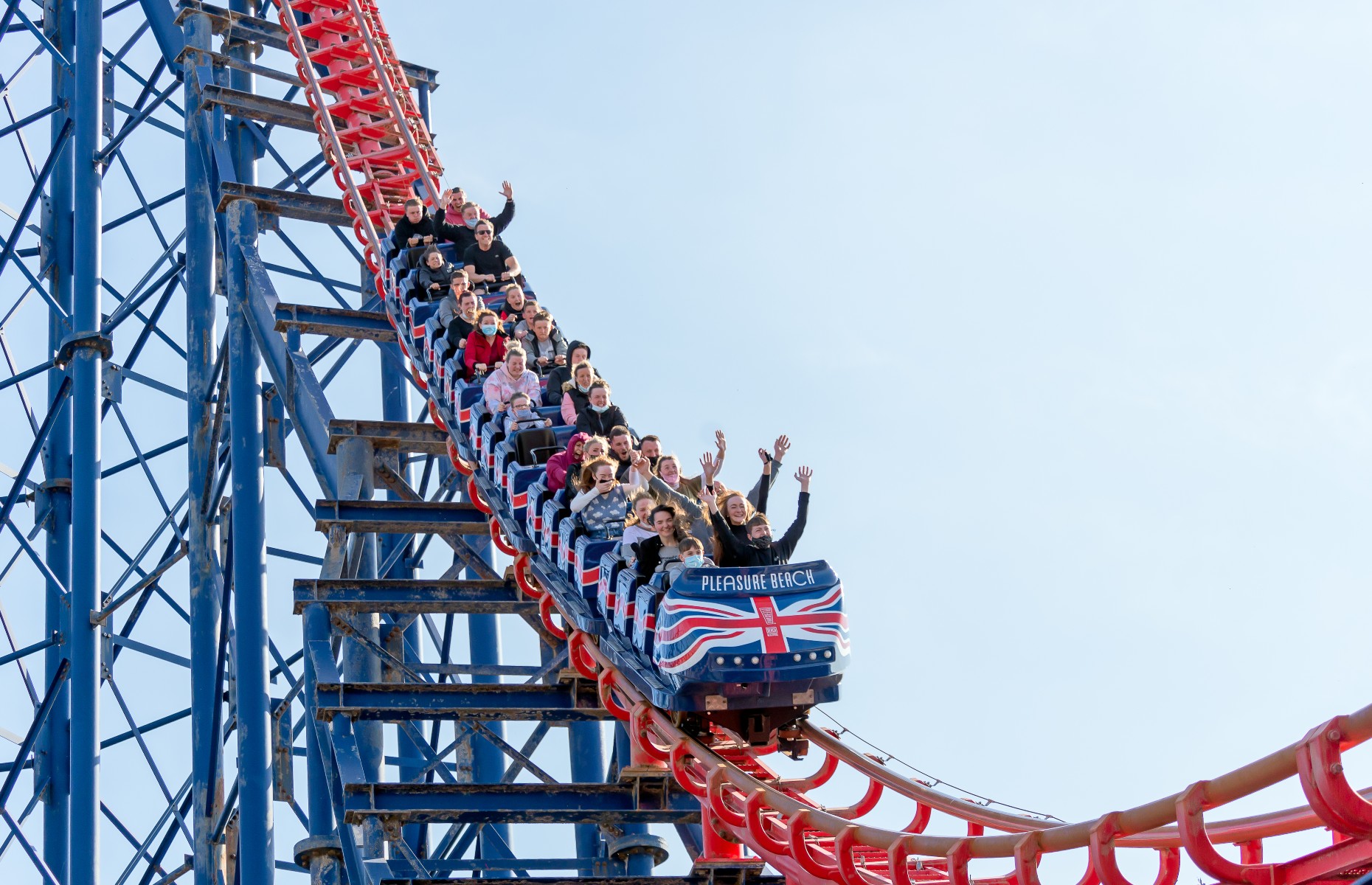 Mark D Bailey/Shutterstock
There are plenty of thrills and spills elsewhere in the park, including Revolution – Europe's first 360° looping coaster – as well as more tame family rides such as the Derby Racer and River Caves, while younger kids won't want to leave Nickelodeon Land. For tickets and more information, click here.
2. Head to the theatre
The Blackpool Opera House, situated in the Winter Gardens entertainment complex, is one of the largest theatres in Europe, welcoming a year-round programme jam-packed with some of the best touring productions from across the UK.
It hosted the first Royal Variety Performance to be held outside London, in 1955, then later again in 2009 with an A-List cast incorporating Lady Gaga, Michael Bublé, Alexandra Burke, Miley Cyrus, Whoopi Goldberg and Bette Midler.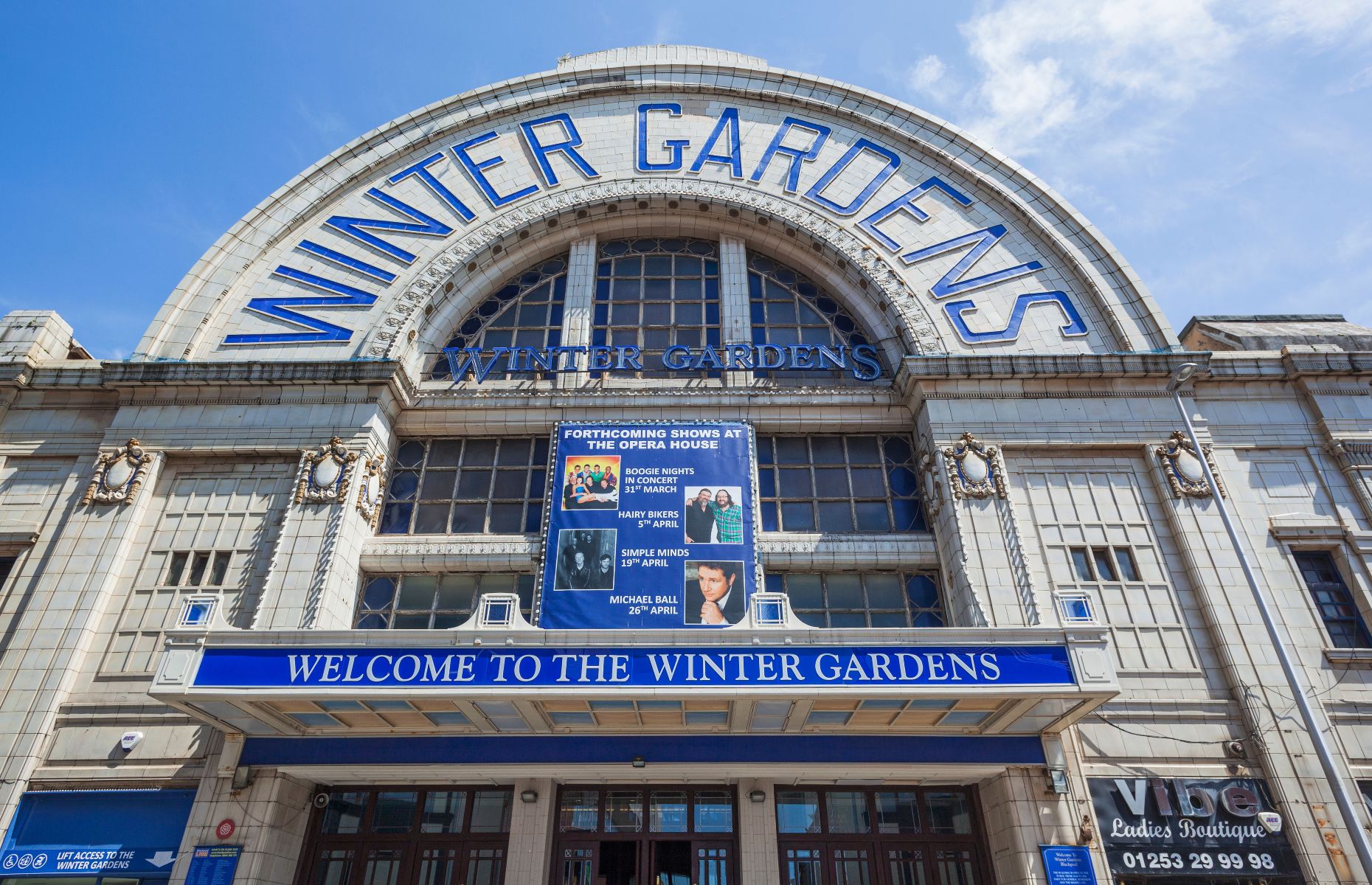 Steve Vidler/Alamy
Holding 2,813 theatregoers, it was opened in 1939 bearing a classic Art Deco design with elegant foyers, wood-panelled lounges and one of the widest proscenium arches in the world. See what's going on by visiting wintergardensblackpool.co.uk.
3. Get your dancing shoes on
Hypnotised in a trance orchestrated by Phil Kelsall, the resident Wurlitzer organ grinder for over 45 years, visit the Blackpool Tower Ballroom, which dates back to 1894.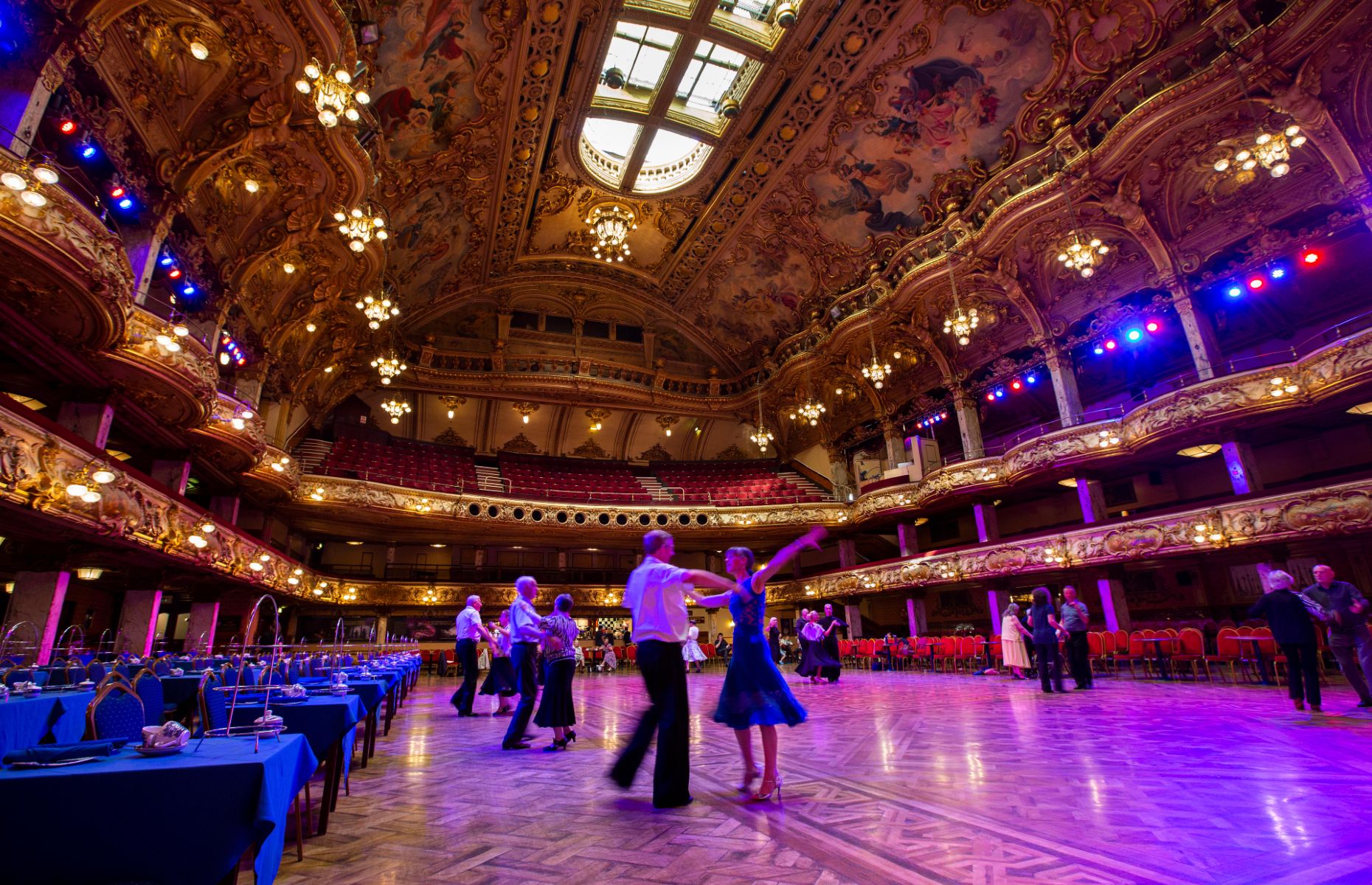 architecture UK/Alamy
Nibble on chicken tarragon sandwiches, fresh scones and cream cakes and gaze over at ballroom dancers waltzing to precision placement on a sprung floor that has welcomed celebrities from Judy Murray to Ann Widdecombe (we've Strictly Come Dancing to thank for that), surrounded by crystal chandeliers and lavish balconies.
Afternoon Tea for 2, which includes the opportunity to dance on the famous floor yourself, costs from £50.
If salsa is more your thing, then strut your stuff along to the Grand Hotel Blackpool for the blood-pumping Latin extravaganza that is the Salsa Northwest UK Congress.
Bringing together some of the top teachers from around the world, the festivals (held in May and November) are jam-packed with expert classes in salsa, bachata, Kizomba, semba, reggaeton, rueda and boogaloo as well as some unexpected surprises like Bollywood and rock 'n' roll. Professionals then take to the floor followed by a nightly fiesta swaying to the beats until breakfast (tickets from £75).
4. Take a tram
For a nostalgic trip along the coast when the donkeys are too tired, catch a tram. We don't mean the modernised vehicles that stretch the length of the Golden Mile and beyond (although they're handy), we mean the numerous heritage tram tours.
The Coastal Tour goes to nearby Fleetwood and back, while the Promenade Tour can drop you from North Pier to the Pleasure Beach (save your energy for the rides!). When the illuminations are on, a specially lit-up boat or train tram allows you to take in the lights at your leisure. You've got to book in advance though.
5. Tuck into cuisine that goes beyond fish & chips
I know what you're thinking – a recommendation for anything other than fish and chips, in Blackpool? But the sizzling dishes served up at Michael Wan's Wok Inn Seaside Noodle Bar are simply not to be missed: influenced by cooking styles from Malaysia, Thailand, Japan, China, Indonesia and Vietnam.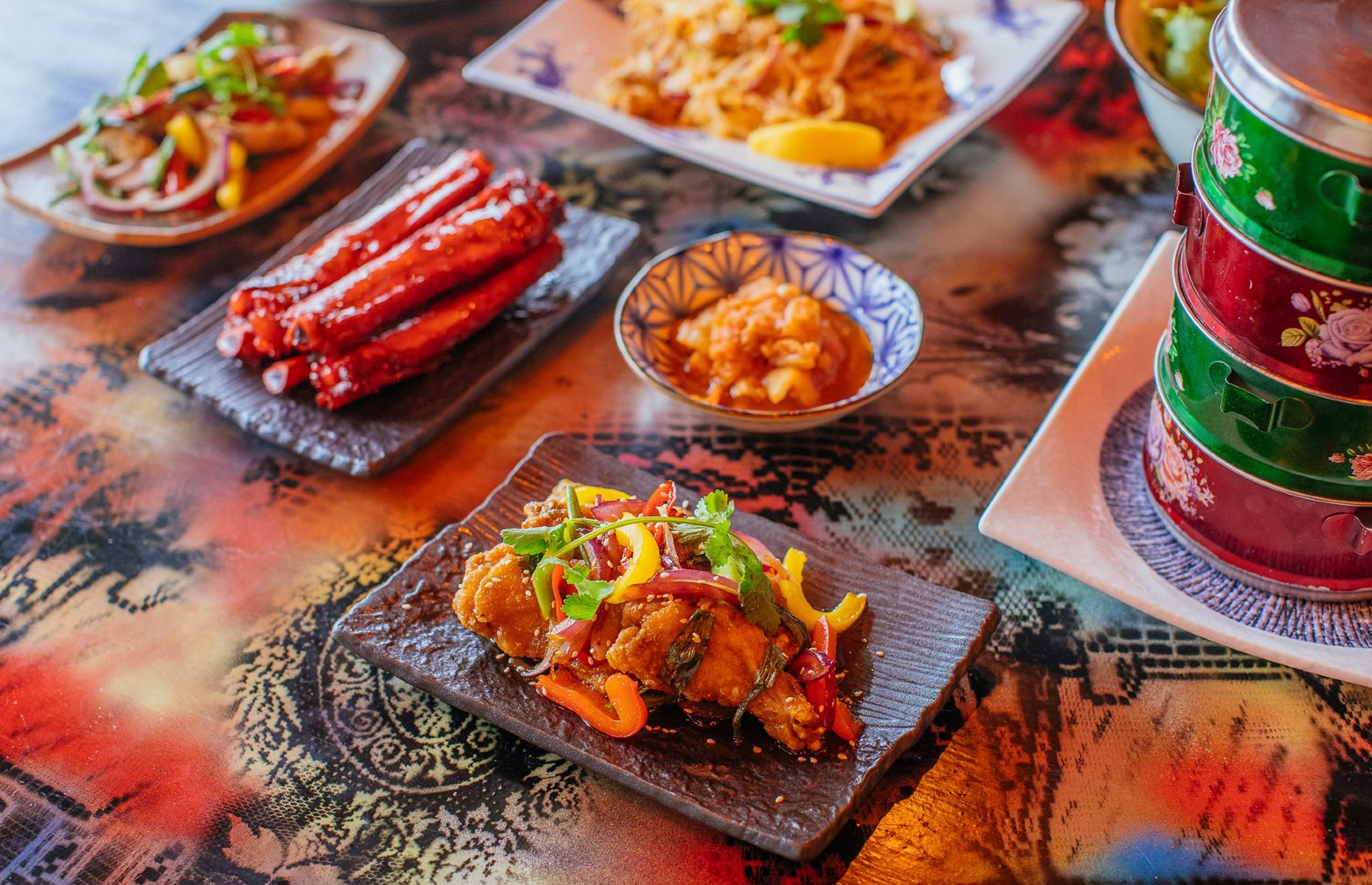 Michael Wan's Wok Inn/Facebook
Decor blends Penang street food hawker markets with traditional Budapest ruin bars featuring beautiful ceramic tiles, colourful patterned tables and copious sculptures from dangling fish to Japanese oil-paper umbrellas. Dive into a plate of crispy fried pork belly, vegetable gyoza and massaman chicken curry; and slurp a rib-eye steak ramen – washed down with a glass of Choya Japanese sake.
If a taste of the Med (rather than the Irish Sea) is more your thing, head to Beach House Bistro Bar in prime position next to the water's edge. Perfect for sampling charcuterie boards and tapas while watching the stunning sunsets with a cocktail or three, the bistro also has live music at weekends.
Where to stay in Blackpool
Modern self-check-in apartments in the town offer a cosy, more private stay tucked away in hushed streets far from the resort-style hotels spilling across the promenade. Fitted with velvet padded walls, fully-furnished kitchens and expansive lounges and dining tables, they make a perfect retreat after a day spent soaking up all Blackpool has to offer (apartments from £75 per night; airbnb.co.uk).
For more information about the town and its array of activities and adventures in 2022, go to visitblackpool.com.
Lead image: Bailey-Cooper Photography/Alamy
Be the first to comment
Do you want to comment on this article? You need to be signed in for this feature