8 of the oldest pubs in Britain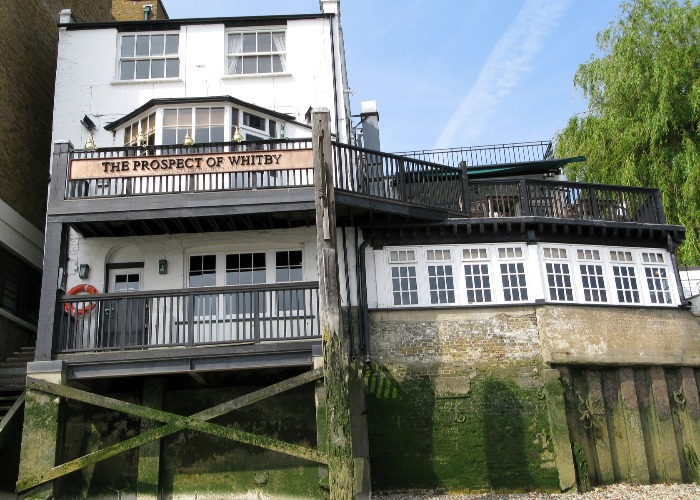 From Saxon-era alehouses and centuries-old highway inns, Britain is full to brim with historic pubs that make the perfect pitstop for a pint and history lesson
Our beloved British pub has been around for a long, long time. In fact, the oldest pubs in Britain, once known as taverns or tabernae, go back some 2,000 years to Roman times. Over the years, they evolved into alehouses or inns where soldiers, merchants and travellers stopped off for a tipple and a rest.
We might not use them for cockfighting and fistfights so much these days, but we've certainly come to appreciate the UK's 40,000-plus pubs. The question is, which ones have the most history? From a Thames-side inn once visited by Charles Dickens to a Hertfordshire favourite built on underground tunnels, here are eight of Britain's oldest pubs.
1. The Old Ferry Boat Inn, Holywell, Cambridgeshire
The Old Ferry Boat Inn may be the oldest pub in Cambridgeshire, but it's also, apparently, the most haunted.
Step foot inside this thatched-roof alehouse and you'll discover the eerie ghost story of Juliet Tewsley, whose 11th-century grave slab sits right by the bar.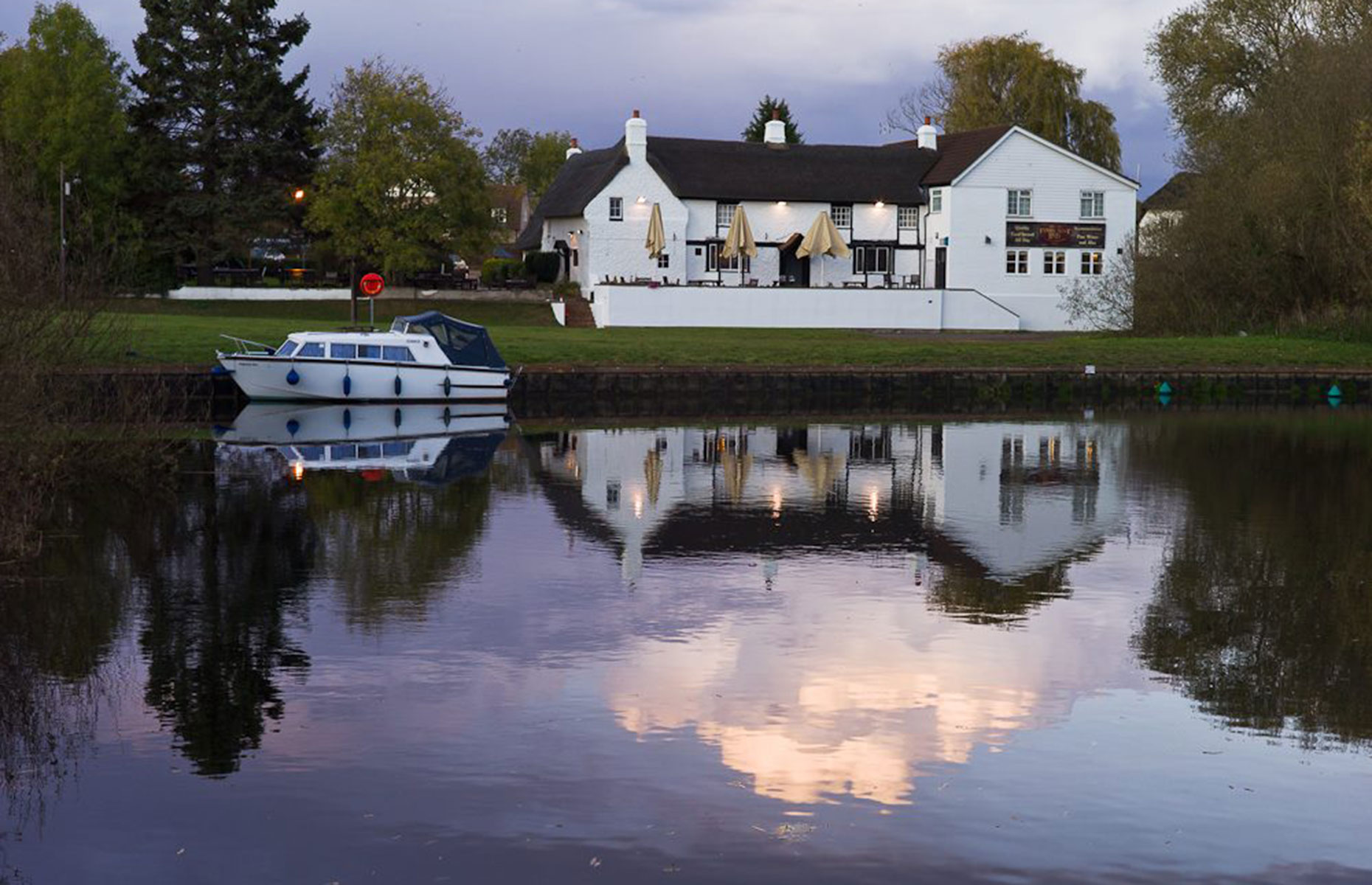 Old Ferry Boat Inn/Facebook
Paranormal activity aside, this charming pub sits on the pretty banks of the River Ouse and alcohol was apparently sold here as long ago as AD 560. If the creepy tales don't put you off, you can bed down in one of its seven cosy guest rooms.
2. Ye Olde Fighting Cocks, St Albans, Hertfordshire
There are remnants of Roman history all over St Albans, the birthplace of the UK's first saint.
Some people claim that the historical pub, Ye Olde Fighting Cocks, is one of them. Located beside the River Ver, on the edge of Verulamium Park, this ancient pub dates back some 1,400 years. And although parts of this former pigeon house were rebuilt in the 11th century, its original tunnels – once used by monks from the nearby cathedral – remain in place.
Interestingly, St Albans has more pubs per square mile than any other city, but this one, with its cock fighting history and octagonal shape, is arguably, the most intriguing.
READ MORE: Britain's historic places to stay
3. Ye Olde Trip to Jerusalem, Brewhouse Yard, Nottingham
Built into the rocks, beneath Nottingham Castle, Ye Olde Trip to Jerusalem is a characterful pub that is home to all manner of historic knick-knacks and various nooks and crannies. The history books tell us this quirky inn was once a stopover for crusader knights. And, as the name suggests, it's where King Richard the Lionheart and his men gathered before travelling to Jerusalem in 1189.
Despite its modern gin bar (upstairs), there's charm and mystique aplenty within its cave-like rooms: it has ceilings covered in banknotes and a 'cursed' glass-cased galleon said to possess deathly powers.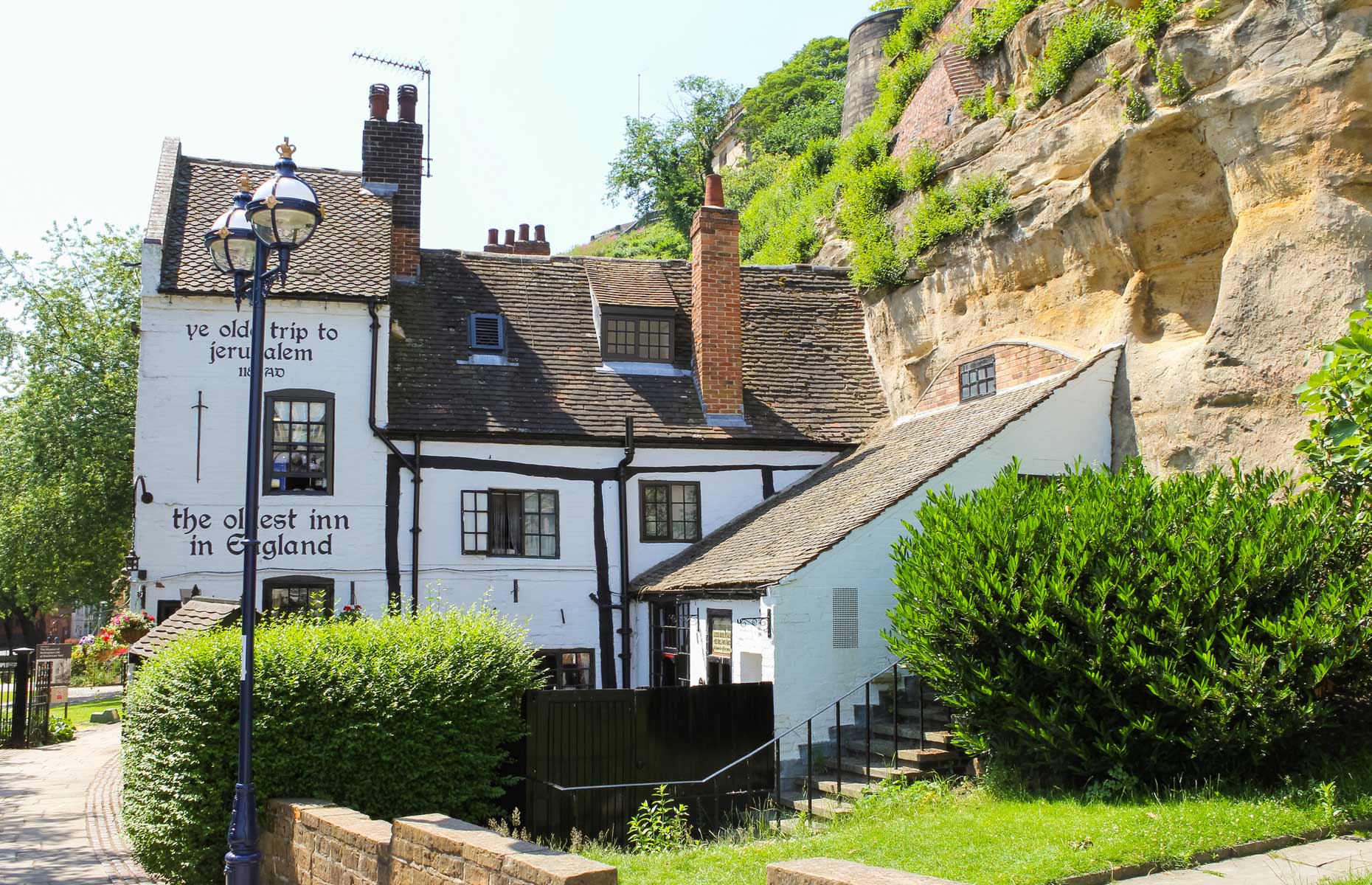 mikecphoto/Shutterstock
4. The Sheep Heid Inn, Edinburgh
The Sheep Heid Inn in Duddingston, Edinburgh is no stranger to royal guests. Mary Queen of Scots liked to stop off en route to her royal palaces in the 1500s. Her Majesty Queen Elizabeth II also made a surprise visit in 2016. There has been an inn on this spot by Holyrood Park since 1360 – in the medieval era the area was a centre for sheep butchery with livestock reared on the park before being taken to the village for slaughter. Cosy and characterful, with a 19th-century skittle alley (which patrons can still use), it's also seen poets and writers such as Robert Louis Stevenson and Robert Burns walk through its doors.
READ MORE: Our full guide to Edinburgh
5. The Bingley Arms, Bardsey, Yorkshire
The Bingley Arms – once known as The Priests Inn – dates back to between AD 905 and AD 953 and was once a resting place for monks, and later, Catholic priests, during Henry VIII's Dissolution of the Monasteries. Aside from the mischievous ghosts in residence, its original inglenook fireplace and 17th-century Dutch oven (a cooking pot once used for breadmaking) are perhaps the pub's biggest talking points. Underground passages leading to the village's All Hallows church and priest holes (where priests used to hide from persecution under the reign of Elizabeth I) can also be found in the ancient and welcoming inn.
6. The Royal Standard of England, Forty Green, Buckinghamshire
Documented in the Domesday Book in 1086, many people claim this pub is, in fact, England's oldest. And if the walls of The Royal Standard of England could speak, they'd tell stories of highwaymen, royalty and paranormal activity dating back to the Saxon era, when the site was used as a 'Brewster's cottage' (and later an alehouse) for cottagers and tile-makers in the area. Once known as 'Se Scip' (The Ship), the inn retains its medieval tiled flooring and lures in historians with its impressive displays of armoury and treasures. It's no wonder it's appeared in an array of films and TV shows, from Midsomer Murders to The Theory of Everything.
Greg Balfour Evans/Alamy Stock Photo
7. The Porch House, Stow-on-the-Wold, Gloucestershire
With centuries-old fireplaces, wonky door frames and so-called 'witches marks' on the walls, there's plenty of history to found at The Porch House in the Cotswolds. Formerly known as The Royalist, it was built as a hospice for lepers, by order of the Duke of Cornwall in AD 947 and various treasures – from a Royalist commander's letter written during the English Civil War to a 10th-century Saxon shoe – were discovered here. Now, with a modern make-over and smart hotel rooms to boot, this Grade II-listed building is one of the oldest inns and pubs in England. And arguably one of the most stylish too.
8. The Prospect of Whitby, Wapping, London
With skulls and pistols and even a noose hanging from the walls, there's plenty to suggest that The Prospect of Whitby in Wapping has a long and dark past.
Once known as the Devil's Tavern, this historic pub, established in 1520, is said to be steps away from the pirate 'Execution Dock' on the River Thames and was once the watering hole of Captain Kidd and other infamous privateers. Smugglers and villains aside, The Prospect of Whitby became a favourite hangout for diarist Samuel Pepys and literary greats such as Shakespeare and Charles Dickens. It's thought to be London's oldest riverside inn.
Main image: Prospect of Whitby, CarlsPix/Shutterstock
Be the first to comment
Do you want to comment on this article? You need to be signed in for this feature