5 ways to discover the spirit of New Orleans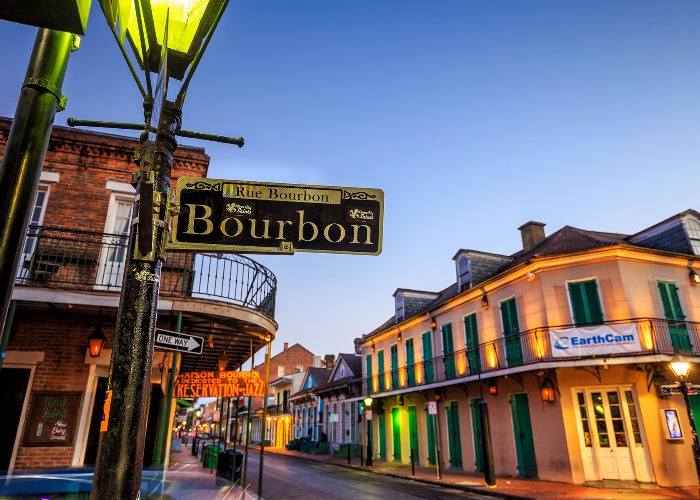 From drinks invented in the city's bars to museums dedicated to specific libations, nowhere does cocktail culture quite like the Big Easy.
New Orleans' hard-partying reputation is widely known and largely deserved.
Bourbon Street, which slices noisily through the historic French Quarter, is one of the most infamous nightlife stretches in the US, with rows of live-music bars and rowdy crowds even on a Tuesday lunchtime. And you'll typically see people clutching to-go or "geaux" cups, as the Louisiana city's laws allow you to drink on the street and even weave between bars carrying the same tipple.
Zack Smith Photography/New Orleans & Company
But it isn't just about slurping fruity, rum-infused Hurricane cocktails, dancing and collecting colourful Mardi Gras beads. The city's past is as booze-soaked as the streets after Fat Tuesday, with much of its history entwined with alcohol.
The world's first known cocktail, the Sazerac – a potent concoction of rye whisky or cognac with sugar and Peychaud's bitters, served in an absinthe-rinsed glass – was invented here in 1838, by Creole apothecary Antoine Peychaud.
From storied bars to museums dedicated to spirits, here are some of the best ways to get to know NOLA over a drink or three.
(The situation is changeable due to COVID-19, so remember to check local travel restrictions and opening arrangements before planning your trip.)
1. Take a cocktail history tour
Doctor Gumbo Tours offer a suitably boozy introduction to the city. Their cocktail tour offers a deep-dive into NOLA's drinking culture. It's essentially a bar crawl with a booze-loving history buff who knows all the best spots in town.
The guides have an encyclopedic knowledge of the city and its cocktails. Learn about the origins of various drinks, and how daytime drinking – when men would belly-up to coffee stands for sling-style drinks – and bitters-based hangover cures collided to create the first cocktails.
This is all while sipping, of course, with a cocktail at each of three or four bars included in the tour price (those not drinking pay half). Stops along the way can vary but expect to visit SouBou for a Sazerac and Tujagues – the oldest stand-up bar in the US – to try a Grasshopper, which looks like green satin paint and tastes like an After Eight mint.
Tujagues Restaurant/Facebook
2. Tour a booze-themed museum
A museum that's all about cocktails? Sazerac House, opened in September 2019, is just that. It pores over the city's boozy foundations through a series of interactive exhibits that illustrate how interwoven its history, cocktails and culture are.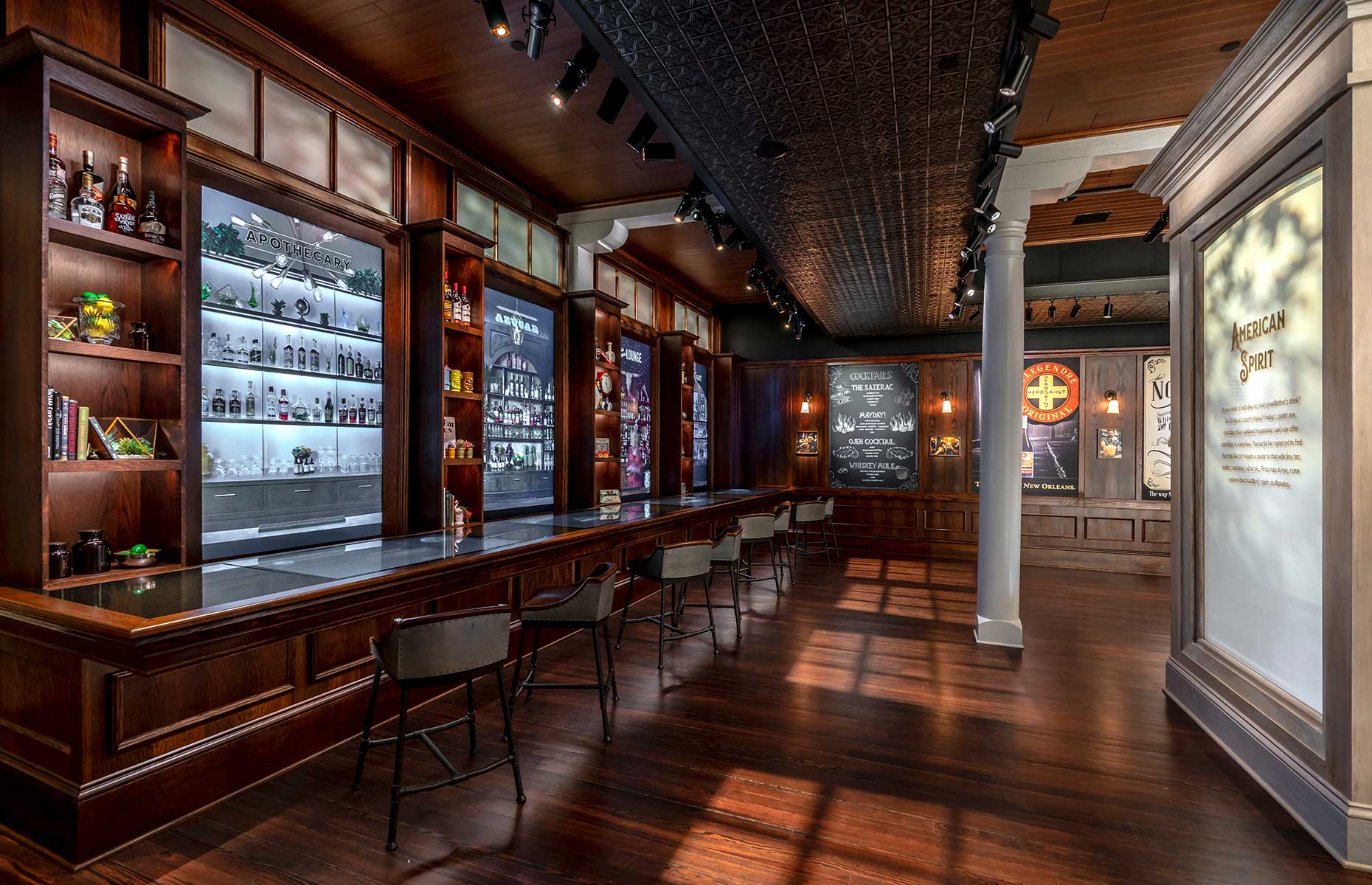 Stephen Young/New Orleans & Company
Operated by the Sazerac Company – which owns Sazerac rye whisky and many other spirit brands – the museum focuses primarily on the origins of its namesake cocktail. Try different varieties of bitters and taste small but strong samples of a Sazerac and Planter's Punch, a zingy rum concoction.
Entry is free, though you have to book a timed slot in advance. And allow time to browse the gift shop for spirits, bitters and beautifully designed drinkware like cocktail spoons, shakers and jiggers.
3. Drink in storied hotel bars
Abandon any preconceptions of soulless lobby bars with a few scattered chairs and the tinkling of a piano. Many of New Orleans' best and most interesting drinking spots are in hotels.
There's the Roosevelt's Sazerac Bar, all dark wood and leather seats. Order the namesake cocktail, made here with cognac, or you could trouble one of the white-jacketed bartenders to shake up a Ramos Gin Fizz. This dessert-like drink, with gin, cream, sugar, egg white, lemon juice and orange water, is shaken 50 times before being strained into a glass and topped up with soda. It was invented in 1888 by Henry C. Ramos, who later sold the rights to the Roosevelt.
Another cocktail, the Vieux Carré (meaning "French Quarter"), was invented at the luxurious Monteleone Hotel in 1938. Grab a seat at the ornately carved, revolving Carousel Bar (it really does rotate) to try one for yourself – but maybe just the one, as the mix of rye whisky, cognac, sweet vermouth and bitters is rather potent.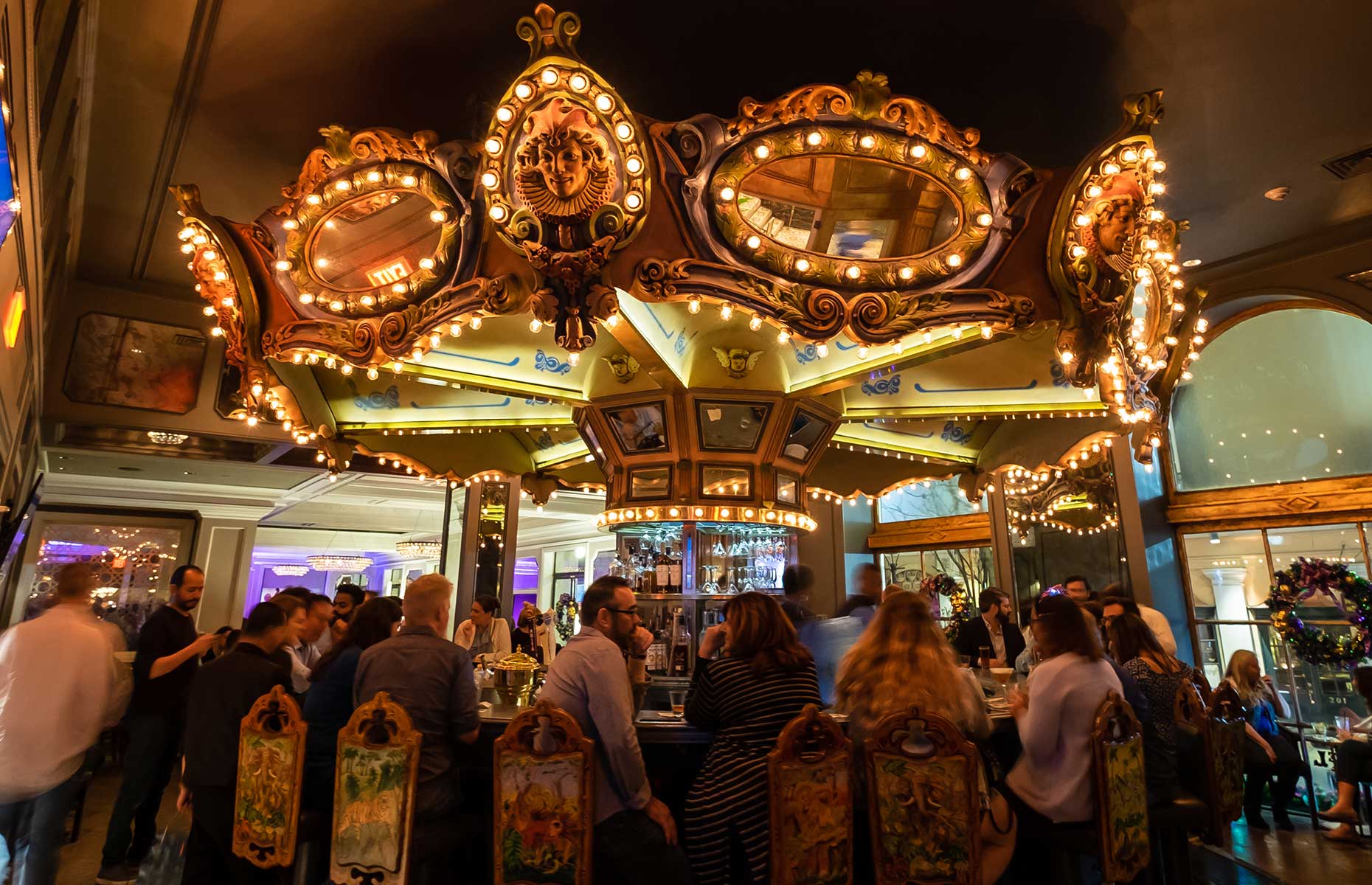 Traveling Newlyweds/New Orleans & Company
Loa is another must-visit, tucked behind thick velvet drapes off the lobby of hip International House Hotel (there's a Banksy next to reception – it's that cool). Loa are divine spirits in Vodou, though it's the spirits in the glass that will catch your attention and enliven your taste buds here. Creative director Alan Walter and his team infuse each seasonally driven drink with locally sourced ingredients, from foraged herbs and Spanish moss to honeycomb and pine.
4. Pair food with innovative drinks
Many restaurants go beyond sparkling aperitifs. Look outside the French Quarter for some of the most innovative concoctions. Paladar 511, in the Marigny, is a gorgeous, sleek spot that serves perfect pizza and seasonally influenced dishes like braised rabbit with sweet potato gnocchi. Everything on the menu is tempting, and it's the same story with the libations. Alongside a thoughtfully curated wine list, there's a selection of classic-with-a-twist cocktails like the Paladar martini, made with orange vermouth, and the Holly Golightly with hibiscus vodka that's infused in-house.
Gianna, a bright, plant-filled space with a huge square bar, serves refreshing spritzers and cocktails with seasonal ingredients like satsuma and honeysuckle. The restaurant also has a huge variety of amaro (herbal liqueur) – perfect for sipping after feasting on impeccably prepared Italian dishes like parmigiana, lemon and ricotta ravioli and crisp chickpea fritters with honey.
5. Hunker down in a cosy corner
The city's hippest bars are inspired by the city's colourful characters and history, with opulent furnishings, vintage vibes and classic cocktails infused with fresh, modern flavours and ingredients.
The Elysian Bar is one of the most talked-about. Tucked in the Rectory building of Hotel Peter & Paul – a series of former church buildings converted into unique accommodation – each table, cosy nook and magenta-leather bar stool looks more inviting than the next.
Stephen Young/New Orleans & Company
You'll be even less inclined to leave once you start on the drinks: potent and packed with palate-wakening citrus, herbal syrups, bitters and house-made infusions. The food is equally beguiling, and just rich enough to stand up to the robust drinks. Small and sharing plates change with the seasons and chef's whims but include delights like crispy Brussels sprouts and the creamiest whipped ricotta with seasonal toppings.
Jewel of the South, opened in 2019, is named after a bar whose owner invented the Brandy Crusta, and the new location – in a Creole cottage in the French Quarter – has adopted that as its signature drink.
The cocktail, made with cognac, lemon juice, maraschino liqueur and curacao, gets its name from the crisp sugar rim that decorates the glass. Small plates like crab salad with whipped far, smoked ham and veal sweetbreads complement the vintage-inspired drinks.
For more information visit the New Orleans & Company website
Main image: f11photo/Shutterstock
Be the first to comment
Do you want to comment on this article? You need to be signed in for this feature