6 English churches you can actually stay in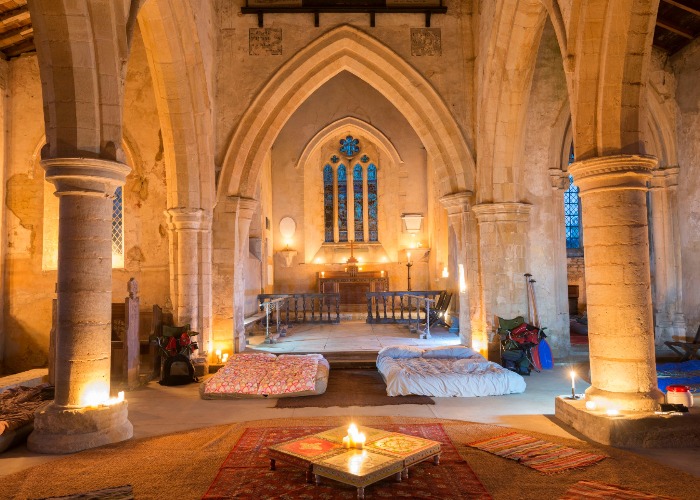 Fancy a unique sleepover once it's allowed? Then a stay in one of these fine churches might be the answer to your prayers...
There are dozens of so-called 'redundant churches' no longer used for worship across the UK, and according to the Church of England, around 20 more are closed each year. Some are converted into homes, while others house museums and community centres, but an initiative from the Churches Conservation Trust is giving others still a new lease of life by turning them into holiday rentals.
'Champing' – church camping – sees atmospheric old churches given a cosy boho charm, pews draped with fairy lights and comfy camp beds set up in the aisles. They are set in quaint, historic villages and beautiful countryside, and provide a quirky alternative to traditional camping or hotels at a time when many of us are looking to plan domestic post-lockdown adventures.
'Champer hamper' breakfast boxes, full of locally sourced produce, can be booked on request, and dogs are welcome. Prices start at £49 per person, per night. Here are six of the best options.
1. St. Andrew's in Wroxeter, Shropshire
This pink-and-grey sandstone church dates back to the Anglo-Saxon era, but its surroundings in the town of Wroxeter echo with even more ancient history. A 10-minute walk from the church lie the Roman remains of Viriconium (intriguingly translating as 'City of the Werewolf'), including the archway and foundations of a Roman bathhouse.
The Churches Conservation Trust/Joseph Casey
There's also a reconstructed townhouse, where you can imagine domestic life in what was once Roman Britain's fourth-largest city. After a day's exploration, head for a wine tasting or afternoon tea at the Wroxeter Roman Vineyard, then retire to the church, where former pews have been converted into beds that sleep up to eight and there's a cosy living area of camp chairs set around a coffee table.
2. St. James' in Cooling, Kent
Those of a literary bent can make a Dickensian pilgrimage to the Kent village of Cooling, where the churchyard of St. James' provided the inspiration for the spooky opening scene of Great Expectations. Dickens himself would've set eyes on the 500-year-old wooden door, and the poignant line of children's graves, described by the character Pip as 'little stone lozenges'.
There's nothing Dickensian about the modern visitor experience, though – two double beds occupy the aisle, and the 18th-century pulpit has been converted into a beanbag-lined snug. Don't miss the chance to visit the Coldrum Long Barrow, a Neolithic tomb which rises dramatically above the North Kent Marshes.
Love this? Follow our Facebook page for more travel inspiration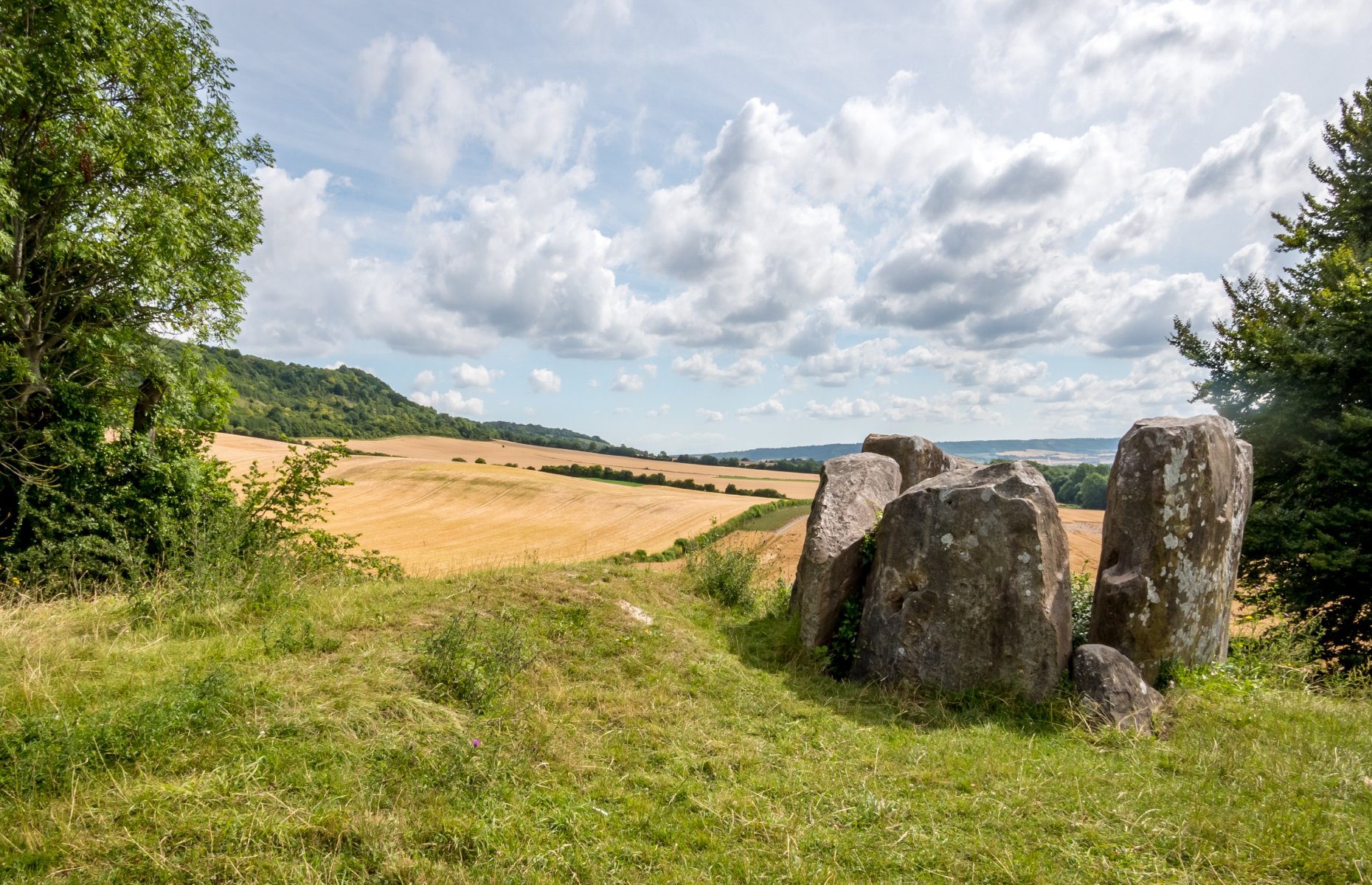 pxl.store/Shutterstock
3. St. Leonard's in Old Langho, Lancashire
To really get away from it all, you can't do much better than this cute, compact church tucked away in the neat patchwork fields of Lancashire's Ribble Valley. Beautifully carved wooden pews frame two comfy camp beds that sleep four, while the wide aisle, atmospherically lit by candles, makes a cosy spot for a living area, with chairs clustered around a picnic hamper.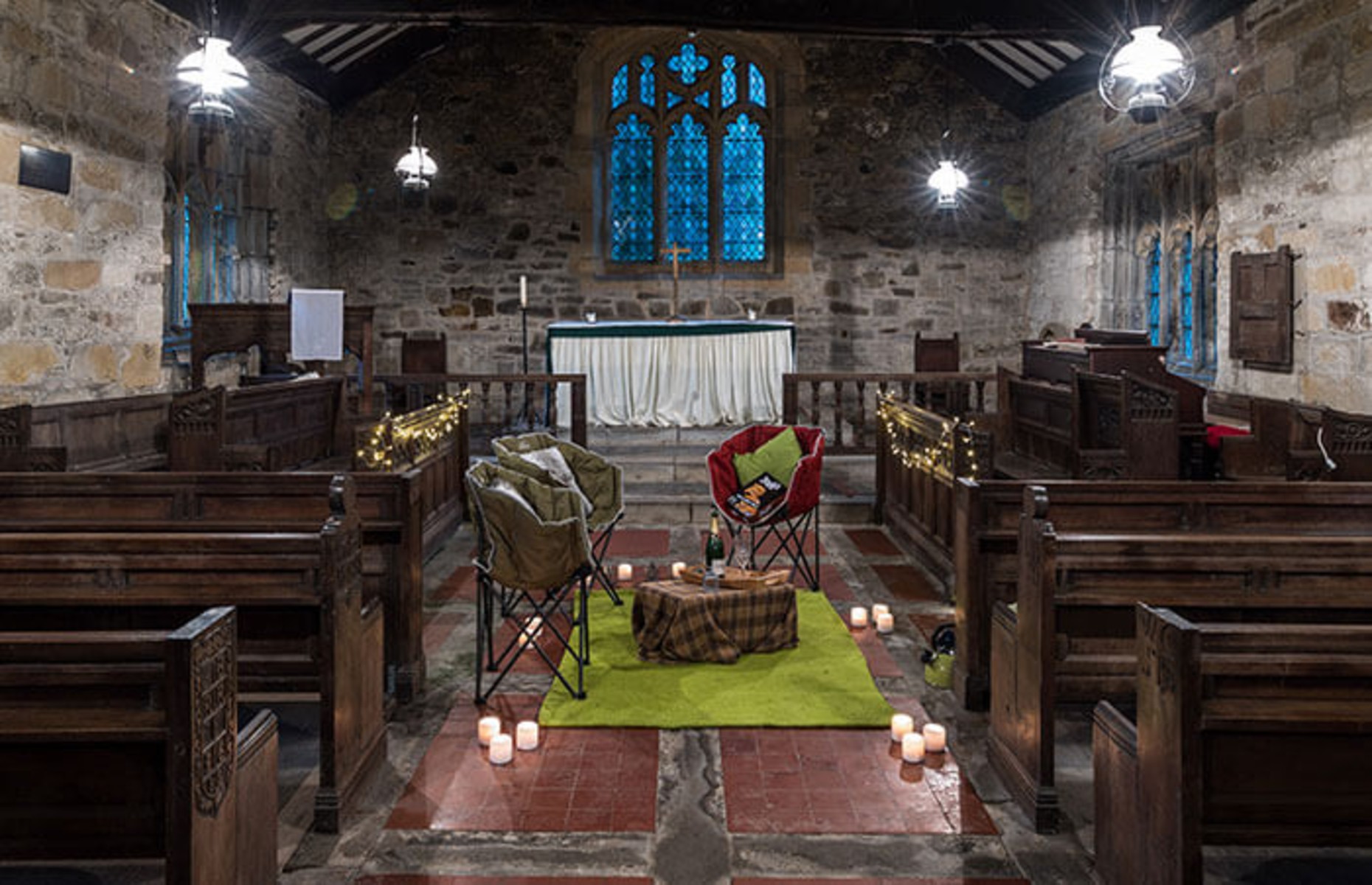 Champing.co.uk
The natural beauty surrounding the hamlet of Old Langho is incredible. To the east sits the solitary Pennine peak of Pendle Hill, while to the north lies the Forest of Bowland, a former royal hunting reserve where heather moorland, peat bogs and plunging wooded valleys make for varied and rewarding hiking.
READ MORE: The most unusual places to stay in the UK
4. St. Cuthbert's in Holme Lacy, Herefordshire
Churches don't come much prettier than St. Cuthbert's. Perched on a bend in the River Wye, the church overlooks the gently sloping hills of the Wye Valley, and nearby Haugh Wood is an ancient sanctuary for butterflies and moths – more than 600 species can be spotted flitting through the beech, oak and conifer trees.
Joseph Casey
Within, the church is beautifully lit by exquisite stained-glass windows, while candles light up wall niches and fairy lights are strung across the pews. Camp beds, sleeping eight, are set beneath intricately carved wooden screens, while the living area is framed by grand stone arches.
5. All Saints in Aldwincle, Northamptonshire
The 13th-century All Saints Church was the original champing destination, and it remains one of the best. With rough-hewn stone walls and imposing arcades topped with beamed ceilings, the place has a rustic, historic atmosphere. The vast space (main image) sleeps up to 12 people too.
The church sits in the quaint village of Aldwincle, and the surrounding Northamptonshire countryside is rich in natural beauty. The wetlands of the Titchmarsh Nature Reserve are a haven for brightly coloured dragonflies and birds including goosanders and wigeons; birdwatchers can make use of the various hides scattered across the park.
The beautiful university city of Cambridge is less than an hour's drive to the east, and is a must for architecture and history buffs.
READ MORE: The UK's prettiest small towns and villages
6. Church of the Blessed Virgin Mary in Emborough, Somerset
The rolling hills of Somerset echo with ancient history and have long been a cradle for spirituality of all kinds – and the sleepy rural village of Emborough is perfectly placed to explore. Half an hour's drive southwest, Glastonbury Tor is wreathed in Celtic mythology and Arthurian legend as the storied Isle of Avalon, while the town of Glastonbury itself is a buzzing hub for alternative lifestyles.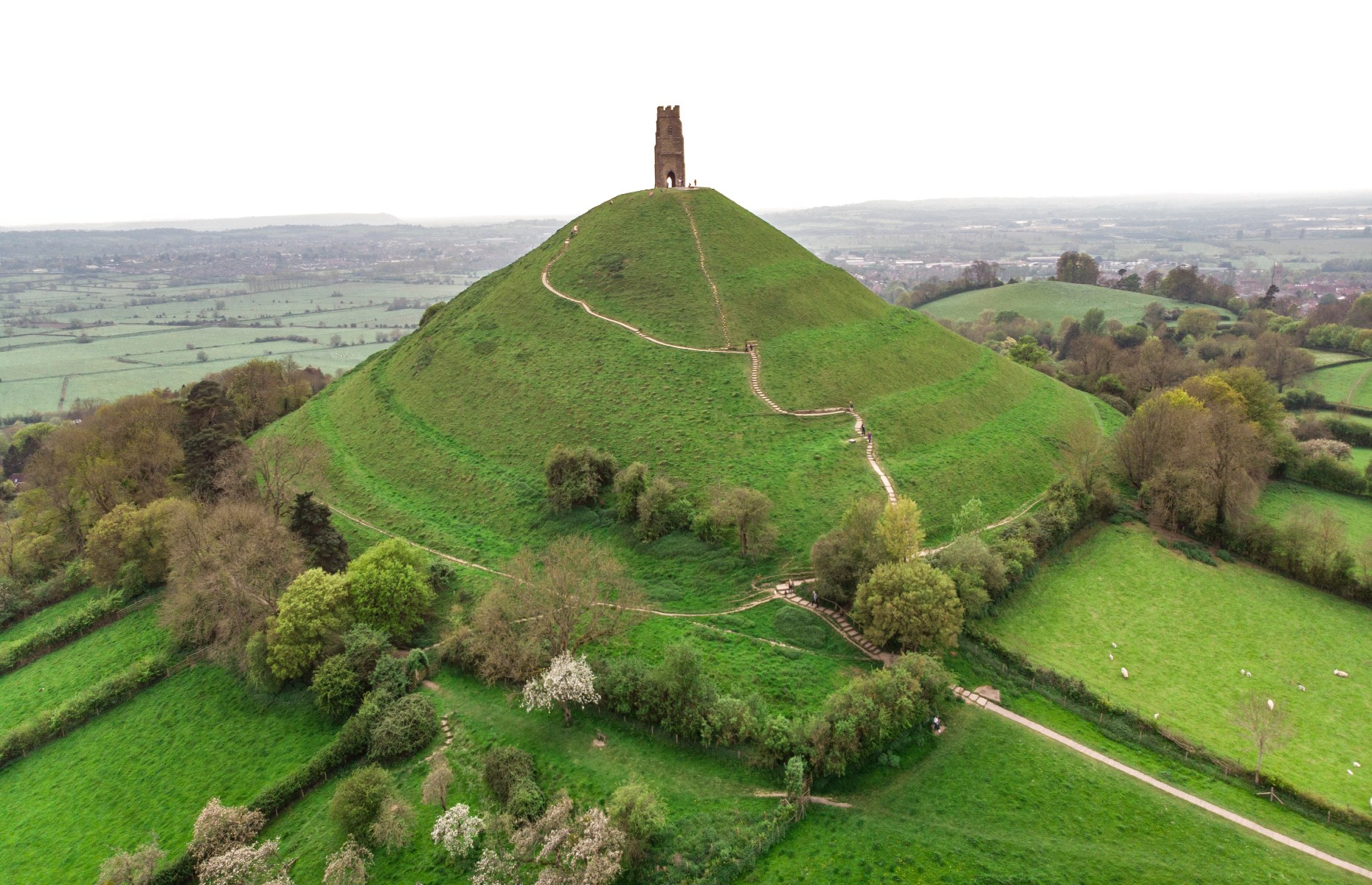 Hannah Denski/Shutterstock
A similar distance to the northeast lies Bath, perhaps Britain's most beautiful city, with its honey-coloured Georgian terraces, Roman ruins and the magnificent Bath Abbey. Emborough's 18th-century Church of the Blessed Virgin Mary makes a cosy base, with cushions, throws, armchairs and beds (sleeping four) set beneath the whitewashed nave.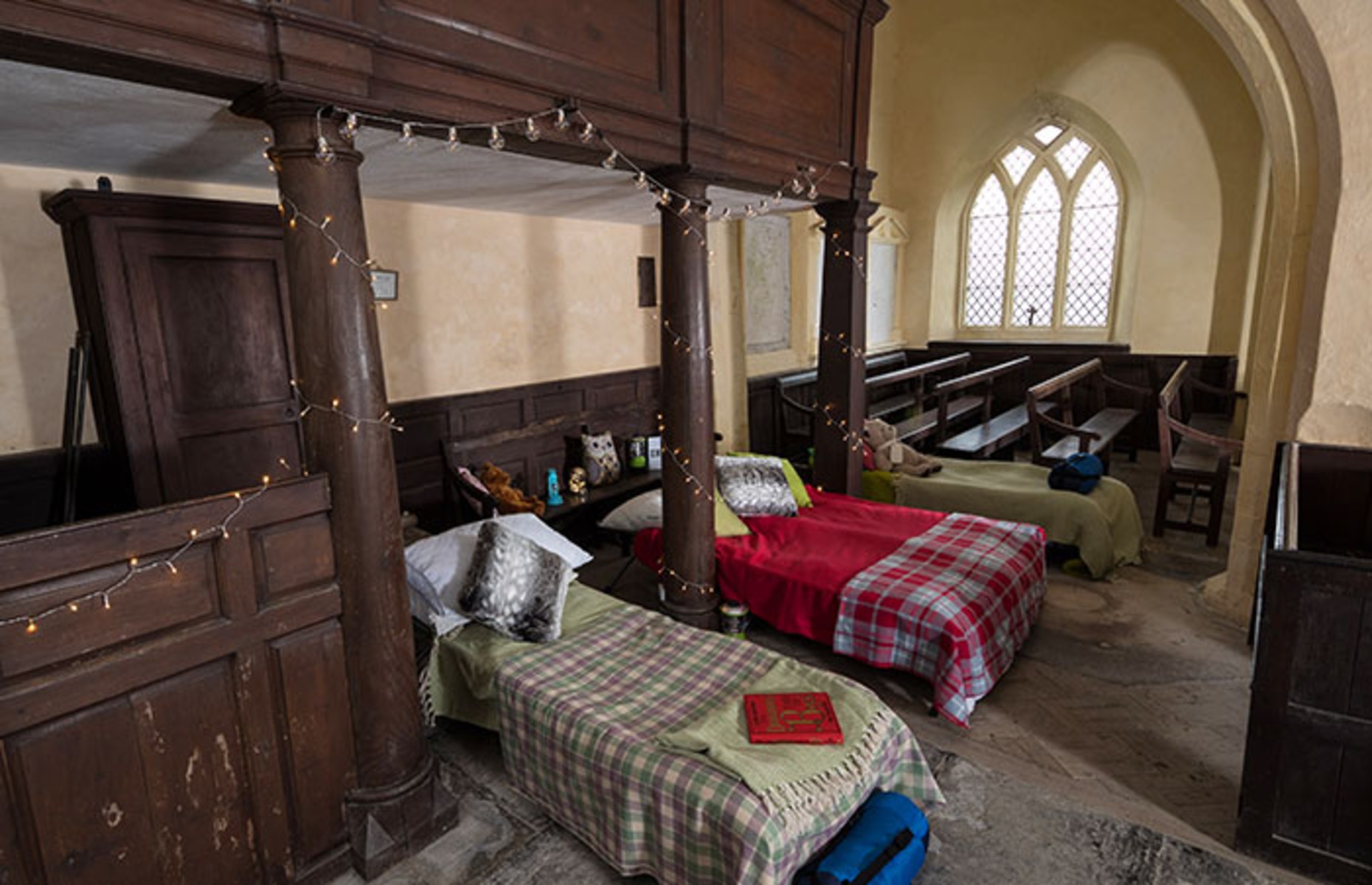 Champing.co.uk
Lead image: David Joyner
READ MORE: The world's most beautiful cathedrals you should visit once in your lifetime
Be the first to comment
Do you want to comment on this article? You need to be signed in for this feature