Route 66 in three days: the ultimate easy road trip planner
If you think you need two weeks and some serious savings in the bank to conquer Route 66, then think again. Our specially-curated itinerary offers the ultimate road-trip experience in a whistle-stop 72 hours on the world's most famous highway.
Why drive Route 66?
When it comes to road trips, there are few more famous than Route 66. Weaving through the heart of America starting from the north-eastern city of Chicago, Illinois, and ending on the south-western shores of Santa Monica, California, it's no surprise this 2,448 mile (3,940km) historic highway dotted with small civil war-era towns, middle-of-nowhere-truck-stops, kitsch road-signs and leather-boothed American diners is affectionately known as The Mother Road.
Courtesy of Enjoy Illinois
Having provided the inspiration for a host of Hollywood films and country songs, the thrill of jumping in a car and hitting the open road has long captured our hearts and imaginations – topping bucket lists as the ultimate once-in-a-lifetime adventure.
Of course driving its entire length in just three days would be impossible, so this journey covers the 600-mile round Illinois stretch, enjoying stop-overs in history-steeped Springfield and Alton with an array of unique sights to discover along the way, from atmospheric prisons and giant space men to vibrant murals and the magnificent Mississippi River. And with the whirlwind road-trip bookended by overnight stays in Chicago, you'll have the chance to catch your breath either side of it too.
So buckle up and get ready for our guide to Route 66 in just over 66 hours…
Thursday: Chicago, part 1
Check into: The Millenium Knickerbocker. This downtown Chicago institution, a two-minute stroll from the Magnificent Mile shopping strip, has had many guises since opening in 1972. It's been a casino and speakeasy, but nowadays it's an elegant 4-star hotel with marble-floors, a 1920's style martini bar and golden chandeliers dangling from the ceiling.
Marvel at: the city's famous skyline by boat. Take a walk down to the end of the tulip-lined Michigan Avenue to the shimmering Chicago river and hop on a Shoreline Sightseeing Architecture Tour. This 90-minute cruise taking in sea-sawing bridges, the newly built River Walk bustling with locals and street-food stalls and Chicago's soaring sky-scrapers, is the perfect way to blow away the cobwebs after a flight. The two cylindrical towers of Marina City, housing a car-park so precarious that it looks like the vehicles could topple into the river at any given moment, is particularly stunning.
Admire the views from: The Lakefront Restaurant. Hop in an uber or take a 30-minute walk along the twinkling shores of Lake Michigan to this new 'upscale tavern'. Thanks to its floor-to-ceiling picture windows, inventive, seasonal fare such as crispy kale cheese dip with pretzel bread, can be enjoyed with a stunning side of waterfront views.
Friday: Chicago to Springfield
Tuck into breakfast at: Lou Mitchell's diner. Because what better way to start the day than where Route 66 officially begins? This 1923-born Chicago hot spot is all leather booths, endless coffee refills and Route 66 memorabilia adorning the walls. Fuel-up with syrup-drenched pancakes, fluffy waffles and the house speciality – dinky donut holes (mini golden donuts). If you're lucky, front-of-house host Brenda, 90-years-young, might wave you off with a sunshine-yellow box of chocolate Milk Duds.
Pick up: Your hire car. Hertz offer vehicles for all budgets from their depot in O'Hare airport. But, as you're embarking on a classic road-trip with a twist, perhaps you might plump for a classic car with a twist? A Chevrolet Camaro offers the curb-appeal of a sports car while being kitted out with all the mod-cons including that all-important GPS to help you navigate the busy Chicago traffic onto the distinctly more relaxed Route 66…
First stop: The Old Joliet Prison. Located an hour's drive out of Chicago, this turreted golden-brick building has housed some of America's most notorious criminals from 1858. After closing in 2002, it's provided the backdrop to TV and films including Point Break and The Blues Brothers and now offers guided tours. Explore the barbed-wire encircled prison grounds and, if you dare, the dark corridors of the decrepit operating theatre. With the original hospital equipment still in situ and bullet holes in the walls, it's a chilling experience.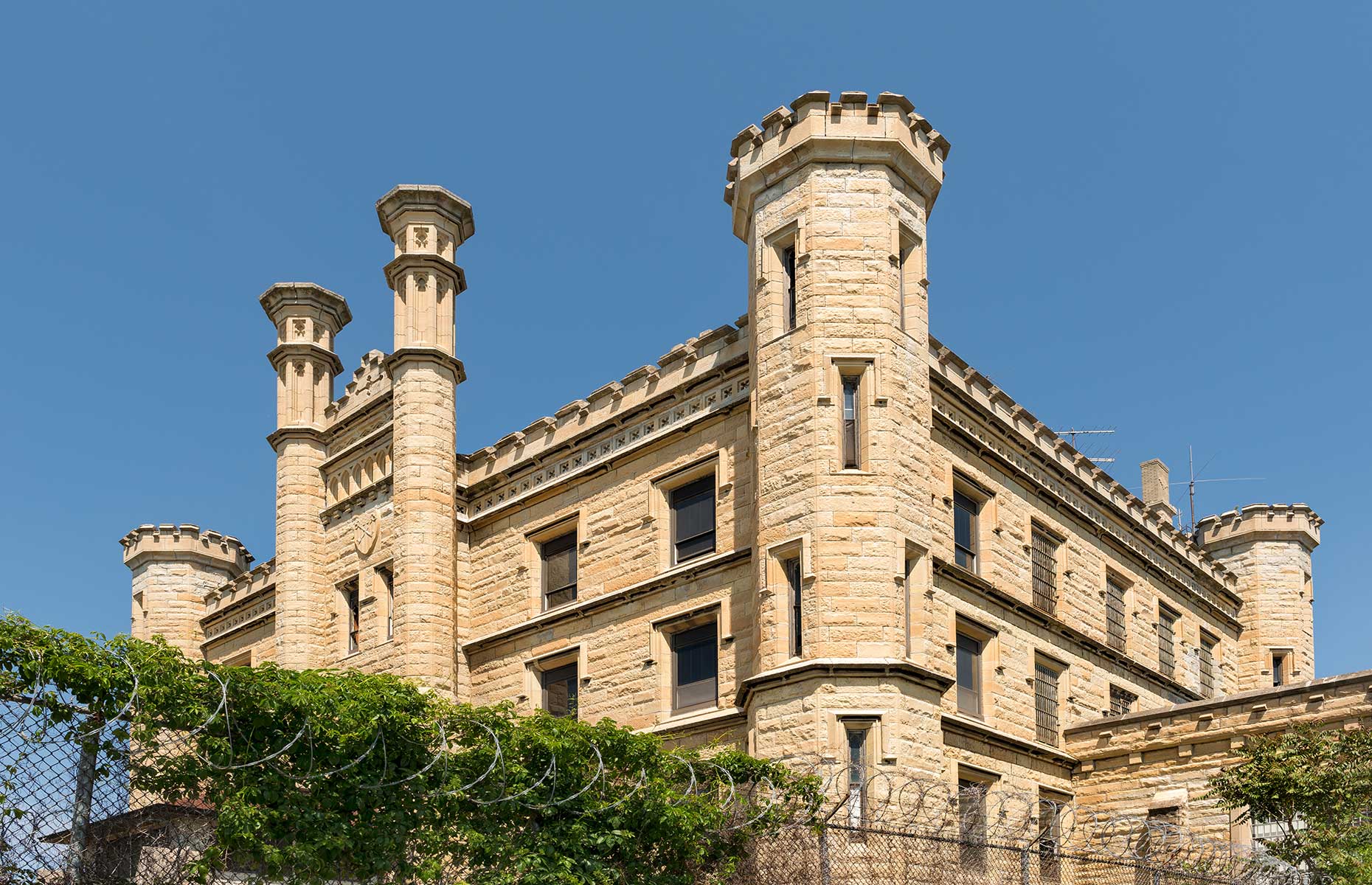 Nagel Photography/Shutterstock
Eat at: The Launching Pad Diner. A twenty-minute drive from Joliet to Wilmington will bring you to this iconic drive-thru established in 1965 and relaunched by husband and wife team Holly and Tulley. You can't miss it . Standing outside is one of the most famous landmarks on the route, the Gemini Giant spaceman. At 30-foot tall (9.1m) and wearing a green space suit, the statue is one of the few remaining 'Muffler Men' advertising props used in the 1960s to attract attention to roadside businesses. Nowadays, he takes a great selfie.
StockPhotoAstur/Shutterstock
Hit the road: toward Springfield, swinging by the sleepy town of Pontiac two hours away, where tucked behind the Route 66 Hall of Fame and Museum, you'll find the large Route 66 Shield Mural in all its technicolour glory. You can pull up right in front for the ultimate photo opp with your gleaming ride.
By dusk: you'll arrive at Springfield, the birthplace of President Abraham Lincoln and your home for the night. There, check into the Abraham Lincoln Doubletree, where you'll feel instantly relaxed thanks to their warm cookies at reception and large, airy rooms with sweeping views over the town. After freshening up, you may want to stretch your legs with an evening stroll and Springfield is pleasingly flat and green with pretty parks, grand government buildings and antique shops to explore.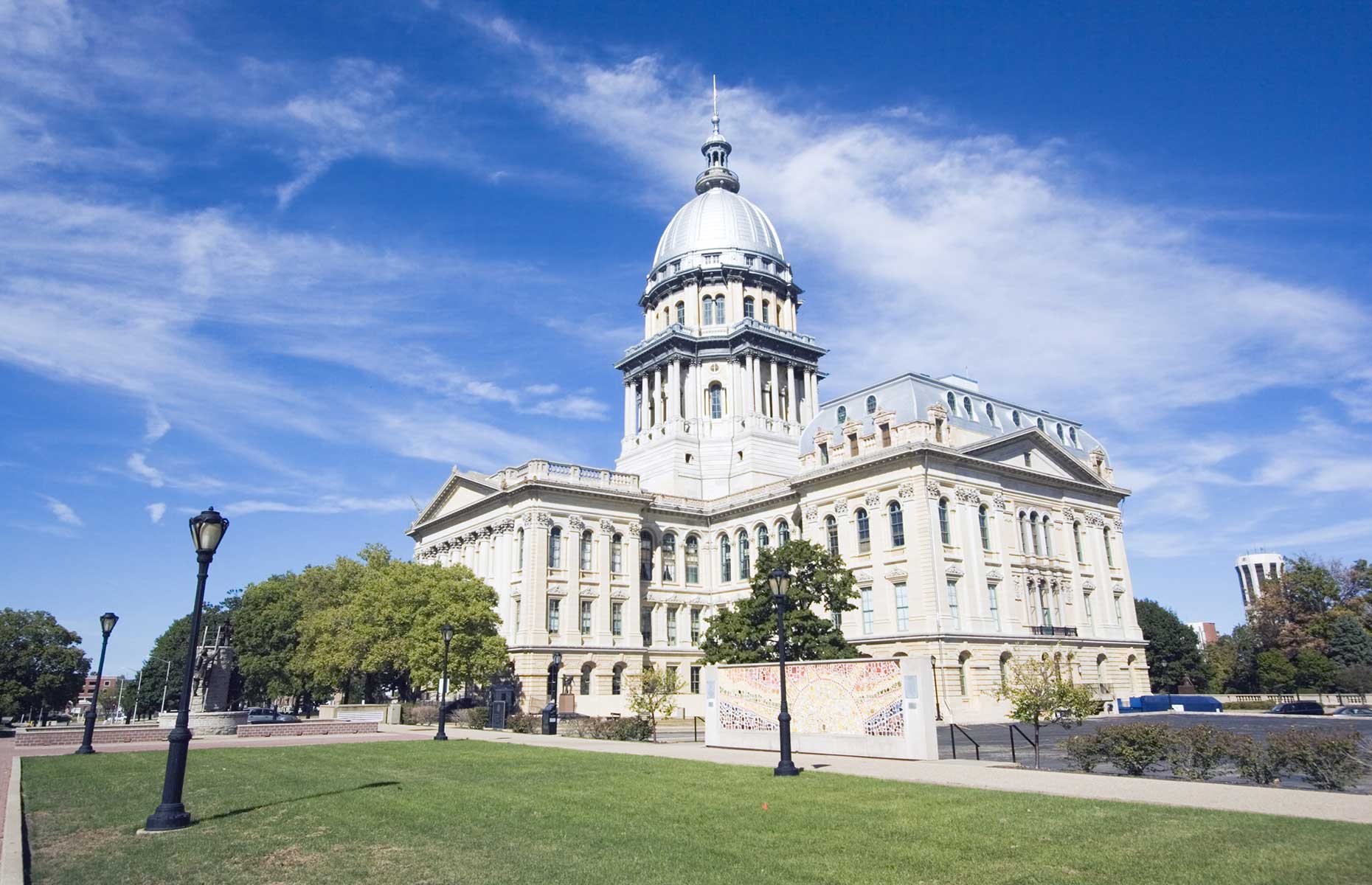 Henryk Sadura/Shutterstock
Must try: the local speciality - 'the horseshoe' sandwich: thick-sliced toasted bread, topped with a hamburger patty, french fries and cheese sauce.
Saturday: Springfield to Alton
Wake up early: and squeeze in a visit to The Abraham Lincoln Museum charting the life and times of America's 16th president. On the way back to the hotel, be sure to stop by the grand Illinois State Capitol building to marvel at the 405-foot (123m) kaleidoscopic domed ceiling. One of the friendly security guards may very well offer to snap a picture of you in the ornate, marble foyer – a fitting keep-sake of a town seeping with history and politics.
Pack up and head to: Alton two hours away. On the way, fuel up at Motorheads Bar, Grill and Museum nestled just outside of Springfield. The passion-project of petrol head, Ron, the walls are decorated with Route 66 memorabilia and motorbikes and the backyard boasts a colourful collection of vintage signs.
Don't miss: a drive along the historic red brick road snuggled between the small towns of Auburn and Chatham. It's a wondrous 1.5 mile stretch of hand-laid red-brick from the original Route 66.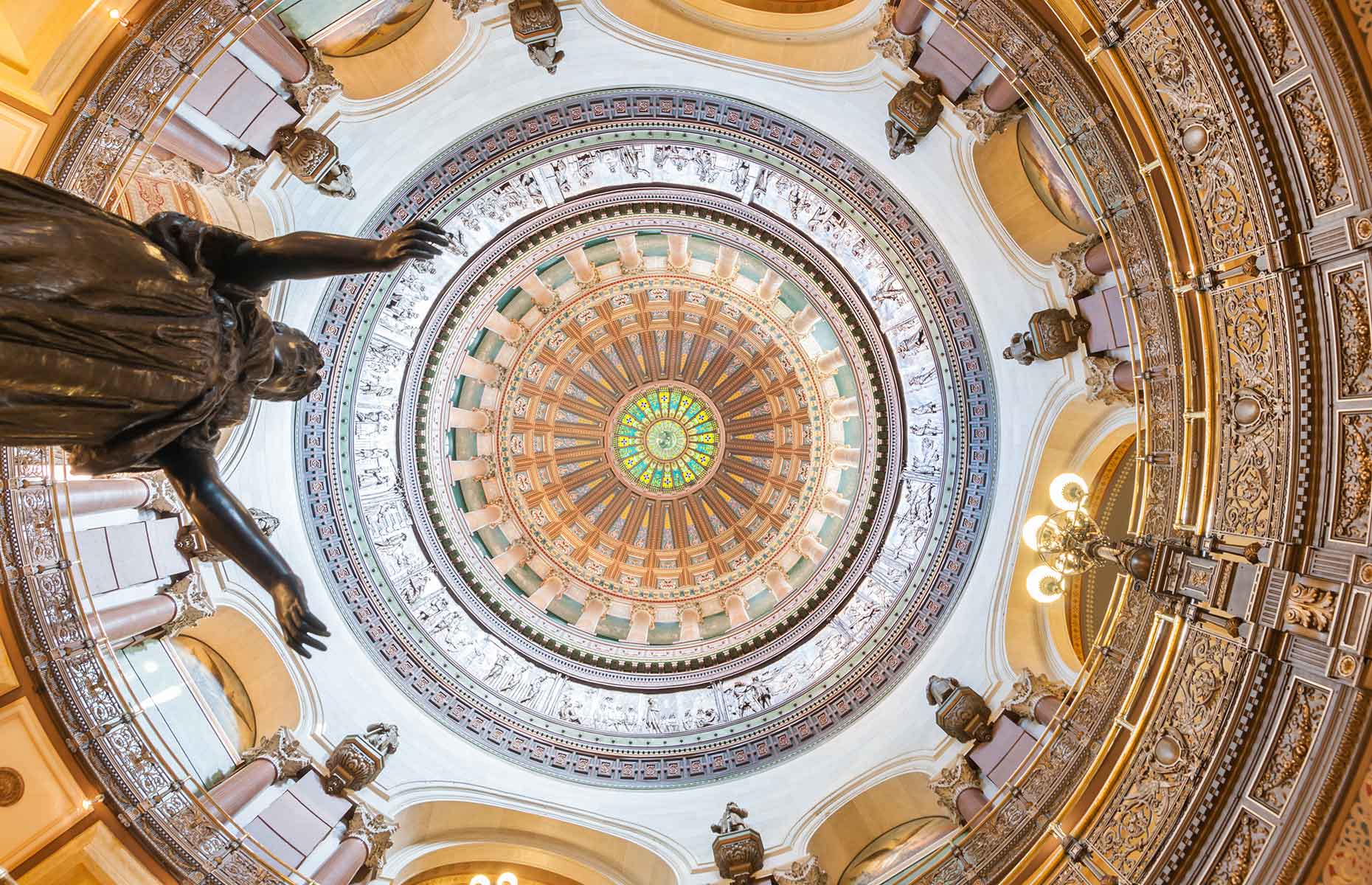 Brian S/Shutterstock
Step back in time: as you cruise toward Alton on wide, leafy roads lined with pastel-coloured clapboard houses with rocking chairs on the porches; shiny water-tanks jutting out of vast, golden fields; old-fashioned yellow school busses and general stores from a by-gone era.
Arrive at: Beall Mansion – an elegant yellow B&B-come-living-museum dating back to 1903 set in lush gardens. Over a flute of chilled sparkling wine, owner Jim (bedecked in bow-tie and tails) and wife Sandy, will give you the grand tour of their lovingly restored abode decorated with their fascinating collection of antiques. Here, it's all about the personal touches; hand-made lavender bath salts, a 24/7 chocolate buffet (with everything from M&M's to Belgian truffles) and a crystal decanter in the piano room full of help-yourself-brandy.
Have a night out: at the Old Bakery Beer. This organic microbrewery owned by James and Lauren, offers beer-tastings (pineapple ale, anyone?) along with an evolving menu of crowd-pleasing sandwiches, burgers and tacos. Afterwards, dance the night away on 3rd Street – a fairy-light strewn strip lined with live-music bars in tribute to Alton's legendary jazz musician, Miles Davis.
Sunday: Alton to Chicago
Feel your heart sing: at the sight of the flowing Mississippi River the next morning as you head out of Alton and make the four-hour straight journey back to the Windy City along Interstate 55.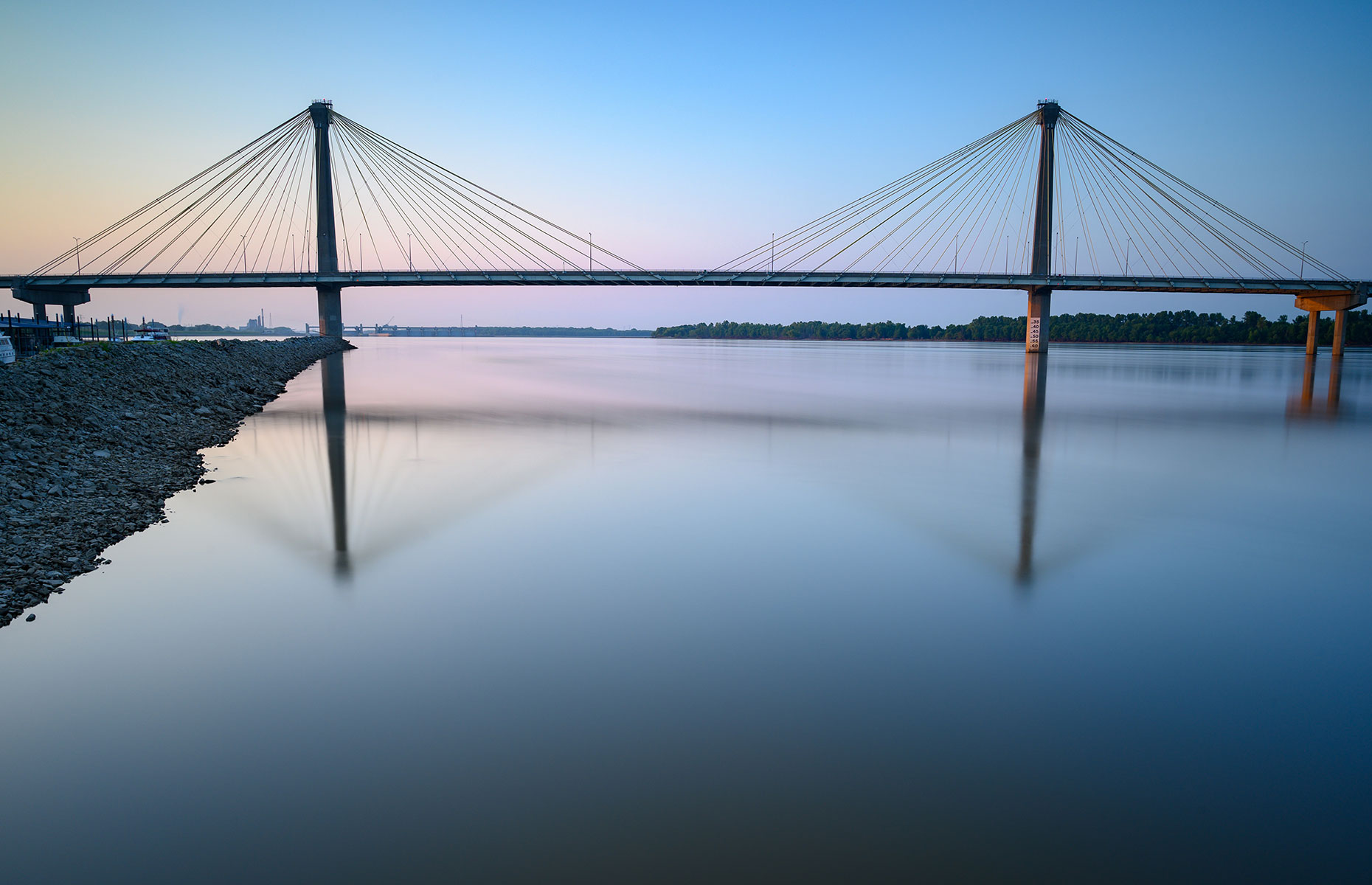 Rob Neville Photos/Shutterstock
Stop at: Dell Rhea's Chicken Basket – opened in 1946 to offer a pit stop on Route 66 between Chicago and Joliet, this friendly highway diner has baskets of warm buttery biscuits (like savoury scones) appear on the red and white checkered tables as if by magic.
Drop of the car: back at O'Hare airport, sink into a cab and swap nostalgia for modernity at the freshly opened 5-star Hoxton hotel in the trendy Fulton Market district. The stylish rooms have sensational views over Chicago, while the swanky roof-top bar and pool offers the perfect spot to relax after conquering the Mother Road.
Toast the end of your road-trip: with dinner at the Tortoise supper club. This glamorous wood-panelled venue has dangling lamps, eclectic cocktails and live jazz.
Monday: extend your stay in Chicago
Squeeze in a spot of last-minute sight-seeing: with a visit to the monolithic Willis Tower SkyDeck, a dizzying observation platform featuring all-glass balconies suspended 1,353 feet (412m) in the air. If you're brave, step inside and feel like you're floating above the city.
Have a legendary meal at: Gino's East. After all, a visit to the Windy City isn't complete without trying their deep-dish pizza. Be warned: the cheese-laden 'pies' with a secret-recipe extra crispy crust are so big you'll probably only manage one slice.
Steal one last glance: at the jagged Chicago skyline sinking into the horizon from the back of your taxi as you head to O'Hare airport. On the plane home, expect to feel a tumble of emotions; exhausted? Most probably. Exhilarated? Most definitely, as you reflect on the unique sights and sounds you encountered on this unforgettable whirlwind all-American adventure.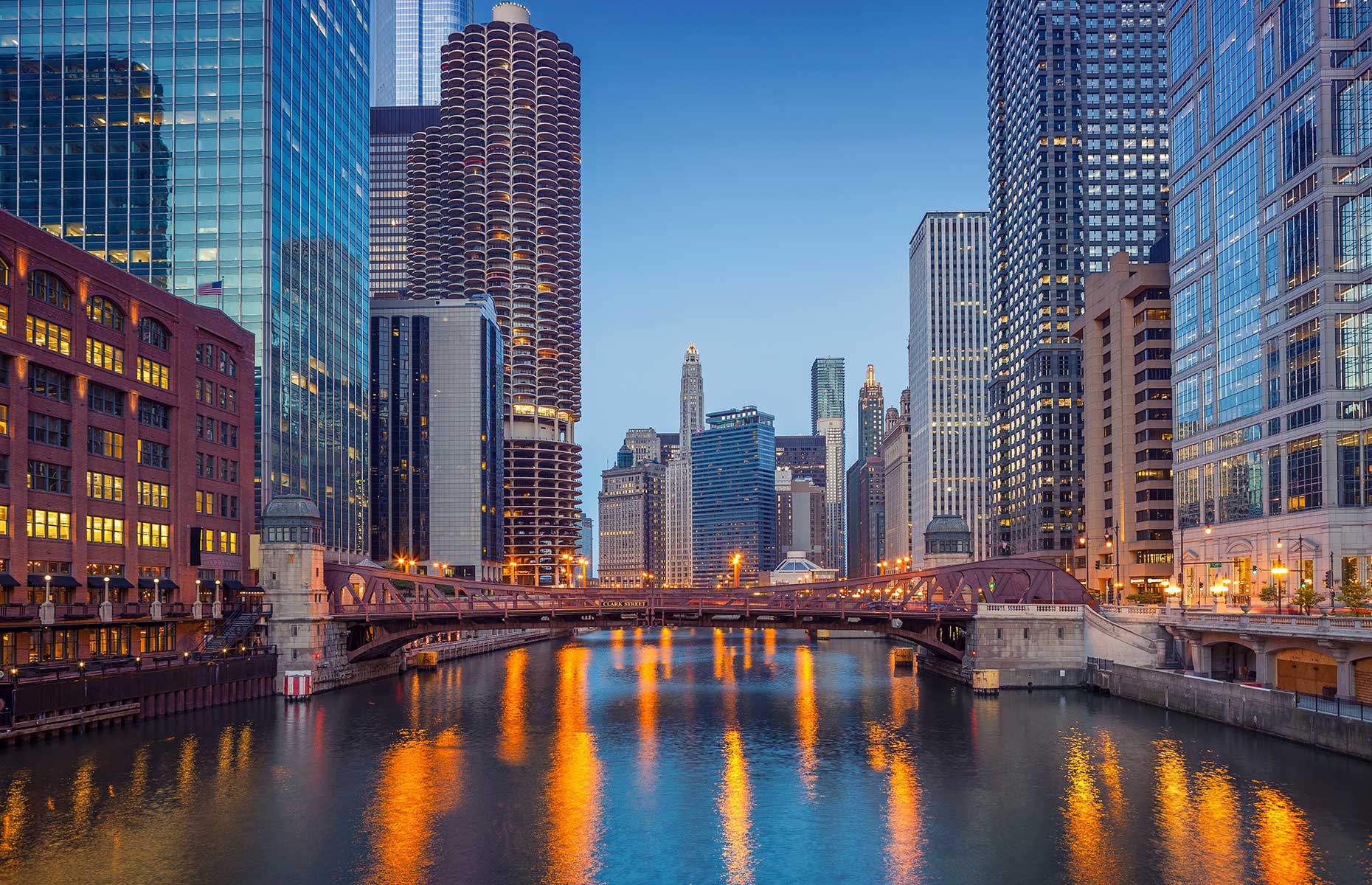 Rudy Balasko/Shutterstock
Getting there
Return flights from London to Chicago start from around £300pp with United; car rental can be arranged with hertz.co.uk, who also offer a USA Road Trip Planner. For more information, please visit: enjoyillinois.com.
Map
Main image: Enjoy Illinois
Be the first to comment
Do you want to comment on this article? You need to be signed in for this feature