Unexplored Utah: big adventures in the south of the state
From horseback rides to helicopters, the south of the Beehive State is packed with adrenaline-pumping adventures and majestic landscapes that should be on your bucket list.
Why go to southern Utah?
If there's one piece of advice I'd offer anyone planning a trip to southern Utah, it's to stock up on washing powder. You'll need a bumper pack of Ariel (and several 40°C washes) to get the state's rusty-coloured dust out of your clothes when you get home.
But when you've spent a week hurtling over sand dunes, barrelling through rivers in an off-road vehicle seeking ancient ruins, horseback riding with cowboys through canyons and glamping in the desert, a little stowaway sand in your suitcase is forgivable.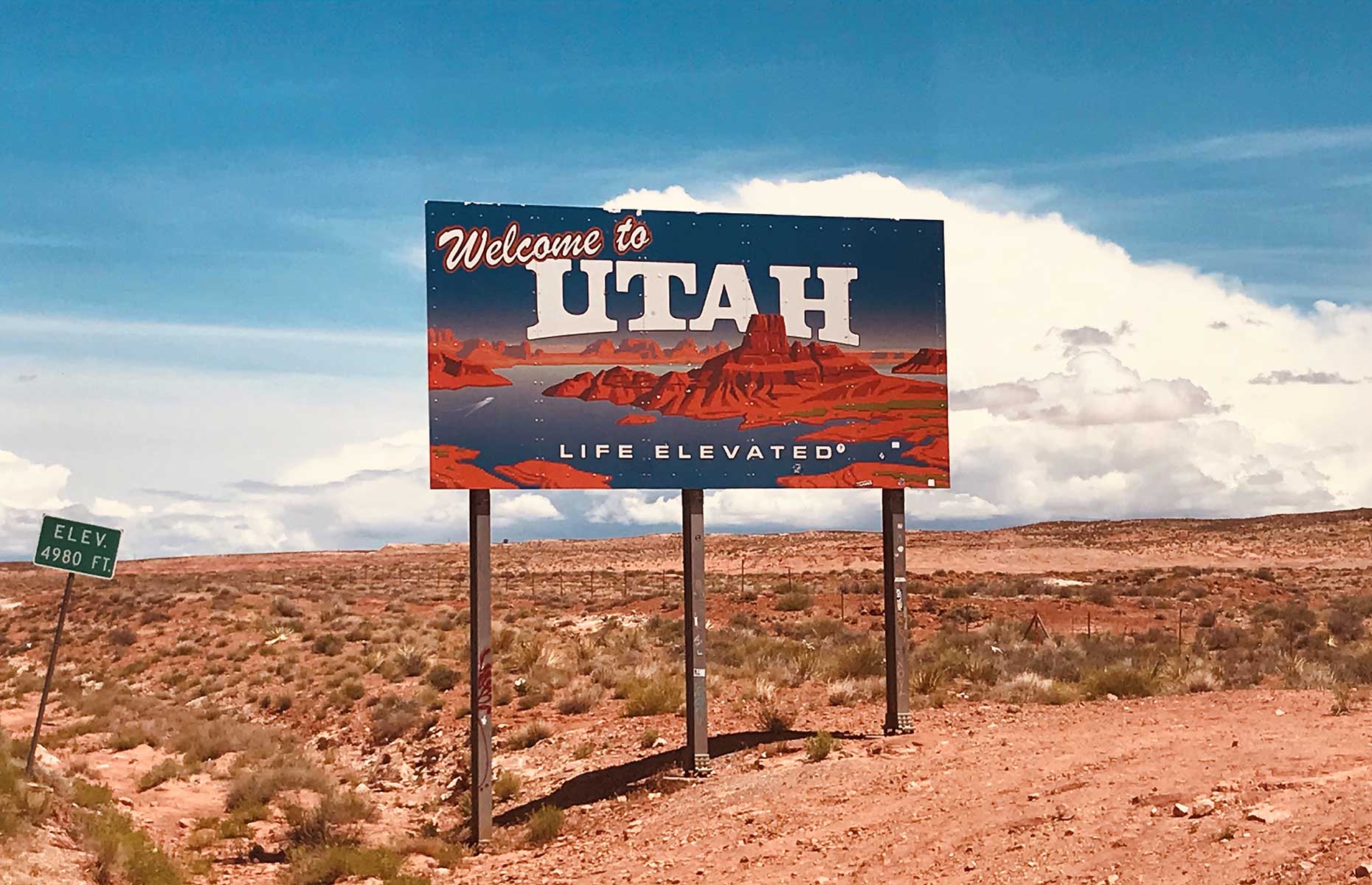 Laura Jackson
A six-day road trip looping around the south, near the border with Arizona, certainly offers adrenaline highs, but also the opportunity to find tranquillity. While much-visited spots like Zion National Park hog Instagram hashtags, the south of Utah also offers untrammelled state parks with nobody for miles, remote farm-to-fork restaurants serving homegrown and cooked fare and local guides delighted to show off secluded corners of the Beehive State.
Here is what to see, where to stay and what to eat, plus a suggested itinerary packed with things you won't find in the guidebooks.
Road trip pit stops in southern Utah
Leave the highway behind and use these towns and cities as your base.
St George
A 90-minute drive northeast of Las Vegas, the city of St George in Greater Zion is the perfect place to start a southern Utah road trip. It has a historic yet relaxed city centre, great hotels and offers outdoor activities including hiking in the Snow Canyon State Park on the outskirts of town.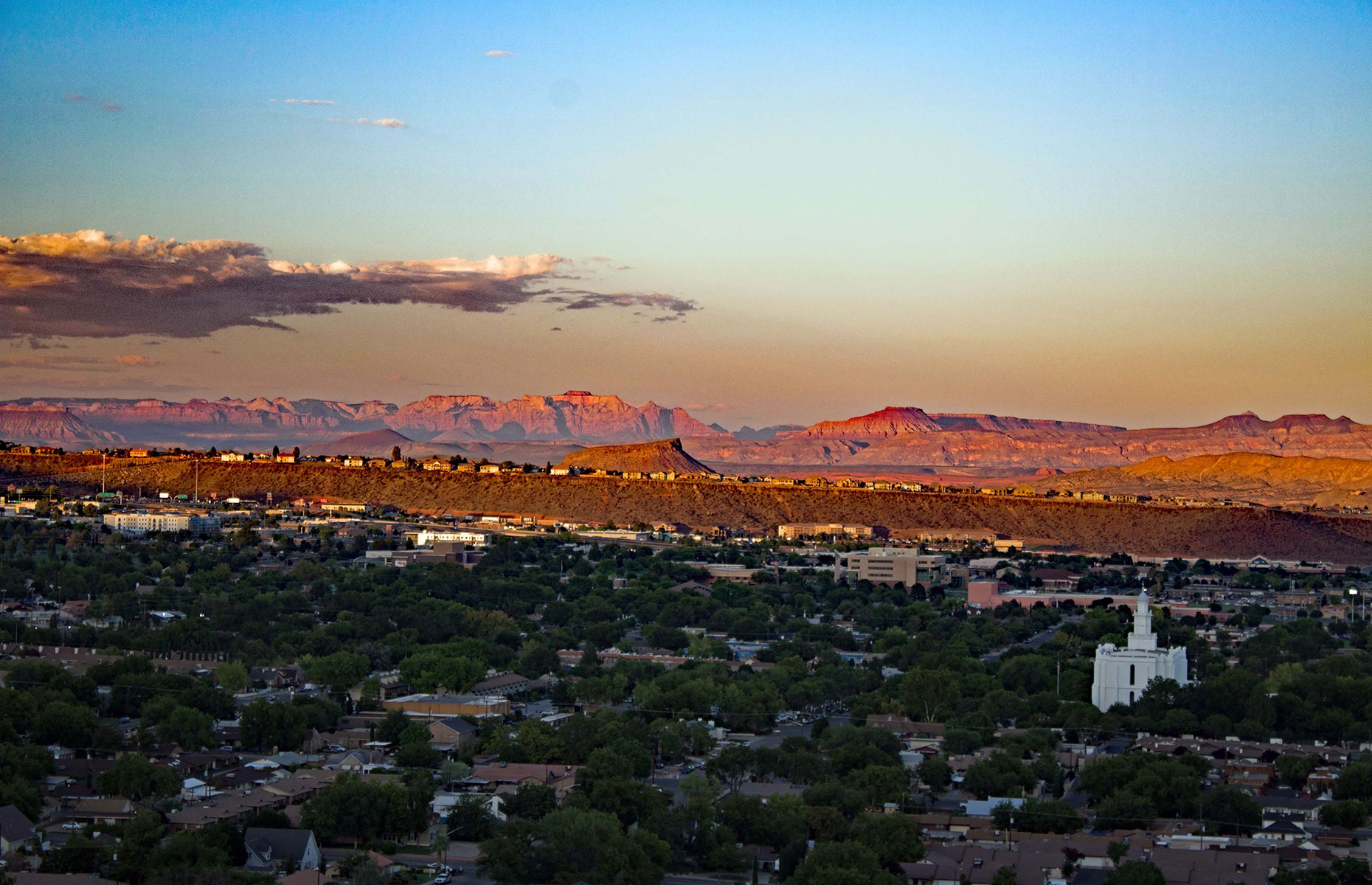 Alpenart/Shutterstock
Kanab
Movies such as The Outlaw Josey Wales and Planet Of The Apes were filmed in this charming town, with free museum Little Hollywood showcasing some of the sets. Today, Kanab, in Kane County, retains its creative feel with independent boutiques and Sego, one of Utah's finest restaurants.
Bluff
If history's your thing, you couldn't be better placed than this town in San Juan County for ancient sites with rock art panels, the awe-inspiring Goosenecks State Park and stargazing on your doorstep.
5 highlights of southern Utah
1. Valley of the Gods, near Bluff
This 17-mile driving loop takes in Utah's flat-topped rock formations (mesas) and spires, rivalling those of busier Monument Valley.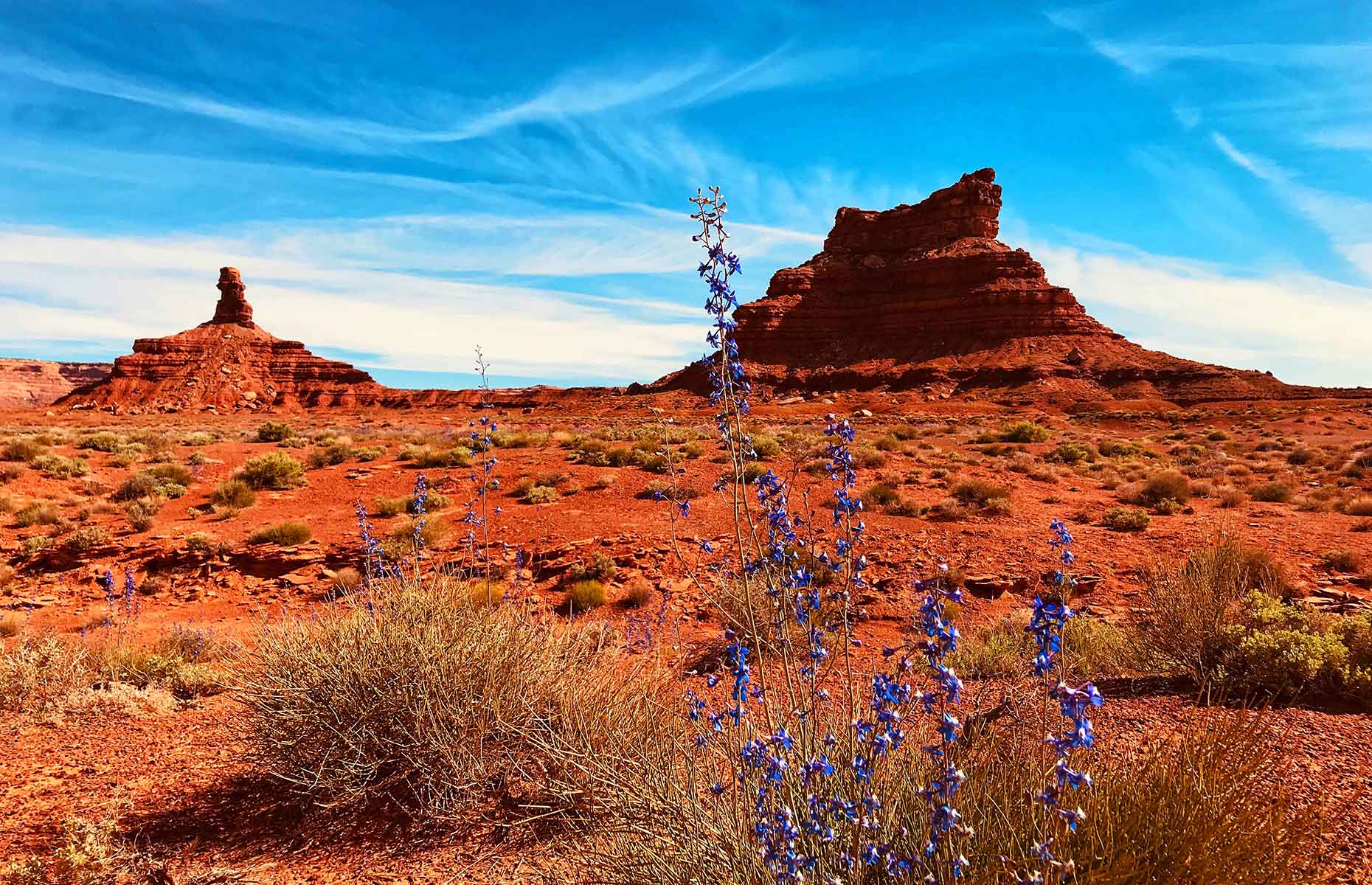 Laura Jackson
2. Peekaboo Slot Canyon, near Kanab
While Antelope Canyon in neighbouring Arizona is undoubtedly one of the most stunning slot canyons in the world, its narrow passages are also busy with tourists. At Peekaboo you won't be elbowing anyone out of the way and you'll still get stunning light-filled images as you explore the mile-long route.
3. Off-roading at Coral Pink Sand Dunes State Park, near Kanab
The 1,200 acres of sand dunes shift throughout the year, so no two days are the same at this designated State Park. Best viewed from an All-Terrain Vehicle (ATV), you can either drive solo, in pairs or take a group tour.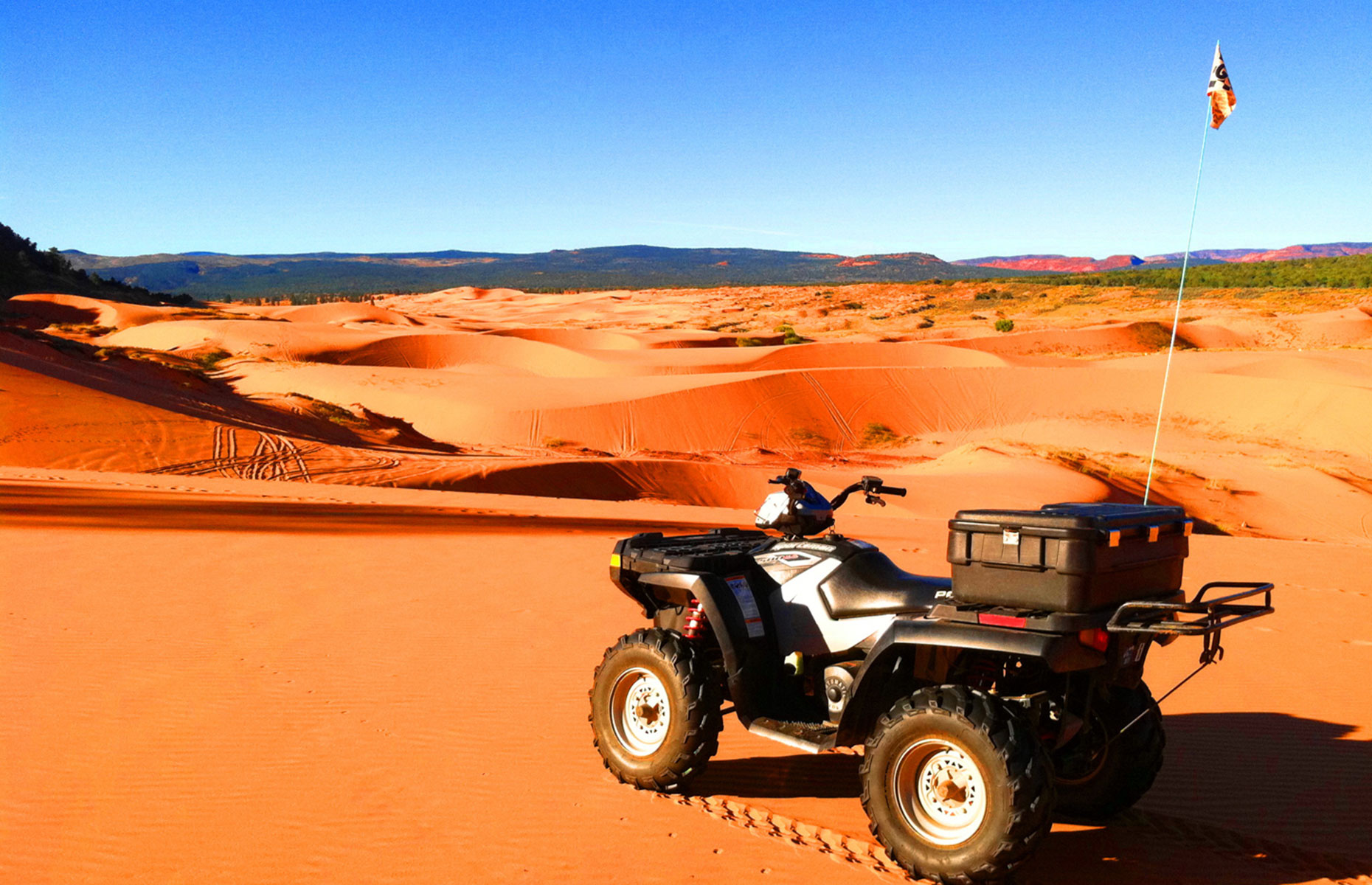 Tyler Cornell/Kane County Office of Tourism
4. Helicopter tour, East Zion
Seeing Utah from the ground is awe-inspiring, but viewing the rocks and deserts from above has a spine-tingling quality of its own. Zion Helicopter offers a range of tours that will get you off the ground in modern and comfortable choppers. From the big windows you can see East Zion National Park, the Canaan Mountain Wilderness and hover over the tops of the mesas. During our trip in late May a few winter waterfalls were still visible too.
5. See the River House Ruin, near Bluff
Probably around 800 to 1,500 years-old, these Puebloan ruins have an incredible story to tell. Tucked into the rocks are the well-preserved remains of two houses, complete with a kiva (a room used by the Puebloans for religious rituals).
Getting there is fun too, you can take an ATV part of the way and hike the rest.
Unique places to stay in southern Utah
Under Canvas Zion (between St George and Kanab)
Search for this fabulous glampsite on Google Maps and it will tell you it's a "2-star hotel". Don't believe a word of it: Under Canvas Zion is actually a honeymoon-worthy location (albeit for those who love the great outdoors) featuring luxurious tents complete with loos and warm showers, evening yoga, hearty breakfasts, glorious sunsets and panoramic views of the surrounding mesas. Unmissable.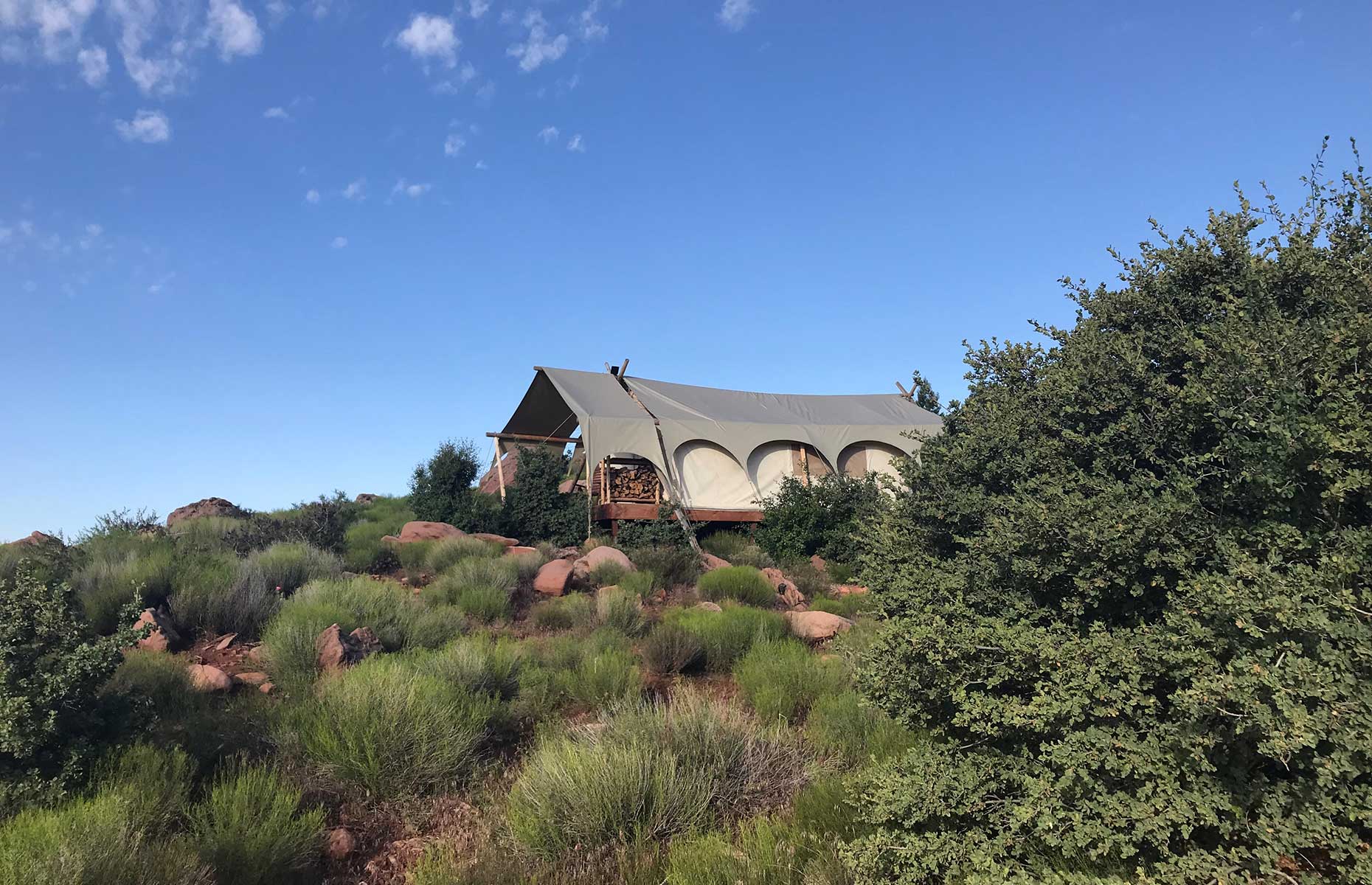 Laura Jackson
Zion Mountain Ranch, East Zion
This organic working farm offers 59 well-spaced chic wooden cabins with all the mod-cons. Larger ones are ideal for families and come with three bathrooms, two double bedrooms and a bedroom for kids complete with foosball. Children will love the chickens and petting rabbits too.
Desert Rose Resort & Cabins, Bluff
There are lots of lovely details about this family-owned resort: the enormous and comfortable beds, huge TVs and handmade local bedspreads. Oh, and a proper hairdryer.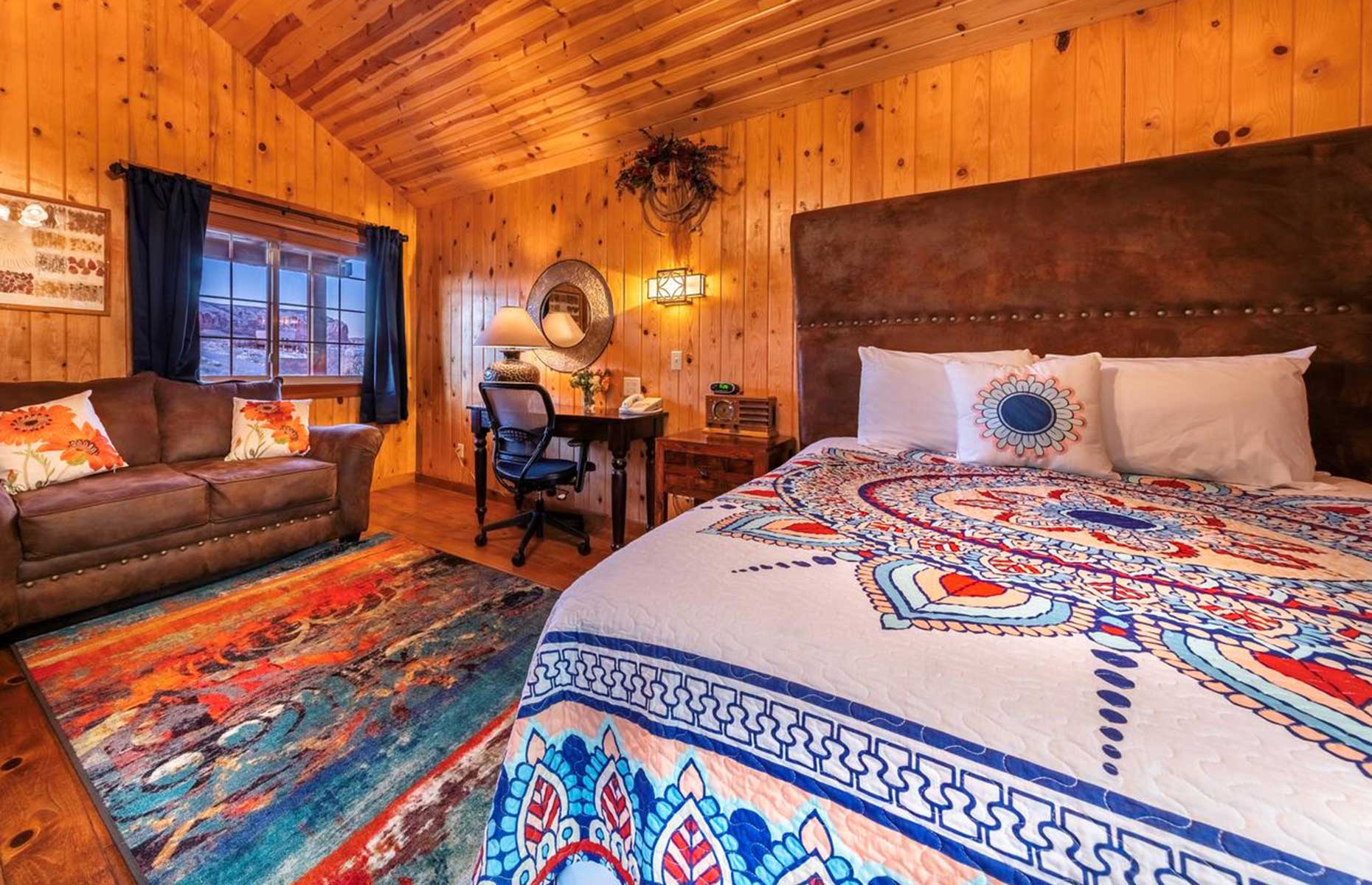 Desert Rose Resort/Booking.com
Don't miss breakfast at on-site restaurant Duke's where they serve a super huevos rancheros (Mexican black beans, tortilla and eggs, sunny-side up).
Itinerary: the perfect southern Utah road trip
Day 1: Las Vegas to St George
Fly into Las Vegas: Nevada's McCarran International Airport is a 90-minute drive over the border to Utah's St George. Zipping out of Sin City, the neon soon gives way to desert wilderness and craggy rocks along the I15 (Interstate 15).
Check-in to: Inn on the Cliff. The clue's in the name: this hotel sits on a hill above St George offering broad vistas over the town. Chill by a pool with a view, have a drink on the terrace and grab a spot of lunch at the Cliffside Restaurant.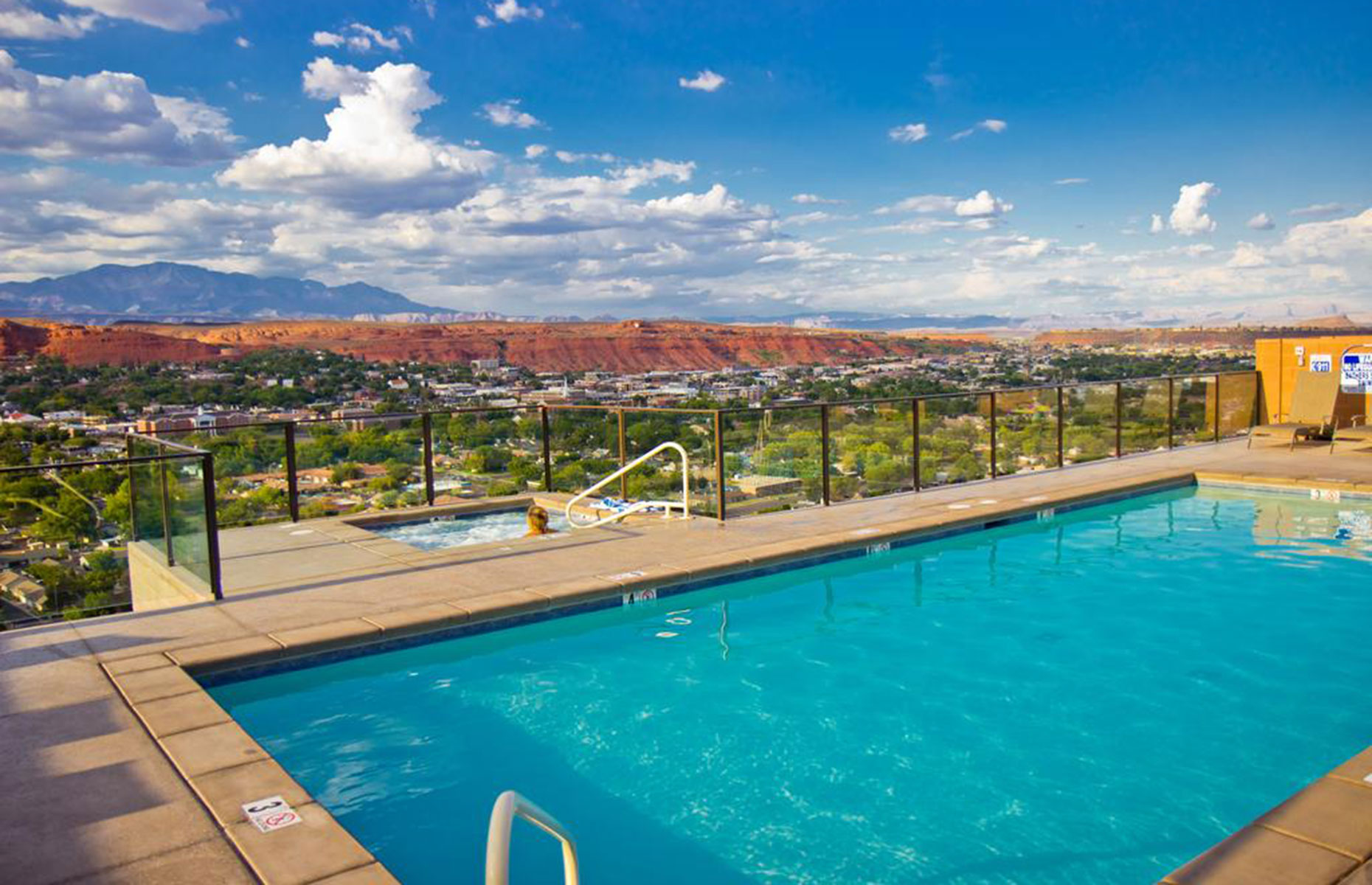 Inn On The Cliff/Booking.com
Have an early dinner at: the Painted Pony. You'll find this marvellous restaurant tucked away in what looks like an unassuming shopping centre in St George. It serves an à la carte menu featuring everything from bacon-wrapped, almond-stuffed dates with a port drizzle, to herb-crusted rack of lamb.
Day 2: St George to Kanab
Take a hike at: Snow Canyon State Park. For a first taste of the true great outdoors in Utah you can't beat this beautiful state park and its jaw-dropping lava flows and sandstone cliffs. There are 13 well-signposted trails. We opted for the short hike around the Petrified Sand Dunes, taking around an hour.
Laura Jackson
Top tip: Watch out for the Mojave desert tortoises – if you see one in the road pick it up with both hands and set it down away from the highway.
Hit the road: Heading east from St George it's under two hours to Kanab with the most scenic route taking you through stunning Zion National Park (it's £29/$35 entry per vehicle but a pass is valid for seven days).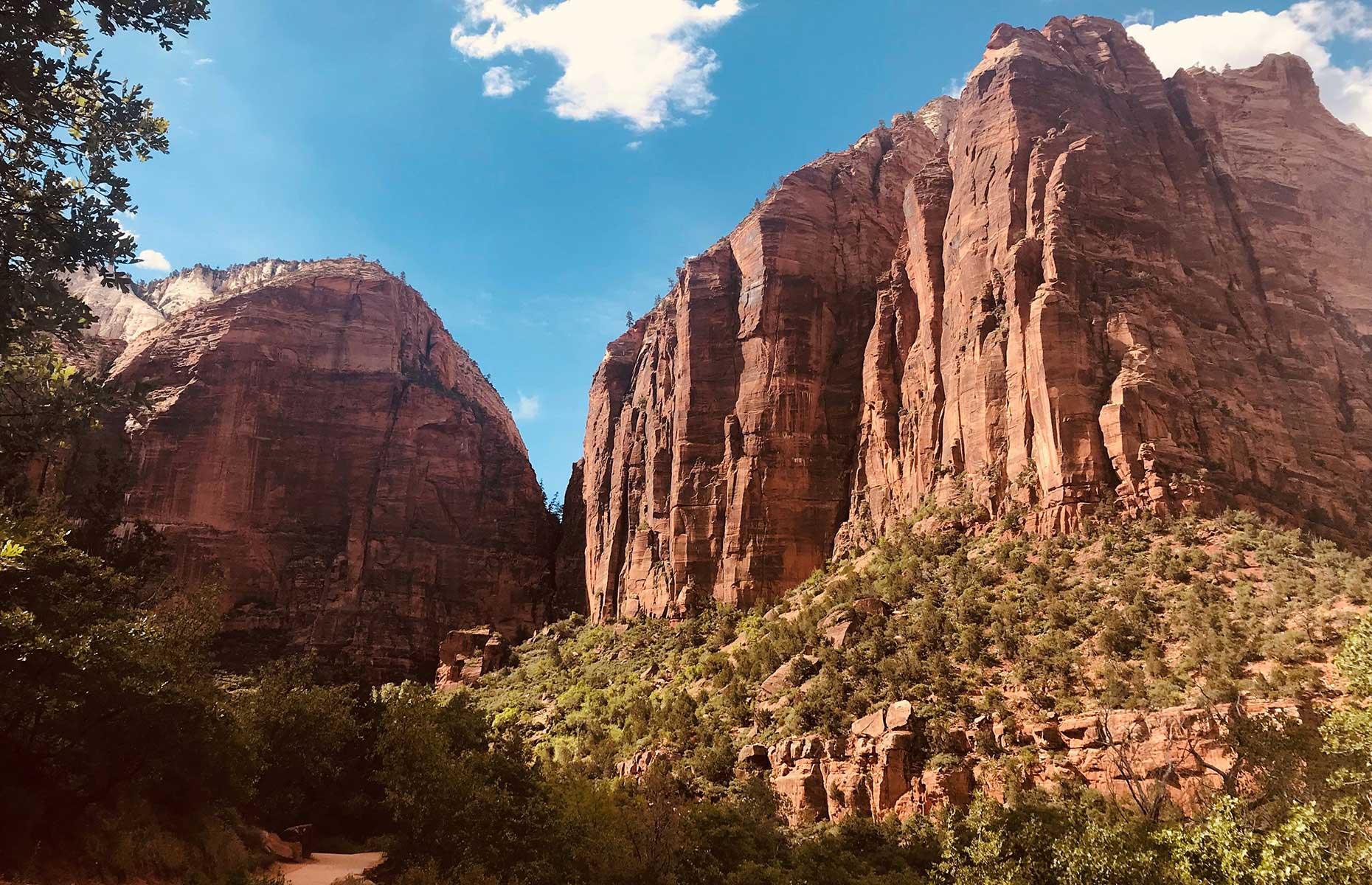 Laura Jackson
Check-in to: Canyons Boutique Hotel where the huge beds, in-room coffee and flatscreen TVs easily make this the most comfortable inn in the area.
Dine at: Sego. Southern Utah's best restaurant, it's run by Shon Foster (previously an executive chef of Amangiri, a hotel well-known for attracting celebs including Brad Pitt). These days Shon is cooking small plates of regional American cuisine. Think avocado and foraged mushrooms on toast, scallops with cauliflower popcorn and poke salad with sashimi.
Day 3: Explore Kanab
Have breakfast at: Kanab Creek Bakery. The smoked salmon crêpes, croque monsieurs and huge pistachio croissants at this tiny joint wouldn't be out of place in a Parisian café. Plus, the massive coffees are sure to set you up for the day.
Grab a packed lunch at: Glazier's Market. Always mindful of your next meal? Straight after breakfast pick up a sandwich lunch from this food market in Kanab. It will mean you can enjoy a day of uninterrupted adventures.
Walk Peekaboo Slot Canyon: Formed over millions of years by the flow of a river, slot canyons are narrow passages with high-sided rock formations. The 4x4 drive through the Kanab Canyon is fun in itself, but a curtain opener for the beautiful main event. Our guide, Brent Johnson from Forever Adventure Tours, took us through the ever-narrowing space, pointing out the best places to take pictures.
Look up and you'll see some of the canyon's secrets including Moki steps, footholds carved into the limestone once used by the Ancestral Puebloans to access a granary above.
Go off-roading: at Coral Pink Sand Dune State Park. This picture-perfect space offers pastel sands and a gentle quiet. That was until I arrived screaming and laughing my way around the dunes on an hour-long solo vehicle drive with Coral Pink ATV Tours.
Owners Gordon and Mindie will make sure you're properly kitted out with a fitted safety helmet. And if you don't want to drive on your own, you can hitch a ride in a multi-passenger vehicle. If you're lucky you might spot the Coral Pink Tiger Beetle – the only place to find them in the world.
Courtesy of Kane County Office of Tourism
Head out on a jeep tour: with Zion Pondersoa Ranch Resort in East Zion. You know you're in for a serious adventure when your guide turns up in massive Jeep covered head to foot in mud. Ascending via switchbacks our Lyle drove us to the top of the Mountain Overlook, and it was worth the twists and turns for the vistas over Utah towards the North Rim of the Grand Canyon.
Have dinner at: Cordwood. There are dishes to suit fish lovers and veggies, but if you're a meat fan, there's only one to order: bison. Here it comes farm-fresh and Moroccan-style with the braised, flaky-to-the-fork meat served with white beans. Organic eggs and 60 apple varieties are grown on site too while vegetables including potatoes and squash are stored in the 15-foot-deep cedar-lined root cellar.
Rest your head: It's a 30-minute drive back to Canyons Boutique Hotel. But you could also opt for one of Zion Mountain Ranch's cosy cabins, where you can waddle to your room if you've stuffed yourself silly with fruity crumble and Merlot at Cordwood.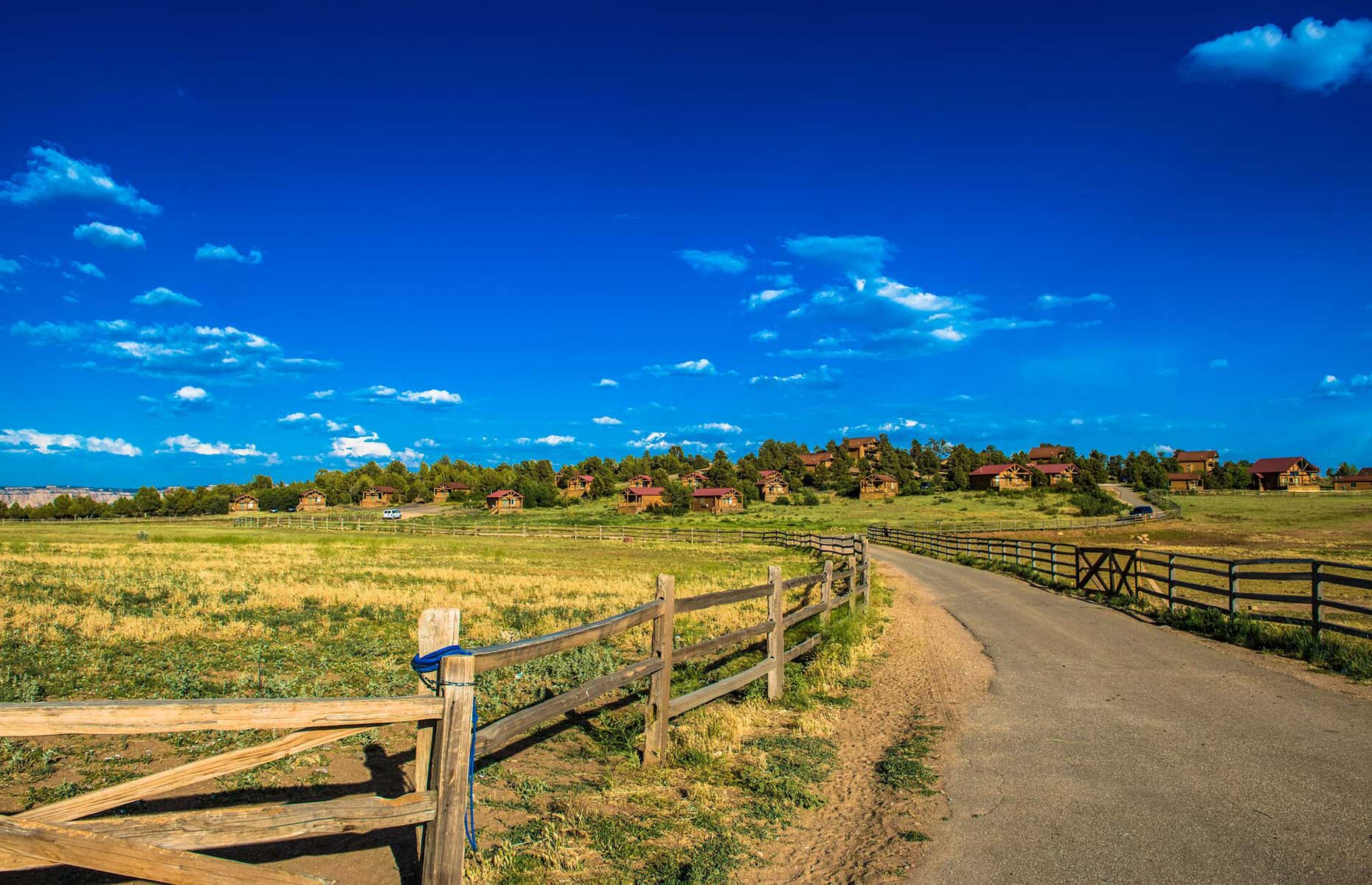 Courtesy of Kane County Office of Tourism
Day 4: Kanab to Bluff
Hit the road: along Highway 89. Thanks to the mountains of Grand Staircase National Monument you have to pop over into Arizona to get from Kanab in Utah's southwest, to Bluff in the southeast. The near five-hour drive is no hardship when you can take in views of Lake Powell and stop at classic American service stations for 'essentials' including Slush Puppies and candy.
Have lunch at: Comb Ridge Eat & Drink. After a spell on the road you'll be in need of some hearty food – and Comb Ridge in Bluff is where you'll find it. The sandwiches are magnificent. The El Cubano comes with both ham and slow-roasted pork with Swiss cheese and pickles. Don't miss having a Mexican coke either – nothing tastes quite like it.
Step back in time: at the Sand Island Petroglyph Panel. Start an afternoon of history hunting at this wall of art in Bears Ears National Monument. It's genuinely moving to stand in front of an artwork that's around 2,500 years-old in parts. Guide Dallin Tate can talk you through the history, pointing out the different periods of rock art including a big-horned sheep playing the flute from the Archaic period (4000-500 BC) and the cute lizards carved out in the Pueblo period from AD 700 to 1350.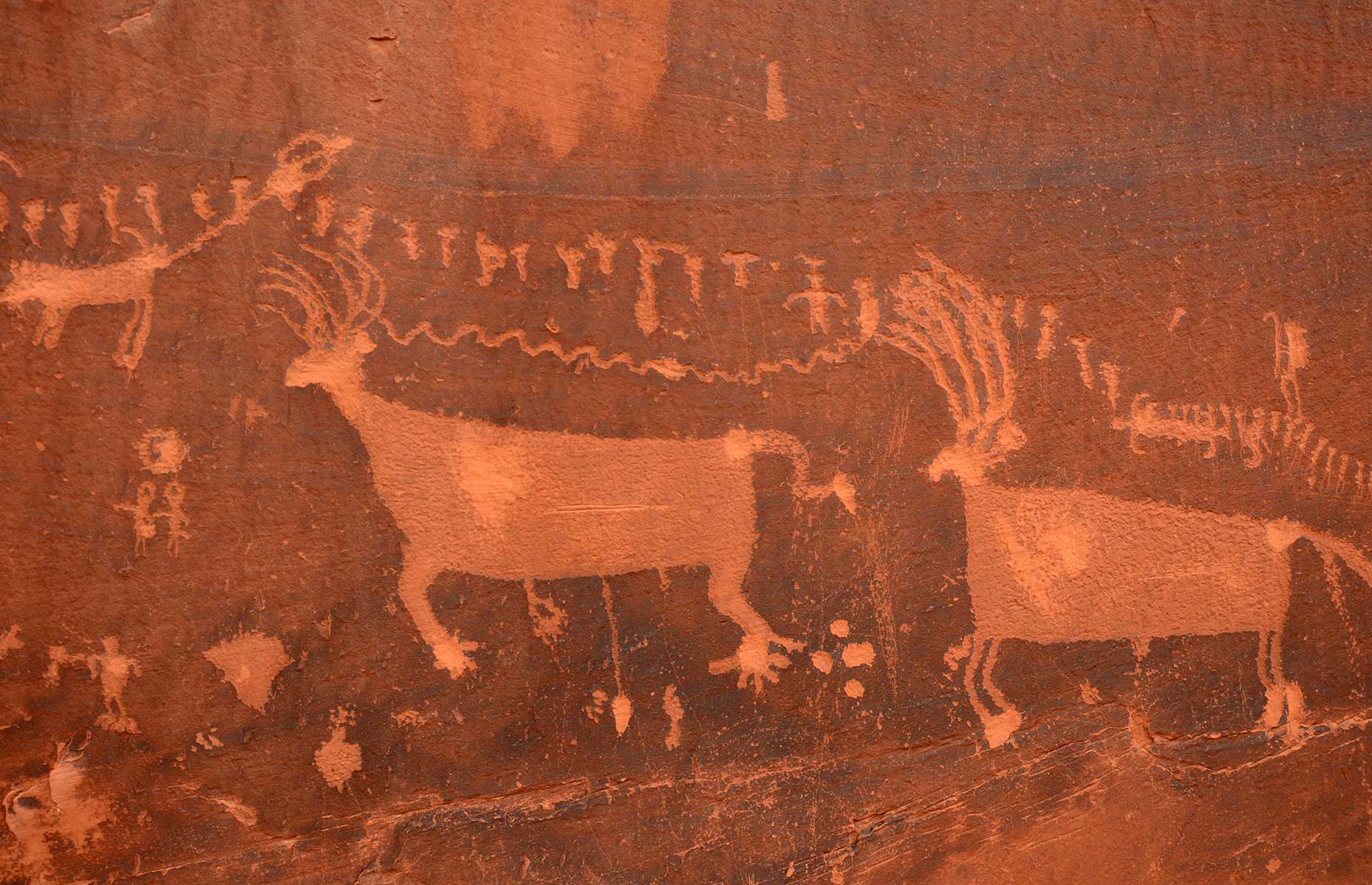 Nina B/Shutterstock
Find ancient ruins: on a walking and ATV tour. Tucked under Comb Ridge, around 12 miles southwest of Bluff, you'll find the River House Ruin. You can only get here via an ATV (or on horseback) and Wild Expeditions offer a half-day trip to the ancient house. First you'll power through the desert in a ATV before walking the rest of the route up the ridge.
Allison Yamamoto-Sparks/San Juan County Tourism
Probably last inhabited between 900 and the 1200s, its location near the San Juan River isn't the only reason for its name: there's a giant rock-art river carved above it.
Spend the night at: Desert Rose Resort & Cabins. This modern family-run hotel feels really luxurious decorated with touches including local art and bedspreads.
You don't have to go far for an excellent dinner at Duke's either. Our pick is the burger and fries or the mahi mahi. There's also a no-booze policy here and the menu features plenty of tasty mocktails including a lime mojito.
Party with the stars: Utah is among the best places in the world for stargazing. It's not just about the number of constellations you'll see, it's that they blanket the sky right up the edge of the horizon, due to the lack of light pollution. There are 60 certified (or about to be certified) dark sky locations to chose from too. Although you could simply step onto your balcony at Desert Rose – you'll still see plenty.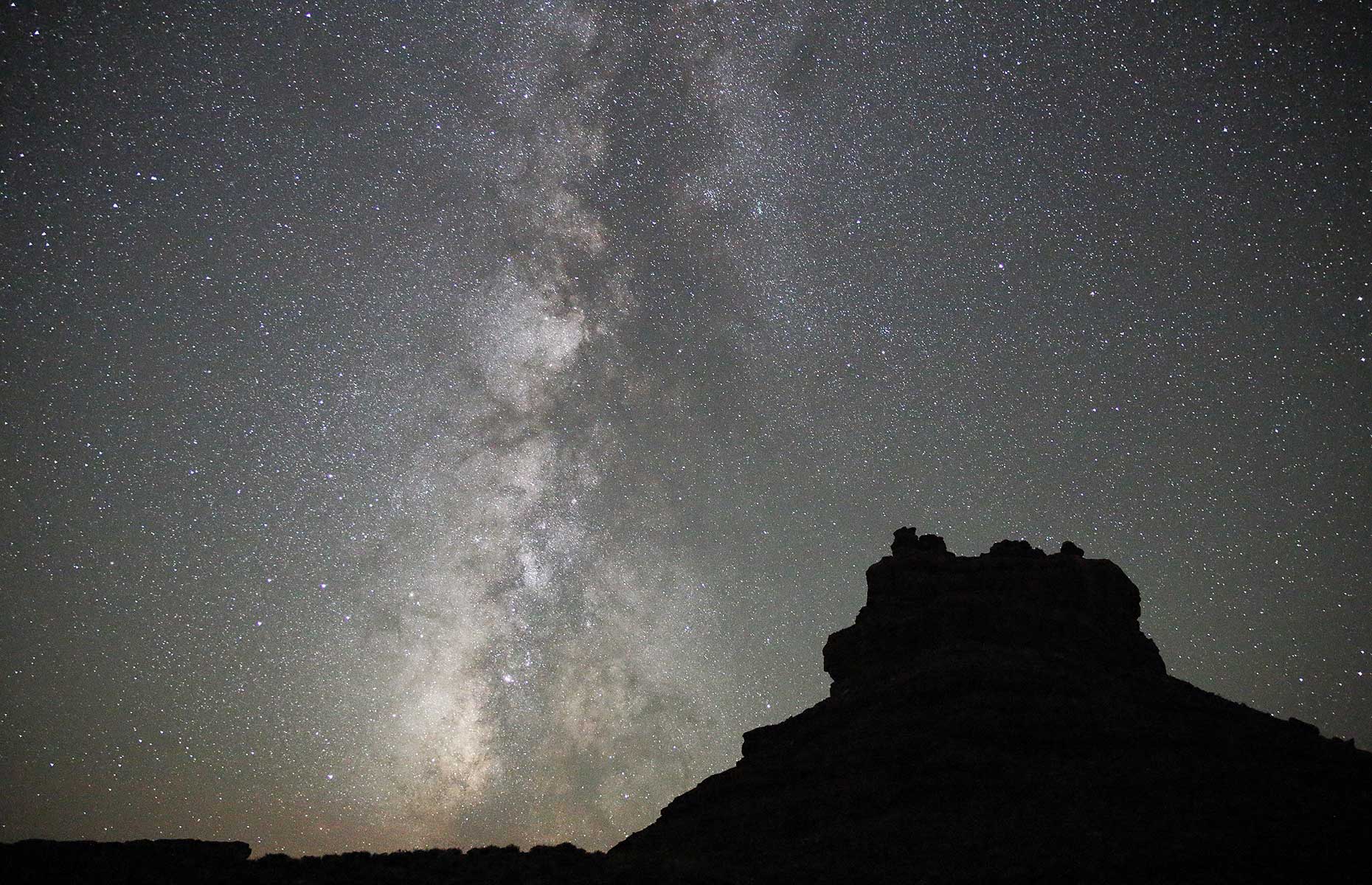 corlaffra/Shutterstock
You don't have to have a guide or a telescope either. Download an app, bring a pair of binoculars and the clear skies mean you can still see sights such as Jupiter and Mars, and Arcturus, usually the first star to come out.
Top tip: Head to your chosen location before dusk so your eyes adjust.
Day 5: Bluff to Virgin
Drive to: the Valley of the Gods. No cars, no planes overhead – there's just glorious silence at this park filled with majestic mesas. Smaller than but similar to Monument Valley in Arizona, you could spend hours taking in the enormity of the rock formations in glorious solitude. Find the driving loop entrance off US-163. Entry is free.
Take in: Goosenecks State Park. You won't find any real-life geese here, it's so-called because the three bends in the San Juan River around large rock formations are said to resemble the necks of the birds. The views from the lookout point take in the geological wonders 1,000 feet (306m) below. There's a nominal £4 ($5) fee per vehicle.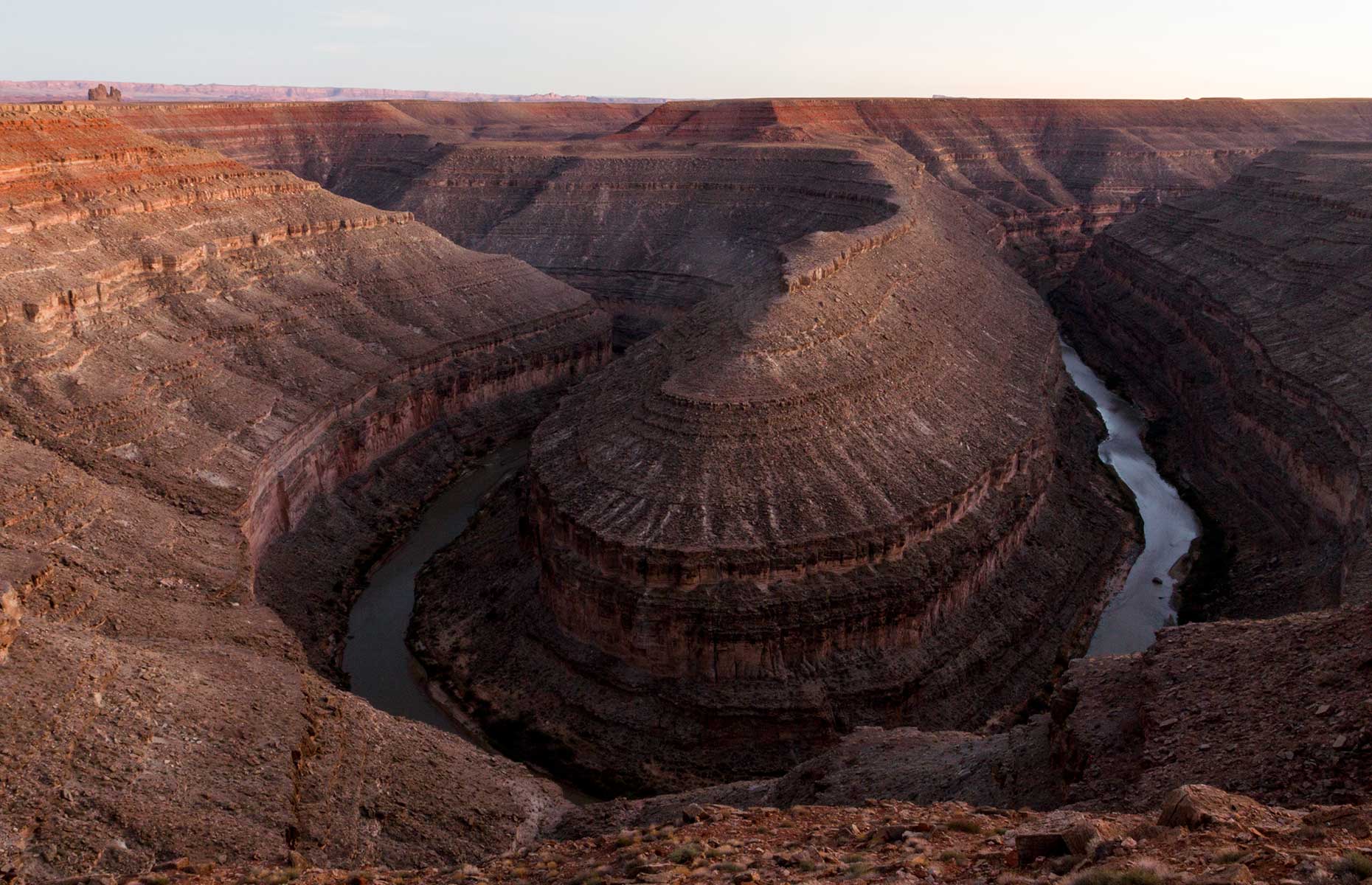 Stop for photos: at Forrest Gump Point. Unlike in the movie, "I'm pretty tired, I think I'll go home now" aren't likely to be words you'll utter at this stunning spot on US-163, where Forrest decides to stop his epic run.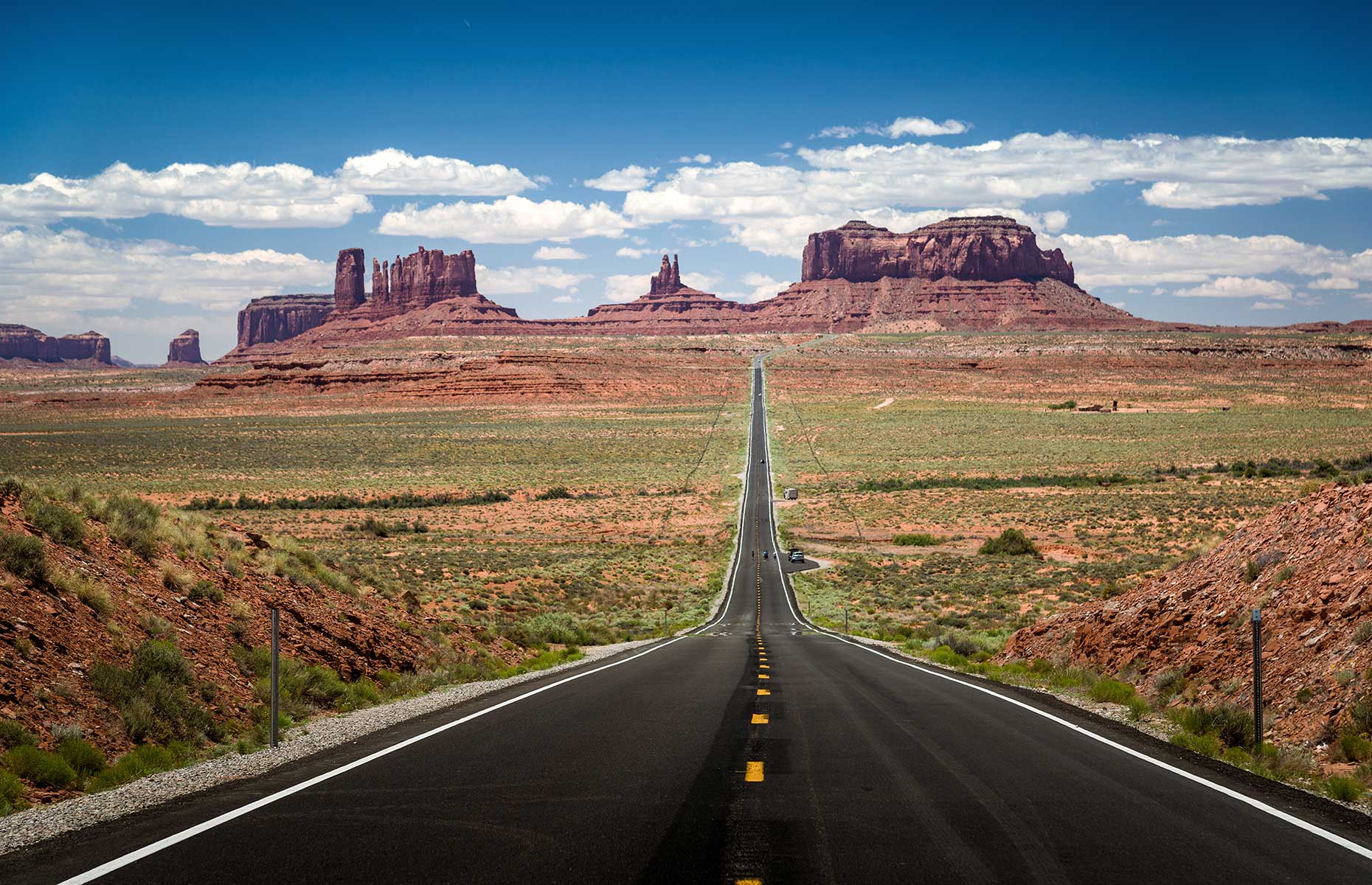 Kenggo/Shutterstock
Top tip: Strictly speaking it's illegal to stand on the highway for a snap of the famous spot, so stay safe at the side of the road.
Stay in a luxury tented camp: at Under Canvas Zion. If you think you don't like camping, this place will change your mind. The chic tents come with showers and toilets, a wood burner for chilly nights and there's even a battery pack to charge your phone. The best bit? Waking up with a cup of coffee on your porch and admiring the views.
Day 6: Virgin to Las Vegas
Have breakfast: at the Embers Tent at Zion under Canvas. They do a serious potato-packed veggie breakfast burrito that will set you up for a final day of adventures.
Head out on horseback: Cowboy's Derek and Dale from Blue Sage Adventures offer guided trail tours of the Kolob Terrace departing from Under Canvas. They'll find you a horse to suit your personality. I was riding King, a handsome yet gentle steed who liked to stop at every other bush for a snack.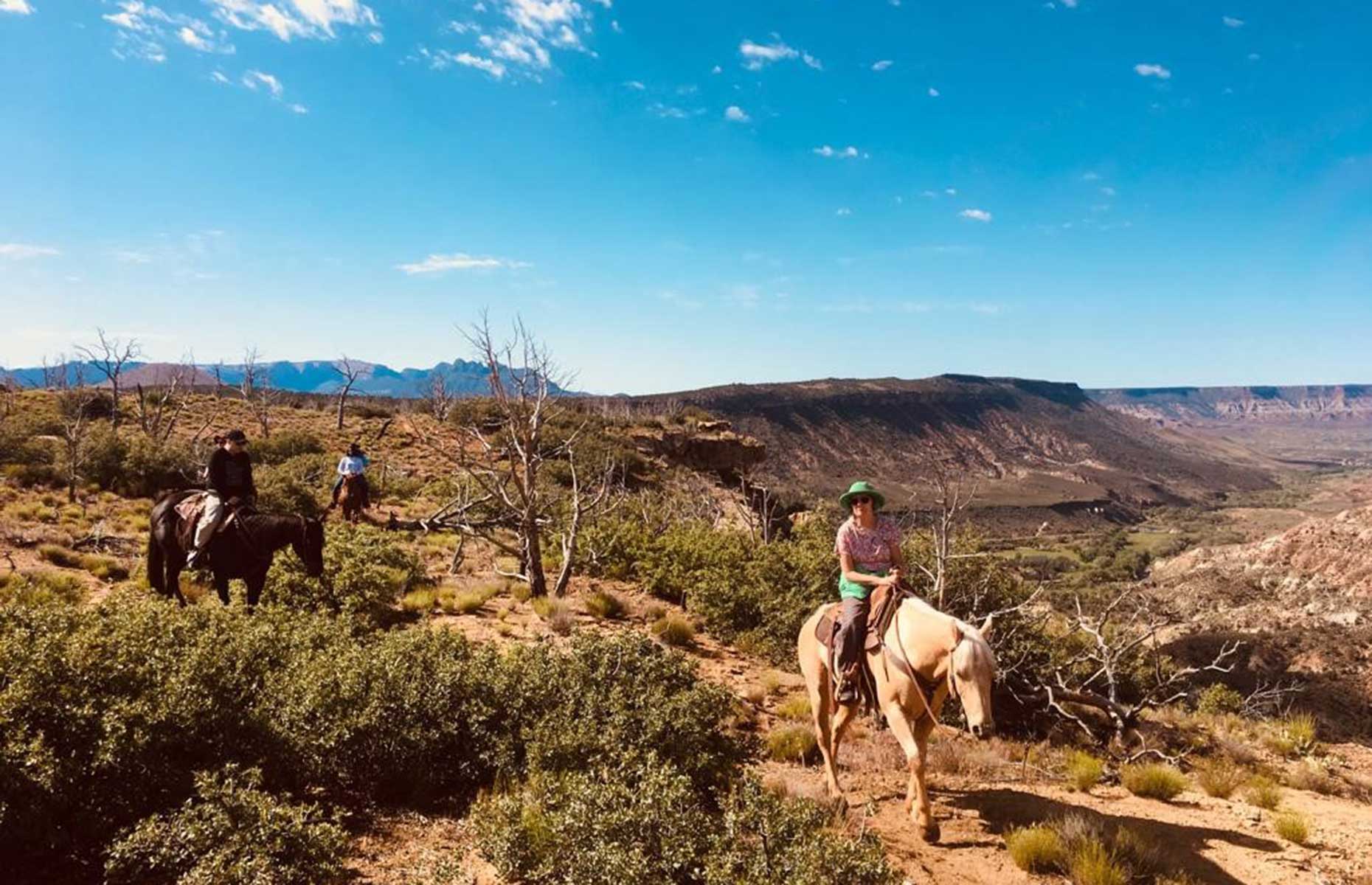 Courtesy of Tamara Hinson
Stop for lunch at: Oscar's café. This Mexican joint in Springdale has an outdoor terrace that's a serene spot for delicious fish tacos. Or (if you're not planning on kissing anyone), the WhoopAss burger, featuring a huge bun stuffed with a garlic-infused patty, jalapeños and chipotle mayo.
Take a helicopter ride: with Zion Helicopters. Save the best until last and really splash out on the 55 Mile Zion/Canaan Cliffs Tour, around £193 ($235) per person.
It's worth the cost as you'll spend around 35 minutes in the air, soaring over the ghost town of Grafton and the Kolob terrace. A magnificent way to round off your trip before heading back to Vegas.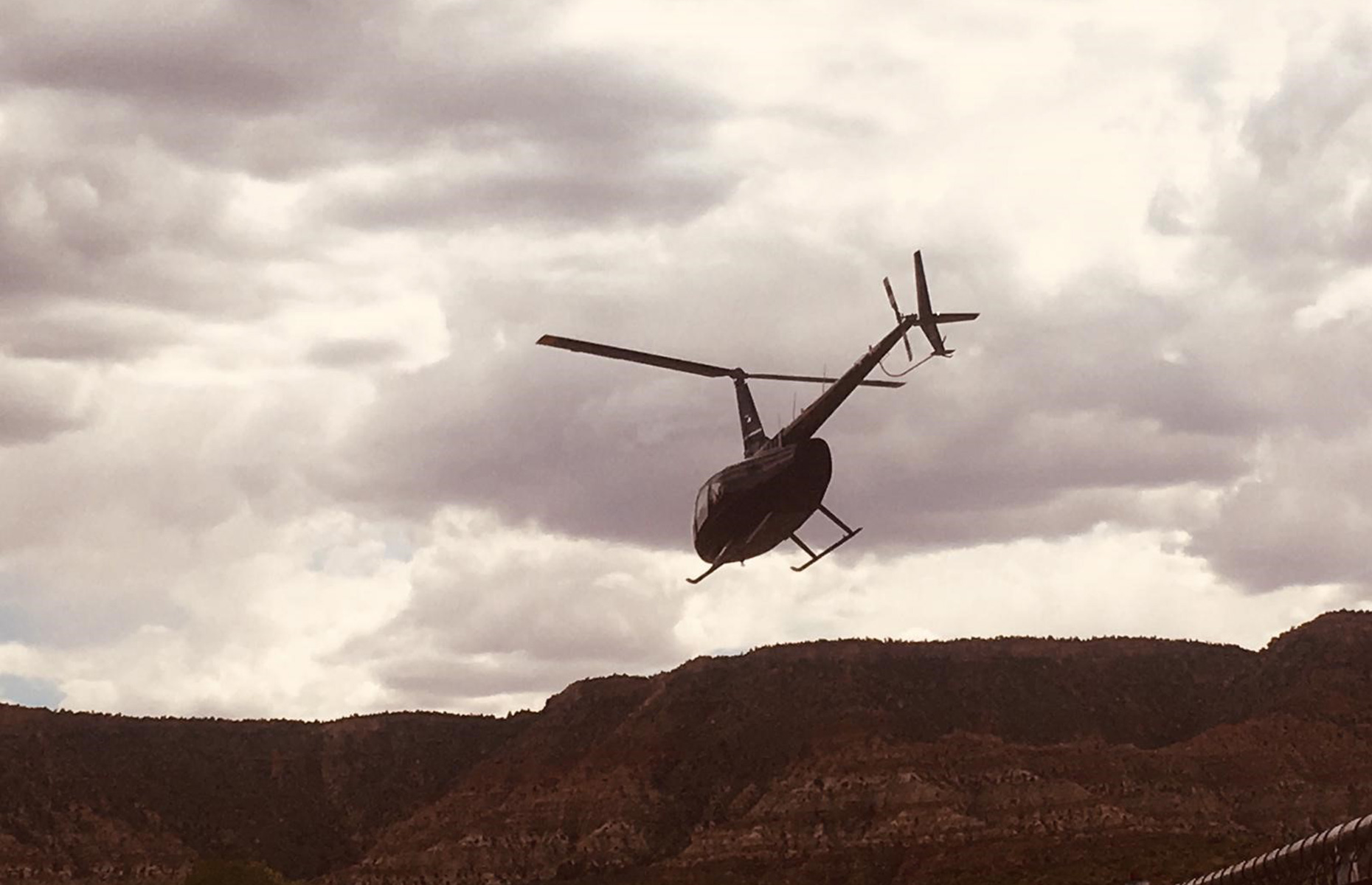 Courtesy of Tamara Hinson
Getting there
For more information on the state of Utah, see visitutah.com.
Virgin Atlantic flies daily from London Heathrow to Las Vegas, the easiest gateway for southern Utah: virginatlantic.com.
Map
Lead image: Charles Knowles/Shutterstock
Be the first to comment
Do you want to comment on this article? You need to be signed in for this feature