Explore Amsterdam: top things to see and do, best hotels and where to eat
The Dutch capital is small, but it packs a mighty punch when it comes to museums, restaurants and urban beauty. Here's what to do on a short break in Amsterdam.
Key neighbourhoods in Amsterdam
The Jordaan
Once a rowdy, infamously rebellious working-class neighbourhood, the Jordaan is now one of the priciest places to live in Amsterdam. It's gorgeous here, though, with pretty, tall townhouses shoulder-to-shoulder along some of the most picturesque canals in the city.
You'll find great boutiques for shopping and some delightful, traditional brown cafés like Café Thijssen and Café Papeneiland (you have to try the apple pie here).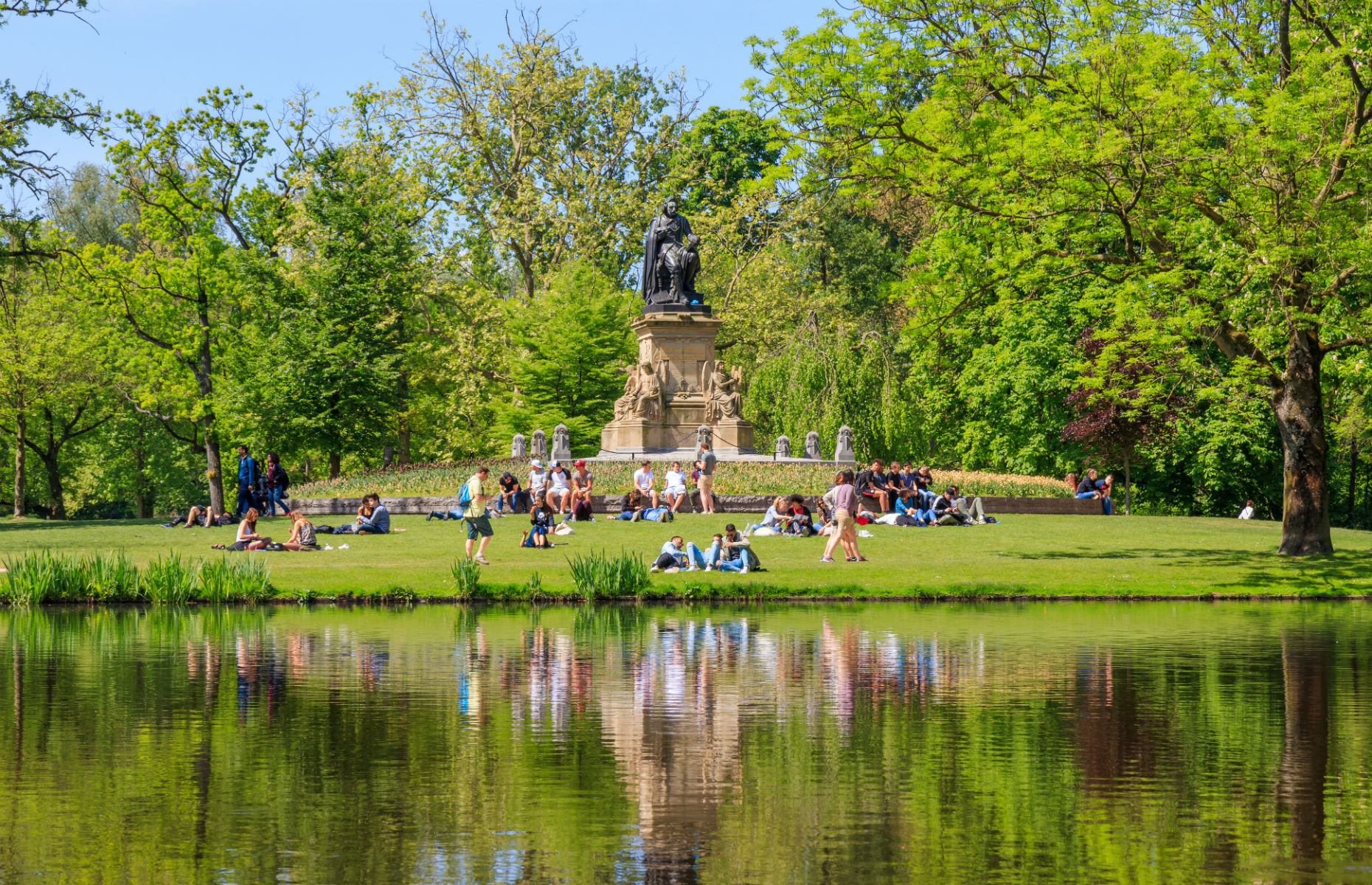 Z. Jacobs/Shutterstock
Oud-Zuid
This is Amsterdam's most prestigious museum district, home to both the Rijksmuseum and Van Gogh Museum, as well as the city's premier classical music venue and the Vondelpark.
You could spend days soaking in all the culture here, and evenings in the swish restaurants tucked away along its leafy streets. This is high-end Amsterdam at its finest.
Noord
Taking up almost the whole north shore of the River IJ, Amsterdam-Noord is a former industrial area and now mostly residential. Along the waterfront there's cutting-edge architecture and a boatyard turned artist's hub, plus a glorious expanse of green space in the Noorderpark. Hop on a bike and explore this neighbourhood, stopping in at Oedipus Brewing for a sampler of some new-age Dutch beer.
De Wallen
The oldest part of Amsterdam, De Wallen is infamous thanks to its seedy side. While it's known to locals and tourists alike as the Red Light District, there is more to this area including fantastic restaurants, leaning gabled houses and a few key concert and event venues such as Oude Kerk and Beurs van Berlage.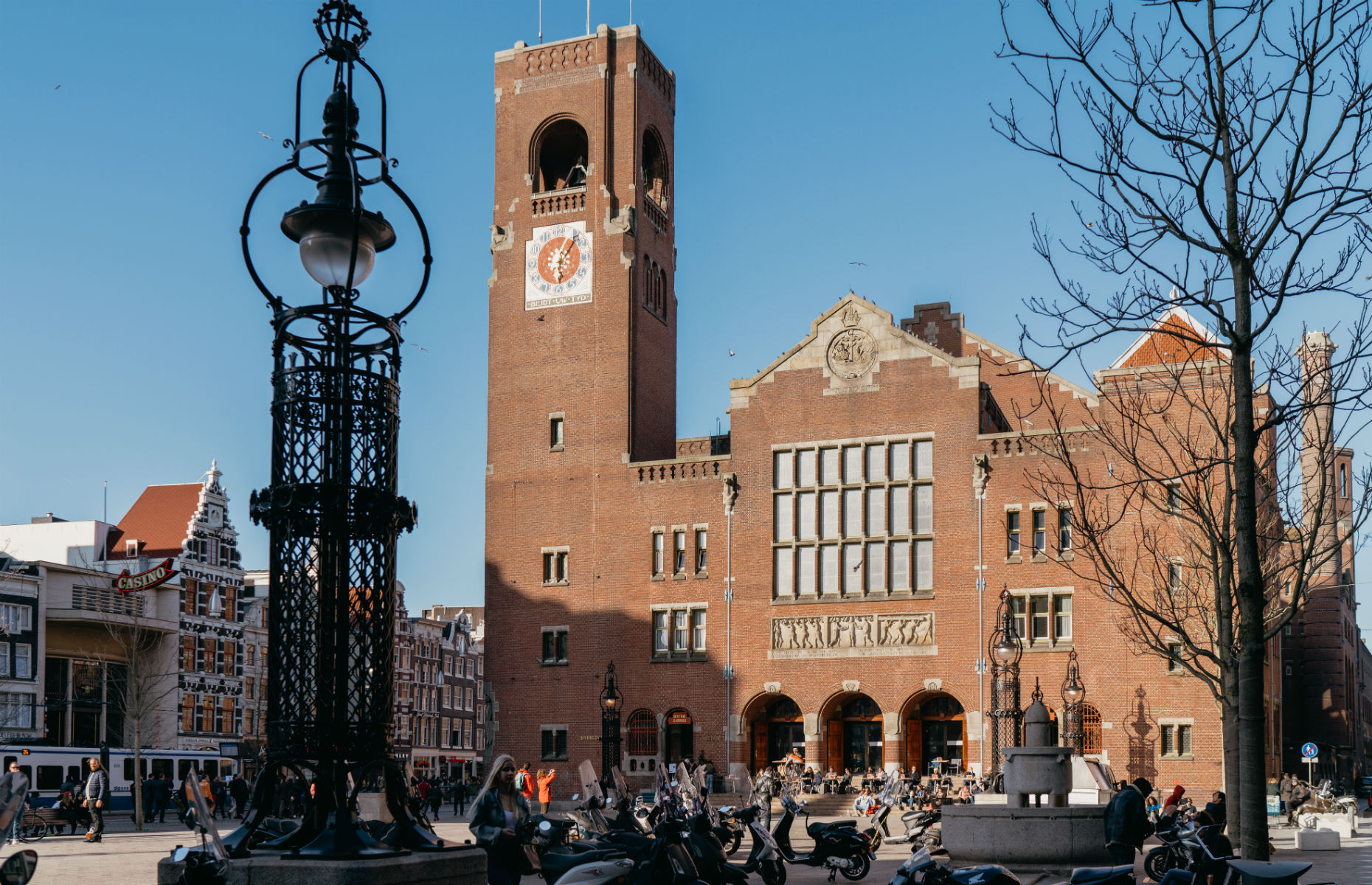 Alex Volosianko/Shutterstock
Where to stay in Amsterdam
This city is packed full of interesting accommodation, from beautiful five-star hotels with Michelin-starred restaurants to modest little houseboats and rooms at the top of towering cranes.
We love the Blue Wave Houseboat – a charming little B&B run by Hans and Elizabeth. There's no better way to enjoy the canals than by staying on them, and this houseboat sleeps four people in two quirkily decorated bedrooms.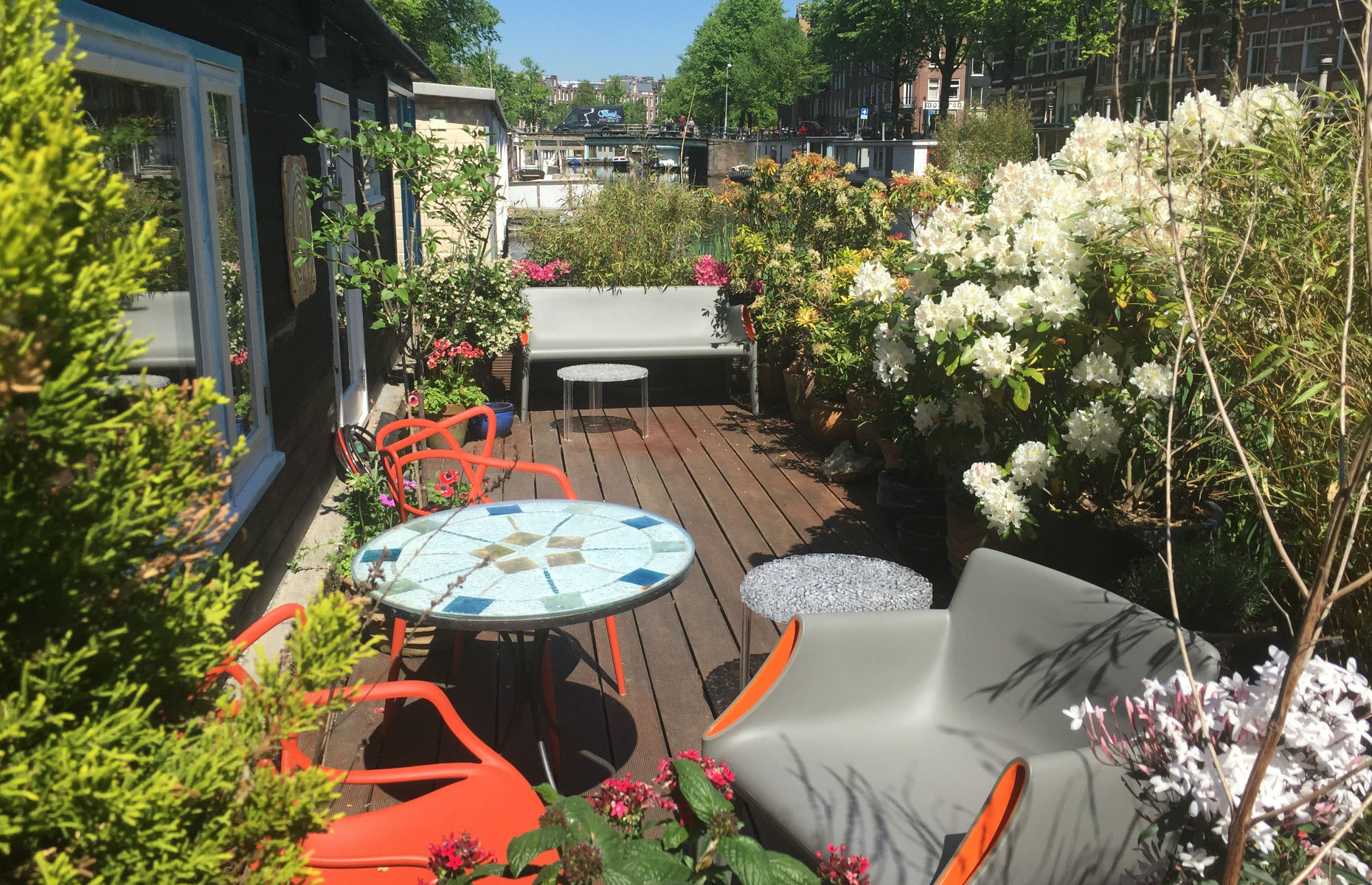 Lottie Gross
For all-out luxury, book into The Dylan, which has a fantastic brasserie (don't miss the ramen) and a highly-rated, Michelin-starred restaurant next door. And for the exact opposite, try SWEETS Hotel – a collection of renovated bridge houses across the city now equipped for bed and breakfast stays. They're tiny, but delightfully unusual.
La Bohème is an excellent budget option (bonus: they have a resident cat), and for an alternative 'getting high' experience in Amsterdam, book into the Faralda Crane Hotel.
Must-see Amsterdam
Get humbled at the Anne Frank House
This biographical museum is bound to move you. Weave your way through the various rooms to learn more about this young girl's life, see the very diary she's now world-famous for and, of course, the secret annex she lived in during the Second World War. You'll need to book well in advance – ideally at least three months.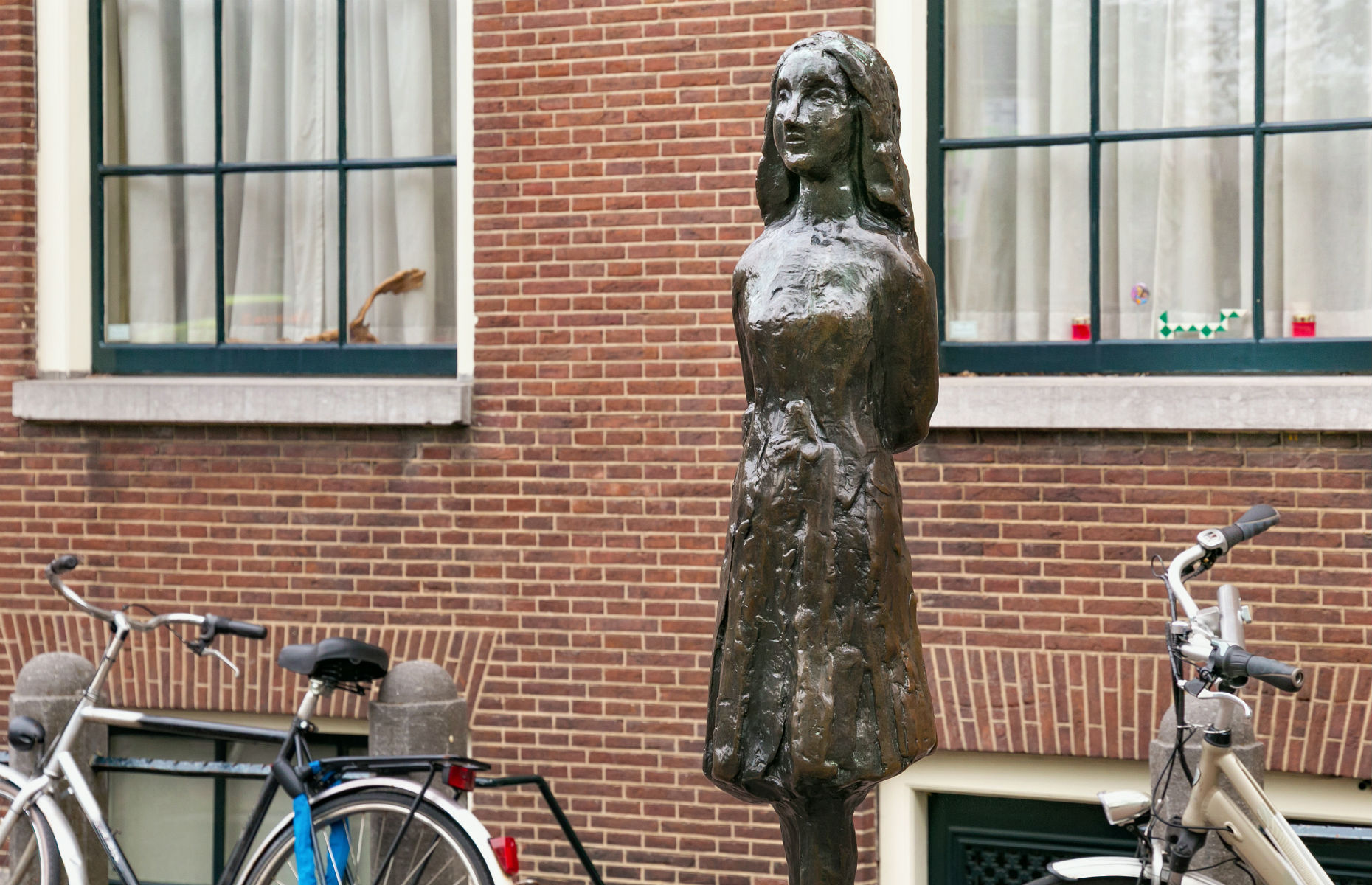 Alexey Pevnev/Shutterstock
Cruise the canal
A great way to admire the tall, often jaunty canal houses is from the water, of course. Various boat tours leave from all over the main canals in Amsterdam, but the best are Gray Line and Holland International (both included in the iAmsterdam city card, see below).
East stroopwafel in the market
This sickly sweet snack is an Amsterdam staple. Bypass the packets of mini stroopwafel in the shops, though, and head to Albert Cuyp Market to try one fresh from the griddle. You'll watch it being made before you, and come away with a warm, cloying, sticky mess – it's not easy to eat, but it's divine. Wash it down with a coffee at one of the many bars that line the main market street.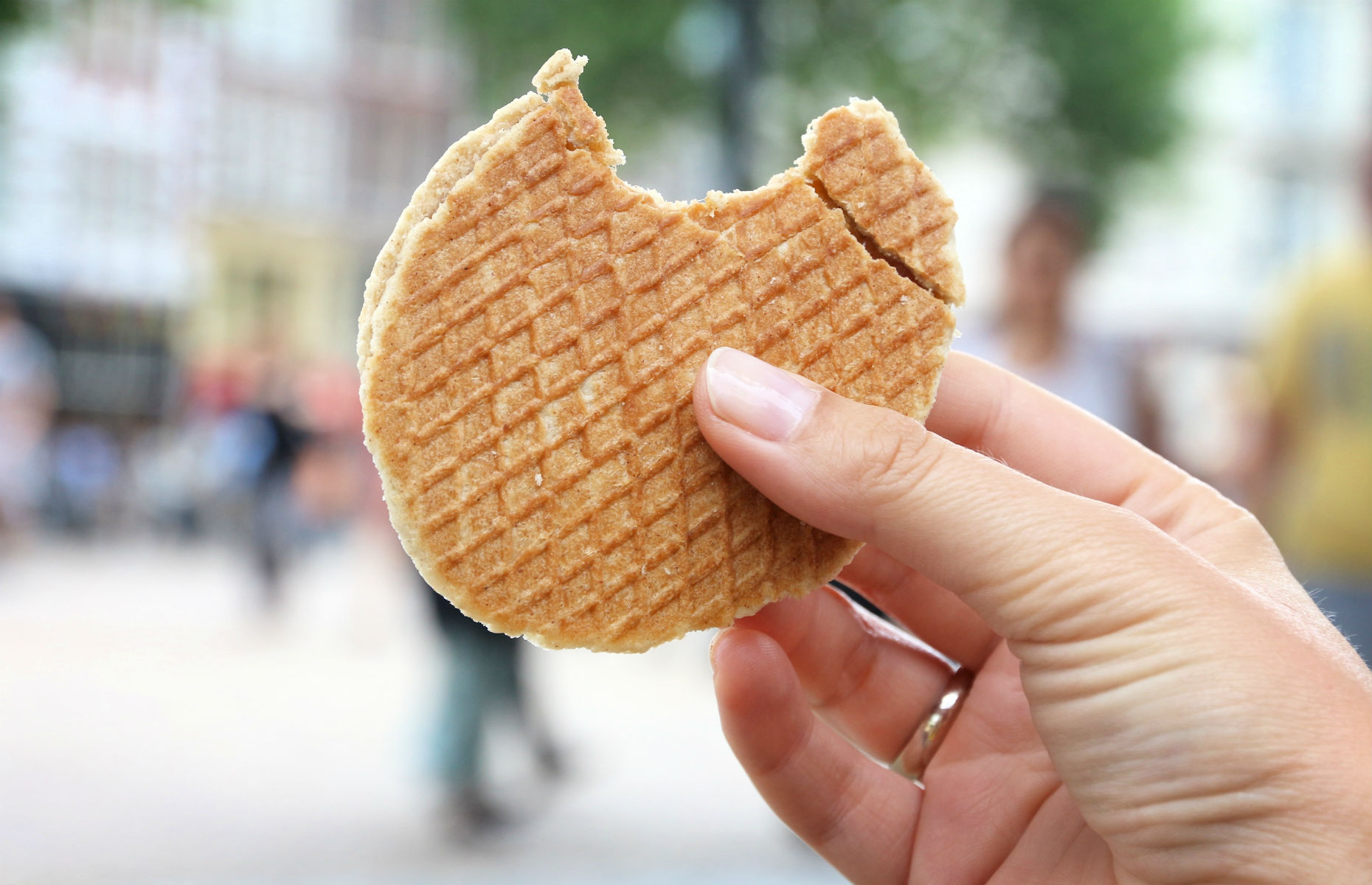 Tupungato/Shutterstock
Get to know Van Gogh
If you're into art, you've come to the right city. There's some seriously spectacular artwork in Amsterdam, and if post-Impressionist is your thing, the Van Gogh Museum will delight. This enormous collection of pieces by world-renowned artist is mind boggling – though if you want to see that famous self portrait, you'll have to visit the Rijksmuseum (see below).
Spend a day in the Rijksmuseum
The Rijksmuseum is huge. You simply can't see it all in a day, so it pays to go with a few pieces in mind. The Van Gogh portrait is on display in room 1.18, and the Johannes Vermeer's The Milkmaid is in the Eregalerij, and from July 2019, Rembrandt's The Night Watch will be on display while it's being restored.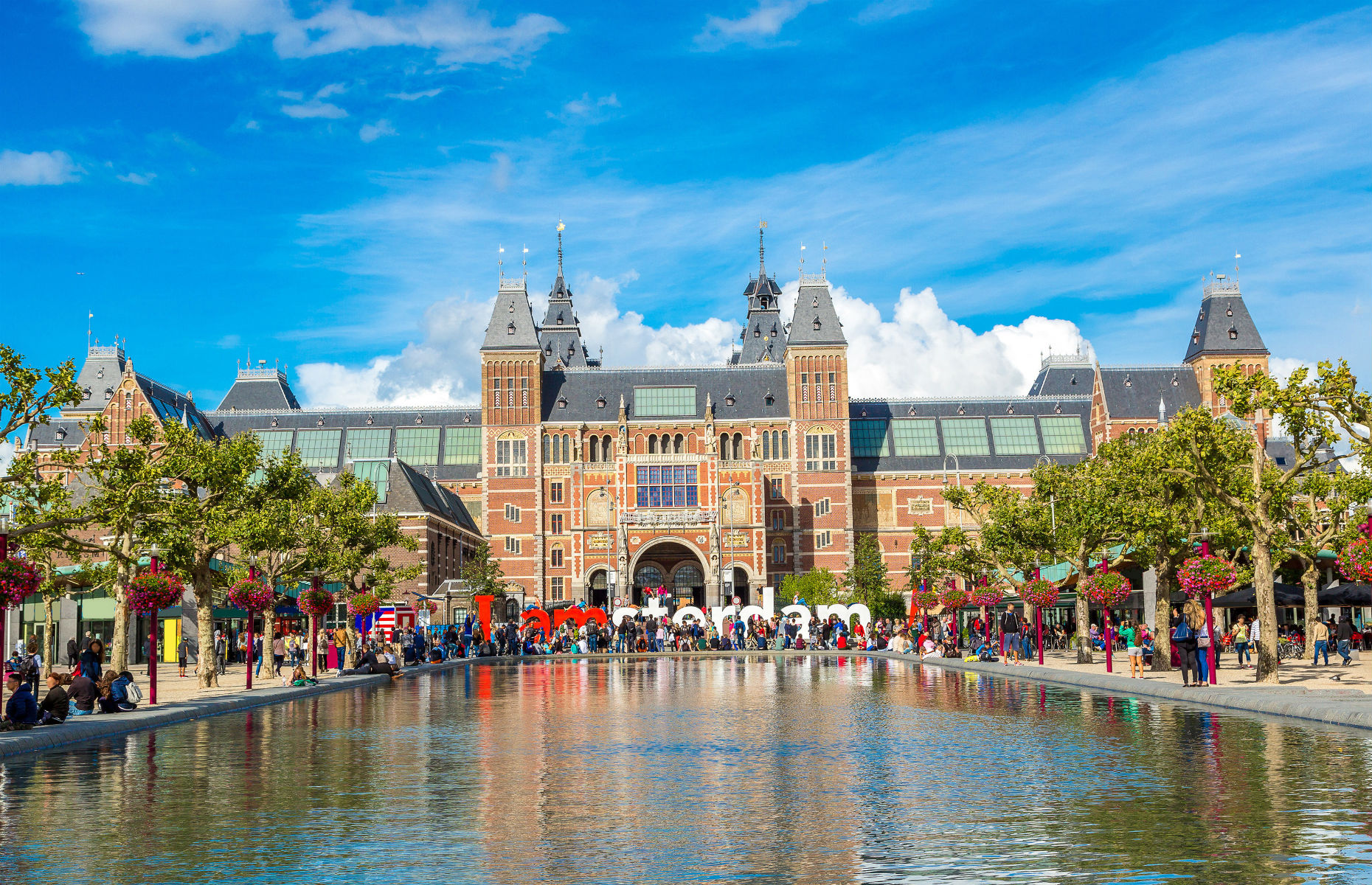 S-F/Shutterstock
Top tip: Get the iAmsterdam card (24, 48 and 72-hour versions available from €60) for free public transport, and free or heavily discounted entry to many of the top museums. The Amsterdam City Pass does a similar job and can be valid for up to five days, but doesn't include transport.
Off-beat Amsterdam
Kattenkabinet
Inside an unassuming canal-side townhouse is a curious collection of art – all about cats. This bizarre passion project by Bob Meijer – who still lives in the museum's upper floors – is a dedication to his late companion, the "stubborn and headstrong" J.P. Morgan (a much-loved, very spoiled cat).
Get high at the A'DAM Lookout
Amsterdam is a fairly low-rise city, and it's all the better for it. But if you do want a great view, head over the water from the Central Station to the A'DAM Lookout. There's even a giant swing on top for thrillseekers who dare.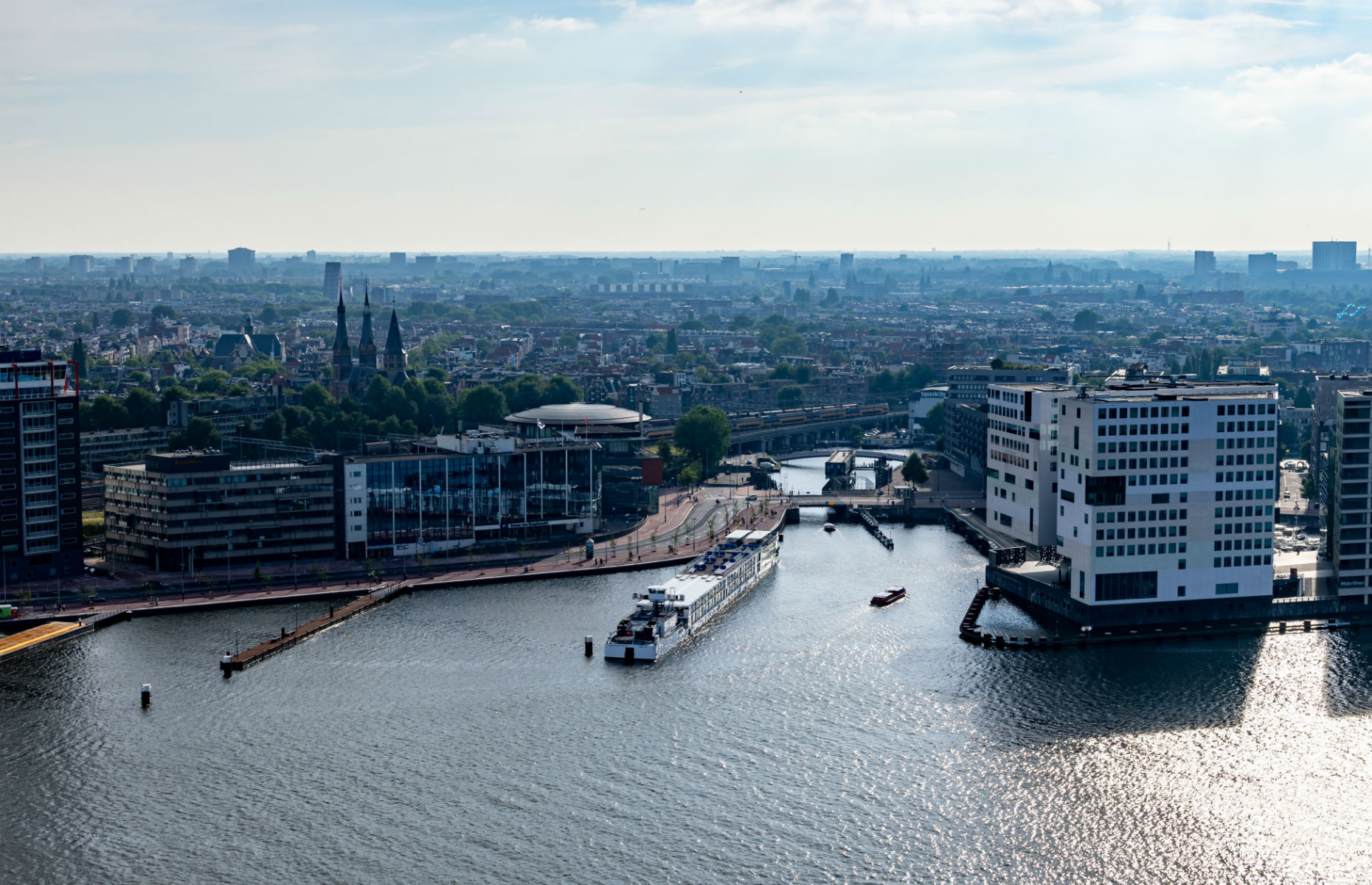 Benjamin B/Shutterstock
See a free lunchtime concert
Amsterdam's cultural scene is astounding, and that includes its music. The Concertgebouw is one of the musical hubs of the city and home of the Netherlands Philharmonic Orchestra. Shows for classic and opera can be booked for as little €30, but a little-known secret among tourists is that there are free lunchtime rehearsals – it's first-come-first-served, though, so arrive early to queue for a ticket.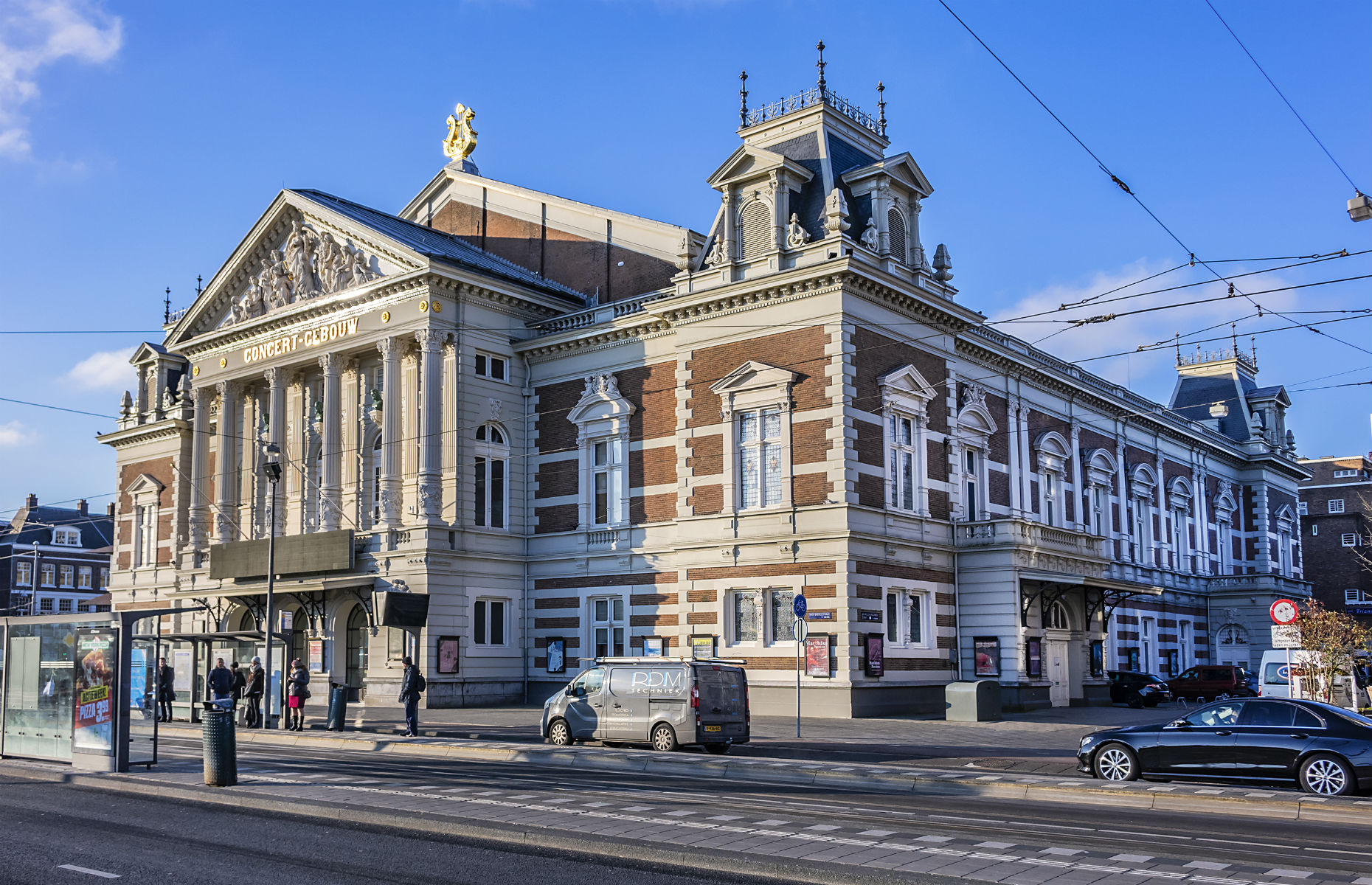 Kiev.Victor/Shutterstock
Take the boat to NDSM
Every city has its hipster enclave, and in Amsterdam it's across the water at NDSM Wharf, a former dockyard. Head here for drinks in Pllek, a beach bar by the River IJ, and an eclectic fleamarket inside the IJ Hallen, which also has a number of intriguing artist's studios.
Book a tour with a local expert
Our partners at Get Your Guide offer a range of great value tours with local experts. Here's a selection of our favourites:
Where to eat and drink
Dutch food isn't exactly delicate – the local staple is bitterballen, a deep-fried meat-based spherical snack served with mustard. Try it at the Foodhallen, set inside an old tram depot, alongside around 12 other food stalls serving everything from dim sum to mezze (the gin and wine bar here is exceptional too).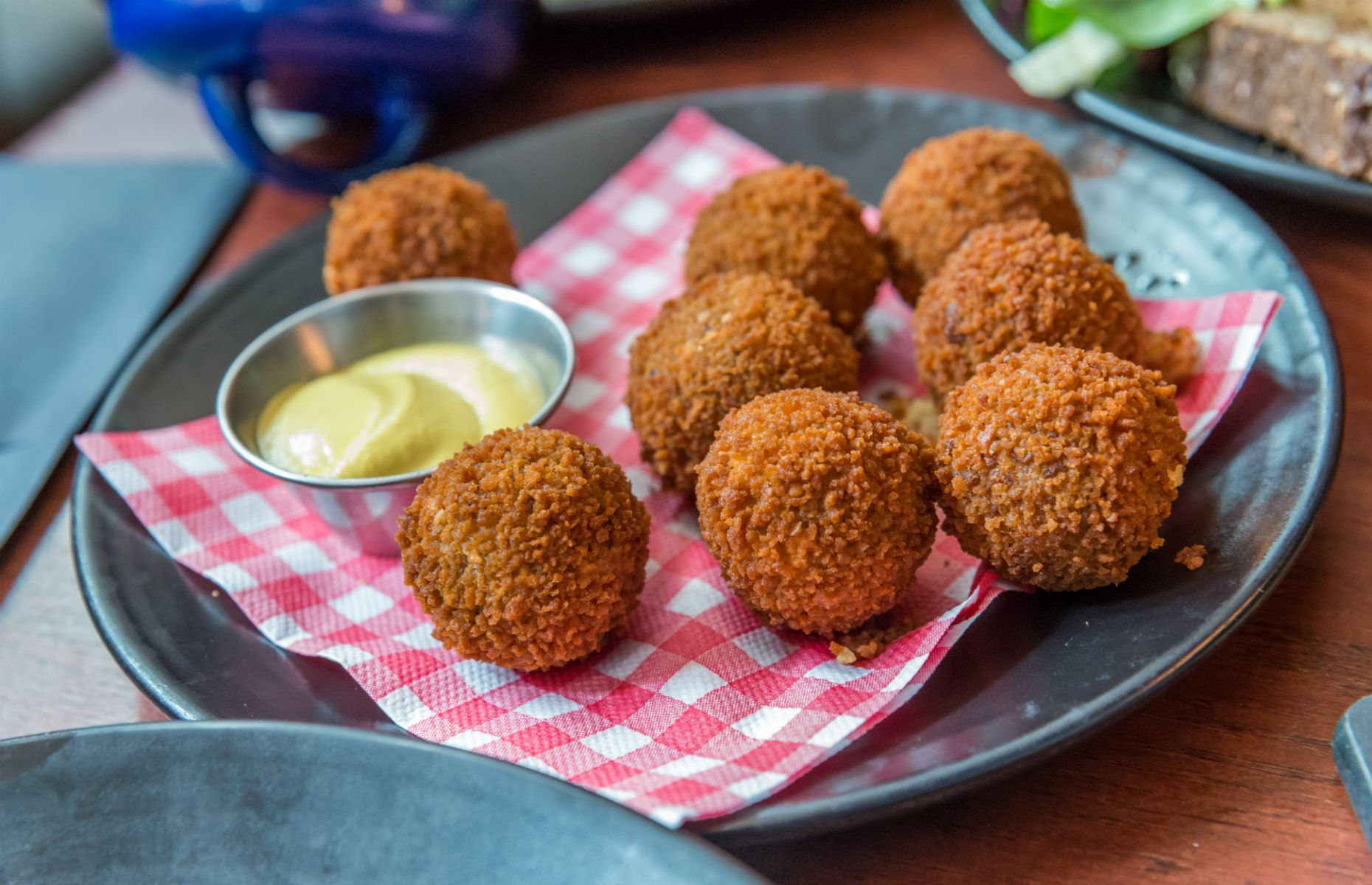 Alexandre Rotenberg/Shutterstock
Other excellent Amsterdam essentials are stroopwafel (best sampled fresh at the Albert Cuyp Market) and chips. The latter is best had from any one of the Chipsy King outlets, who serve moreish fries in a cone slathered in tangy fritessaus (essentially mayo but with less fat).
Drinks-wise, Heineken is the most famous Dutch beer, but avoid the awful lager and instead head to the Brouwerij 't IJ taproom, where you can sample locally-made beers inside a windmill on the canal. Nearby, Bar Botanique serves up solid crowd-pleasers (steaks, pizzas and burgers) in a flamboyant setting.
The ultimate Amsterdam itinerary
Day 1
Check-in to: Bluewave Houseboat. Hans and Elizabeth will make you feel right at home on their gorgeous little houseboat B&B.
Get the lowdown: with Eating Europe. The best way to orient yourself in the city is on a tour, and there's nothing quite like using food as a lens. Join an Eating Europe tour in the Jordaan or sign up for their Oud West exploration. You'll leave with a brain mind and belly.
Hit the museums: in Oud Zuid. You'll have no space for lunch now, so walk off all that bitterballen at a museum (there are plenty here), or stroll through the vast Vondelpark.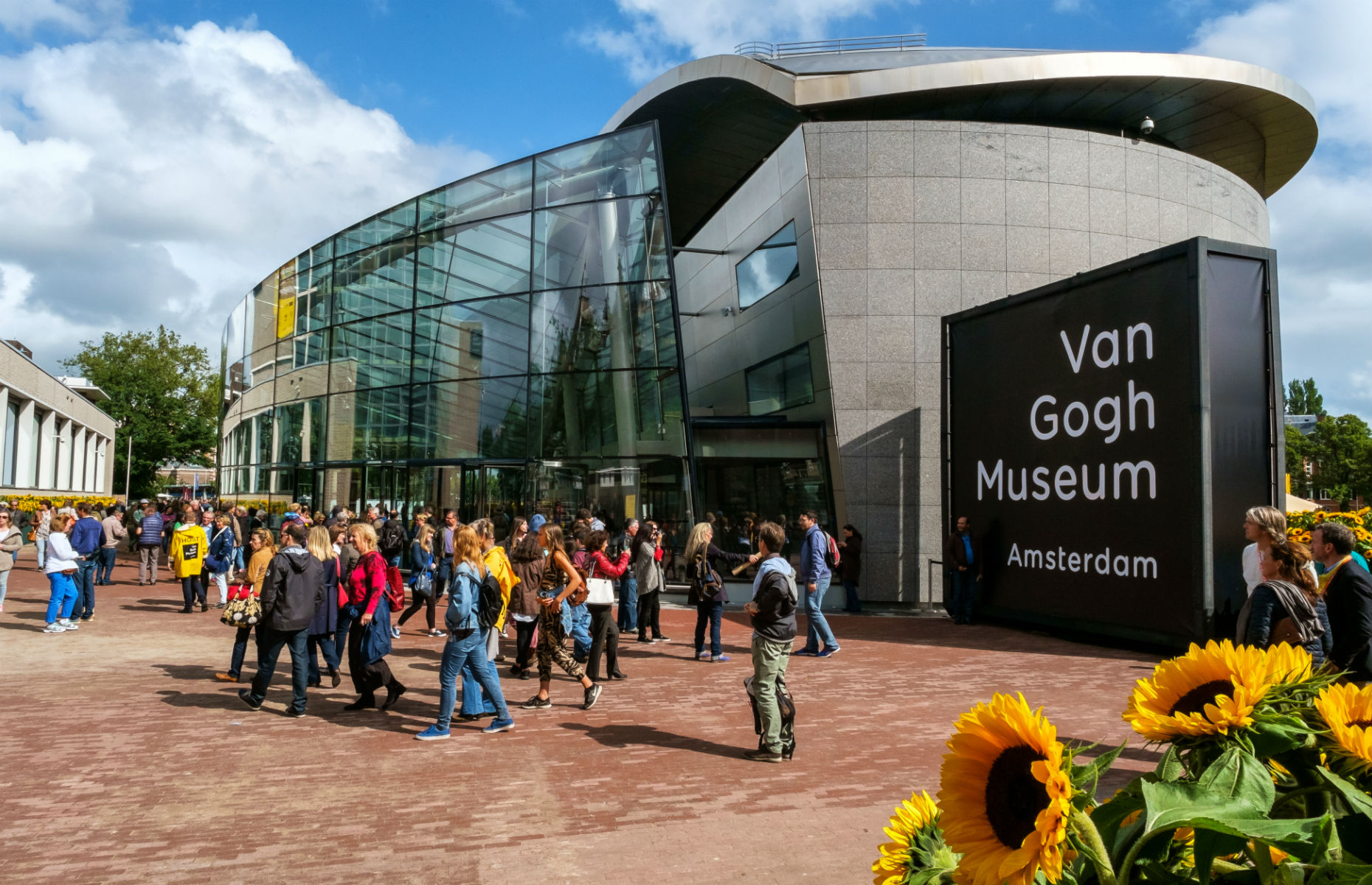 www.hollandfoto.net/Shutterstock
Dine at: the Foodhallen. Undoubtedly a gastronomic highlight, the Foodhallen has some of the city's best food. We love the dim sum, washed down with inventive gin and garnish pairings, such as mango and chilli.
Day two
Go north: Stroll from the houseboat through the city to reach Amsterdam Central Station, allowing a little time for getting lost among pretty boutiques and the odd cheese shop. Here you can take the free ferry over to Amsterdam-Noord, where the city's hipsters hang out.
Lunch at: Pllek. Amsterdam is an unlikely setting for a beach bar, but Pllek does have its own little sandy stretch right by the river. Eat glorious sandwiches and burgers, with craft beers and great cocktails.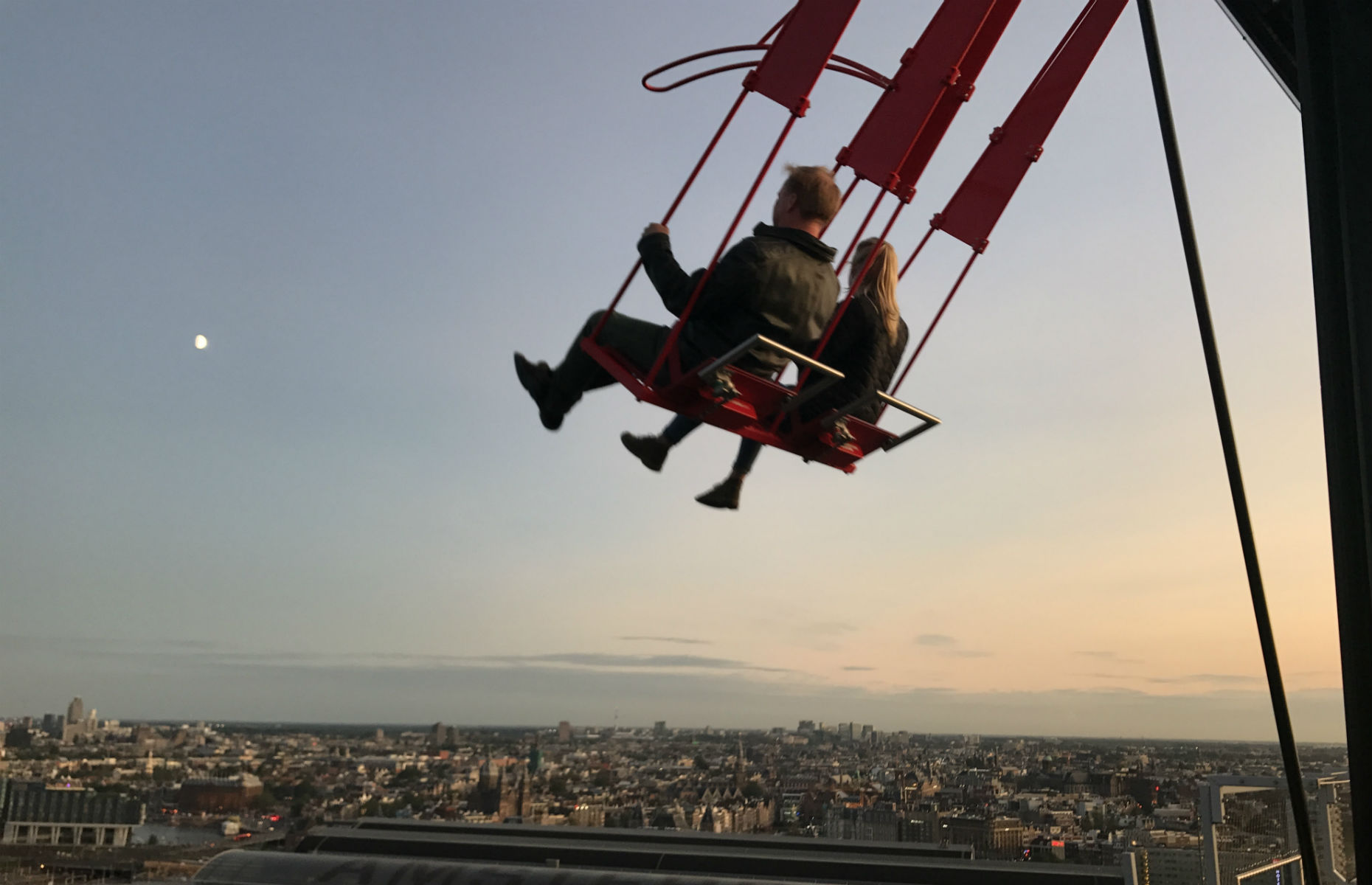 Arthur de Rooij/Shutterstock
Take in the view: from A'DAM Lookout. See the whole of Amsterdam stretching south before you from the top of this chunky tower. For adrenaline junkies, line up for the fiant swing that'll have you dangling your feet above the water. Next door is the Eye Film Museum – a building as fascinating inside as it is out.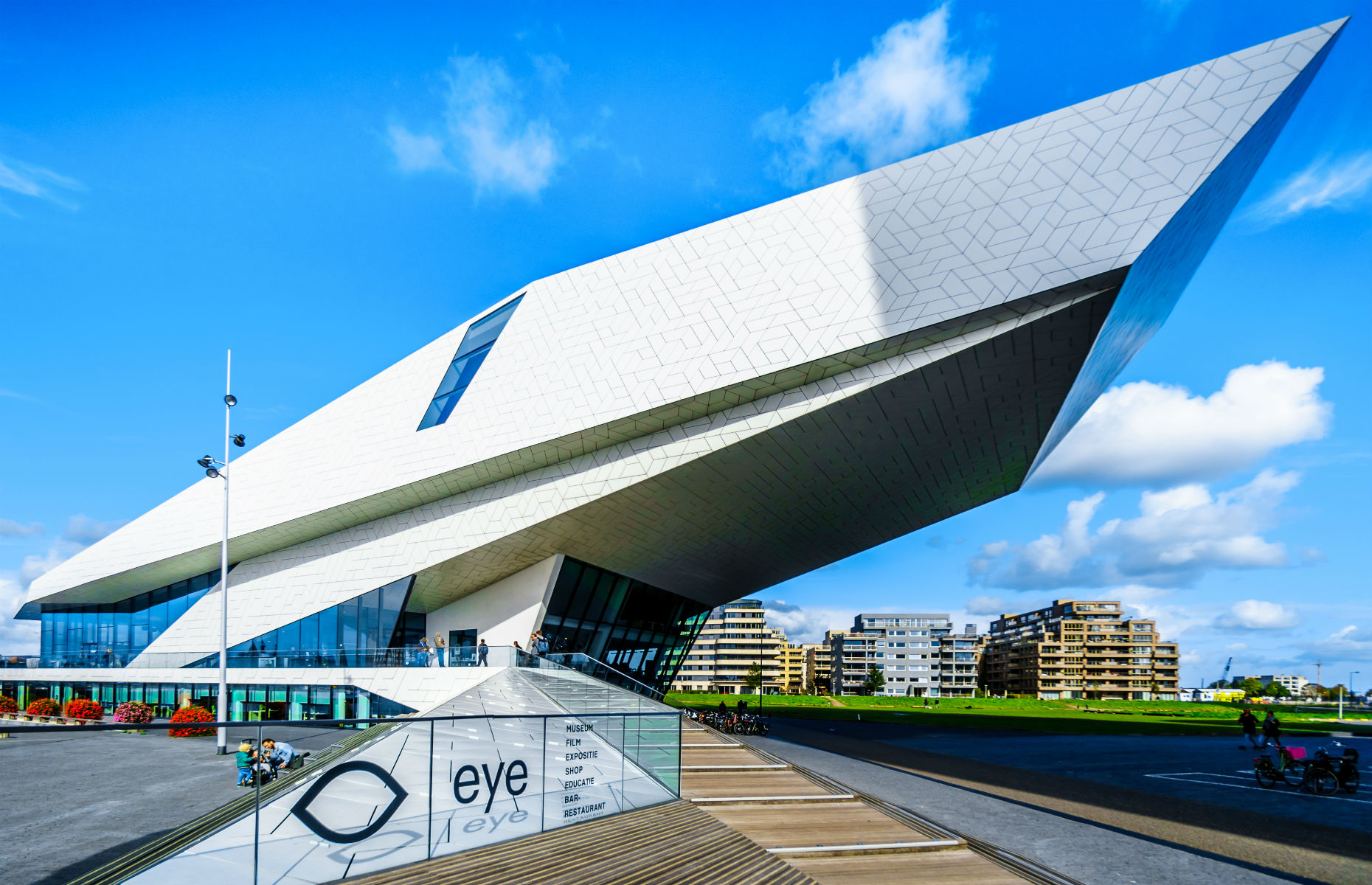 Harry Beugelink/Shutterstock
Have a drink at: Brouwerij 't IJ. Back across the water, make a beeline for this brewery. Situated in a windmill, you get to try the local beers alongside a classic Dutch bar snack we should all adopt at home: a bowl of cubed cheese.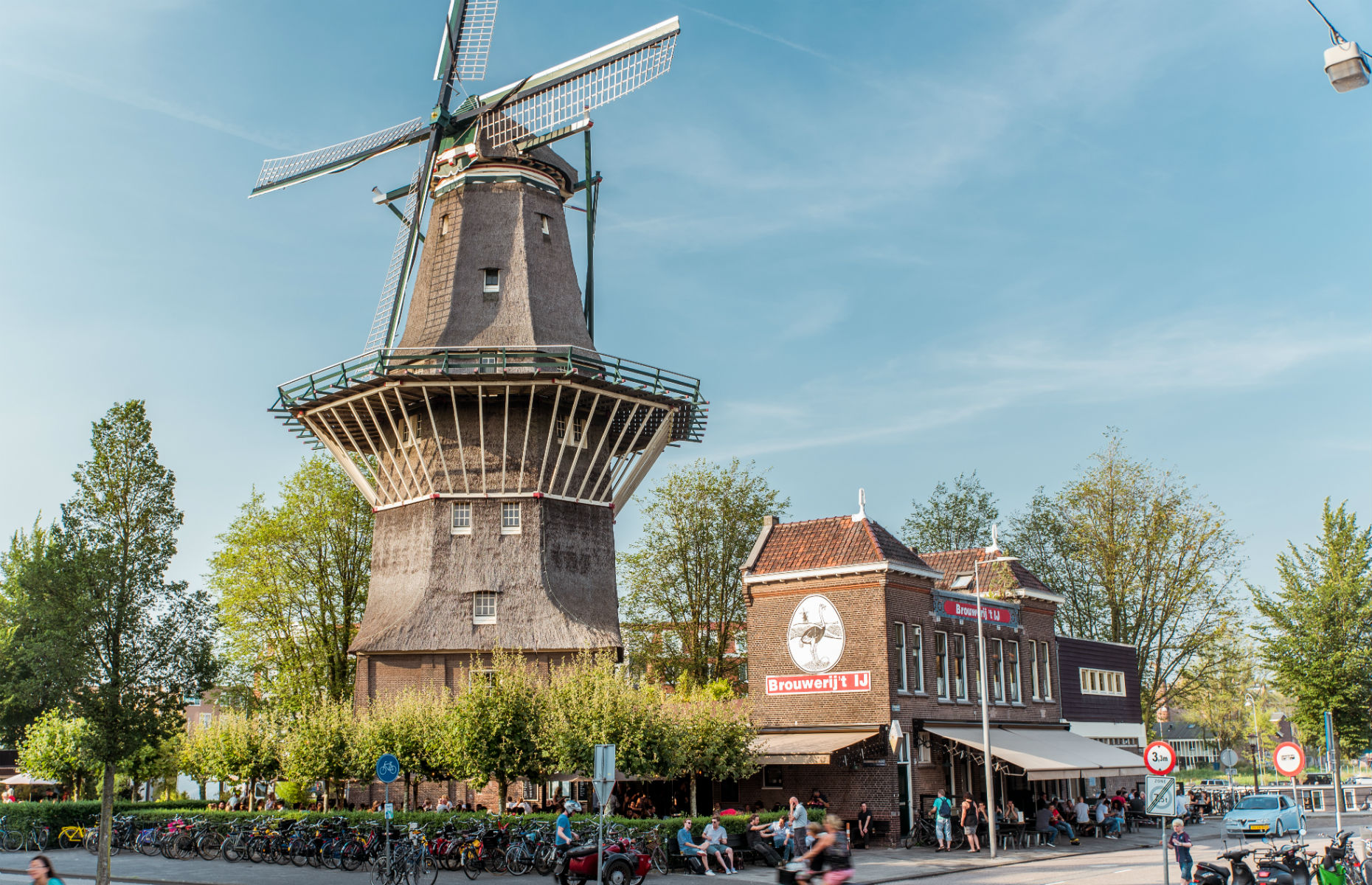 Koen Smilde Photography/Amsterdam Marketing Mediabank
Dine at: Bar Botanique, where the steak is succulent and the decor striking.
Day three
Take a cruise: Today's the day for relaxing, so hop on one of the many boats that cruise the canals and enjoy the classic Dutch views.
Lunch at: De Mannen Van Kaas. This excellent deli is full of sandwiches prepared daily on freshly baked bread, pastries and cheese. Don't miss a few tastings of the gouda with cumin – a Dutch specialty.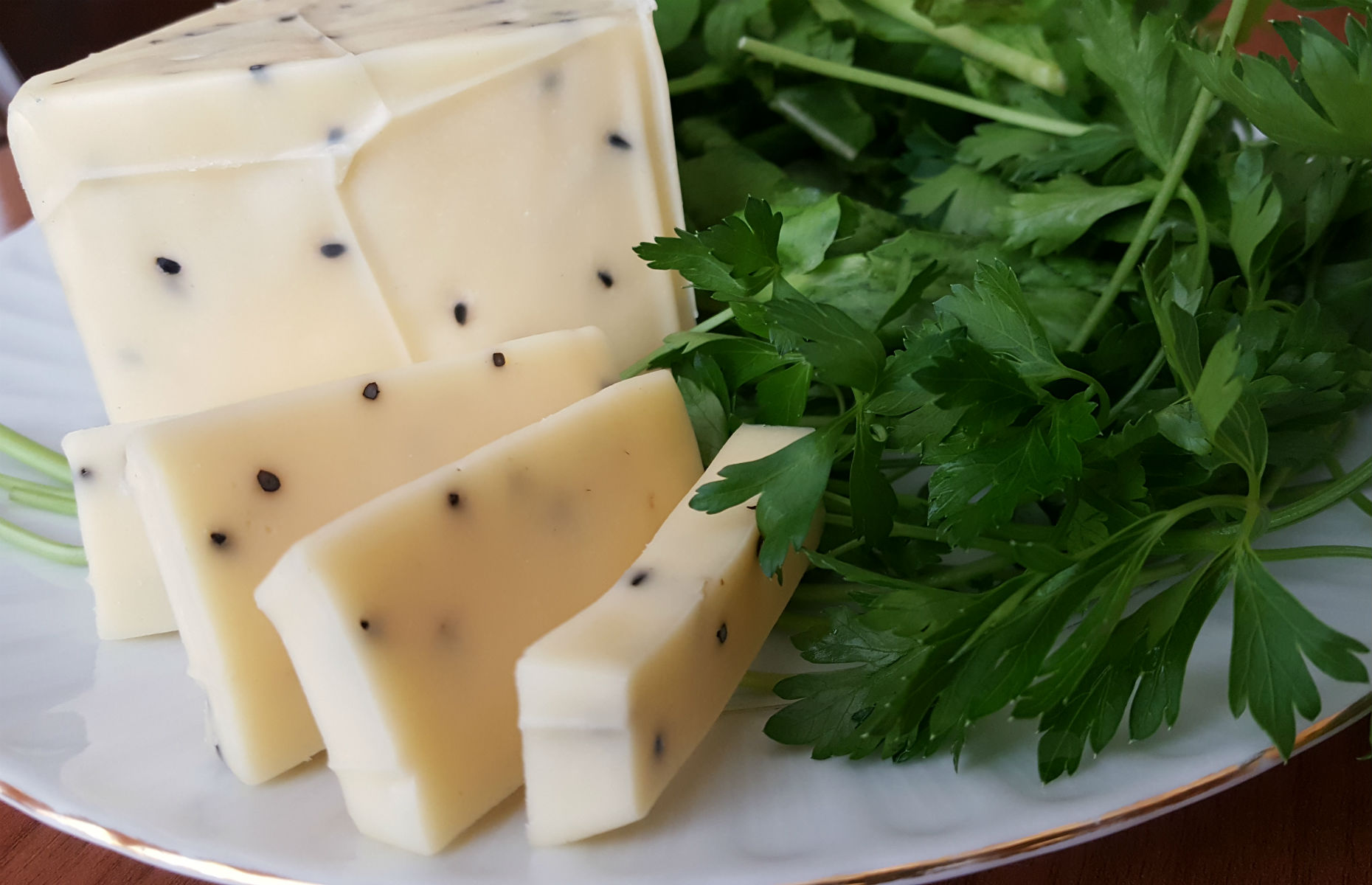 a1vector/Shutterstock
Go to: the market. Get your sandwich to go and stroll over to Albert Cuyp Market, where freshly made stroopwafels the size of your face makes a brilliant dessert.
How to get there
Everyone knows you can fly to Amsterdam in less than an hour, but did you realise you can also take the Eurostar? Board from St Pancras International and you'll be there in four hours (note that you'll have to change trains in Brussels on the return journey), or take the ferry. DFDS runs overnight journeys to Amsterdam, and from March to September you can see orcas, minke wales and dolphins en route.
Lead image credit: Dennis van de Water/Shutterstock
Amsterdam map
Be the first to comment
Do you want to comment on this article? You need to be signed in for this feature