Explore Florence: top things to see and do, best hotels and where to eat
The home of the Renaissance, House of Medici and Tuscan wines, the echoes of Florence's medieval past follow travellers' every footstep. Here's how to navigate your way around one of Italy's most important cities.
Top things to see in Florence
Italian composer Giuseppe Verdi once said that "you may have the universe if I may have Italy" and that's exactly the kind of aftertaste Florence leaves. There's nothing subtle or restrained about the beauty of the city where Renaissance was born – the history, the art, the cuisine – Florence is a bit of a show-off that loves to revel in her own magnificence. Regarded as one of the most historically, culturally and artistically important cities in Italy and the world, it really is hard to take it all in. But there are enough juicy steaks and heady wine in the Tuscan capital to leave ethereal reflection behind and plunge head-first into the indulgent pleasures of life.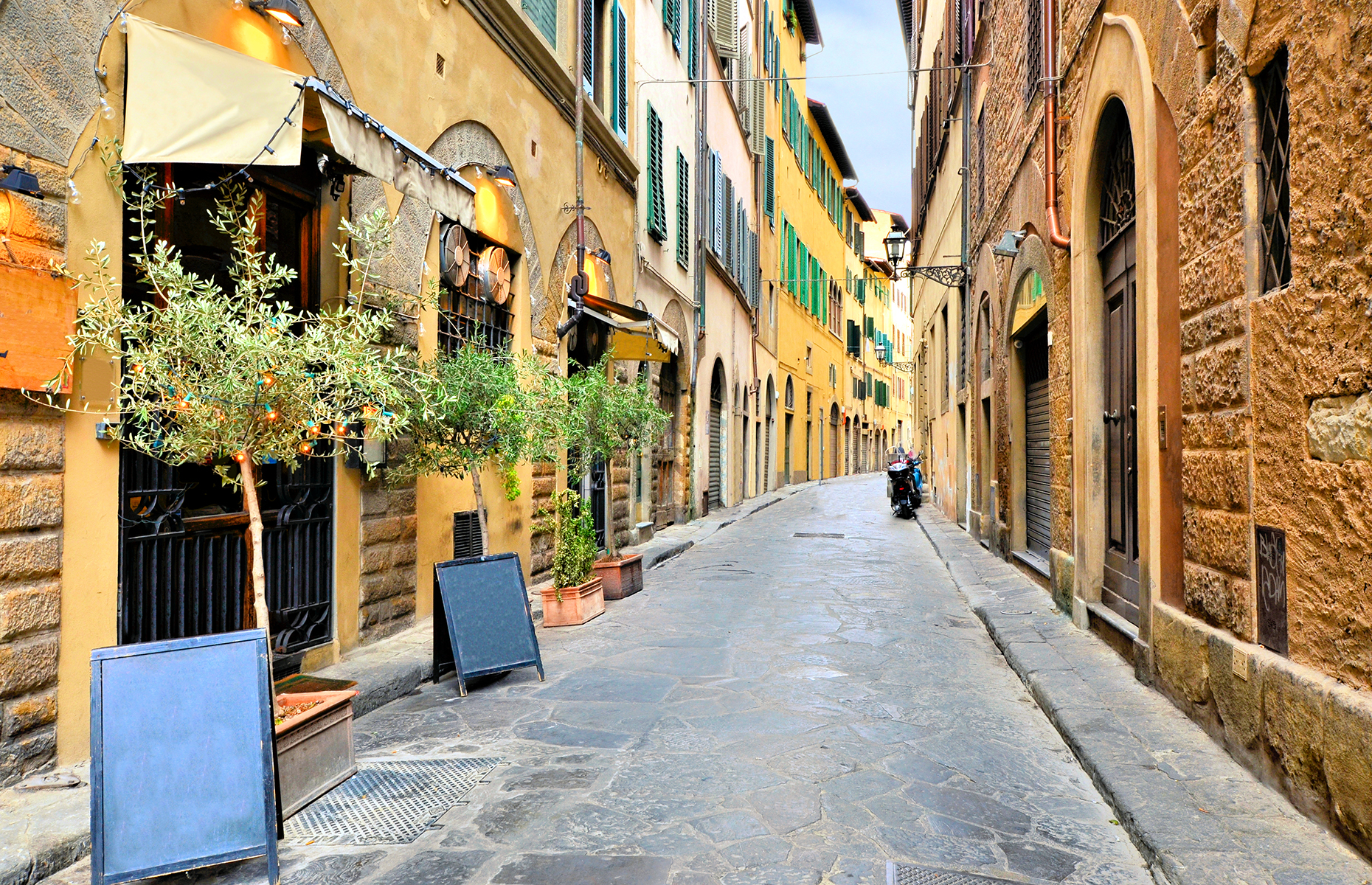 JeniFoto/Shutterstock
Piazza del Duomo
The crown jewel in Florence's seemingly infinite collection of world-class attractions, Piazza del Duomo is home to The Baptistery of St John, Giotto's Bell Tower and the spectacular Cattedrale di Santa Maria del Fiore. The latter, known for its coloured marble façade and the red-tiled dome, will make most visitor's hearts flutter. A visit to the Brunelleschi's Duomo is a must – more than 500 years after completion, it still remains the largest masonry dome in the world. The free entrance to the cathedral doesn't include a visit or even a peek at the dome so you'll have to buy the €18 (£15.50) combined ticket that gives you access to the cathedral, baptistry, bell tower, crypt, museum and a timed slot for climbing to the top of the dome and seeing Vasari's fresco up close.
The Uffizi Gallery
New York has the Met, Paris has the Louvre and Florence has the Uffizi. Not only home to an extensive list of notable works of art (think Botticelli's Birth of Venus and Medusa by Caravaggio), it also houses and extensive collection of sculptures and is a work of art in itself, thanks to its regal design by Vasari. Long queues form very quickly so get your ticket in advance. Every first Sunday of the month the entrance is free, however, it gets very crowded.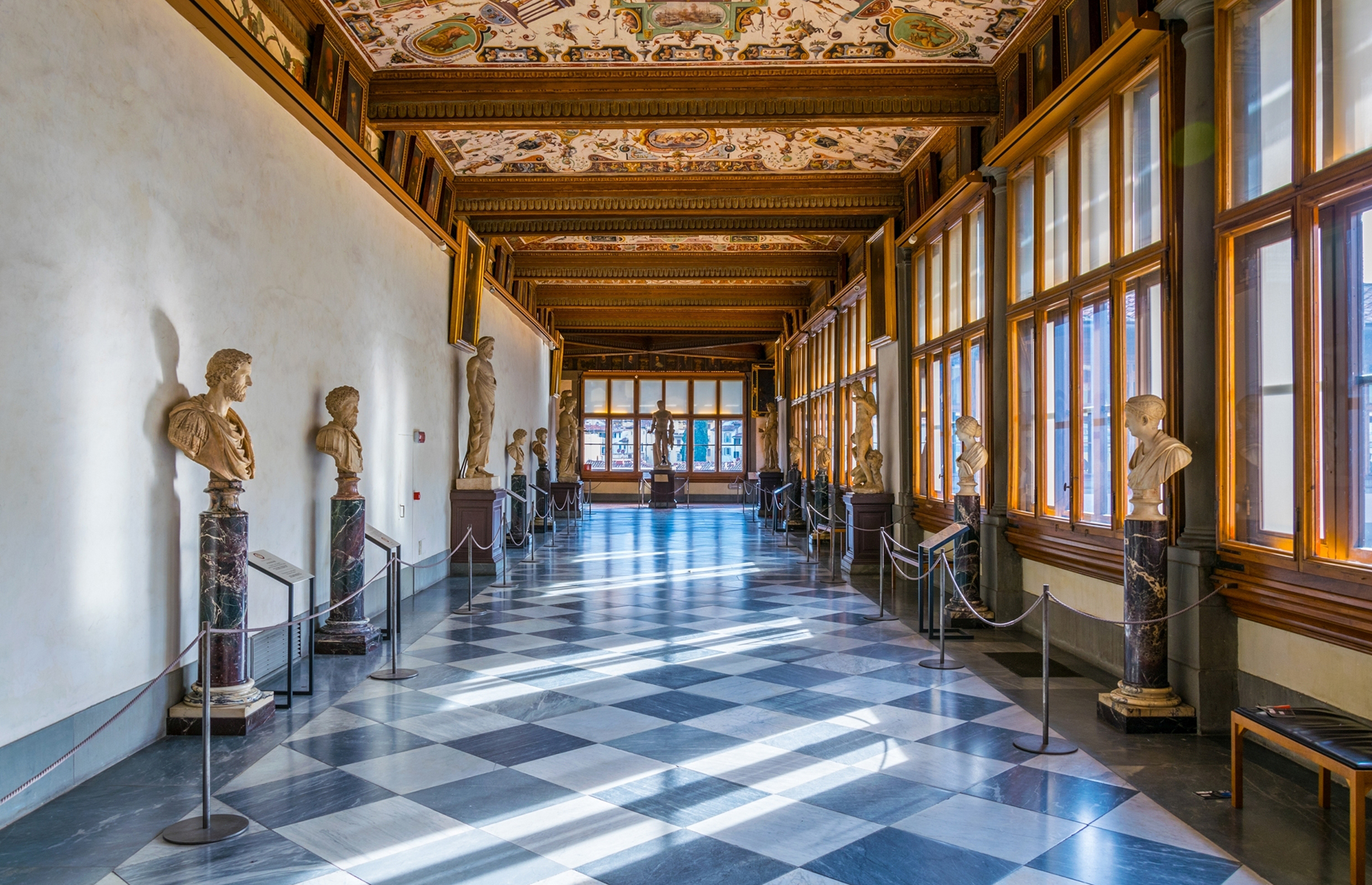 trabantos/Shutterstock
Ponte Vecchio
Although a bridge over the Arno river's narrowest point has existed since Roman times, Ponte Vecchio is reminiscent of the time when the House of Medici ruled over Florence. Peppered with shops and merchants trying to outsell each other just like in the medieval times, the bridge holds many fascinating secrets. Up until 1593, when the Medici Grand Dukes made a decree that prohibited meat sales on the bridge, it was pretty much a meat market with butchers' shops packed one next to the other. Goldsmiths took over straight after and many remain there to this day alongside jewellers, art dealers and souvenir touts.
Galleria dell'Accademia
Most come here to see Michelangelo's David, yet there's so much more to Accademia than just this one sculpture. The museum is relatively small so it's easy to see most of the collection and it's well worth considering a guided tour as it will cover everything from Michelangelo, his life and his sculptures to the rest of the museum's artworks. As with the Uffizi, the museum entrance is free on the first Sunday of the month.
Palazzo Pitti and Boboli Gardens
Built in the 15th century and bought by the Medici a century later, this vast Renaissance palace is a treasure trove of art, jewellery, crockery and even clothing. Today the palace houses five museums: the Treasury of the Grand Dukes, the Palatine Gallery the Royal and Imperial Apartments, the Modern Art Gallery and the Museum of Costume and Fashion. The adjacent Boboli Gardens are a spectacular example of green architecture that inspired many of the royal gardens in Europe and offers a welcome escape from the sensory overload of the city.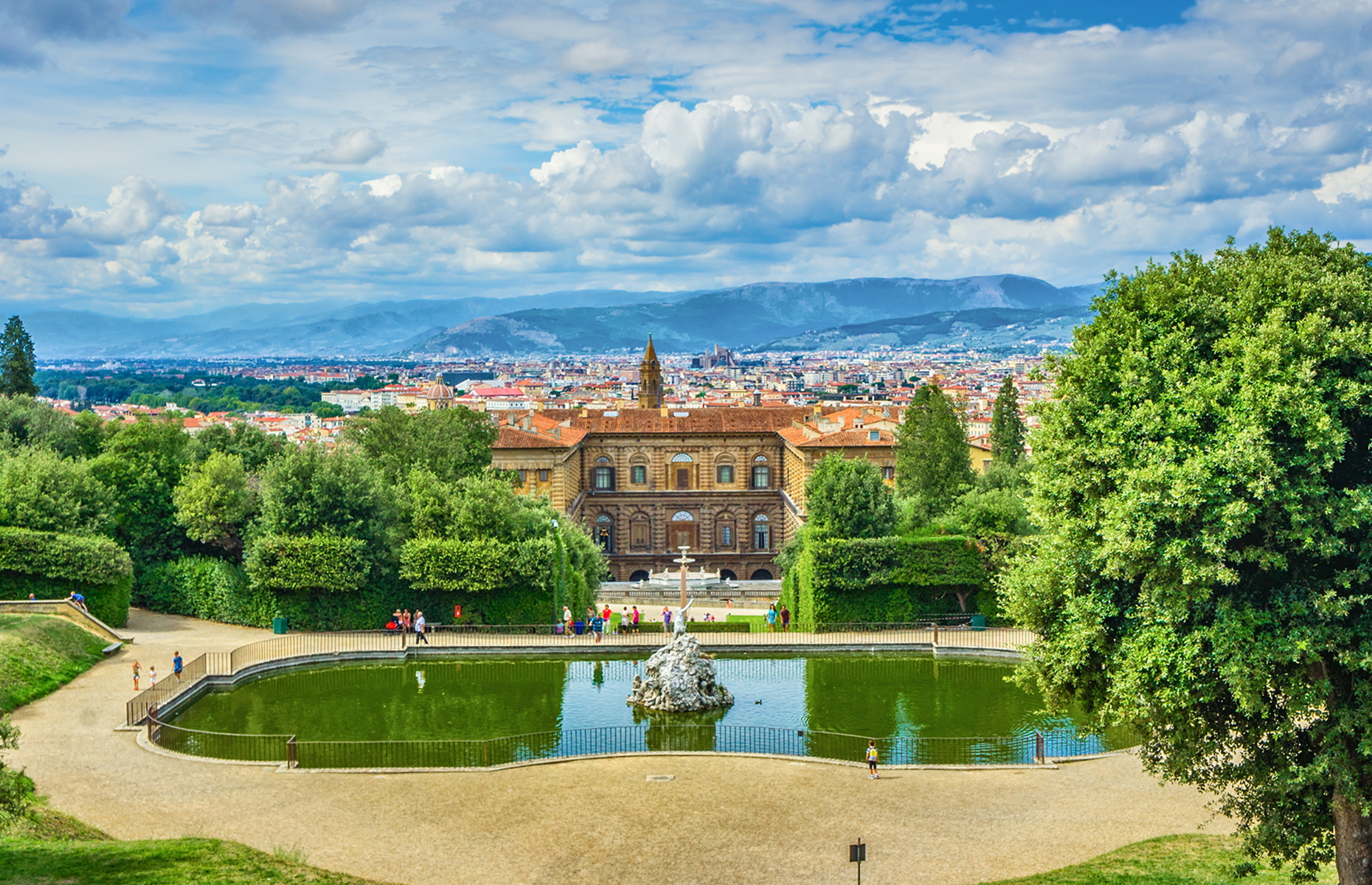 SenSeHi/Shutterstock
Alternative Florence highlights
Museo Casa di Dante
Venture deep into the heart of medieval Florence and discover what life was like for poet Dante Alighieri. The museum is laid out over three floors that represent the three most important stages in his life (almost like Inferno, Purgatorio and Paradiso in his Divine Comedy, if you will) and the exposition is a fascinating insight into the mind and life of the man who wrote a piece of literature so profound, it's considered among the greatest ever.
Basilica di Santa Croce di Firenze
Many are so keen to catch a glimpse of the storied Duomo, they rush past this 13th-century marvel. A burial place for the greats of Florence, you'll find the tombs of Michelangelo, Rossini, Machiavelli and Pisan-born Galileo Galilei here. There's also a memorial to Dante although he was buried in Ravenna due to his exile from Florence. Look up from the floor and there are frescoes by Giotto in two of the chapels while an unusual relief in gilded limestone by Donatello decorates the south nave wall.
Giardino Bardini
It's not easy to find a spot of peace and quiet in Florence, however, Giardino Bardini is one such place. Best visited on an early morning walk or for breathtaking twilight vistas, the terraced gardens overlook Florence's skyline and will take about an hour to stroll around. Don't miss the wisteria tunnel for a spectacular show of purple and violet (in full blooms from mid-April to beginning of May) and stop to take pictures of Florence, perfectly framed by a variety of trees and manicured hedges.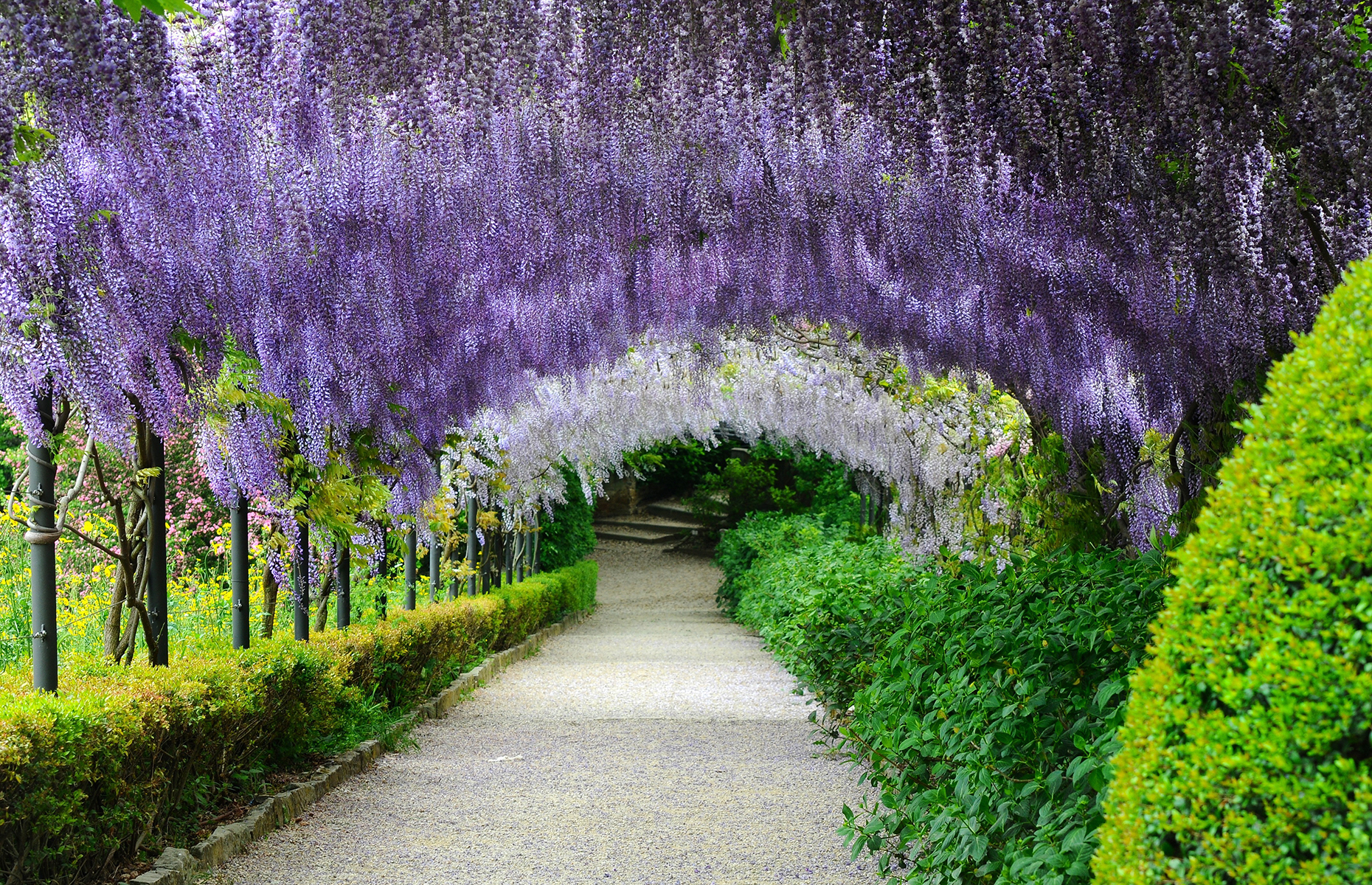 Dan74/Shutterstock
Best hotels in Florence
The city is compact and can be easily navigated on foot so as long as you book a hotel in the Duomo, Santa Croce or San Spirito neighbourhoods, you'll be within easy reach of most attractions, restaurants and shops. Located just steps from Piazza del Duomo, family-run Hotel Dali offers excellent value for money while the slightly more expensive Hotel Davanzati features modern rooms in an equally good location.
Both Hotel Palazzo Guadagni and Portrait Firenze offer enviable views of the city, the latter overlooking Ponte Vecchio and the Arno river, but if you're really looking to splash out, book Oltrarno Splendid. A boutique bed and breakfast in Oltrarno (meaning over the Arno river), it charms with opulent interiors, lovely views over Florence's terracotta roofs and excellent breakfasts.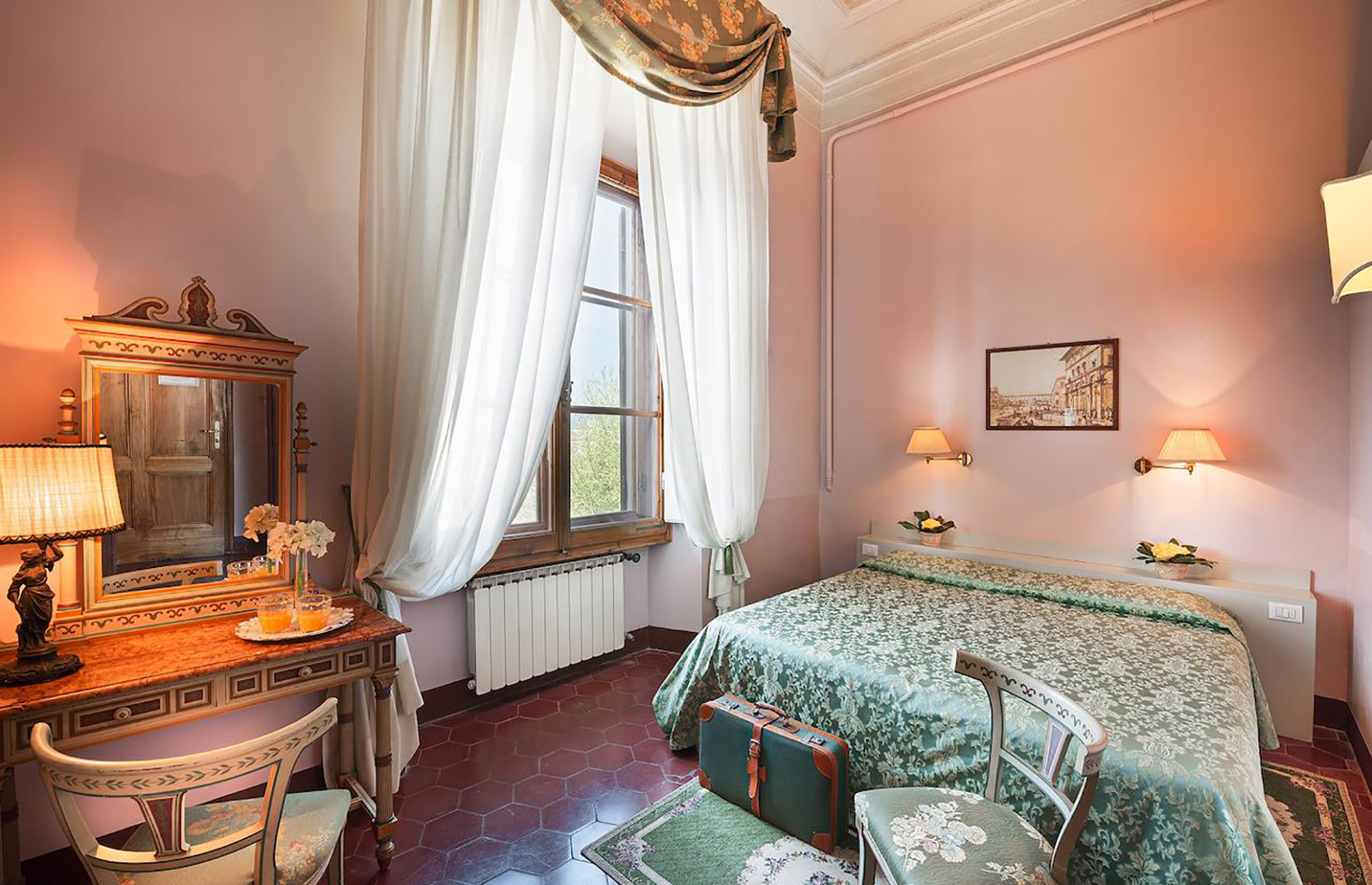 Hotel Palazzo Guadagni/booking.com
What to eat in Florence
One of Florence's top claims to food fame is definitely bistecca alla Fiorentina – a large T-bone steak seasoned with salt, pepper and a squeeze of lemon, traditionally charred on open flame, served still pink inside. The best places to eat this are usually crammed, family-run trattorias that are walk-in only. Try Trattoria Mario, Trattoria Cammillo or Trattoria Sabatino.
One of Florence's most peculiar delicacies, lampredotto, is a thinly sliced tripe sandwich sold from the many street food stalls around the city and shouldn't be missed. Classic gelato is another must in Florence. Piled high in a tiny cone, the thick, creamy ice cream will inevitably start dripping down your fingers but that's part of the fun – get yours from Perchè No.
Home to some of the most notable Italian wine regions, you can't come to Tuscany and not enjoy the best of their wines, including Chianti and Vin Santo. Ristorante Il Guscio offers excellent wines alongside a great menu while Osteria dell'Enoteca is more on the pricier side, yet the wine list is worth it alone. To eat, order the fresh egg yolk in a pecorino cream sauce with seasonal mushrooms to start, tuck into a bowl of pappardelle al ragù di capriolo (venison ragù) and share a bistecca main for two. Food heaven isn't much closer than this.
As Florence attracts millions of visitors every year, it's easy to fall into the traps of tourist restaurants that serve over-priced mediocre food near the top tourist attractions. It's worth doing your research before you travel and avoid places that offer menus in several languages or the ones that have their dishes displayed by the entrance or in the window.
Day trips from Florence
Pisa
Doable in a day, Pisa is within easy reach from Florence. Rent a car or hop on the train and within just over an hour you'll be welcomed by the city's star attraction, the Leaning Tower of Pisa. There's more to the city than this architectural mishap though, and while you should take your time to explore the Piazza dei Miracoli, don't miss out on experiencing the lively street life in Pisa's many bars and outdoor cafés set to a background of outstanding Romanesque, Gothic and Renaissance architecture.
Chianti region
Tuscany, where winding country roads, lined with picture-perfect cypress trees, snake their way through rolling hills with rows of grape-bearing vines, was made for a road trip. Chianti region is just south of Florence and is well-suited for a day's worth of wine tasting and exploring the Italian countryside. Rent a car in Florence and start your road trip in Greve in Chianti, often called the gateway to Chianti. Viticcio Winery is within walking distance – here you can stop for a wine tasting, then continue on to Panzano, Castellina in Chianti and Poggibonsi. Finish the day by visiting Villa Machiavelli in Sant'Andrea in Percussina, a famous wine cellar in the house where Niccolò Machiavelli once lived.
If you'd rather not drive yourself, tour operators like Get Your Guide and Viatour offer a range of excellent countryside trips or small group wine tasting experiences in Chianti. Either way, you shouldn't limit your visit to Tuscany by just staying in Florence.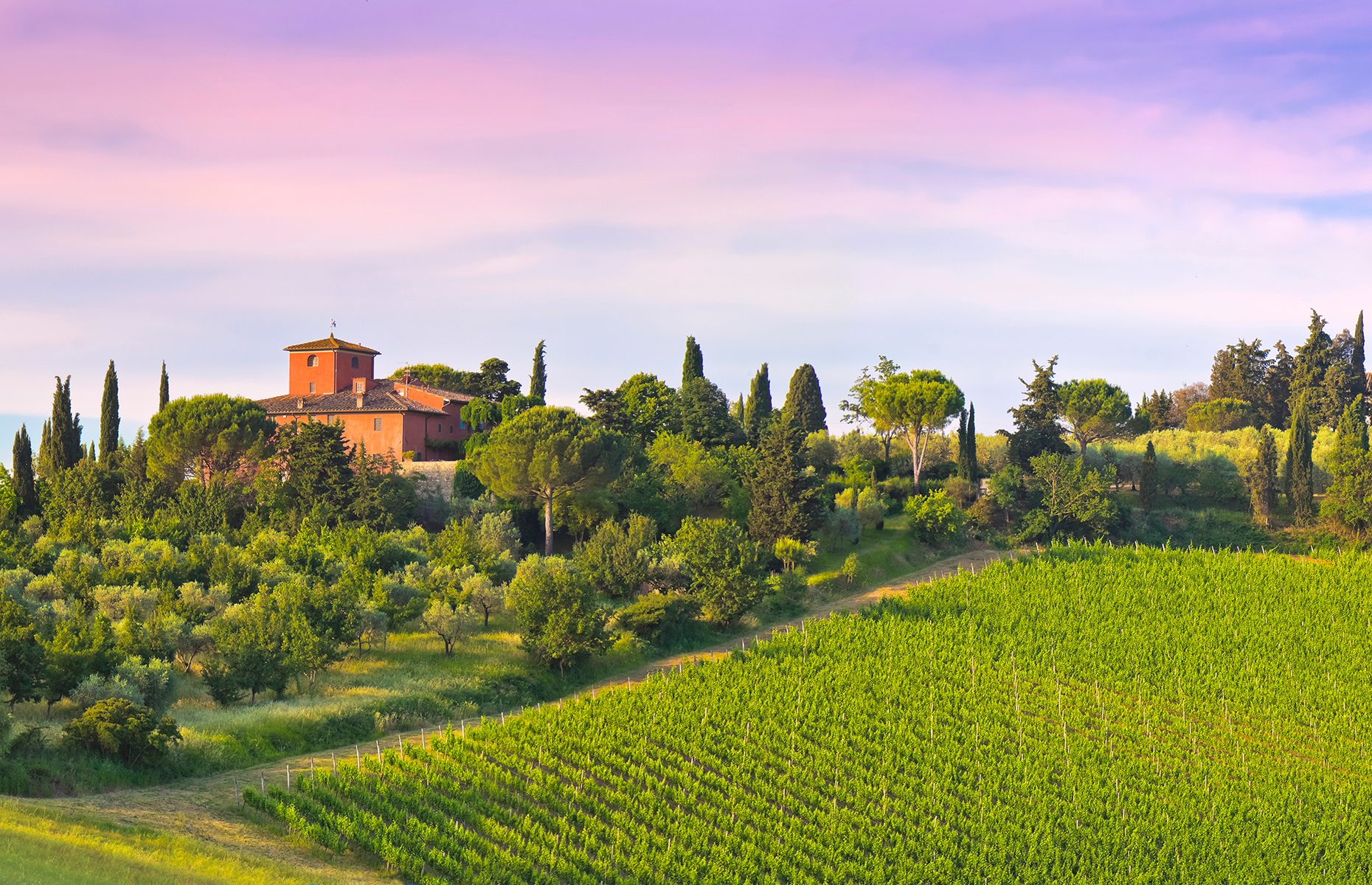 pixel creator/Shutterstock
The ultimate Florence itinerary
There's lots to see in Florence so make sure you've done some research before and know the places you want to see the most. Here's how to hit all the top spots over three days:
Day 1
Check in: Hotel Palazzo Guadagni. With buckets of old-fashioned charm, the rooms are quite spacious and have ceiling frescoes, carved fireplaces or other quirky details. The hotel's best feature is its wrap-around loggia (a covered balcony), perfect for a drink with a view after a day of sightseeing.
Spend the morning in: Piazza del Duomo. Tick off the big hitters straight away and start early at the Duomo. You'll need a couple of hours to explore everything that's included in your ticket so make sure you wear comfortable shoes. If you've got time before your trip, do a bit of reading about the history of the buildings in the piazza as it'll make your visit even more enticing.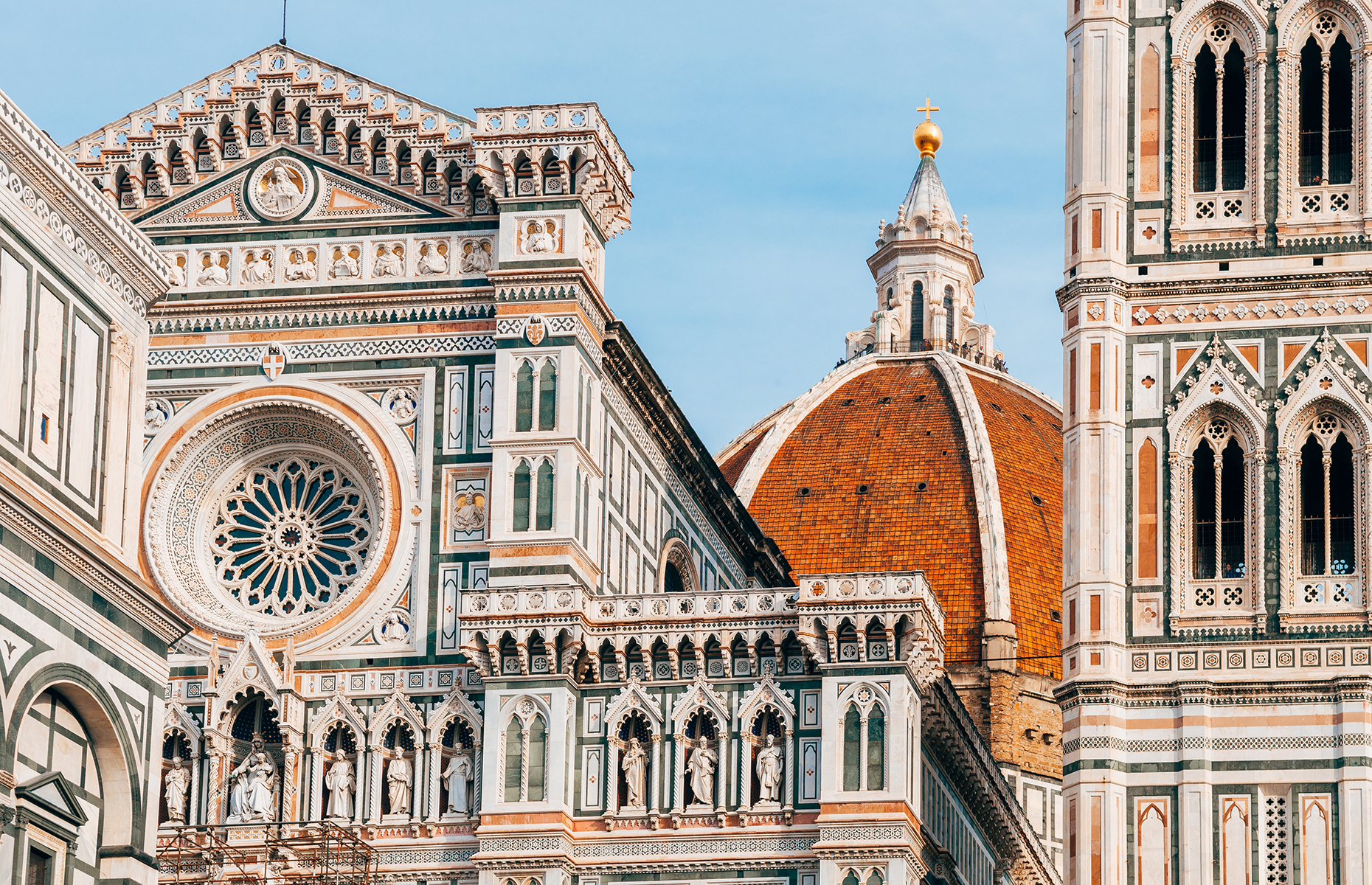 Jon Chica/Shutterstock
Stop by: Piazza della Signoria. Home of Florence's political power for centuries, the imposing Palazzo Vecchio is now part headquarters of the city government, part city museum. Don't miss Neptune's Fountain in the piazza and admire the statues by Donatello adorning the side of the church of Orsanmichele along Via Calzaiuoli.
Lunch at: Trattoria Mario. Elbow your way to a table through hungry locals and prepare yourself for a loud and chaotic experience. Open only at lunch time, the queues get incredibly long so get there early and order whatever's on the menu that day. No bells and whistles, just honest and really delicious Fiorentina food.
Shop for souvenirs at: Mercato di San Lorenzo. It seems like there's nothing you can't buy at this enormous market. From food and drink to souvenirs and leather goods, there's also a gourmet food court on the second level. Skip the dessert at lunch and head straight here for some gelato.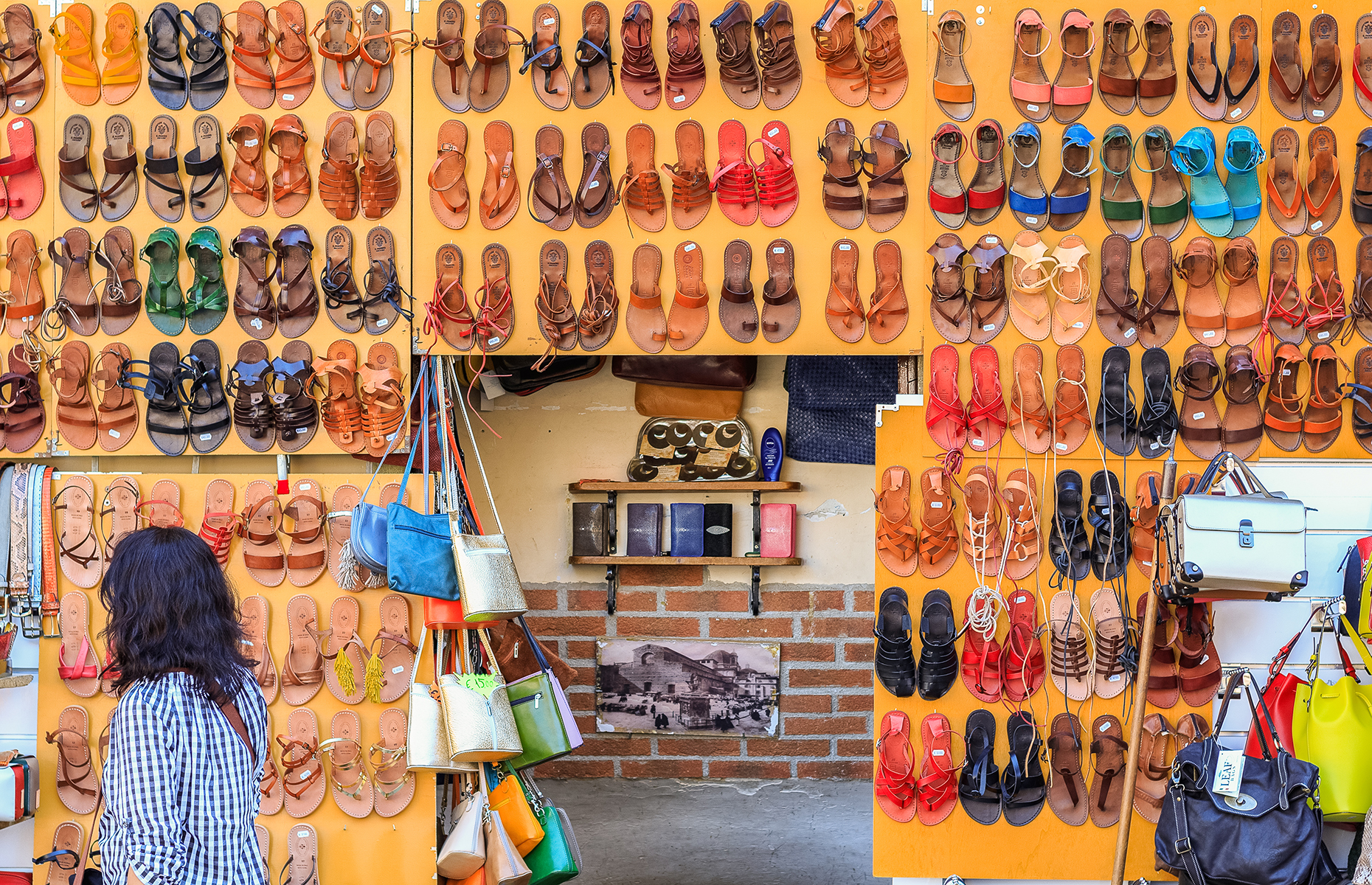 I Wei Huang/Shutterstock
Visit: Galleria dell'Accademia. Stop by the art museum to see Michelangelo's David, plus plenty of other Renaissance sculptures and paintings. It's well worth booking your ticket in advance to avoid the queues.
Settle in for a sunset at: Piazzale Michelangelo. Get there while it's still light to take the perfectly framed photo of Cattedrale di Santa Maria del Fiore, then sit down and enjoy the day drawing to a close while looking over all of Florence and the countryside beyond.
Sit down for dinner at: Zeb. Conveniently located at the bottom of the steps from Piazzale Michelangelo, this mother-and-son restaurant specialises in fresh cappellaci with lots of different stuffings and toppings. Note that it's only open for dinner on Thursdays, Fridays and Saturdays.
Drink wine at: Le Volpi e L'Uva. Tucked away on a side street just around the corner from Ponte Vecchio, this is one of the top wine bars in the country. A brilliant team of sommeliers will be on hand to find a wine you'll love as you embark on a journey around Italian wine regions. The bar serves a choice of snacks as well – if you see a plate with wild boar fennel salami, get it no matter how much you've eaten at dinner.
Day 2
Admire great art at: the Uffizi. Pre-book tickets in advance for a timed entry and give yourself plenty of time to explore the riches of the museum. Skip the line tickets include an audio guide and are a great option as you'll be able to visit the museum without a long queue. Plus the audio guide itinerary can be personalised based on what you're most interested in seeing.
Get a taste of Tuscany at: Osteria Vini e Vecchi Sapori. With a hand-written menu featuring Tuscan classics on a board outside, this osteria is the real deal with simple, no frills dishes served on cosy tables inside. You're almost sure to find classics like ribollita soup or fragrant saffron pasta with courgette flowers on the menu so snatch these while you can and book ahead – this place is heavily frequented by locals.
Cross: Ponte Vecchio. With a slight detour through the Piazza della Repubblica, take your time to admire the unique Ponte Vecchio. One of the most instantly recognisable sights in Florence, you'll get the best photos from just outside the Museo Galileo or one of the two bridges either side of Ponte Vecchio – we prefer the view from Ponte Santa Trinita.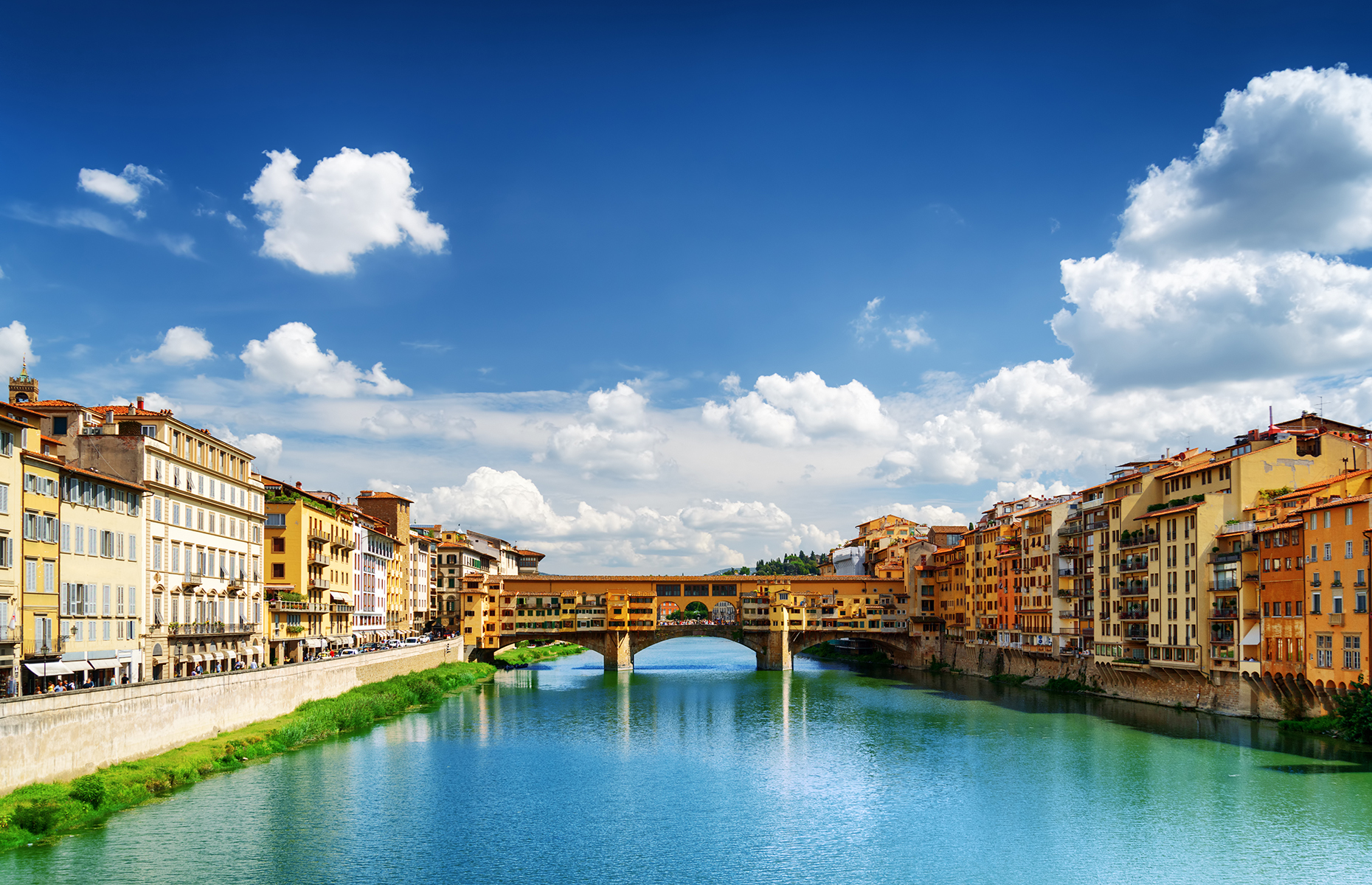 Efired/Shutterstock
End the day at: Giardino Bardini. After two days of dodging tourists on every corner come to these beautiful, secluded gardens to take a deep breath. With beautiful views over the city and peaceful gardens to keep you company, this is a great place to wind down.
Have a feast at: Osteria dell'Enoteca. Order bistecca by the kilogram and explore what the restaurant's seemingly infinite wine cellar has to offer. Finish the meal with their signature tiramisu – unlike the classic, this one's made with cantuccini (almond biscuits) and Vin Santo.
Day 3
Spend the morning in: Pitti Palace and Boboli Gardens. Take your time to visit the palace's many museums, however, if the sun is out, head straight for the gardens. If you only have time for a couple of the museums, prioritise the Palatine Gallery and visit the Royal Apartments. Don't miss the Throne Room, decorated with red brocade and Japanese and Chinese vases from the 16th century brought to Florence for King Victor Emmanuell II of the House of Savoy.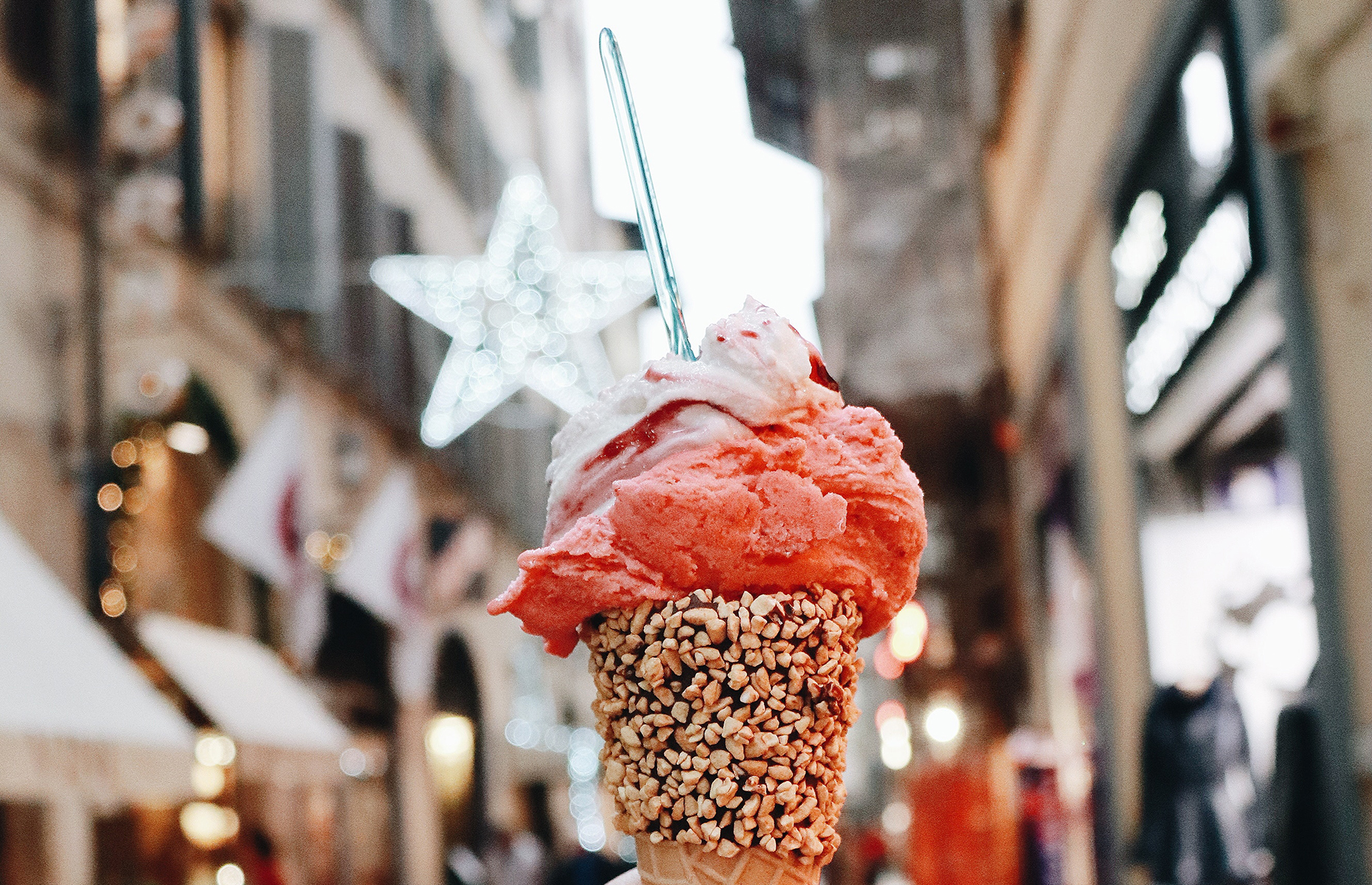 Juliana Malta/Unsplash
Take a gelato break at: Perchè No. Tucked away on a little side street, there's always a queue at this gelateria. With a myriad flavours on offer, just go with your heart but don't skip the hazelnut crusted chocolate cone.
Stroll: around Santa Croce and Duomo. There are so many things to do, museums to visit and places to see, a Florence city break is bound to be a hectic one. When rushing from one place of interest to the next, it's easy to miss out on the charm Florence's streets have. Do take your time to have a leisurely walk through Santa Croce and Duomo and look up at the magnificent buildings lining the streets. It's Florence after all, so soak it in.
Florence map
Be the first to comment
Do you want to comment on this article? You need to be signed in for this feature