Explore Reykjavík: what to see & do and where to stay
Reykjavík, the pint-sized Icelandic capital, is the perfect gateway to explore the incredible natural wonders this country has to offer. Here's our guide to Reykjavík's best places to visit, things to do and where to eat and sleep for all budgets.
Introducing Reykjavík
Home to one of the world's oldest parliaments – the Althing – and sitting beside the volcanic mountain ranges that have placed this North Atlantic island on the news map, the world's most northerly capital is a truly unique place to visit.
With low-rise colourful buildings and very few big shopping and hotel chains, there's a small-town vibe to this city of 120,000 people, which makes it all the more exciting to visit. Yet most just pass through on their way to the incredible countryside that lies beyond. Stick around, however, and you'll be greatly rewarded with an insight into Icelandic culture, old and new.
5 essential things to do in Reykjavík
Not many cities around the world are as close to nature as Reykjavík, so here are five things you cannot miss on your next visit to the Icelandic capital:
1. Rise above it all at Hallgrímskirkja Church
At 73 metres tall, the modernist church of Hallgrímskirkja is one of the tallest buildings in Iceland. The towering jagged grey spire can be seen from across Reykjavík, and, from the top of the steeple, sweeping 360-degree views of the city and surrounding landscapes can be enjoyed for ISK 900 (£5.80).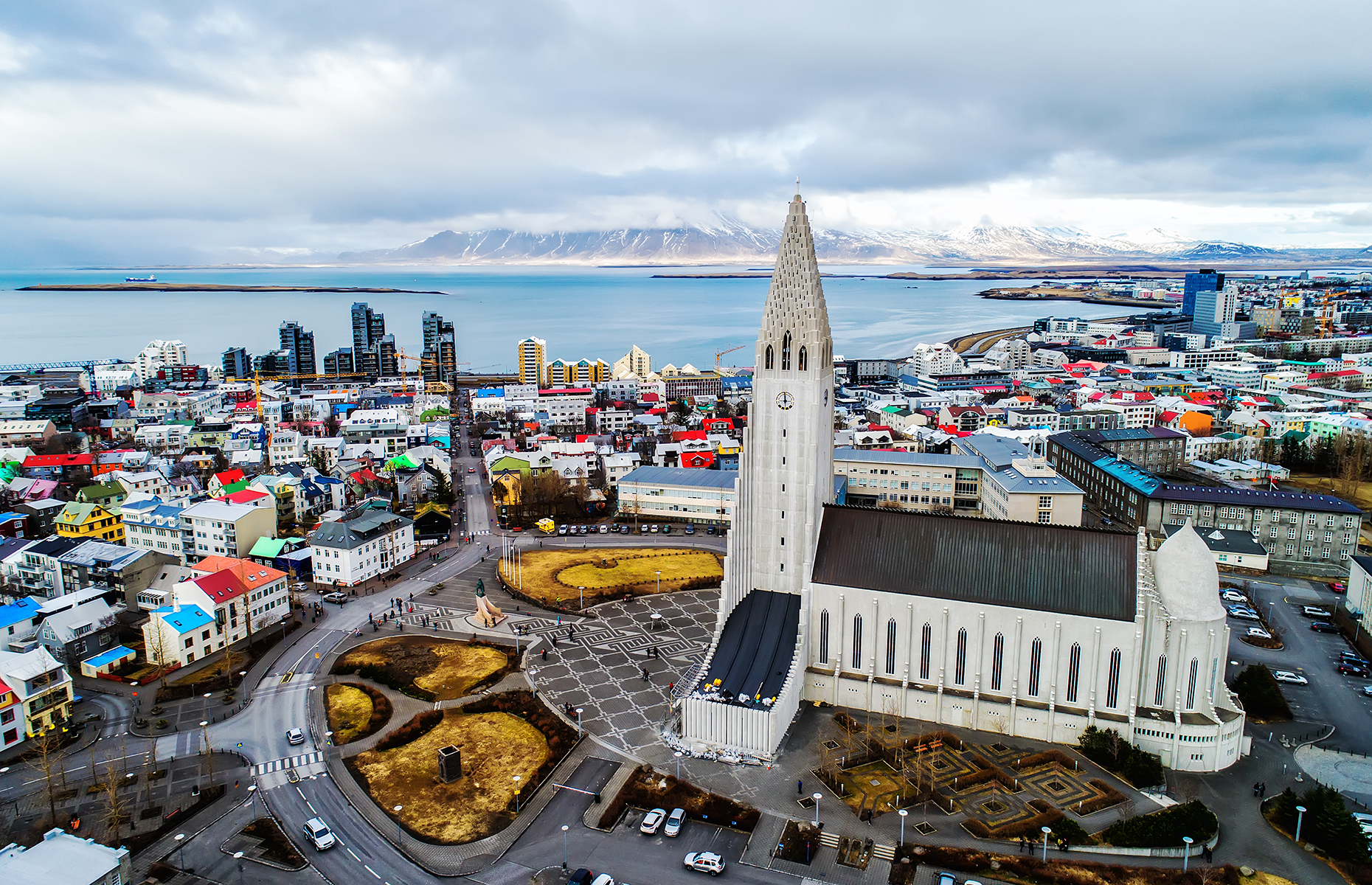 Ververidis Vasilis/Shutterstock
2. Marvel at the northern lights
You don't always have to head into the countryside to find those elusive northern lights. By the seaside at Reykjavík's Seltjarnarnes the flashes of greens, blues, reds and oranges can often be seen. Between November and February the lights are at their brightest, usually between 8pm and 11pm when the skies are darkest.
3. Delve into Icelandic history at The Settlement Exhibition
Iceland was founded by the Vikings, and the Settlement Exhibition houses remnants of the original 10th-century houses that the first inhabitants built. Carefully-preserved longhouses, original cutlery, and other archaeological excavations offer an interesting insight into local history.
4. Experience Reykjavík's world-famous nightlife
Icelanders are known the world over for their partying stamina, and come Friday nights, the city's younger population head out on the rúntur (round tour). The main hotspots are along Laugavegur Street – the most famous (read: debaucherous) being Kaffibarinn – and many don't close their doors until as late as 5am. From lively hard rock and pop clubs to relaxed live jazz and wine bars, there's something for all tastes on the Reykjav­ík rúntur.
5. Go out to sea for whale watching and more
Faxa Bay, the inlet on which Reykjavík sits, is full of wildlife – from sperm whales and dolphins to puffins and porpoise. Join one of Elding's daily midday whale spotting tours for a chance to see some of nature's most majestic beasts. April–September is best for whale sightings.
3 alternative Reykjavík highlights
Few attractions in Reykjavík can be described as crowded, but for something different, head for one of these unusual activities:
1. For a Icelandic education: Elf School
In 2016, 54% of Icelanders admitted to believing in elves and so-called "hidden people", and around 800 say they have met one. Take the daily elf-spotting walk around Reykjavík and the principal of the city's Elf School will show you where these playful creatures supposedly hang out. You can also take classes to learn more about elves at the school itself.
2. For an unusual exhibition: the Phallological museum
Perhaps the city's most unusual attraction, the Icelandic Phallological Museum claims to be the world's only collection of male genitalia from a single country. Housing over 215 penises and penile parts from 56 mammals, the exhibition ranges from a 10ft-long blue whale penis, to seal, walrus, and even human members. Needless to say, the souvenirs from the gift shop are somewhat risqué.
3. For a dip in nature: swim in the Atlantic Ocean
The Atlantic Ocean might not be the first body of water that comes to mind when you're after a pleasant swim, but at the geothermal beach of Nauthólsvík, where the chilly sea meets naturally heated geothermal waters, it's about warm enough for a dip. You'll often be joined by the locals, who head to the beach for morning or evening swims.
Where to stay in Reykjavík
Splash out:
For Icelandic extravagance: The nearest thing Reykjavík has to a castle, Hotel Borg, located next to the Parliament building, is stylish but understated. Its two-storey penthouse overlooks the whole city, with rates starting at ISK 83,000 (£531) per night.
For unique style: CenterHotel Thingholt has glossy marble floors and exposed tree trunk ballasts. There's natural coloured decor throughout and an Icelandic restaurant on-site.
For a room with a view: It's not the most attractive from the outside, but the panoramic views across the mountains and Faxa Bay makes mornings at the Icelandair Hotel Reykjavík Marina memorable. It's centrally located in the 101 district, close to restaurants, bars, and nightclubs.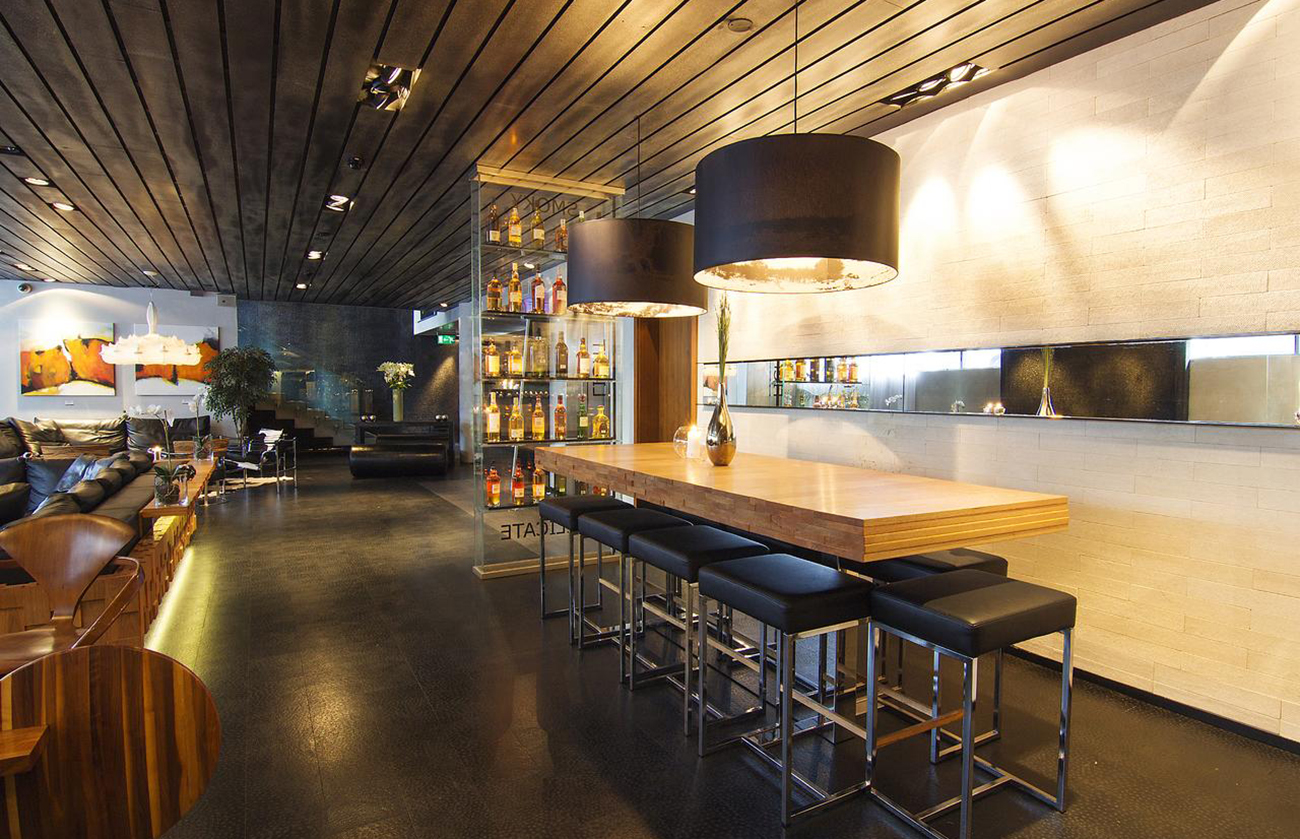 CenterHotel Thingholt/booking.com
On a budget:
For no-frills sleeps: Fosshotel Baron enjoys a homely vibe, with two-room apartments just around the corner from the harbour and main street.
For a cheap central stay: 4th Floor Hotel is conveniently located at the end of the main shopping street, and has good views of the harbour. The rooms are simply decorated with white walls and oak furniture, and the on-site café small, but the prices are great for Reykjavík.
For an Art Deco escape: The upmarket Hlemmur Square Hotel and Hostel is set in a 1930s Art Deco building. The central bus station is across the road, and there is an onsite cinema, café, and bar serving local craft beers.
Where to eat in Reykjavík
For local fare
Head to Grillmarkaðurinn, where the chefs serve only the finest local ingredients, like freshly caught monkfish and lamb that grazes on grass in the Icelandic interior. Or try Kopar, which specialises in foods that you won't find anywhere else, including balsamic horsemeat and blueberry cured beef terderloin.
For cheap eats
Try the award-winning Baejarins Beztu Pylsur hotdog stall, which was a favourite of US President Bill Clinton. For something a little different head for the Bus Terminal Restaurant to sample boiled sheep's head.
For seafood
The modernist Kol Restaurant has created some unusual ingredient pairings, including cod with red currants and lamb with blueberry polenta. Otherwise try Fiskifélagið – it serves locally-caught seafood in unusual ways, like burnt tuna and salmon with cheese and Skyr yoghurt foam.
Insider Reykjavík travel tips
Get your discounts
Buy a Reykjavík City Card to get discounts in shops, museums, the zoo, on buses, and the ferry to nearby Viðey Island. Cards start at ISK 3,700 (£24) for 24 hours.
Budget scenery
Avoid the expensive Golden Circle tours and get away from the crowds by taking a 30-minute bus ride to Hveragerði, an active volcanic site with towering hills, lakes, streams, and seclusion. Take the number 51 bus from Mjódd bus station.
Reykjavík day trips
Silfra Snorkelling
Just one hour outside Reykjavík is the meeting point between the Eurasian and American tectonic plates. Both amateur and certified divers alike can dive 80ft down into pure glacial water and touch the two tectonic plates, which pull apart several millimetres per year. Silfra Cathedral is a huge cavern filled with freshwater fish, rare moss balls, and jagged underwater cliffs.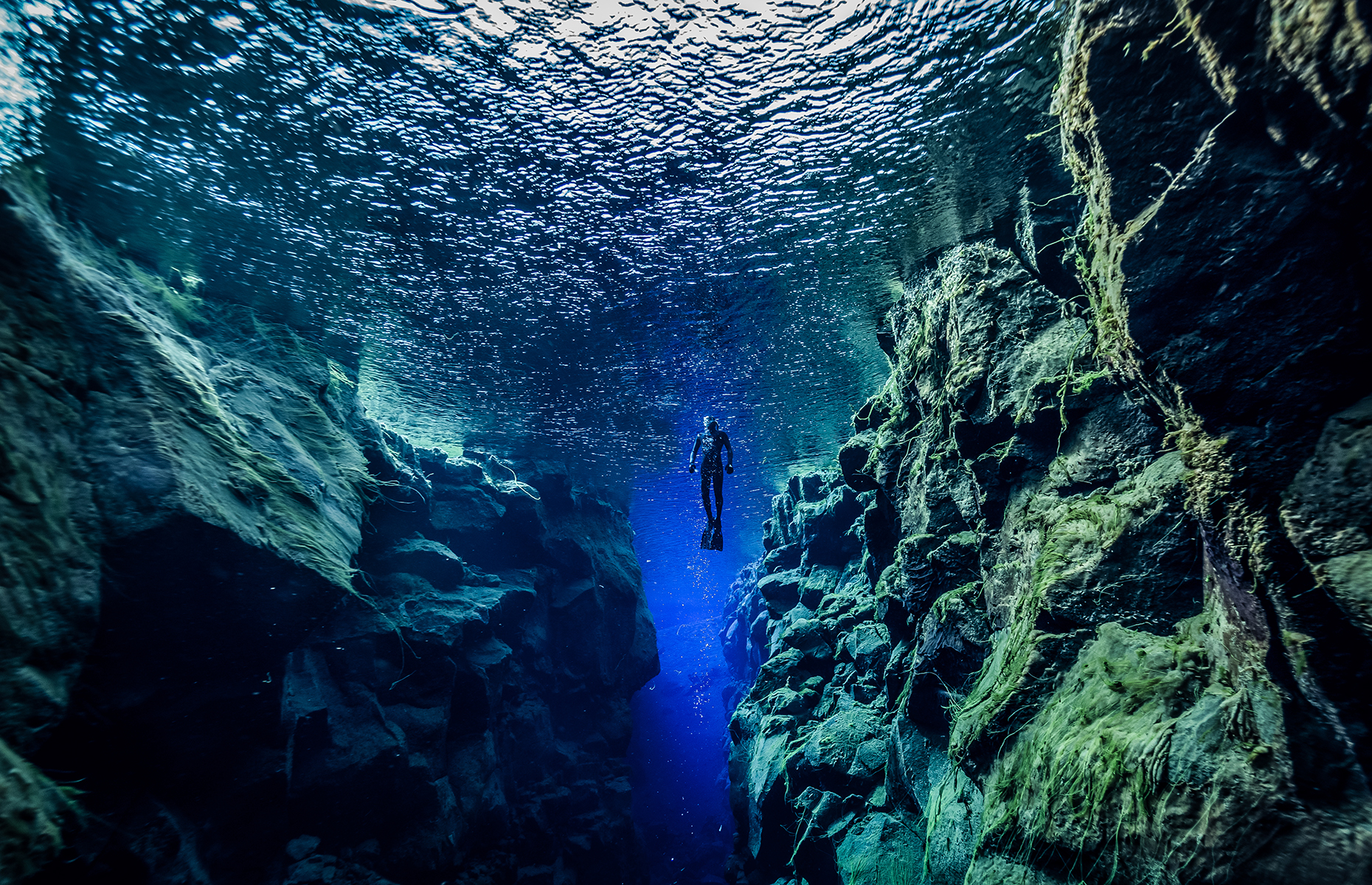 Hoiseung Jung/Shutterstock
Golden Circle Tour
The most popular tour from Reykjavík, the Golden Circle is a 185-mile route to the three most famous natural attractions in Iceland. Various tour operators, some with coaches and others with 4x4s, take visitors to Geysir geothermal area with its hot springs that erupt 50–65 feet into the air every 8 minutes, the Gullfoss waterfall with its sheer hundred foot drop, and the UNESCO-listed Thingvellir National Park where you can walk on both the European and North American continents.
Viðey Island
The largest island in Kollafjörður Bay, just a short boat ride from Reykjavík harbour, is littered with ancient ruins and Viking sites. Yoko Ono (wife of John Lennon of the Beatles) designed the Imagine Peace Tower on the island. The small parish church on Viðey is the oldest in the country, and the house was the first stone house in Iceland. At night, the skies are light pollution-free, so the northern lights are at their brightest here.
When to go to Reykjavík
The winter months in Reykjavík (November to March) are very cold and dark, but the Northern Lights are at their brightest and most frequent. The summer is peak season, so travelling in autumn or winter is likely to be cheaper and less crowded, though it can be bitterly cold and there's a high chance of snowstorms.
Reykjavík on the map
We've pinned all our favourite things to do, places to stay and where to eat in Reykjavík on this map:
Be the first to comment
Do you want to comment on this article? You need to be signed in for this feature