Explore Barcelona: what to do, where to stay and where to eat
Although famous for its quirky architecture, art galleries and incredible food, there's more to this Spanish city than the Sagrada Familia – although that's a pretty good place to start...
Must sees
Steeped in history and Catalan culture, each neighborhood in Barcelona has its own personality and plenty of secrets to discover. Barcelona is home to some seriously big attractions that are, unsurprisingly, mostly related to the architect Antoni Gaudí. Here are five things you shouldn't miss on your trip to Barcelona:
1. Marvel at the Sagrada Familia
Since it first began construction back in 1882, Gaudí's magnificent church has become something of an emblem for the city. From the outside, you can marvel at its intricate façades, covered in religious figures and animals, and topped by multi-coloured ice cream-like balls, while from the inside look up into the green, glass canopy. The church is actually still under construction, but is expected by be complete by 2026 – the hundredth anniversary of Gaudí's death.
Mapics/Shutterstock
2. Take a walk up Passeig de Gràcia
Elegant Passeig de Gràcia runs all the way from the centre at Plaza Catalunya, up to the district of Gràcia – a wide boulevard lined with designer boutiques and some of Barcelona's most striking architecture. Two of these buildings are Gaudí's other most famous creations – the iridescent Casa Batlló and the undulating La Pedrera.
3. Explore Parc Güell
Sitting atop a hill, offering remarkable city views, Parc Güell features an array of fascinating constructions – mosaic-covered benches, palm trees carved from stone and quirky pavilions. One of the park's highlights is El Drac (The Dragon), is a huge multi-coloured lizard decked in mosaic tiles. You can book timed tickets in advance with our partners at Get Your Guide.
4. Get lost in the Gothic Quarter
Part of Barcelona's Ciutat Vella (Old Town), the Gothic Quarter stretches from the marina to the Plaza Catalunya, and from the famous La Rambla to Via Laietana. This was the centre of Roman and medieval Barcelona – a maze of narrow streets, filled with hidden plazas and Gothic structures.
Sopotnicki/Shutterstock
5. Admire the city views from Montjuïc
Montjuïc hill sits on the western edge of the city, looking out to sea. One of the best ways to reach the top is to climb the series of grand staircases and escalators from Plaza de España up to the palatial-looking Museu Nacional d'Art de Catalunya. Stop here and drink in the views of the whole city beneath you. The hill is also home of the 1992 Barcelona Olympic stadium and Montjuïc Castle – an old military fortress dating back to 1640.
Hidden highlights
If you want to escape the crowds and try something a little different, head to some of these little-visited attractions:
1. Visit Palau Güell
Gaudí's first design is actually one of his least-known and least-visited buildings, but that doesn't mean it's any less spectacular. It's tucked down a side street, near the bottom of La Rambla, and was constructed between 1885 and 1890 as a home for the industrial magnate Eusebi Güell – who became Gaudí's patron.
2. Get lost in Horta's Parc del Laberint
Up high in the district of Horta sits the Labyrinth Park, so called because of its central labyrinth. Neoclassical and Romantic in its design, the park is filled with elegant pavilions, fountains and statues from Greek and Roman mythology. Designed by the Italian engineer Domenico Bagutti, it is one of the oldest parks in the city, dating back to the late 1700s and early 1800s.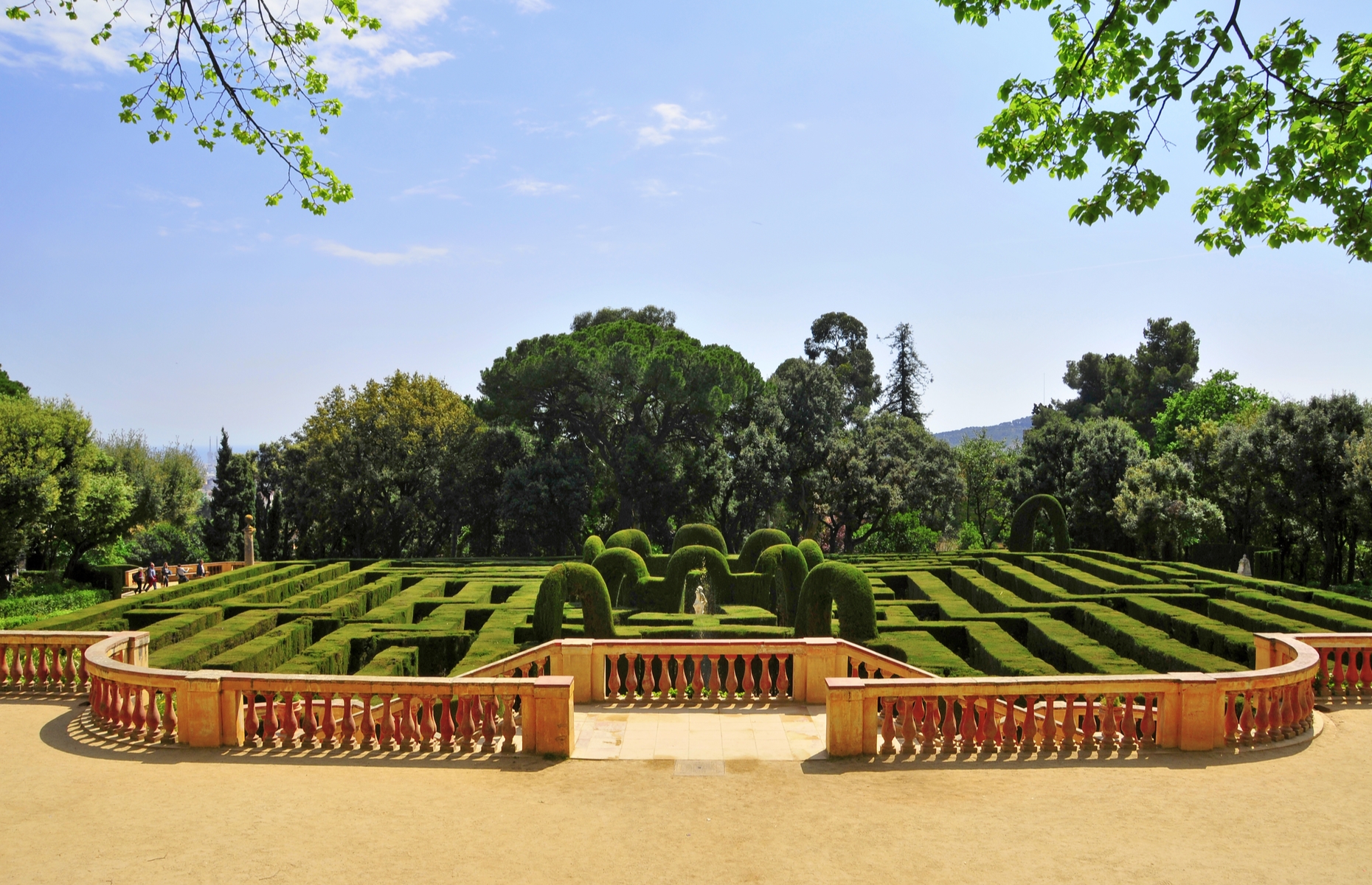 Nito/Shutterstock
3. Explore the Hospital de la Santa Creu i Sant Pau
The largest Art Nouveau site in the world, the UNESCO World Heritage Hospital de la Santa Creu i Sant Pau only opened to the public in 2014 and is still relatively unknown. Designed by the celebrated Catalan architect Lluís Domènech i Montaner, it was built between 1902 and 1930, and was a fully functioning hospital for many years. Today visitors can tour its various buildings to discover elaborately decorated with mosaics, bright stained glass windows and bold-patterned tiles.
4. Hike up to the Bunkers del Carmel
The Bunkers del Carmel sit right on the top of Barcelona and offer one of the most enviable views over the city. Built during the Spanish Civil War, the bunkers became somewhat of a shanty town during the Franco regime, and then were abandoned for many years. Although they still look mostly dishevelled, today visitors will find a small museum detailing their history. One of the best times to come here is for sunset, when locals gather with drinks, picnics and even guitars.
Jon Bilous/Shutterstock
5. Shop in the food markets
Each area of Barcelona has its own indoor food market, filled with all manner of fruits and vegetables, seafood and cuts of meat. While the most famous of the city's markets, La Boquería, is often so crowded that you can't walk around, the others have lots of space and plenty of tasty offerings. Try Mercat Santa Caterina with its wavy colourful roof or Gràcia's Mercat de la Llibertat.
Where to stay
Splash out:
1. For a chic boutique: Hidden in the Gothic Quarter, right near Barcelona Cathedral, Hotel Neri is located on one of the most picturesque squares in the city – Plaza de San Felipe Neri. Inside it doesn't disappoint, offering a chic boutique space with just 22 rooms,and historic features such as wood carved ceilings, vaulted arches and bare-brick walls.
2. For a slice of history: Also found among the backstreets of the Gothic Quarter is the Mercer Hotel Barcelona, a luxury 5-star property, which is a piece of history in itself. The interior walls of this quiet, sophisticated property were actually part of the original old city walls of Barcelona. The hotel also boasts a gorgeous courtyard, two restaurants and rooftop pool.
3. For designer digs: Ohla Barcelona is a modern and contemporary hotel where design is everything. Located on Via Laietana, the first thing you'll notice upon arrival is its Neo-classical façade covered in ceramic eyes, which was designed by renowned artist Frederic Amat. The hotel is also home to an excellent restaurant and rooftop pool.
On a budget:
1. For a funky budget sleep: Situated just off La Rambla, in the edgy university area, Hotel Ciutat Vella offers simple, comfortable rooms, painted in red, and a roof terrace with great views and a hot tub.
2. For a trendy stay: Located on the edge of the trendy Gràcia district, Generator Barcelona is a design hostel for the flashpacker, offering private double, twin or rooms of three-four beds, you can share with friends – there are no traditional dorms here. The design is fresh and hip, and facilities include washing machines, left-luggage storage, a bar, restaurant and chill-out zone.
3. Hostal Girona: Not actually a hostel, Hostal Girona is more like a B&B, again you won't find dorm rooms here – just elegant privates made for two. Situated in an elegant Modernista building in the upmarket Eixample area, rooms are simple with traditional tiled floors and period furniture.
Where to eat
1. For local dishes: To try some typical Catalan cuisine such as fideuá (like paella but made with short noodles instead of rice), butifarra (thick sausages) and crema Catalana (similar to French crème brûlée with orange and cinnamon), head to Can Culleretes, one of the city's oldest restaurants.
2. For pintxos: Pintxos are Basque-style tapas bites, and while they're not actually originally from Barcelona, they have become a city trend. For the best and widest variety, make your way to Carrer Blai in Poble Sec, where you'll find a whole street of pintxos bars.
Konstantin Kopachinsky/Shutterstock
3. For fine-dining: Michelin-starred Alkimia is the place to go for avant-garde cuisine in Barcelona. Chef Jordi Vilà creates innovative Catalan-inspired menus, where presentation is everything. Think pa amb tomàquet (bread rubbed with tomato) served in a shot glass.
Insider tips
1. Make the most of free museum days: Many of Barcelona's best museums are free on the first Sunday of the month. The Picasso Museum and the Barcelona History Museum are also free every Sunday after 3pm and the National Catalan Museum of Art (MNAC) is free every Saturday after 3pm.
2. Read like a local: Look out for free copies of Barcelona Metropolitan and Barcelona Connect magazines. They are full of what's on type features, articles on new city openings and interesting insights into everyday life in Barcelona.
Brian Kinney/Shutterstock
3. Feast at lunch: Do as the locals do and eat your main meal in the middle of the day. Many restaurants in Barcelona offer menus of the day – a set price three-course meal, usually including wine or beer and bread. Menús del día are often only available on weekday lunchtimes.
4. Book a tour with a local expert: Our partners at Get Your Guide offer a range of tours with local experts. Here's our pick of the best...
Day trips
If you want to get out of the city and discover more of Catalonia, try one of these great day trips from Barcelona:
1. Girona
Just over 60 miles northeast of Barcelona sits the historic city of Girona, known for its walled medieval centre and maze-like Jewish Quarter. Two of its most important sights are Girona Cathedral – home to widest Gothic nave in the world – and the ancient Arabic Baths. The city is also home to several excellent museums.
2. Figueres
Around 85 miles up the coast from Barcelona, Figueres is home to the Dalí Theatre-Museum and is well worth the trip for this alone. Fans of the artist will love the quirky red-turreted building topped with Dalí's signature white eggs and golden figurines. Inside is a treat too, home to everything from small sketches to large-scale paintings, sculptures and installations.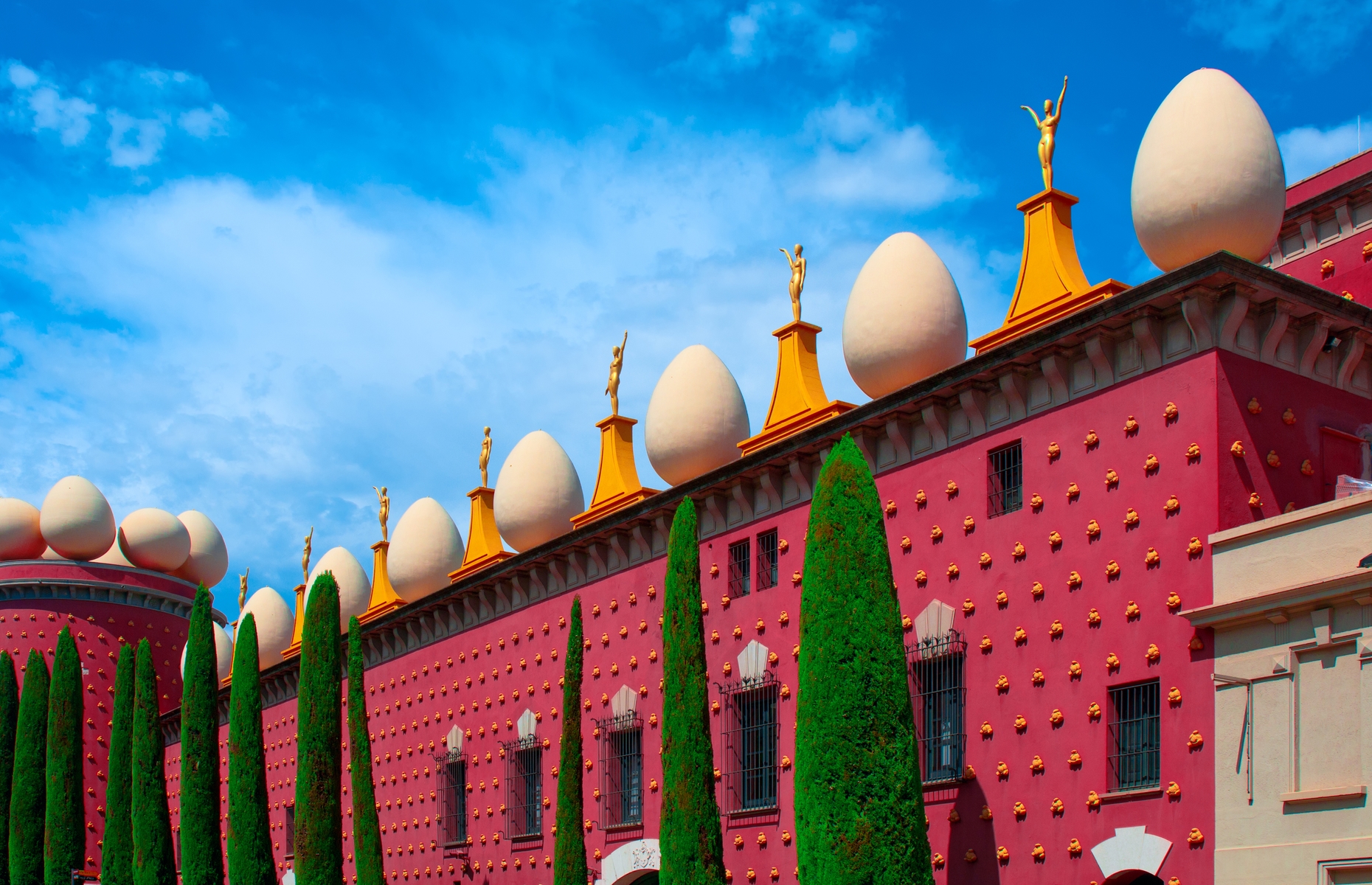 Lipskiy/Shutterstock
3. Sitges
Travel 60 miles southwest of Barcelona and you'll find yourself at the quaint coastal town of Sitges. A popular holiday resort, it features a historic old town and a castle-like church which towers above a pretty gold sand beach. It also boasts excellent restaurants and a colourful nightlife which is particularly popular with the LGBTQ community.
When to go
Any time of year is a great time to visit Barcelona, as you can pretty much guarantee there'll be some kind of festival on. However, the months between spring and autumn are when the weather is at its best.
One of the most exciting times to visit is at the end of September when most of the foreign tourists have gone, the weather is still warm and the whole city comes together to celebrate La Mercè – a week-long festival filled with art installations, parades, performances and correfocs (fire runs, where people dressed as devils run through the streets spraying fire everywhere).
How to get there
Barcelona is one of Spain's main travel hubs, with flights to 189 cities across Europe, the east coast of the US, South America and some countries in the Middle East and Asia.
The international airport is served by 90 different airlines, including both budget and major carriers. Barcelona–El Prat Airport is located 7.5 miles southwest of the centre and can be accessed by train, airport bus and metro.
Map
Be the first to comment
Do you want to comment on this article? You need to be signed in for this feature