Explore Rome: what to do, where to eat and the best hotels
The Romans have more to offer than their staggering stock of artistic treasures and a gladiatorial coliseum – although they're pretty good places to start. Peruse through fountain-filled piazzas, dine in indulgent foodie spots and explore beyond the city walls, to truly immerse yourself in Italy's "living museum".
Why go to Rome?
Teeming with ancient monuments and picturesque piazzas, Rome's historic core is one of the world's most seductive. While the city centre is enticing, allow yourself to succumb to the surrounding neighbourhoods. Winsome Trastevere comes alive after dark and rough-around-the-edges Testaccio thrives with its lively market and traditional trattorias.
However long you've got to explore this city, you'll be left wanting more.
4 essential things to do in Rome
Rome's list of must-sees is longer than most cities', but as its historic centre is compact, the highlights are all reachable on foot.
1. Time travel to ancient Rome
The granddaddy of all Roman monuments, the Colosseum was built in 72 AD as the venue for bloodthirsty gladiatorial contests. You can pay to see it from the inside, scale its tiers and take a tour of the underground area, but the view from the outside is arguably more stirring (and free). Nearby, the sprawling Roman Forum is littered with the remnants of what was once the heart of the ancient world.
Catarina Belova/Shutterstock
2. Get neck ache at the Pantheon
Once inside this hulking ancient Roman structure, look up and admire its unique oculus. A full 30 feet across, this perfectly round hole in the roof is a feat of ancient Roman engineering.
3. Wander the historic centre
Don't leave town without sipping a Campari in one of Rome's picturesque piazzas. Piazza Navona was built on the site of an ancient stadium, hence its oval shape, while Campo de' Fiori is lined with cafés and with a colourful morning market. Wander east for more unmissables, such as the Spanish Steps or the Trevi Fountain, a marvel of gushing water and mytical sculptures which was recently restored to the tune of €2.2 million.
4. Take in the Vatican, the world's smallest sovereign city state
The Vatican Museums are the world's richest treasure trove of art, with over nine miles of museums holding many of Italy's most celebrated artworks. Nearby, St Peter's Basilica, the largest Catholic church in the world, is a masterpiece designed by the greatest Italian architects of the sixteenth and seventeenth centuries.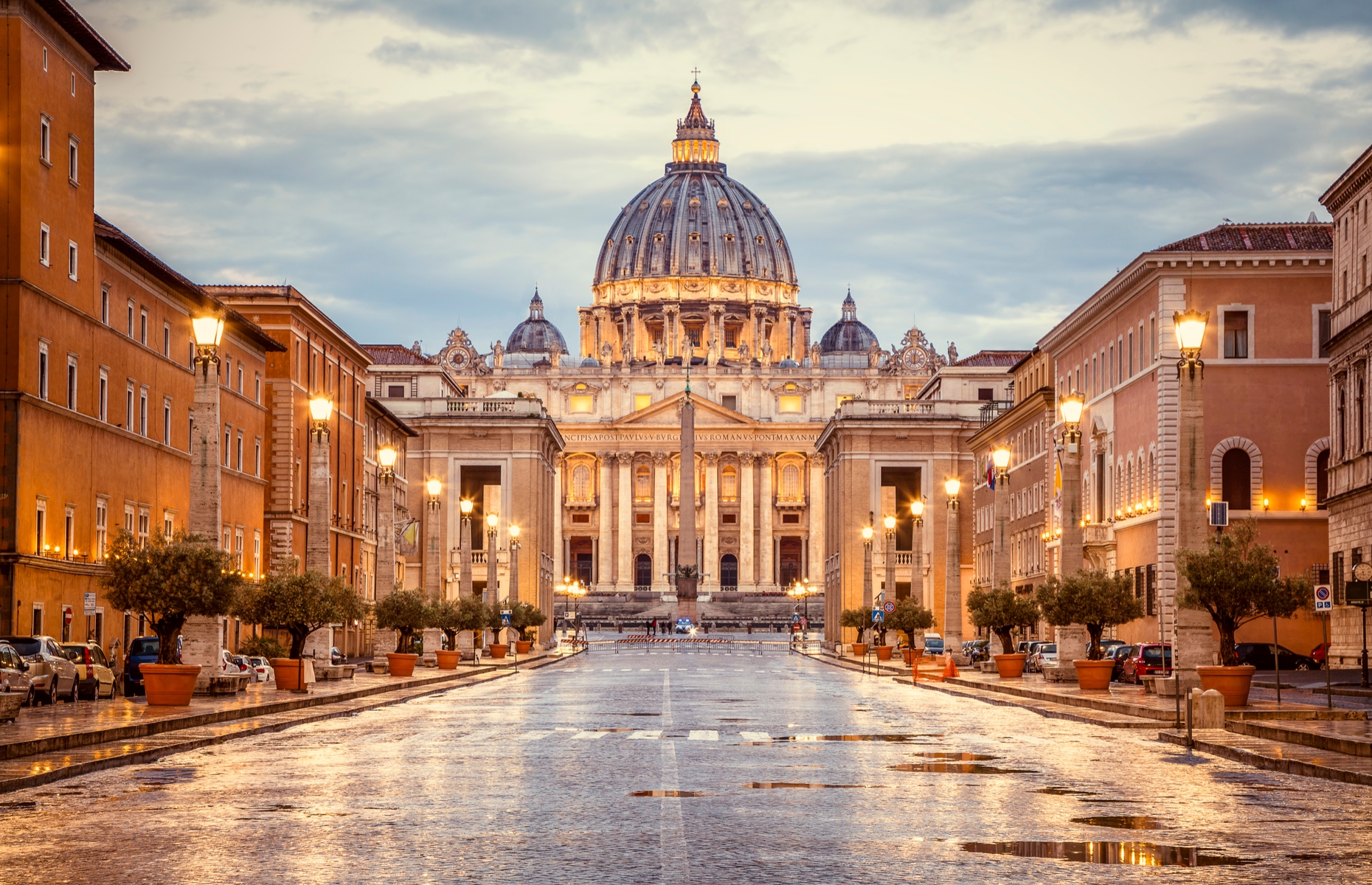 Vladimir Sazonov/Shutterstock
5 alternative Rome highlights
Escaping the crowds isn't easy in Rome, especially in the summer, but these alternative attractions offer a little bit of breathing space.
1. Pay your respects at the Protestant Cemetery
This historic, gorgeously overgrown cemetery in the Testaccio district is famous for the graves of Keats and Shelley, but the ordinary gravestones of foreigners who died far from home are just as moving.
2. Explore Nero's Domus Aurea
A stone's throw from the Colosseum, the Emperor Nero's "Golden House" is currently undergoing a €39 million restoration, but it's still open for guided tours. Guides take you underground to explore what was once a vast, opulent palace covering more than half a square mile.
Stefano Valeri/Shutterstock
3. Take in the view from the Aventine Hill
This shady, well-to-do enclave offers some welcome peace and quiet. Head to the Giardino degli Aranci, a garden filled with orange trees, for the knockout view from its terrace. A little further up the road is the Priory of the Knights of Malta; it's closed to the public, but peek through the keyhole to see a perfectly framed view of St Peter's.
4. Hit the shops on Via del Governo Vecchio
This serpentine back alley near Piazza Navona holds lots of tempting one-off boutiques. With a clutch of good vintage shops this is a reliable hunting ground for Italian leather bags and quirky accessories.
5. Check out Rome's street art scene
Rome's street art scene has exploded in recent years, thanks to a council-run initiative that gives artists the freedom to transform formerly downtrodden areas such as Pigneto, Ostiense and Quadraro with bold, colourful murals.
Sara Sette/Shutterstock
Where to stay in Rome
Splash out
1. For a fashionable foray: If you have the cash to splash, Portrait Roma is just the place. The intimate, 14-suite bolthole boasts bags of style (it's owned by the Salvatore Ferragamo fashion house), a panoramic roof terrace, top-notch service and is nestled in a fantastic location - just down the road from the Spanish Steps.
2. For opulence: Megahotel De Russie sits right by Piazza del Popolo, one of the city's showpiece squares. It gets everything right, from the understated luxury of its rooms to its gem of a bar, set in a terraced garden that's just perfect for sipping summer cocktails.
3. For a serious splurge: Residenza Napoleone III, a two-suite residenza in a historic palazzo is a one-off. Once host to Emperor Napoleon III, the larger suite is suitably kitted out with Old Masters and antiques, while the roof garden suite has wraparound views of Rome's rooftops.
On a budget
1. For the bee's knees: Near the main train station and within easy reach of most of the sights, The Beehive is an established budget option. Comfortable rooms, friendly staff and a leafy garden merge with strong eco-credentials, right down to their veggie café.
2. For a great location: Blue Hostel is not a hostel in the usual sense – the rooms are all private. It's in a great location, just down the street from the Basilica di Santa Maria Maggiore, and the wood-beamed rooms have a tasteful, boutique-y elegance. You'll be well looked after by friendly hosts Ercole and Andrea.
3. For a cosy stay: QuodLibet, in the well-heeled Prati district, a short walk from the Vatican, is a cosy B&B with four comfortable rooms, a sun-trap roof terrace and five-star breakfasts. The delicious aroma of pastries wafting from the bakery downstairs comes as standard.
Where to eat in Rome
For typical Roman cuisine: Armando al Pantheon serves all the classic Roman classics in a simple, pared-back dining room. To sample Rome's Jewish cuisine head to the Ghetto area, where bustling Nonna Betta does excellent fried artichokes, among many other Roman Jewish specialities.
For the a perfect pizza: Forno Campo de' Fiori, in the heart of the action on Campo de' Fiori, is the place for pizza by the slice, with deliciously light slices topped with fresh ingredients. For a sit-down pizza feast, try Da Remo in Testaccio, a rowdy, old-school joint with deliciously crispy, thin-based pizzas.
For standout gelato: Rome's not short of gelaterias, but for the real deal head to Il Gelato di Claudio Torcè (near the Circus Maximus, with other locations dotted around town), where the artisanal flavours range from the old-school to the out-there (celery, black sesame). A short walk from the Vatican, Gelateria dei Gracchi makes delicious ices from seasonal ingredients; fruit flavours are the ones to go for here.
Insider Rome travel tips
Grab a cheap dinner: Do as the Romans do and head to a bar in the early evening for an aperitivo (typically around €10–12) and all-you-can-eat free nibbles. If you're on a budget, a plateful of tasty snacks could easily stand in for dinner.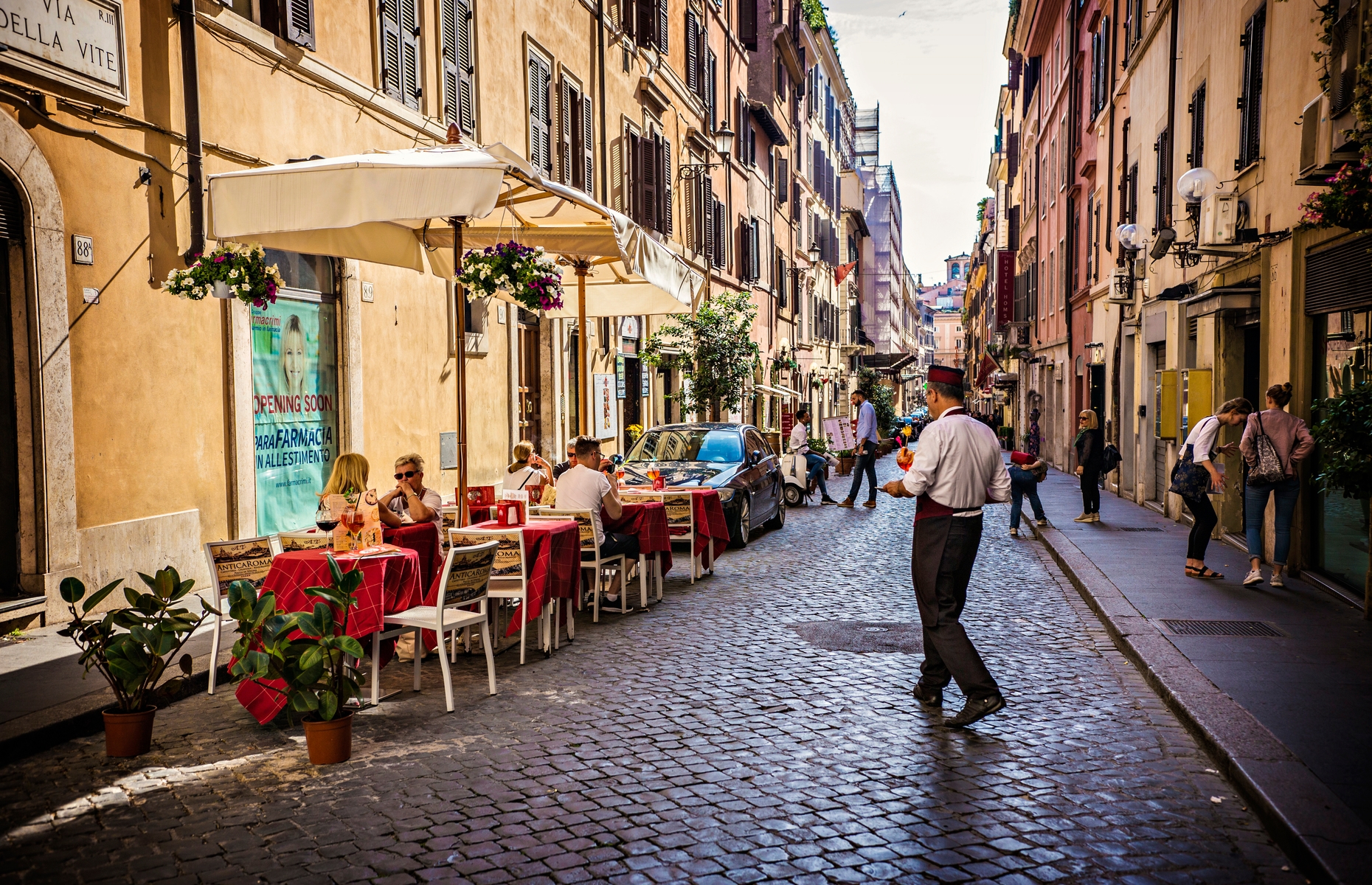 Sun_Shine/Shutterstock
Save on entrance fees: Time your visit carefully and you could make big savings: on the first Sunday of the month, state museums and monuments are free. The Vatican Museums are also free (albeit packed) on the last Sunday of the month.
Day trips from Rome
1. Ostia Antica
Once the port of ancient Rome, this well preserved archeological site is like a mini-Pompeii, but within much easier reach of the city. Ostia Antica is just a half-hour hop from Piramide metro station in the Testaccio district.
2. Tivoli
This breezy hill-town, a short train ride from Rome, is blessed with two UNESCO World Heritage Sites. Villa Adriana, the remains of Emperor Hadrian's summer retreat, is strewn across scenic countryside and the Renaissance Villa d'Este terraced gardens hold some five hundred spectacular fountains.
Catarina Belova/Shutterstock
When to go to Rome
Rome can be sweltering in high summer and many restaurants and shops close in August, when the locals go on holiday. May, June, September and October are generally warm and sunny, but the sights are consequently more crowded.
Winter can be a good time to visit as hotels are cheaper and the city is emptier – though expect a chill in the air from November to February.
How to get there
Rome has two airports. Fiumicino (also called Leonardo da Vinci), which handles most scheduled flights, while Ciampino serves charter flights and budget European airlines. Trains connect Fiumicino to the main train station, Termini (30min), while the easiest way to get to town from Ciampino is by bus to Termini (45min).
Map of Rome
Find all of our favourite Rome destinations pinned on this handy map:
Be the first to comment
Do you want to comment on this article? You need to be signed in for this feature