The Faroe Islands uncovered: where to stay, what to see & how to get there
These isolated isles in the middle of the North Atlantic are renowned for their untamed beauty, long summer days and hiking routes where your only companions will be sheep. Be warned: once you're there, you may never want to come home…
Where are the Faroe Islands?
Spin your globe and zoom into the blue between Iceland and the north coast of Scotland and you still might miss these tiny specks of land in the middle of the North Atlantic. But stand on the edge of one the lofty peaks with the endlessness of glacier-carved valleys stretching before you and it's suddenly you who feels tiny.
The Faroes' are an archipelago of 18 major islands..Midway between Shetland and Iceland they're a self-governing state within the Denmark. The nearest mainland is Scotland, 200 miles away.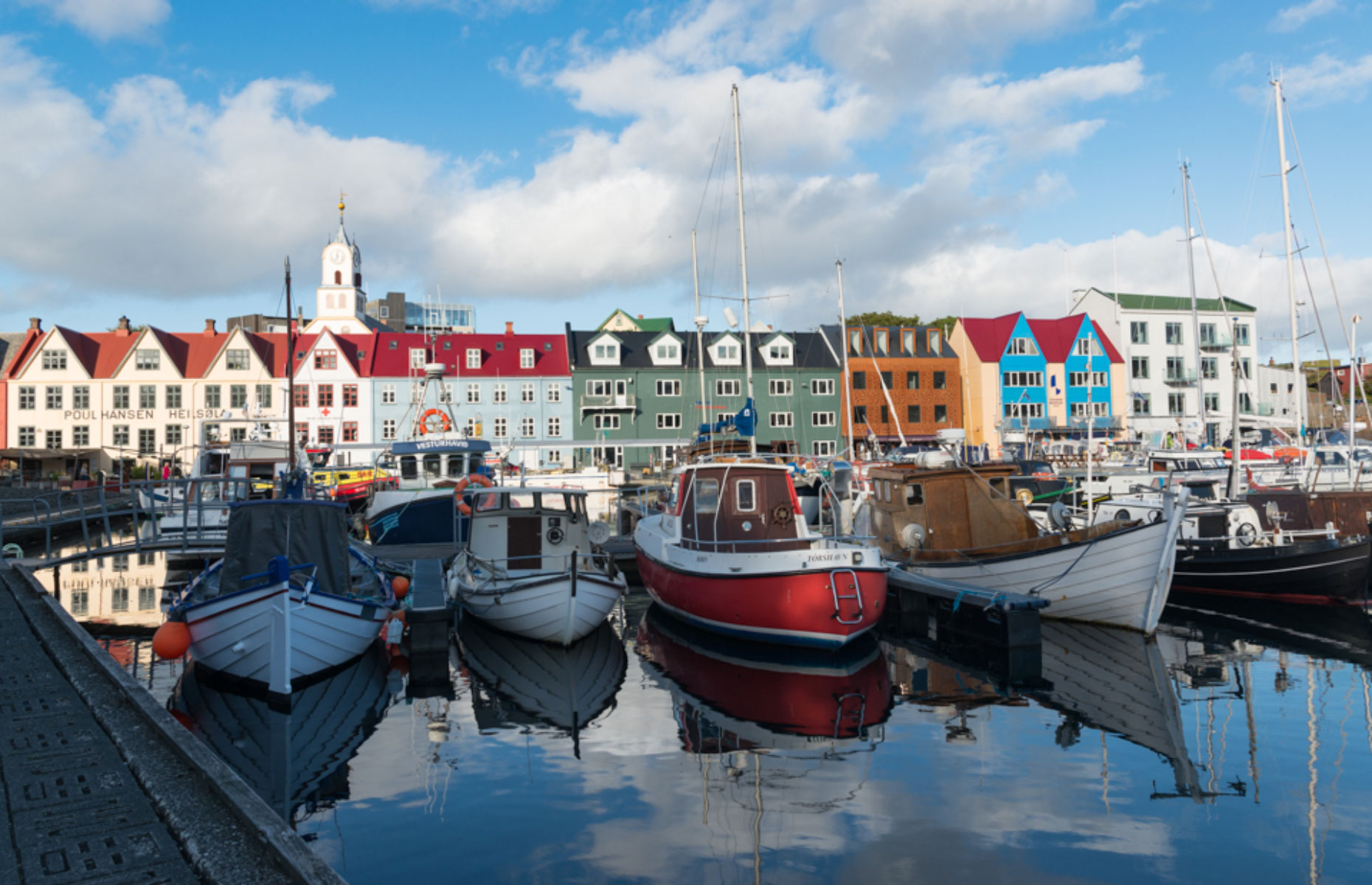 Diana Jarvis
Why go to the Faroe Islands?
Windswept, remote and a place where even the capital 'city' feels more like a county town, the Faroe Islands are the perfect spot to unwind and slow down. With rugged mountain cliffs and gently curving valleys, there are plenty of opportunities for exploring the coastal paths and misty lakeside trails on foot. Or with a car you can easily wend your way among the islands, most of which which are linked either with bridges or undersea tunnels and easily navigable.
With a population of around 50,000 (many of whom speak English alongside with native Faroese and Danish) spread out across fourteen inhabited islands, there's a rich cultural tradition and community spirit that ties folks together. If you're lucky enough to catch the locals in celebrations mode, you'll see them bonding together in a chain dance with ballad singing. It functions as a form of storytelling that passes down through the generations.
The food scene is increasily gaining worldwide recognition after Koks was the first restaurant on the islands to be awarded a Michelin star. Despite the unforgiving weather and barren landscapes a surprising amount of ingredients can be foraged. Coupled with the vast array of seafood, it makes for some rather innovative Faroese cuisine. Think wind-dried mutton, horse mussels, lobster, langoustine, sea urchins, seaweed and crowberries tied together with aromatic herbs.
An island-by-island guide
Vagár is your most-likely point of entry as it's where the airport is located. Just a few miles along the coast from here is the picturesque fishing village of Bøur, replete with its grass-roofed houses and black-sand beach.
You'll also find one of the most photographed spots in the whole of the islands a little bit further along the road: Múlafossur waterfall in the tiny village of Gasadalur. With no more than twenty houses it was only accessible via helicopter, boat or a strenuous hike over the mountains till 2004 when a tunnel was carved through the mountain. Now it draws nearly every visitor to the islands with its slim torrent of water that tumbles over the volcanic cliffs into the sea.
Diana Jarvis
The hike to the Traelanipa cliffs is another must-see for any visitor. Here, if you're brave enough (and your lens is wide-angle enough) you can take a picture of the cliff-top lake Sorvagsvatn and the sea below.
Streymoy is the largest of all the islands and it's where you'll find the diminutive capital capital Tórshavn (pronounced Tao-Shân) meaning, literally, Thor's Harbour. The seat of the Faroes' government – the Tinganes – is housed in a handful of unlikely looking grass-roofed, red-painted wooden buildings at the far end of the harbour. Take a quick stroll through the town and stop in at Tutl Records, a shop and record label dedicated to promoting the music of the islanders locally and around the world, Guðrun and Guðrun whose unique woollen designs were made famous by the TV series The Bridge and Öström which sells plenty of handcrafted local souvenirs.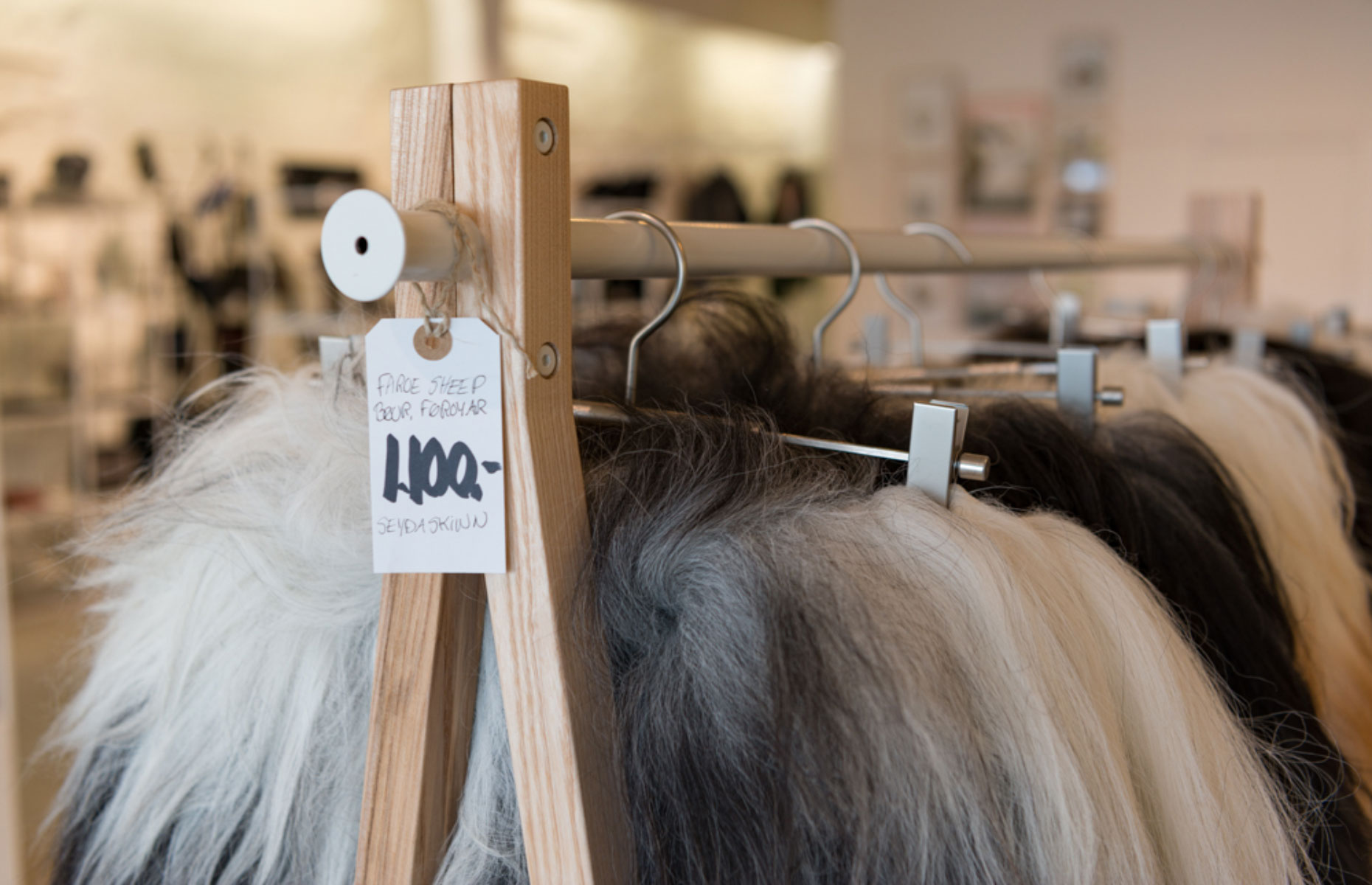 Diana Jarvis
The cobbled streets and wooden buildings of the old town (Reyni) house a number of decent restaurants including Aarstova, famed for its lamb; Barbara Fish House (named after the Faroes' most famous novel Barbara by Jørgen-Frantz Jacobsen), renowned for its fish, and Etika for sushi, made from fresh local seafood. There's also the most northerly outpost of Danish craft beer aficianados, Mikkeller.
On the southerly tip of Streymoy, Magnus' Cathedral in Kirkjubøur was the religious and cultural centre of the Faroes in the Middle Ages. Further north is Vestmanna, natural circular harbour on the strait between Streymoy and Vagar where birdwatching boat tours set off for the nesting sites of hundreds of puffins, gannets, guillemots, fulmars, storm petrels and more.
Esturoy contains the islands' highest peak Slættaratindur at 882 metres. You can get a real taste for Faroese music and culture every Wednesday night during summer at Gjaargardur Guesthouse in Gjógv where they offer a buffet of traditional food followed by music, ballads and chain dancing.
Kalsoy has only around 150 residents among its four villages but it's home for Mikkjal the blacksmith who will show you his trade at the Trøllanes économusée. You can hike to the iconic lighthouse at Kallur. The hike is around three miles with an elevation gain of around 500ft. The cliffs are sheer and the drops dramatic so isn't for anyone with a fear of heights.
Bordoy is more mountainous than the southerly islands and is home to the second-largest town Klaksvik, which has plenty of restaurants and smattering of hotel options and a cinema. One of the islands' two breweries is here Føroya Bjør and you can sample a range of locally brewed pilsners.
Viðoy is connected to Bordoy by a tiny straight. Viðareiði on the northern tip is the most northerly community on the islands. It has one small grocery store, a café and a restaurant – Restaurant Elizabeth – which is only open seasonally from mid-May until Mid-August and serves local specialities including guillemot breast. Work off the calories with one of the wonderful hiking options including ascending the 751-metre high Malinsfjall. You can take a local guide up there and also to Enniberg, the most northerly point.
In the southern part of the archipelago is Sandoy which is much flatter than the northern islands and is therefore ideal for cycling, hiking and horse riding.
Suðeroy is the island to head to for all things adrenaline pumping. Here you can hang from red basalt cliffs over sheer drops as you try your hand at climbing or cliff jumping. For a slightly more sedate experience, Outdoor Faroe Islands also offer kayaking, rowing trips and snorkelling.
Back on dry land, check out the Ruth Smith Art Museum in Vágur, one of the islands' foremost painters whose house is now a museum displaying many of her oil and watercolours of the islands (open on request only).
Where to stay in the Faroe Islands
The rapid rise in visitor numbers to the Faroe Islands means that the limited accommodation available gets booked up quickly during the summer period, so it's wise to book well in advance. Most accommodation is in and around Torshavn, although there are a few hotels and increasingly more Airbnb options scattered throughout the islands.
Hotel Føroyar: this low-rise, grass-roofed building on the outskirts of Torshavn is an ideal place to base yourself for a few days. Each room overlooks the city and out over the water to the island of Nólsoy. The rooms are decorated in comforting neutral tones by Montana and Phillippe Starck and under-floor heating adds to the cosy feel. There's an on-site restaurant, Gras, which serves a high-quality lunchtime buffet with meat stews, salads, grilled salmon and sushi from nearby restaurant Etika too.
Hotel Føroyar/booking.com
How to get to the Faroe Islands
By plane: the national airline Atlantic Airways flies from Edinburgh, Copenhagen, Bergen, Reykjavik and, during the summer months, a number of other European cities. Scandinavian Airlines also flies from Oslo, Stockholm and Copenhagen to the Faroes.
By boat: Smyril Line sails between Hirtshals in Denmark to Reykjavik in Iceland once a week, stopping off in Torshavn in between. You can take your car on board.
How to get around the Faroe Islands
By car: hire is available at the 62ºN stand at the airport. All the major roads are tarmacked and well kept. Be aware that the speed limit is 50mph (80kph) to accommodate the inclines, bends, precipitous drops and ever-changeable weather.
Diana Jarvis
By bus: many of the major roads are served by buses and they stop in all the villages along the way. You can buy multi-day travel cards that cover both bus and ferry travel for DKK 500 (£60) for 4 days.
By boat: a more leisurely way to get between the islands is by boat and most of the major islands are served by public ferry routes. Torshavn to Suðeroy three times daily (two hours), Vaga to Mykines (summer only, once a day, 45mins), Klaksvik to Syðradalur on Kalsoy (nine daily sailings, 20mins), Gammlaraett on Streymoy to Skopun on Sandoy (nine times daily, 30mins).
By helicopter: the helicopter service is a community initiative that enables locals to live on some of the more remote islands, so it's government subsidised and a trip can cost as little as DKK 125 (£15).
By bike: hire is available from rentabike.fo in Torshavn for around DKK250 (£30) a day. Off-road cycling and mountain biking is prohibited.
On foot: there are miles and miles of hiking trails to discover and it's worth taking a local guide because most of the are not sign-posted and the tracks are not always easily discernible. The tourist office, Visit Faroe Islands, can help you find a local guide.
Diana Jarvis
Map of the Faroe Islands
Use this map to find our favourite places in the Faroes'
Be the first to comment
Do you want to comment on this article? You need to be signed in for this feature