Gouda: on the Netherlands' cheese trail
If cheese is your thing, Gouda is the place to go. We ate our way around the Netherlands' "Cheese Valley" to bring you this guide to a delicious region.
Where & what is the Cheese Valley?
Even the most casual cheese enthusiast will be familiar with Gouda – the semi-hard, yellow cheese that makes up around 50% of the world's cheese consumption. But they might not know it's produced actually not in the southern Dutch city which shares its name, but instead in the nearby towns and villages that surround Gouda.
Dubbed the "Cheese Valley", it's Woerden and Bergambacht that make up much of the cheesy action, both part of a region called Krimpenerwaard just south of Amsterdam. It's known as 'the Green Heart of Holland' – and for good reason. This agricultural heartland lies in a triangle of 'polderlands' (drained, low lying marshes set between dikes) amid a charming, quintessentially-Dutch rural landscape. Think windmills, gabled houses, farmsteads and little rural canals called 'sloten' where goats roam and crested grebes glide on the water.
Besides the bountiful opportunities to sample glorious Gouda in its many forms, there's a host of other sights and attractions to enjoy. So ready those elasticated trousers, set your cheese gun to stun and dive headlong into 'the Cheese Valley.'
Gouda
Gouda is the area's biggest centre with a population of around 70,000. It's a fairly typical, charming Dutch city with canals and plenty of history. The Gouwe canal built to link the town with the River Rhine meant it swiftly prospered as a harbour settlement with its own fortified castle built in the 14th century, surviving fires and a plague over the centuries.
Today, practically every piece of street furniture has been fashioned to resemble big old wheels of golden Gouda, from the benches to the streetlights – just in case you were in any doubt about the city's main claim to fame. The compact town centre has many beautiful, historic buildings too.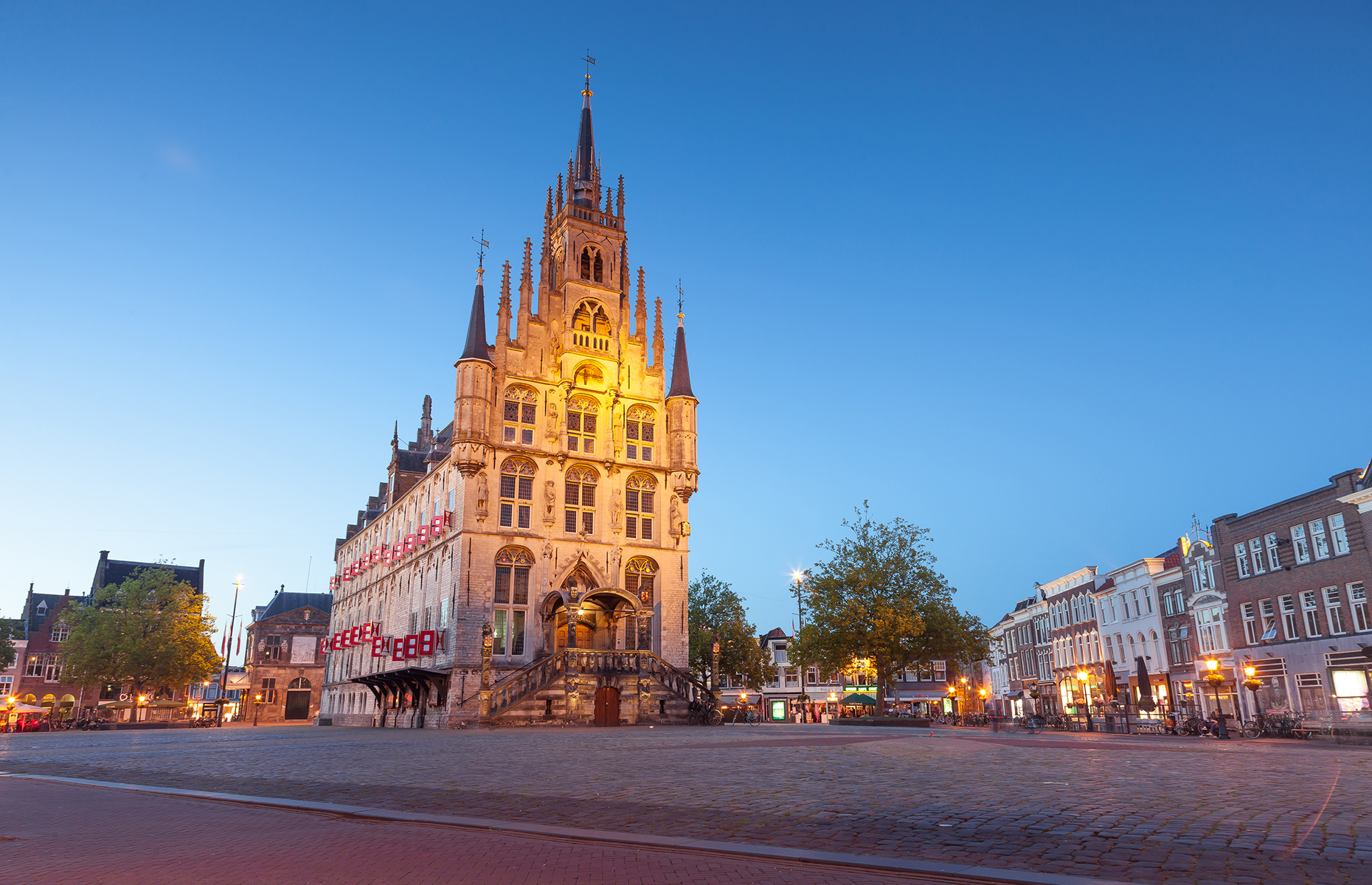 fotolupa/Shutterstock
Woerden
Woerden was once the Roman Empire's most northerly outpost, but little remains of that heritage today except a humble floor plaque in the town square, where a thriving weekly cheese market is the main attraction.
Bergambacht
Orderly and modern on first glance, Bergambacht's origins can actually be traced all the way back to the 13th century when the humble chapel of St Laurentius was built. Look out for the windmill built in 1869 which some rooms from the Hotel Arendshoeve overlook. It's also the birthplace of Netherlands's former Prime Minister Wim Kok.
The highlights of the Netherlands' cheese trail
These are our favourite things to do in Gouda and its surrounding towns.
Gouda
The old cheese weighing station
Built in 1668 to weigh and trade Gouda cheeses, Goudse Waagis now a cheese and artisanal crafts museum, where you can learn about the history of the industry. There are three floors of intriguing exhibits on the history of cheesemaking, advertising and memorabilia. You can also weigh yourself in cheese here, if you dare. Perhaps best to do so at the start of your trip, mind.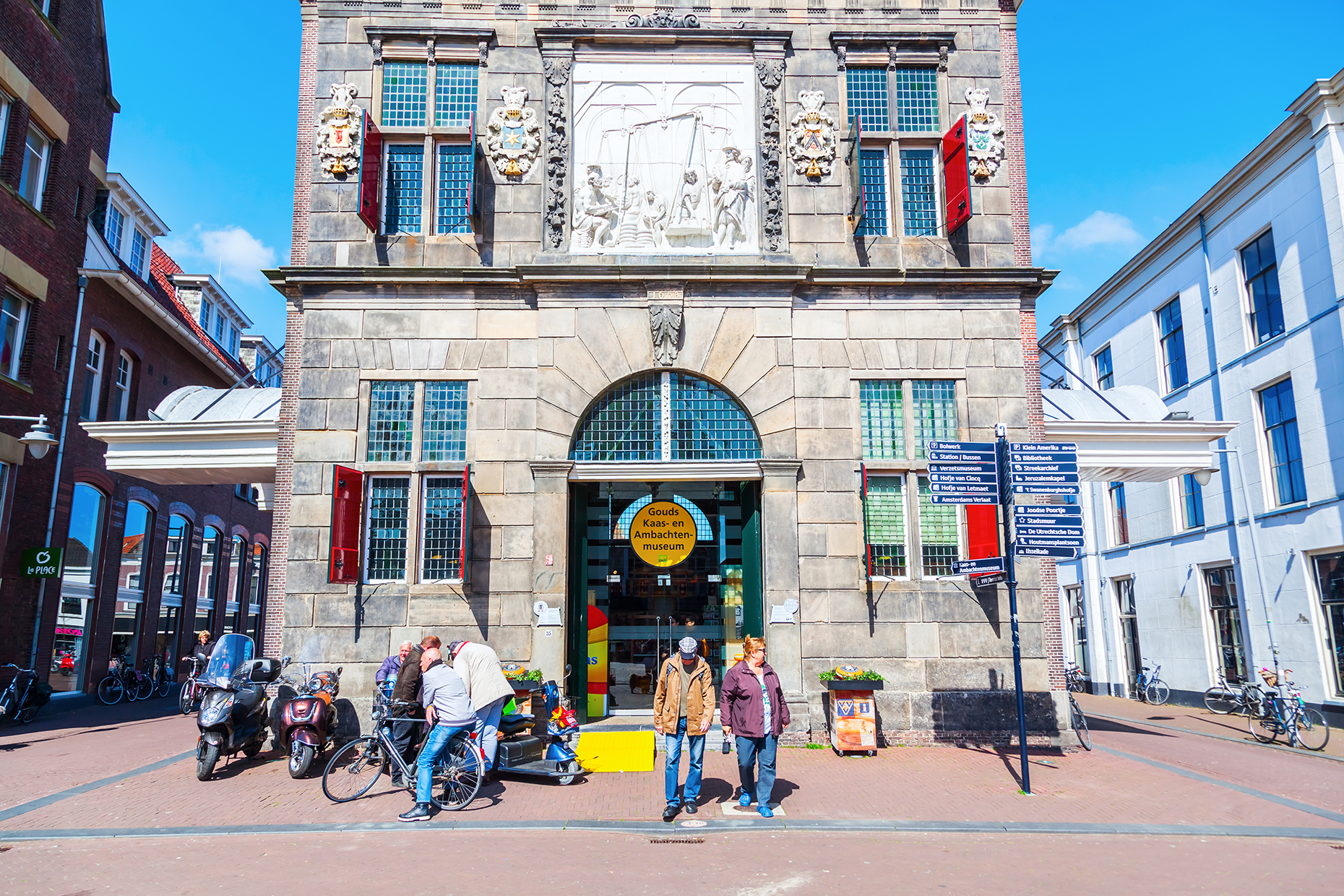 Christian Mueller/Shutterstock
Kaaswinkeltje cheese shop
This traditional shop sells a dizzying array of Gouda cheese in all manner of colours, ages, strengths and flavours – including lavender, red pesto and cumin, to name a handful. With the ample tasting samples, we challenge you to emerge from here without bags of delicious dairy delicacies.
Kamphuisen stroopwaffle shop
It's not all about the cheese in Gouda, though, as the Netherlands is also the home of the world-famous stroopwaffle. There are two main kinds, the soft ones (which few true Dutch folk would sit atop the rim of their coffee mug these days, despite the penchant of international visitors to do so) and the even tastier crunchy ones. You can't miss this shop, thanks to its handsome wooden frontage and the vintage waffle cart parked outside.
Woerden
The cheese bell
A focal point of the Market Square, this used to be rung to announce the daily cheese price. Today you'll hear it chime at around 10.45am to open the weekly market.
Reypenaer Cheese Storehouse
The Reypenaer Cheese Storehouse has an entire upper floor packed with weighty wheels of amber, glazed Gouda from floor to ceiling, while also finding room for an immersive, interactive exhibition on Gouda cheese on the ground floor. Their self-styled 'King of Cheese' Jos van Riet will school you on the stinting process behind prudent cheese storage, before entreating you to a tempting tasting session paired with fine wines.
Bergambacht
Kaasboerderij Schep Farm
A sizeable facility with over 500 free range dairy cows across 200 hectares, producing over nine tons of cheese a week. Schep is now so internationally renowned that they export their truffle Gouda to the USA, too. Tours can be arranged.
Dairy-free attractions
It is all about the cheese, but between the tastings explore some of the regions top attractions. Here's a rundown of what to do in and around Gouda while you're on the cheese trail.
Gouda
Gouda Stadhuis
Gouda's town hall is an extraordinary fairy-tale structure built in 1603 which sits in splendid isolation, decked in sandstone and flanked with turrets, taking pride of place on the main square. Look out for the little figures which burst out from the carillon every half hour to recreate scenes from the founding of the town. There's a museum inside too, with pottery, paintings and some interesting archaeological findings.
Sint Janskerk
The monumental 15th-century Gothic church was once where the celebrated Renaissance theologian Erasmus studied. Today it's home to one mightily ornate organ, and a tranche of spectacular stained glass, both old and new.
Woerden
Stadsmuseum Woerden
The Stadsmuseum occupies the handsome former town hall, built in 1610 with lavish wood panelling, making it a popular spot for weddings. Permanent collections here include paintings by Dutch modernist and celebrated Woerden resident Leo Gestel and Neel Korteweg. Their current seasonal exhibition celebrates '400 Years of Cheese in Art.' What's not to like about that?
Street art
Just around the corner from the Museum on the exterior wall of Havenstraat, there's a reproduction of Gestel's 'Woman with Cigarette' (1911). There's also a very affecting statue of a seated man and his dog simply called 'A Family Photo', commemorating Gouda's exiled Jews on Prins Bernhardlaan.
Bergambacht
Museum Bisdom van Vliet
An interesting museum showcasing late 19th-century interiors typical in the Netherlands. The museum is named after the house's last owner, Paulina Bisdom van Vliet, who came from a prosperous family which made their fortune from the Dutch East India Company. Paulina left strict instructions for it to remain faithfully intact. You'll find the place full of paintings, furniture, glassware, silver objects, clocks and books. The museum's collection of Oriental and European ceramics are a particular highlight.
Elsewhere in the region
Brewery de Molen, Bodegraven
This windmill brewery is renowned for their varied collection of craft beers. Styles brewed are stout, porter, barley wine, bitter, pale ale, sour, lager and saison. Using the best malts, hops, yeast and stringent brewing processes, they craft aromas, flavours and bitterness that are unique. Enjoy one of their pop culture themed brews such as Carrie and the Big Lebowski.
Dutch Silver Museum, Schoonhoven
The Nederlands Zilvermuseum presents over four centuries of silver history, focused mainly on historical and contemporary silver objects, history, certification marks, technology and jewellery from the 1920s. The shining highlight is the silver workshop where artisans can be seen making filigree and all sorts.
Where to eat Gouda on the cheese trail
Aside from farms with tasting rooms and shops, there are plenty of restaurants cooking up cheesy goodness in the region. Here are our favourite places to eat in and around Gouda:
Ijsselhuis Museumhavencafé, Gouda
A cosy, convivial cabin of a place in a former sailor's waystation for skippers on the Mallegat Lock. Ijsselhuis excels in delivering rustic, comfort fare, such as pumpkin soup and pork belly with roasted vegetables, alongside a few rather more challenging dishes, like the herring sorbet.
Bij Ons, Gouda
In a narrow cobbled alleyway, this relaxed, upmarket restaurant features a cosy wood-and-brass bar downstairs, and a rustic-chic dining room on the upper floor, along with pavement tables when the weather allows. The French-inspired food is imaginative and playful without being pretentious, always making the most of what's in season. Go for the goat cheese macarons and the vegetarian tasting platter, laden with celeriac and carrot clafoutis and crispy polenta.
Pieters Restaurant, Bergambacht
Thoughtful fine dining in an intimate, 'drawing room' setting, perfect for an intimate evening. Canapés are served on mighty wheels of Gouda and on the wall hangs a copy of Francisco de Zurbaran's Angus Dei painting depicting a slumbering lamb, which is how you may well feel after you've finished the eight-course epicurean marathon here. Highlights from the menu include monkfish with brown butter and pink grapefruit, and Jewish fillet of Black Angus beef with salty crumble and 'young Gouda'. There's a pleasant courtyard garden to enjoy in the summer months too.
De Burgemeester, Linschoten
A Michelin-star restaurant set in the highly picturesque village of Linschoten, just outside Woerden, De Burgemeester offers an unstuffy, contemporary fine dining experience in a fresh, colourful dining room. Plates are precisely prepared and stunningly presented. Expect a more relaxed atmosphere than most star-garlanded restaurants, a balanced menu strong on the umami side, and a solid selection of Italian wines.
Where to stay on the cheese trail
These hotels make wonderful retreats to rest your weary, cheesy head by night.
Housed in a former armoury built in 1762 and slap-bang on the Kerkplein Market Square, the Stadshotel manages to be both cosy and design-conscious. And while it's all vintage lampshades and up-lit timber beams, it retains a genuine boutique feel. Stadshotel is owned by charismatic chef Ed Breuren and you'll see photos of him in various eccentric get-ups dotted around the place. The Van Rossum Bar and Kitchen is a stylish hangout and a dining destination in its own right, too. Its open kitchen serves robust dishes, such as venison steak with juniper berries and figs or whole lobster griddled on a Big Green Egg barbeque, with salmon smoked on the premises outback on the breakfast menu.
On a serene canal-front lawn next to Den Arend windmill, Bergambacht's flagship hotel is housed in a red-brick building with stained glass skylights, murals, wood-panelling and mosaics. Some rooms feature windmill views, while the luxury suites have lounge areas. There's also a French restaurant offering farm-inspired cuisine in a relaxed dining room with a conservatory, as well as a cosy lounge bar with an open fire. For even more relaxation you can immerse yourself in the indoor pool, indulge in some spa treatments, soak in the Jacuzzi or sweat it out in the sauna.
Getting around on the cheese trail
Seven airlines fly from London to Gouda, including easyJet and British Airways. To travel between the towns and villages, hire a car or, if you're feeling active, a bicycle.
Be the first to comment
Do you want to comment on this article? You need to be signed in for this feature