How to visit the Galápagos on a budget
It is easy to assume that a trip to the Galápagos Islands is an out-of-reach, expensive dream. Certainly, many cruises cost tens of thousands of pounds per individual with no discounts for children. Contrary to popular opinion, though, it is possible to enjoy much of what the Galápagos has to offer on a far more modest budget, as long as you are prepared to put in some effort, take some time and bring a stash of seasickness tablets.
Why go to the Galápagos Islands?
The Galápagos archipelago is probably the most famous wildlife-watching destination in the world. A cluster of 13 large volcanic islands and many smaller islets, it was the inspiration for Charles Darwin's Theory of Evolution. Each island has its own distinctive landscape, and different wildlife to spot. From giant tortoises to tropical penguins, the animals are as curious about you as you are about them, allowing for a series of unique encounters with nature.
Because there really is nowhere like it, everyone wants to see it for themselves, and tourism is now tightly controlled to prevent the place getting overcrowded. Many parts of the Islands can only be accessed from small boats, while there are other areas where no-one is allowed to land or visit.
Navigating the rules and regulations can be nearly as daunting as navigating the ocean itself, but when you spot your first blue-footed boobie or snorkel with a group of playful sea lions, you will know it was worth putting in the effort.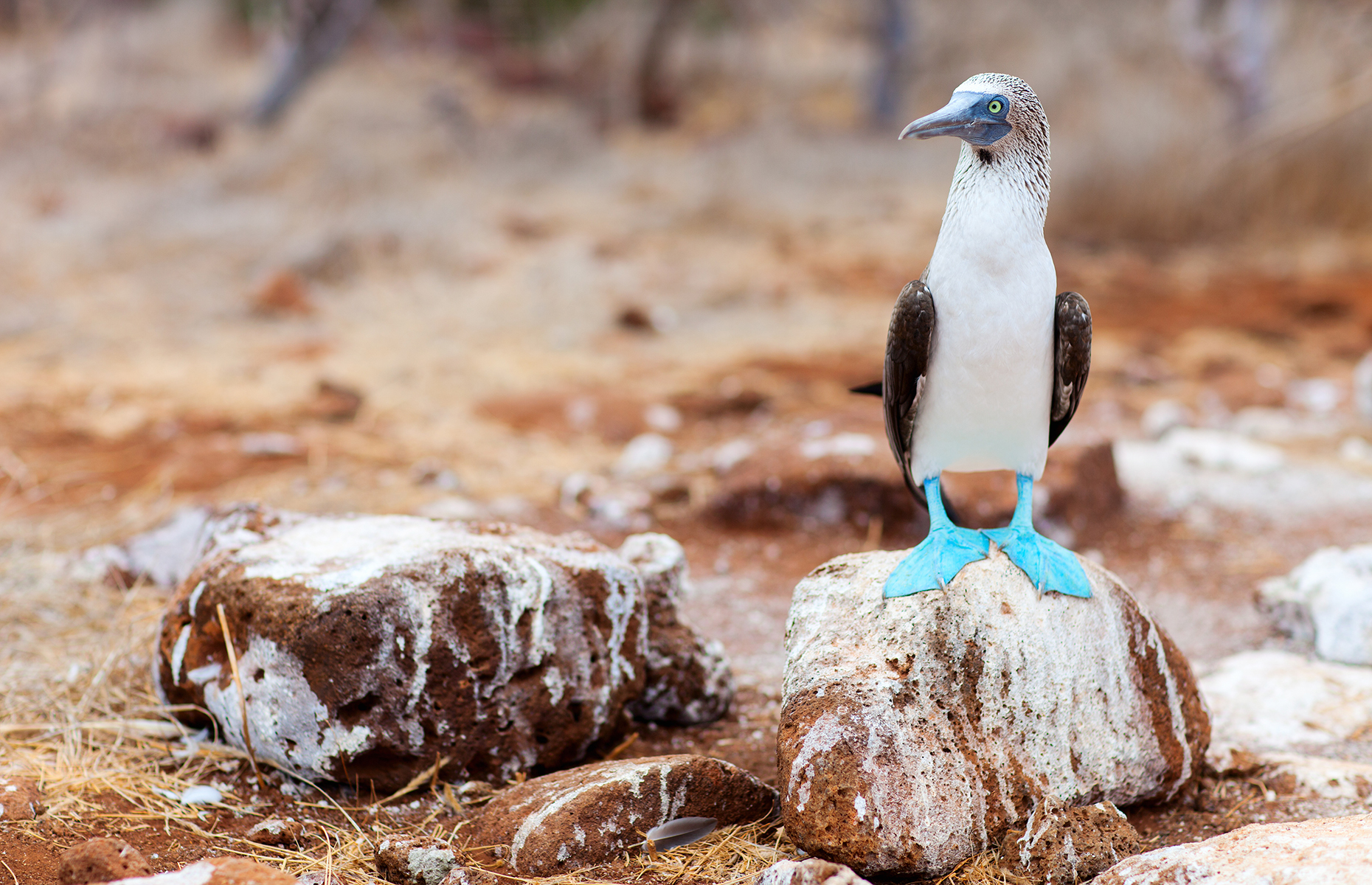 BlueOrange Studio/Shutterstock
Getting to the Galápagos on a budget
Just making your way to the Galápagos can be a budget-busting experience. Use these tips to make the trip as affordable as possible.
Flights
You'll need to fly from Quito – Ecuador's capital city – or Guayaquil, another large conurbation. The number of flights is strictly controlled and only three airlines – TAME, LATAM and Avianca – fly from Quito and Guayaquil to the Galápagos' two airports. Sign up for the newsletters for all three airlines in case of special offers or codes, though the Galápagos is so popular that there are seldom huge discounts.
If you want to see as much as possible, you might want to consider flying into one Galápagos airport and out of the other, saving making an extra intra-island trip and keeping costs down. The bigger airport is Baltra, on Santa Cruz island, but there is also an airport on San Cristóbal (Santo Baquerizo Moreno).
Entry charges
Remember to budget for two extra Galápagos costs. The first is a transit control card (TCC) that is only available at the airport, costing US$20 in cash (Ecuador uses the US dollar as currency). If you are on an expensive cruise someone will usually help you to obtain this, but independent travellers must join a long queue on the day. Get to the airport early, as it's frustratingly easy to miss your flight while stuck in the TCC queue.
Once you arrive in the Galápagos you have to pay again – there's a $100 entry tax for adults, or $50 for children. This seems steep, but effectively it is the entry fee to all of the wildlife attractions and museums on the islands, which are free for anyone to enter and beautifully maintained. The more you see, the better value this is.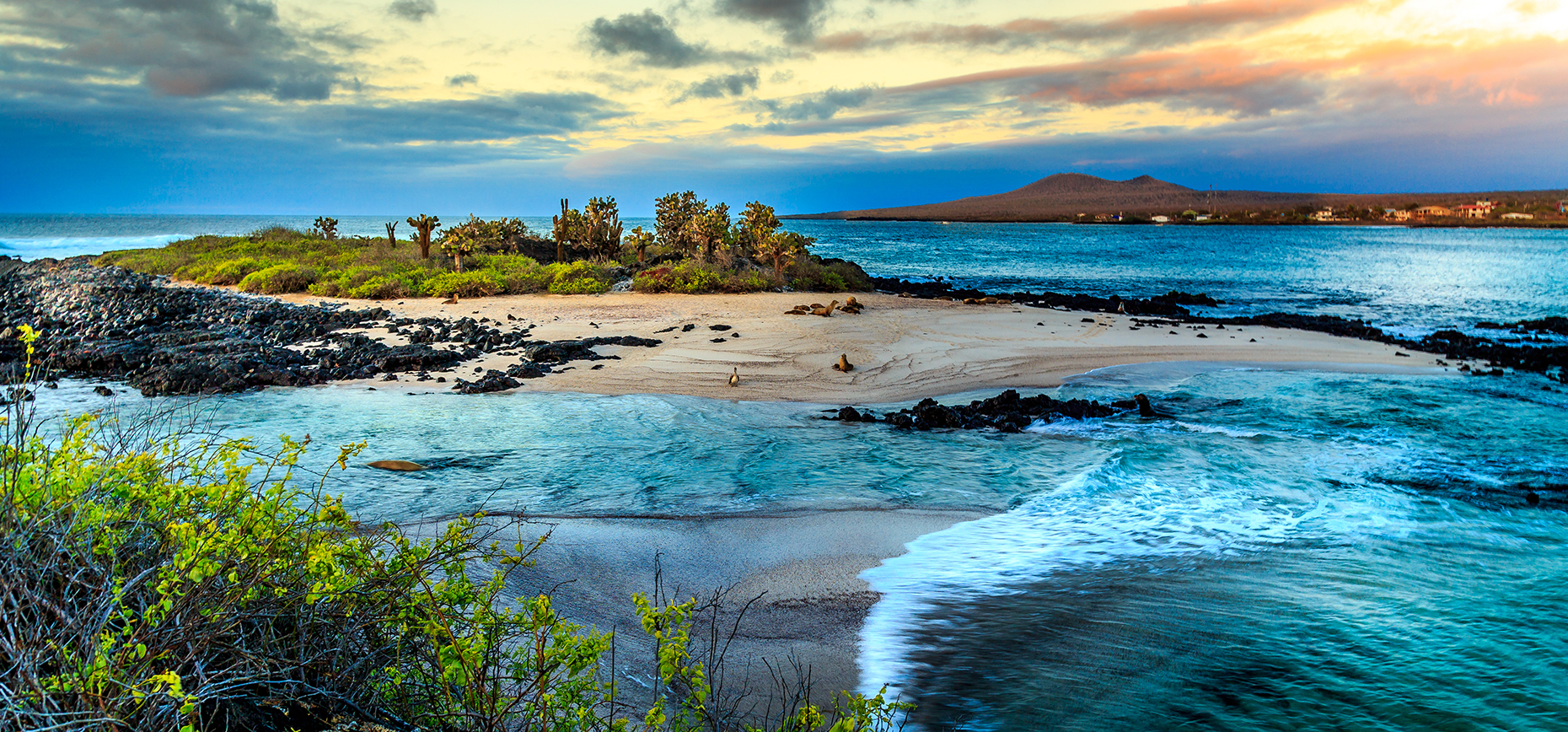 Rene Holtslag/Shutterstock
Free things to do in the Galápagos
The best way to experience the Galápagos on a budget is to make the most of the many free things to do in the archipelago. You don't have to take a day trip to see lots of the wildlife, as usually, no matter where you stay, it won't be far away.
You could top this off with a few well-chosen day trips (offered from all major islands) to see particular areas of interest if your budget allows. These include snorkelling and diving trips, and last minute deals are often available.
Here are just some of the free things to do on the three largest islands:
Isabela
Snorkel at Concha de Perla: Free snorkelling spot off the pier in Puerto Villamil where you might spot Galápagos penguins or turtles. You'll definitely see sea lions, and if you're not careful you might just find them sleeping on your beach towels.
Visit a Giant Tortoise Breeding Center: Also in Puerto Villamil, see giant tortoises up close and learn about the breeding programme at the Centro de Crianza Arnaldo Tupiza. The walk to the centre starts just by the Iguana Crossing Hotel and takes around twenty minutes along wooden walkways where you may spot flamingos.
Hike to the Wall of Tears: El Muro de Las Lagrimas was constructed from lava bricks by prisoners when the island was a penal colony. Spot flamingos, tortoises, sea lions and marine iguanas on the three-hour hike from Puerto Villamil, which is signposted and marked on the maps of the area posted along the trail. It's also possible to cycle the route, hiring a bike from the many hostels and shops in Puerto Villamil.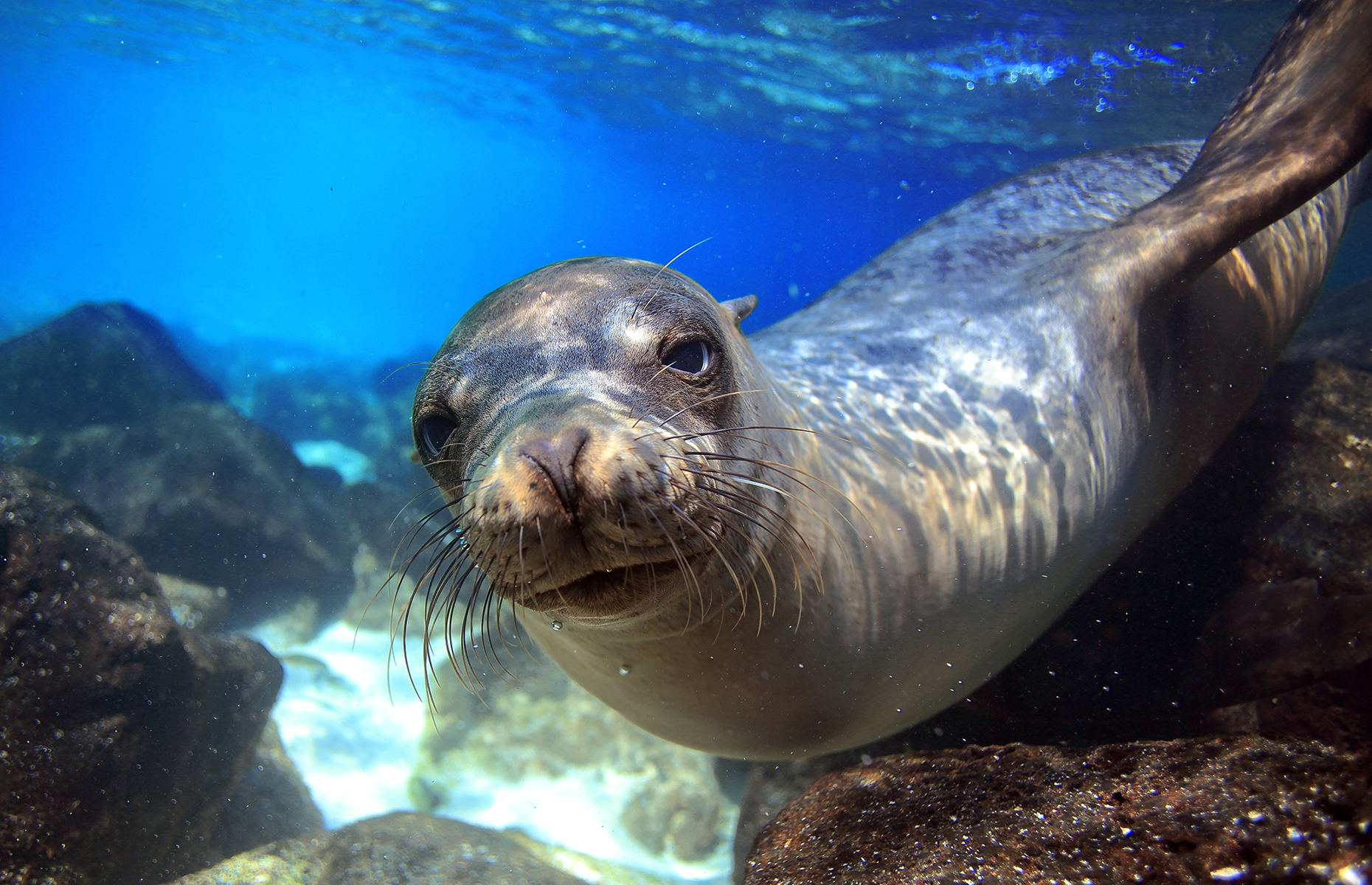 Longjourneys/Shutterstock
Santa Cruz
Haggle for fish at market: Stroll along the main road in Puerto Ayora to see sealions fight with customers for the best fish.
Snorkel at Las Grietas: A beautiful place for snorkelling between two sheer volcanic cliff faces (bring your own kit to save on rental). From Puerto Ayora, cross over to the other side of the harbour in a $1 speedboat taxi, and follow the signs to the Finch Bay hotel. With the ocean on your left and Finch Bay on your right, continue along a rocky wall until you find a path on the right that leads to the crevasses. It's a 15-minute walk and best to take closed shoes as the rocks can be jagged.
Get educated at the Charles Darwin Research Station: Located on the south side of the island, find out about conservation work on the Galápagos and let the kids have their photos taken inside a giant tortoise shell.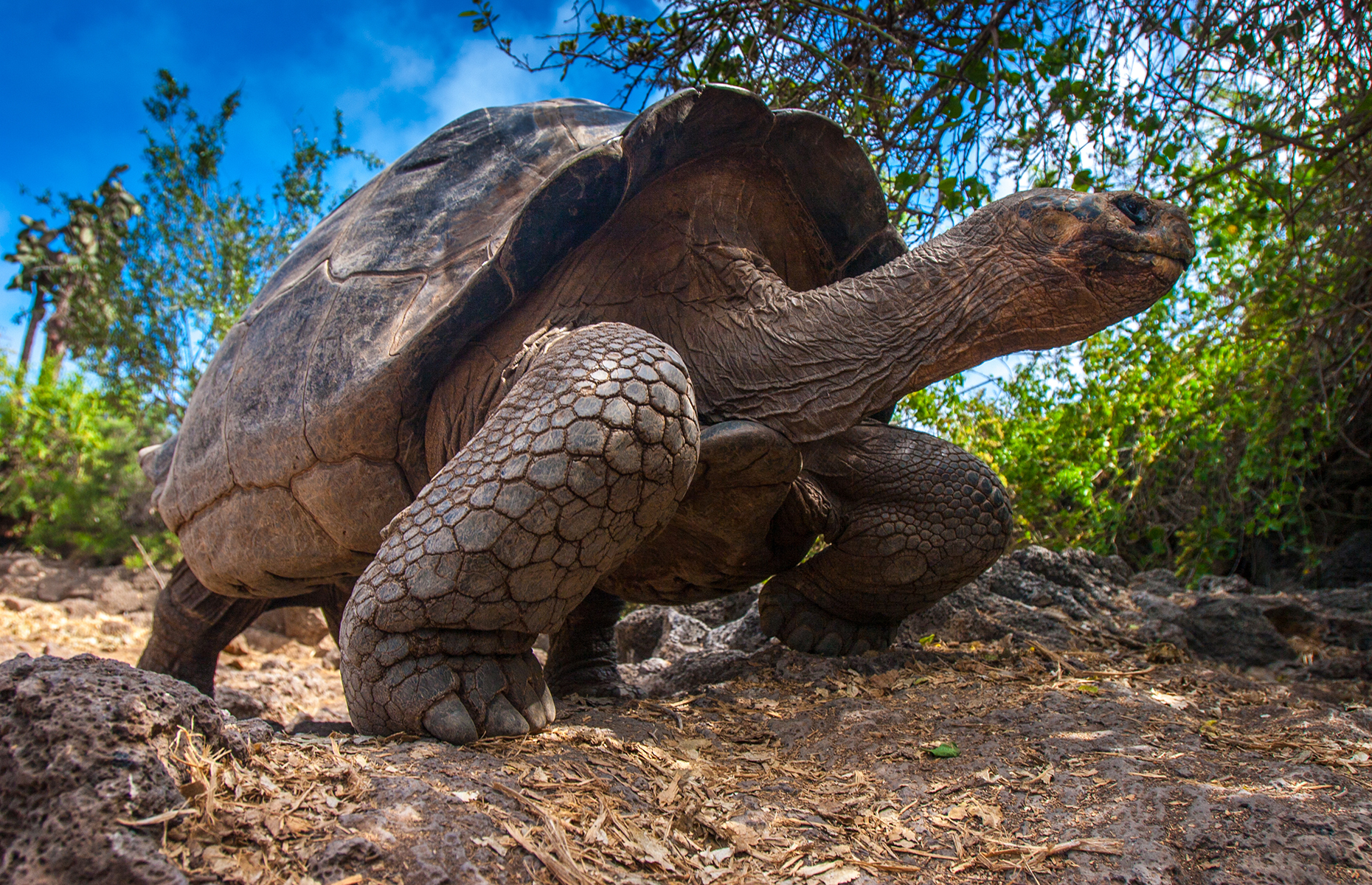 Grigory Ignatev/Shutterstock
San Cristóbal
Swim with seals La Loberia: Named for the sea lions who colonise this cove, this is a great place to swim and snorkel with the animals, who seem to enjoy human company, splashing swimmers with their flippers and playing hide and seek. You might also see marine turtles in the water and plenty of colourful fish. The beach is just a $3 taxi ride from Puerto Baquizero Moreno, or it is around a half an hour walk.
Meet giant tortoises La Galapaguera: You'll need to pay a taxi to take you here, costing about $15 from Puerto Baquizero Moreno, but admission is free to see the giant tortoises in semi-natural surroundings.
Birdwatch at Laguna el Junco: This freshwater lake in a volcano crater is brilliant for birdwatching, and you might just get a look at the giant frigate bird. The laguna is in the highlands of San Cristobal and tour agencies in Puerto Baquizero Moreno (the main town on San Cristobal) run tours here, though it's best combined with a trip to here with a trip to Galapaguera (above) if you rent a taxi for four or five hours.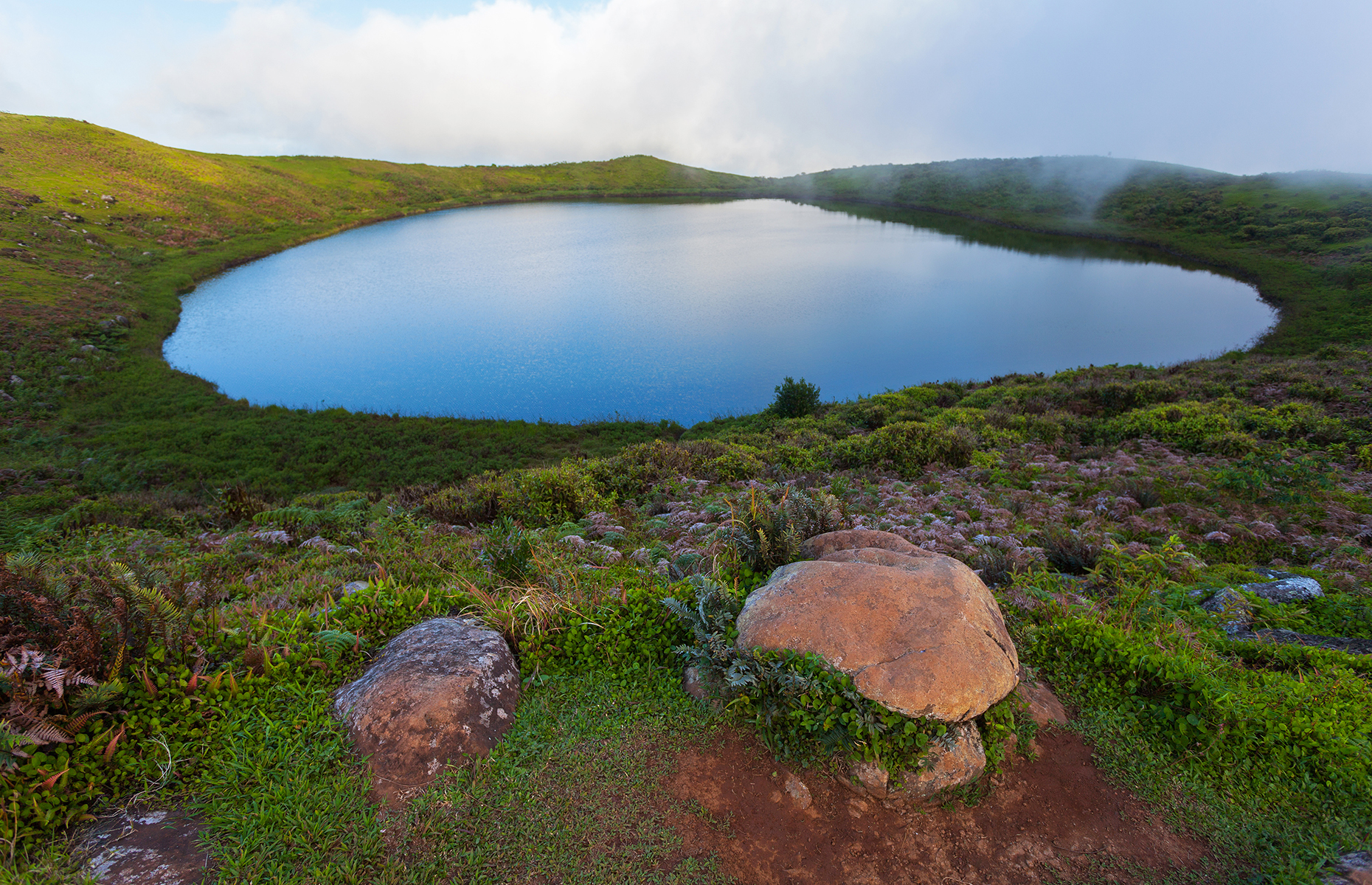 sunsinger/Shutterstock
Day trips worth the price
If you do want to get out and about, there are plenty of day trips worth investing in. Tour companies line the main streets of Puerto Baquizero Moreno, Puerto Villamil and Santa Cruz, and your accommodation may also offer excursions. Book late in the day and you may be able to haggle for a better price with some agencies, many of which offer the same tours.
From Isabela
Go birdwartching on Isla Tortuga
This 30-minute trip to a tortoise-shaped island is a nesting location for frigate birds and the red-billed tropicbird among others. You won't be able to disembark but can take pictures from the boat. Don't forget binoculars.
Snorkel through lava tunnels
Take a trip out to one of the most unusual snorkelling sites in the Galápagos, where lava flows have created arches and tunnels that you can swim through. You'll likely see white-tipped sharks, sea turtles and diverse types of ray.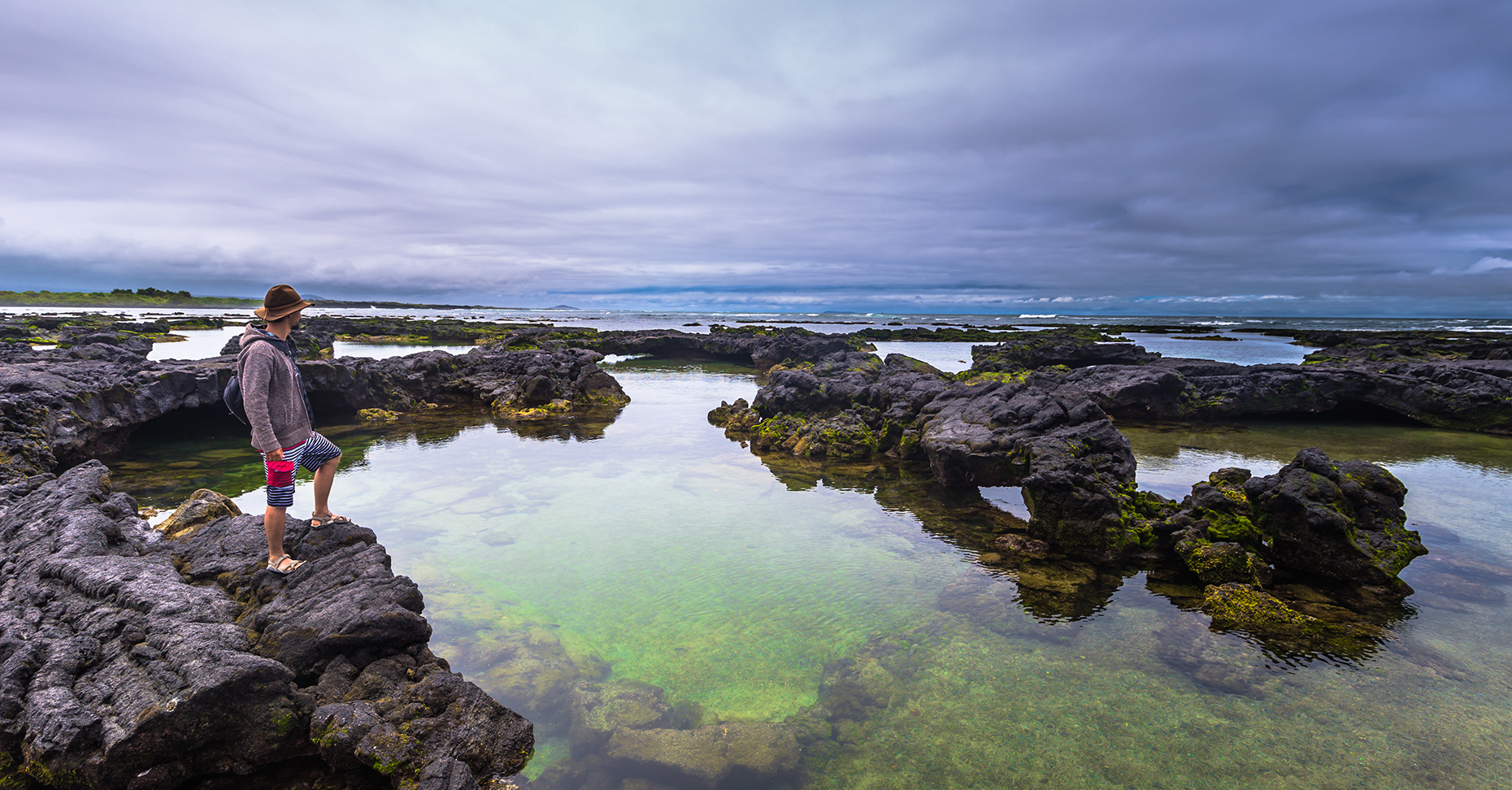 RPBaiao/Shutterstock
From Santa Cruz
Meet blue-footed boobies on North Seymour Island
Take a nature hike on this uninhabited island in the search for the Blue-footed boobie – one of the most famous Galápagos birds. Depending on the time of year you may be able to see the birds' mating rituals. These charming birds have no fear of humans.
Snorkel with penguins on Bartolomé Island
Hike to Pinnacle Rock and snorkel with Galápagos penguins, friendly sea lions, sea turtles and a huge variety of fish.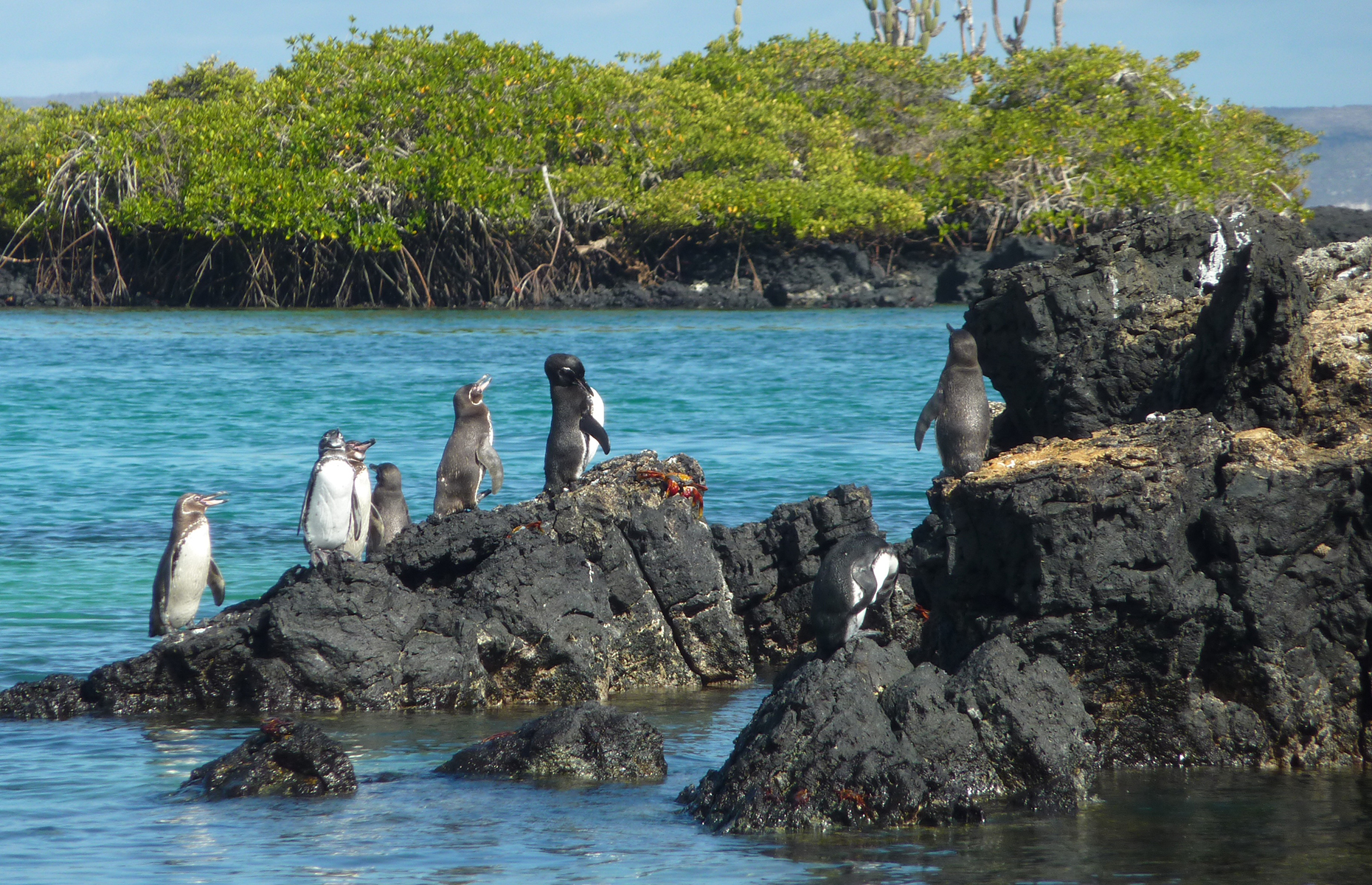 From San Cristóbal
See rare species on Espanola Island
Whale sightings are common on a cruise to this island, where you can also see the waved albatross and the green and red iguanas that only exist exist nowhere else in the world.
Snorkel with sharks at Kicker Rock
Also known as Leon Dormido (the sleeping lion), this volcanic cone is home to a huge variety of sealife. It's the snorkelling that draws people here, to see hammerhead sharks, spotted eagle rays and the rare Galápagos shark.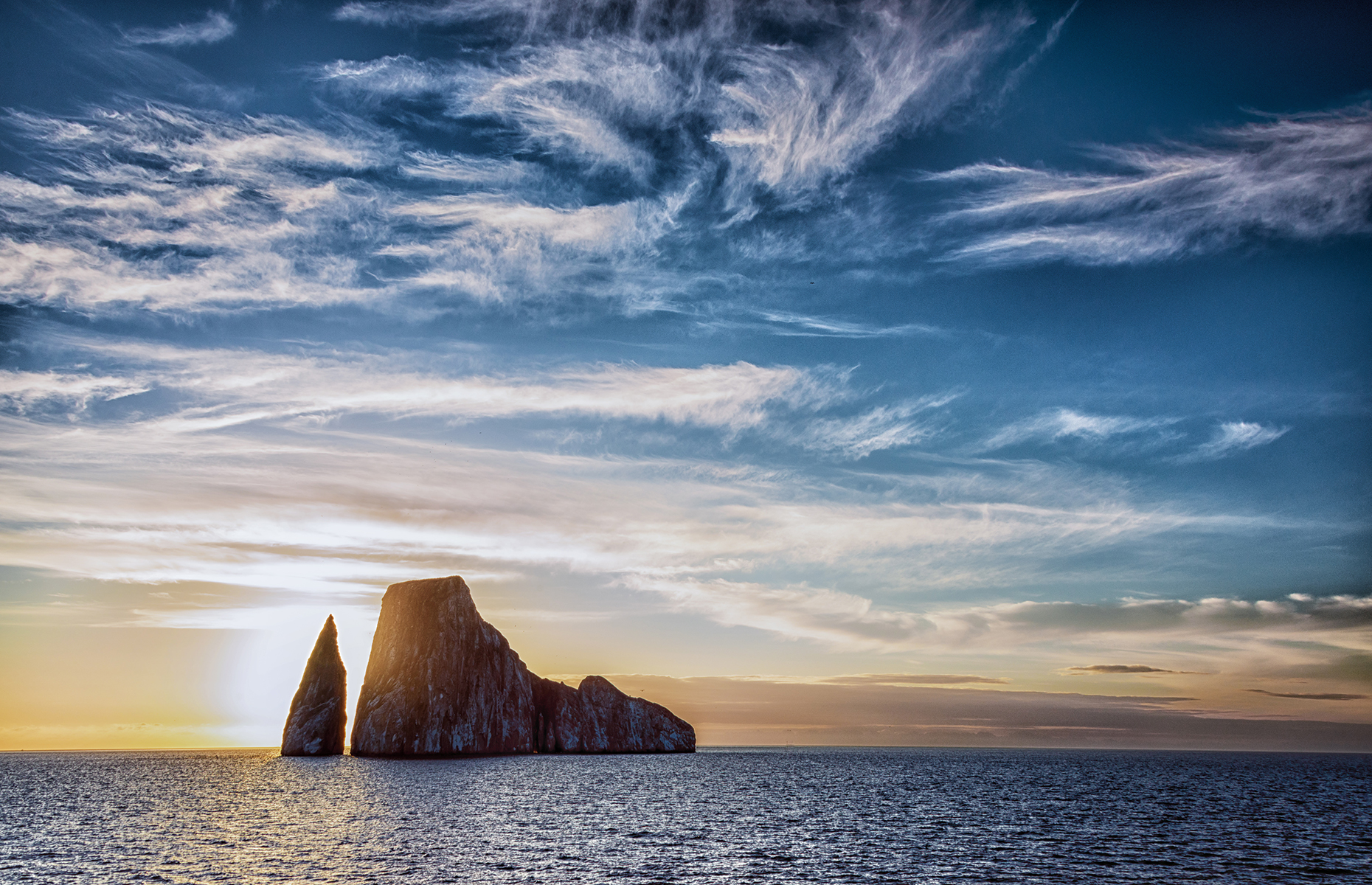 Kimberley Shavender/Shutterstock
Where to stay on the Galápagos Islands
There are four islands that non-supervised tourists can stay on: Islas Santa Cruz, San Cristóbal, Isabela and Floreana. The first three provide accommodation at most budget levels and (relatively) cheap places to eat. Keep costs down by choosing apartments or hostels with kitchens so you can cook your own meals.
Accommodation tends to be simple, but the views more than make up for it. Try the Drake Inn, on Isla Isabela, for £132 a night for a two-bedroom apartment with kitchen and a view of the giant iguanas crossing the road to the beach every morning. Casa Mabell on San Cristóbal has cheap and comfortable rooms or suites opposite a tasty local bakery and a few blocks from the pier for as little as £23 a night. Airbnb has the best selection of apartments, but Booking.com also has some excellent budget options.
Getting around the Galápagos
You can fly between the islands, but it is far cheaper to get a speedboat – the latter will cost you around $25 to $30 one-way, where as flying can be more than $150. Beware though, the sea can be rough so it is worth taking seasickness pills and choosing your seat on the boat carefully. Trips can take up to three hours. If you really can't stand it, the Emetebe flight company, has intra-island flights.
On the islands themselves, flag down a white pickup truck taxi or hire a bike to get around.
Be the first to comment
Do you want to comment on this article? You need to be signed in for this feature