Hong Kong: things to do, where to stay & insider tips
A city of islands packed with British and Asian influence – on Hong Kong island you have colonial-era buildings, banks, and cathedrals while on the mainland, Kowloon's mad, bustling streets serve up delicious and authentic Chinese food with all the chaos scooters, neon signs, and street-food stalls bring.
Introducing Hong Kong
A New York minute is a Hong Kong second, or so the saying goes. Few cities in the world offer as much as Hong Kong. With its edgy (and hidden) art scene, luxe shopping in Central, and hipster vibes in Sheung Wan, Hong Kong is a place where you can eat the best food in the world for a dollar, or sip a sparkling wine from a gleaming rooftop bar. Fast paced, and home to seven million locals and expats, it's a colourful, cultural enigma.
A city restricted by its island location, Hong Kong tends to grow upwards rather than outwards. Skyscrapers dominate Victoria Harbour, where the early 20th century Star Ferry chugs its way across the bay, proudly dominating the super yachts and container ships that continually encircle Hong Kong. The city's neighbourhoods are joined up by a super-fast metro system, which thankfully has air-conditioning – a true blessing in Hong Kong's humidity.
Essential things to do in Hong Kong
This is one of those cities where it's pleasure to spend a few days living it, rather than ticking off sites. Here are our favourite things to do in Hong Kong.
1. Take the Star Ferry across Hong Kong's harbour
Founded in 1888 as the Kowloon Ferry, this boat ride costs the equivalent of a dollar one way and gives you a panoramic view of Hong Kong Island's skyscrapers, crossing from Central to Tsim Sha Tsui. The boat is creakingly-old and open to the elements, but there's no better way to cross on a humid afternoon.
2. Summit Victoria Peak
Few cities have an actual mountain slap-bang in the middle of them. Hong Kong's Victoria Peak offers staggering views from the top and a breather of fresh air on a hazy day. Best of all, you don't even have to schlep up to the top on foot – hop on the wood-panelled Peak Tram and experience a near-vertical, spine-tingling ascent.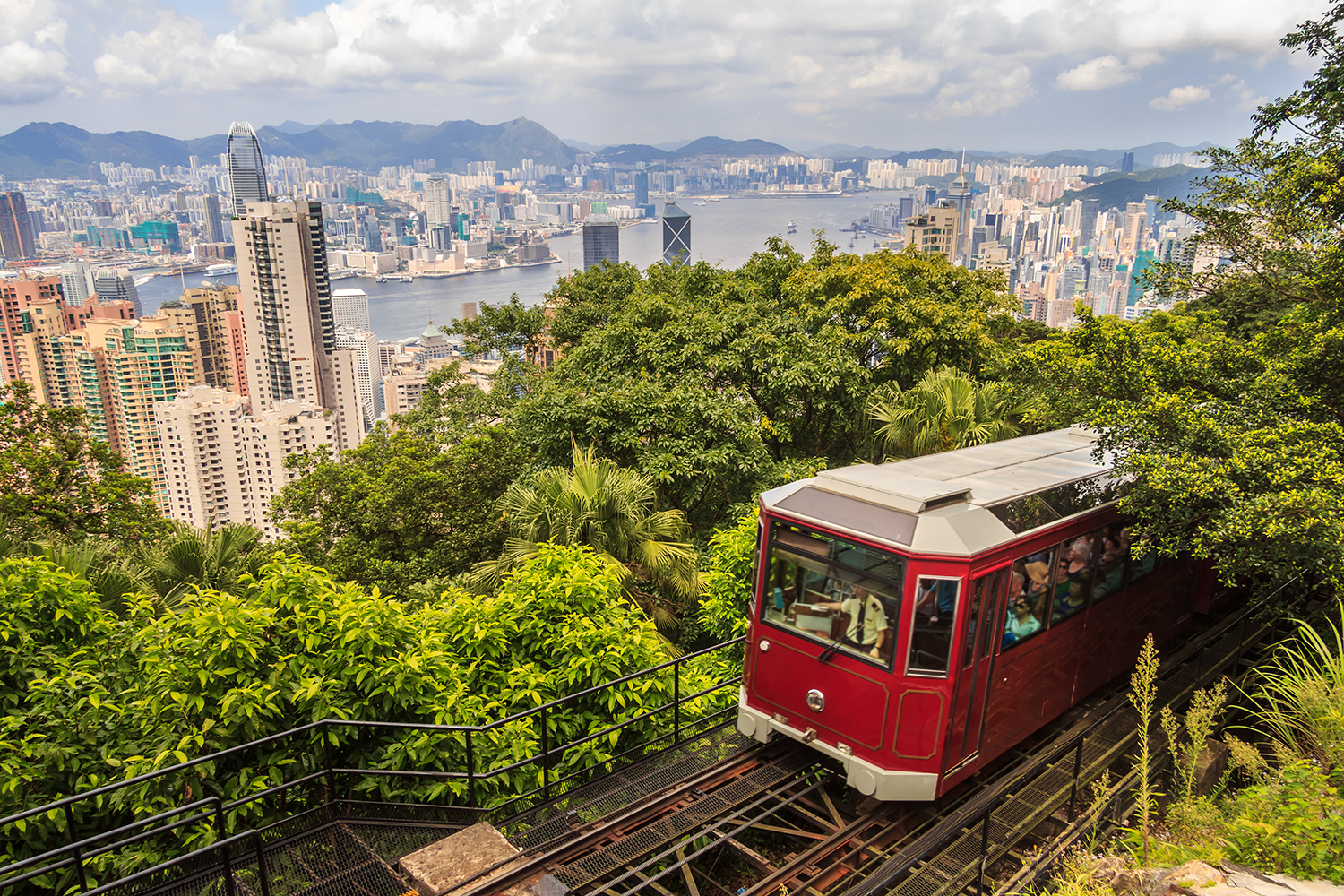 Ken Niphon/Shutterstock
3. Hit the street markets
Hong Kong lives outside because it swelters. For this reason, some of the best places to shop are at street markets. Try the Ladies Market for jewellery and clothes, or head to Kowloon to explore the Temple Street Night Market for the liveliest market in the city. It sells everything, and the neon lights flashing above it will put you in an all-night mood as you slurp Kau Kee beef brisket noodles. When you've finished eating, shop for trinkets along Man Ming Lane.
4. Eat Dim Sum
If you don't like dim sum, you're in the wrong city. Vats of dumplings steam, bubble, and fry wherever you look. Hong Kong is the cheapest place in the world to grab a Michelin-star meal – Tim Ho Wan has 12 locations across Hong Kong but North Point, Sham Sui Po, and Tai Kwok Sui are the only places that have made it onto the Michelin list. There are always queues, so take pre-snack snacks!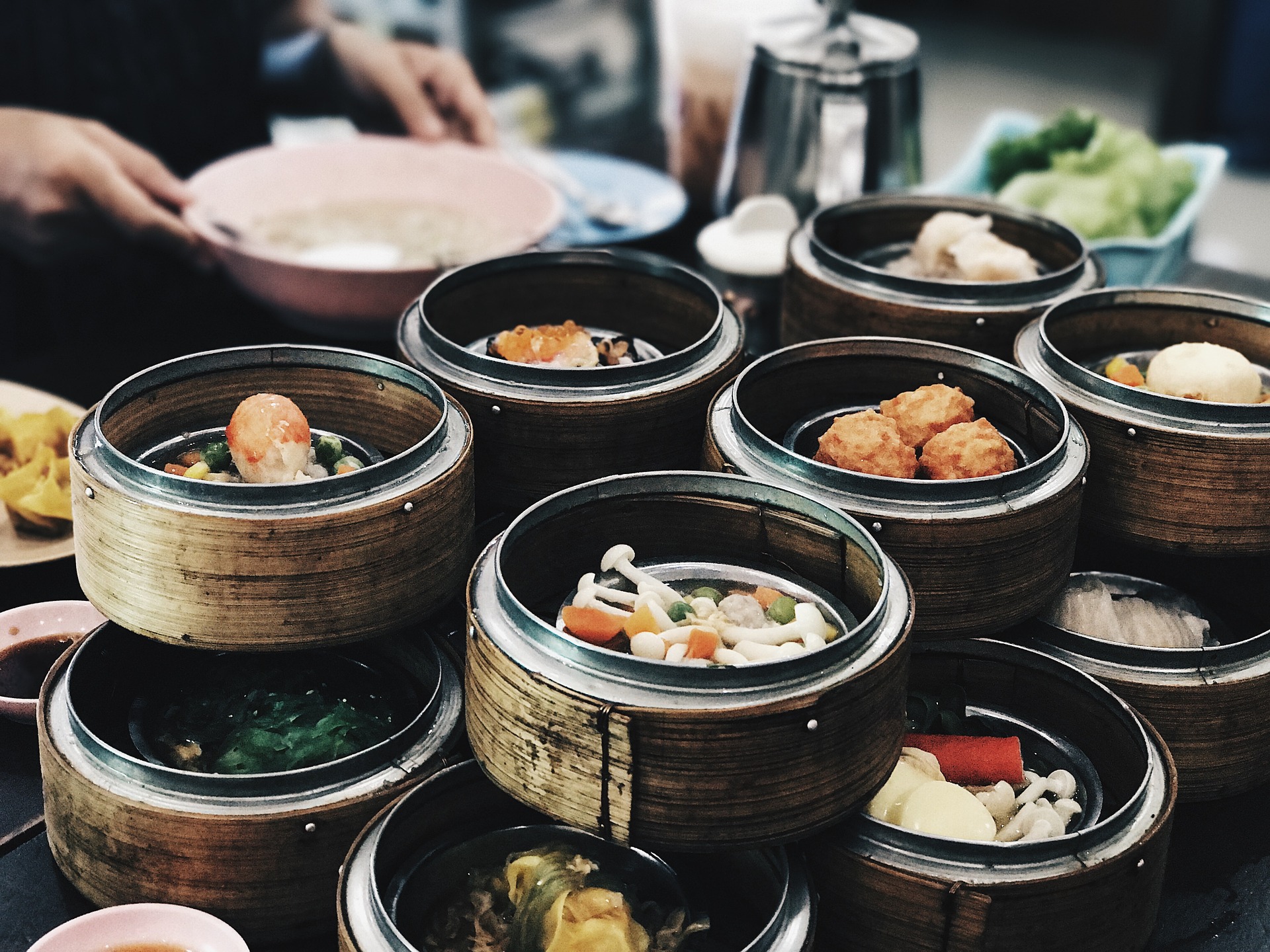 5. Drink on a rooftop
Although this isn't unique to Hong Kong, thanks to the spectacular views from pretty much everywhere, it's still one of the best things to do. The Ozone Bar at the Ritz Carlton was made for glamorous cocktails and bragging rights – the highest bar in the world offers views over Victoria Harbour and the glittering skyscrapers beyond. EAST serves up a slice of the spectacular on Hong Kong Island, offering a view of the island's curve, and the perfect place to cool down with an icy G&T after a clammy day.
Alternative things to do in Hong Kong
1. Escape to Lantau Island
Lantau is perfect for when you need to walk off all those dumplings. Hong Kong has 263 islands, and Lantau is the largest. It's home to Disneyland, but the biggest Buddha in Hong Kong is really the star of the show. At 111 feet, the Buddha is tucked away in the mountains, part of the sprawling Po Lin monastery. Go if you have a few extra days in Hong Kong and need to escape the city.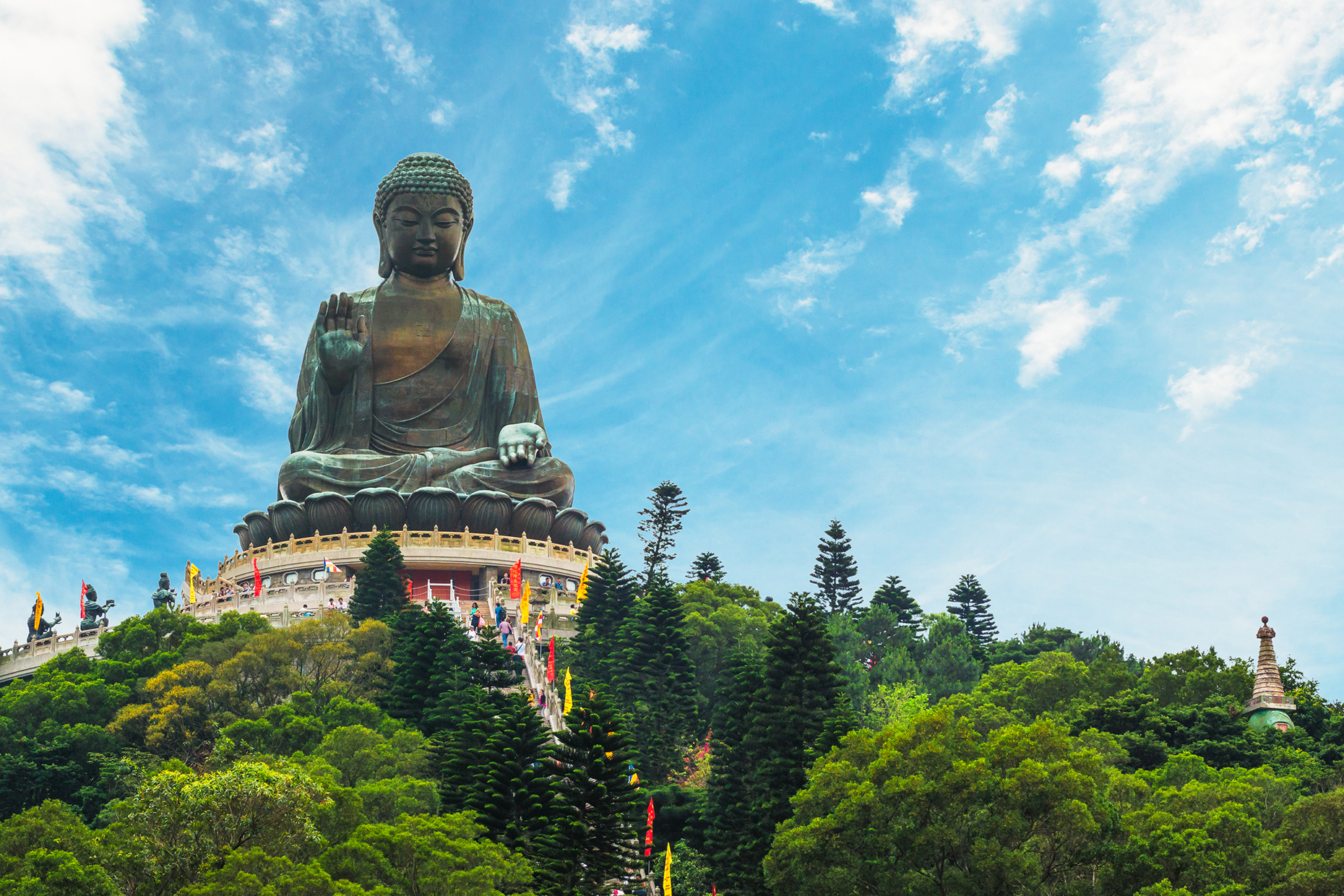 Vincent St Thomas/Shutterstock
2. Put your bets on at Happy Valley Racecourse
Throughout winter locals and expats head to Happy Valley on Wednesday evenings to place bets, get their fancy-dress game on, drink, eat, and generally hang out at this 150-year-old horse racing track in the heart of Hong Kong island.
3. Wong Chuk Han
Few tourists go, but now the South Line has opened, Hong Kongers have no excuse not to zip over to this incredibly cool little neighbourhood, home to Green Curry House (go for the best Thai food in the city), art galleries in industrial warehouse conversions (try the Charbon Art Space), and plenty of boutiques and quirky furniture shops (check out Mirth).
4. Hike the Dragon's Back
An easy walk in the south of Hong Kong island, it spoils visitors with views over the city, and showcases the hidden, quieter side to the island. Stop for a drink or seafood splurge at Shek-O beach and watch the sunset.
5. Take afternoon tea without the queues
Every guidebook says having tea and scones at this Hong Kong stalwart is a must-do, but skip the enormous queues and head to Urban Park in Tsim Sha Tsui, in Kowloon, for beautifully presented sandwiches and cakes that look like dragonflies.
Insider travel tips
1. Get an Octopus card
Like an oyster card, the Octopus card can be used on all of Hong Kong's public transport systems, and $50 HK will be refunded when you hand it back in.
2. Catch spectacular sunsets
At the top of Victoria Peak, bypass the gift shops and head to the Peak Circle Walk. It's spectacular at sunset – the walk is paved and circles the summit, giving visitors epic views of misty islands across the bay. The path leads under sweet smelling trees, and when you've finished all the look-out points, you can take bus 15 back to Central.
Where to stay in Hong Kong
Splash out
Hotel Icon: With a ninth-floor outdoor pool, do laps while gazing at Hong Kong harbour from this Kowloon base. Doze off at night with the lights of Hong Kong Island twinkling in across the bay. This is a hotel that knows the view is its best feature, although its three restaurants have exciting menus too.
Mandarin Oriental: The spa of dreams, the flagship Mandarin Oriental is an indulgent choice in downtown Hong Kong. An indoor lap pool, a two-storied spa, and some of the most attentive service is the city, or perhaps the world.
The Upper House: One of Hong Kong's most exclusive offerings, the Upper House offers discretion, pure luxury, and a hidden nook to relax from the hectic pace of city life. Rooms are styled using stone, bamboo and wood, and all rooms have massive bathtubs to soak in and rain showers with a view of the city.
On a budget
Espace Elastique: Located on Lantau, this is a great base. It's not central, but an opportunity to explore alternative Hong Kong with nearby hiking trails, superlative seafood, and a connecting ferry to the bustle.
Hop Inn: At Hop Inn, rooms are designed by local artists with eclectic installations installed across walls. Located in Tsim Sha Tsui, this is a quiet find in a crazy, fun neighbourhood.
Tuve: The artiest hotel in town, this minimalist homage to cutting-edge Sweden design, offers soft beds, a bustling Tai Hang location, bluetooth speakers, and gourmet snacks. Edgy, refined, and fun.
The best restaurants in Hong Kong
For street food
Mak's Noodle could be the best place for shrimp Wonton in the city: the shrimp wonton are fresh, juicy, and served sizzling hot from energetic chefs. Curried fish balls are another of Hong Kong's famous snacks, and you can find them all over the city, served on skewers and easy to nibble on as you sight-see. Head to Mong Kok to find the iconic balls on Dundas square.
For Hong Kong specialities
You can't visit Hong Kong without picking up a custard tart (or seven). The Tai Cheong Bakery is former Hong Kong Governor Chris Patten's favourite: eat hot and savour the creamy egg custard straight from the oven. For a true taste of Hong Kong, and Cantonese cuisine in general, order a whole suckling roast pig at Kimberley Chinese Restaurant, served with glutinous rice, and with crispy skin from being cooked over an open flame.
For brunch
Around a tenth of Hong Kong's population are expats, and until 1997 it was under British rule so Western food is always available. Brunch is typically in vogue. Try Ozone at the Ritz for unlimited brunch with free-flowing Dom Perignon – it's pricey, but with the best views in the city. Catalunya's sunday brunch serves unlimited churros and a live DJ while you eat – perfect for a break from Asian food.
Day trips from Hong Kong
1. Shenzhen
If you're close to China, why not go there for a day trip? Shenzhen is the underappreciated border city between Hong Kong's new territories and China. Go for ridiculously cheap shopping opportunities on Dongmen Pedestrian Street, and try the Wupi duck porridge, a Shenzhen speciality.
2. Sai Kau
Want tropical, white beaches, pillowy day beds, and juicy fresh seafood? You got it. Sai Kau Island is the sixth largest island in Hong Kong and home to golf courses, staggeringly high cliffs, and laid-back surfers.
3. Macau
Gambling capital of Asia, and home to a city with a strikingly pretty Portuguese-style colonial centre, visit for the city's famous egg custard tarts, charming cobbled Coloane, the magnificent ruined front of St Paul's Church, and a trip to the Guia Lighthouse. Macau is just an hour away by fast ferry.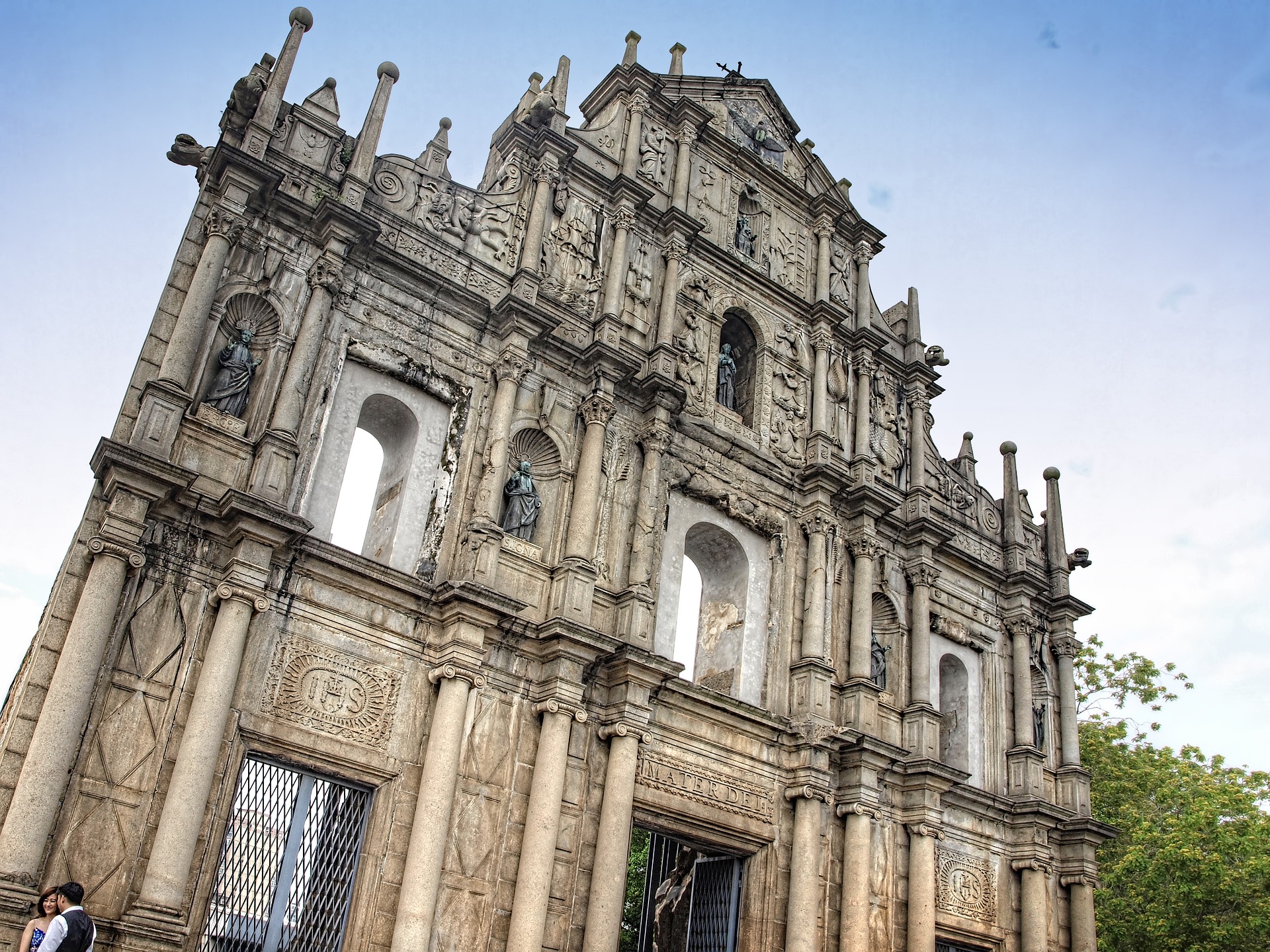 When to go & how to get there
October to early December is the best time to visit Hong Kong as it's sunny and dry during those months. Best of all, humidity is low, so it won't be achingly sweaty. Expect typhoons between May and October, which are severe enough to ground flights. It's coolest between January and February – temperatures can drop to as low as 10°C, but it's also driest then.
Getting there
Hong Kong is an international hub for Cathay Pacific, while all the Gulf Airlines like Emirates, Qatar and Etihad fly to the city. British Airways and Qantas have direct flights, and there are plenty of smaller low cost airlines like Air Asia servicing the region. The airport express train will have you at Central in just 20 minutes.
Be the first to comment
Do you want to comment on this article? You need to be signed in for this feature