A travellers' guide to the Wimbledon Championships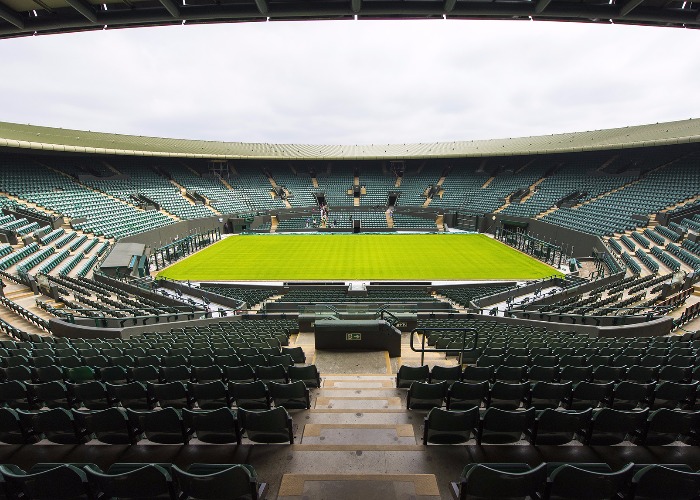 Everything you need to know if you're planning a trip to the tennis championships
Introducing Wimbledon
This little corner of suburban London is a mostly residential affair, except for the two weeks in June and July when the world's favourite tennis tournament takes over.
Tens of thousands of people flock to Wimbledon and the surrounding areas to watch the likes of the Williams sisters, Andy Murray, Novak Djokovic and Maria Sharapova compete in the Wimbledon Tennis Championships.
If you're going to Wimbledon this summer, here's our guide on the best restaurants, things to do and hotels in Wimbledon and around.
Where is the All England Lawn Tennis Club?
Rather deceivingly, the All England Lawn Tennis Club isn't actually in Wimbledon – the area of southwest London that's eponymously associated with the tournament.
The nearest London Underground station is Southfields, a short ride on the District line northbound from Wimbledon proper. If you're staying in Wimbledon, there regular are tubes and buses to the stadium. Southfields is also served by a few buses which pass through larger towns, such as the 156 (Vauxhall, Clapham Junction, Wandsworth), the 493 (Richmond) and the 39 (Putney).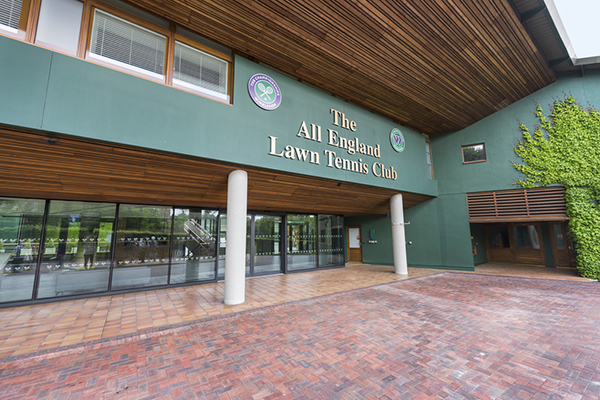 Yuri Turkov/Shutterstock
How do I get tickets for the Wimbledon Tennis Championships?
The vast majority of tickets for the championships are handed out much earlier in the year after a postal ballot. If you missed that boat, you can join "The Queue" that forms each day in hope of getting last-minute allocations. You'll need to arrive early and expect to wait in line for at least a few hours (some even camp overnight). There's a great guide to getting Wimbledon tickets on our sister site, loveMONEY.
Where can I stock up on strawberries for the match?
The quintessential Wimbledon food, strawberries are expensive within the grounds so head to the green grocer on Replingham Road (a few minutes' walk from Southfields tube station) where they'll be a fraction of the price.
What if I can't get tickets?
Fear not: there's plenty of atmosphere in the many pubs nearby that show the games (The Old Fields is the closest), and in Wimbledon town centre there's always a giant screen set up with deckchairs so you can watch the action live. Time Out list all the outdoor screens around the city here.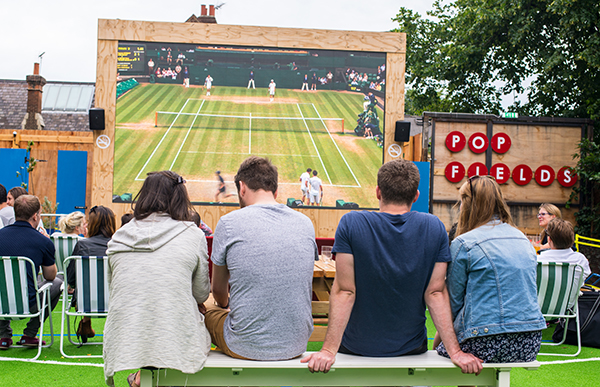 DrimaFilm/Shutterstock
Where are the best restaurants in Wimbledon?
When you've had your fill of flying green balls and a few Pimms too many, you won't be short for places to soak up all that daytime drinking. There's a huge variety of food on offer in Wimbledon and around, but you'll want to plan ahead if you want to eat nearby. Here are the best restaurants in Wimbledon and the surrounding areas for your post-match refuel:
Southfields (closest to the tennis)
For Middle Eastern mezze: A tiny bolthole on the Replingham Road in Southfields, a dinner at Bosa Kitchen is bound to soak up any squiffiness. There are succulent kebabs, good quality marinated chicken and zesty salads to dig into after the day's tennis. Plus, it's BYOB (though there's a small corkage fee).
For a gastropub with real ales: There are a few pubs in Southfields, but avoid Greene King chain The Old Fields on Replingham Road and wander further on and around the corner to The Earl Spencer on Merton Road. This gastropub has won awards for its beers and food and is a cosy place to retreat to after a long day.
Wimbledon Town Centre
For stylish summer vibes: New for 2018, 601 Queens Rd is all about al fresco drinking on the balcony overlooking the town centre and small plates sharing in the light-filled restaurant. The menu is vast, but don't be tempted by the main courses – the small plates are the highlight here. The halloumi skewers in flatbread are exceptional, and don't miss the perfectly flavoured crostini – we love the fennel salami and mackerel ones. The tennis will be broadcast throughout the tournament at the back of the restaurant.
For great post-match atmosphere: Probably the best pub in Wimbledon, The Old Frizzle is a bit of a Tardis. There's a bar/restaurant area at the front where you can devour dishes from their varied menu (the vegetarian selection is superb, too – have the falafel to start), and a huge bar area round the back with huge screens mounted so high you're guaranteed a good view wherever you sit.
For a vegetarian feast: Lu-Ma Café is a haven for vegetarians and vegans. They've got healthy comfort food by way of veg fritters, bean burgers and curries, as well as moreish cakes and pastries – many of which are made without a trace of dairy. Usually only open until 5.30pm, the Lu-Ma will be staying open late just for Wimbledon this year (Mon-Weds, 7am–5.30pm; Thurs-Sat open until 10pm; Sun 8am–5.30pm).
For high-end Japanese: There are a number of Japanese restaurants in Wimbledon, but the star of the show is Takahashi, which is actually located a little out of town, closer to South Wimbledon tube station (take the 131, 96 or 219 buses to Merton Road). Book ahead, as this tiny bolthole only has a handful of tables. It's well worth the extra effort: sushi, sashimi and more is expertly made by ex-Nobu chef Nobuhisa Takahashi in a minimalist setting.
Wimbledon Village
For good pub grub: The Dog and Fox has a large restaurant and bar, and the menu has all the old favourites from burgers to fish and chips. They also have modern, stylish rooms, should you want to overnight.
For something swankier: The Ivy Cafe is a stylish brasserie and the more affordable offspring of the famou Ivy restaurant in central London. It has a small outdoor patio and light, airy interior, and a varied and extensive menu.
Map of Wimbledon
We've pinned all the best restaurants and hotels in Wimbledon on this map to help you plan your trip:
Which are the best hotels in Wimbledon?
Hotels in Wimbledon get booked up quickly for the weeks during the tennis championships, so be sure to plan ahead if you've got tickets. There are plenty of hotels in Wimbledon town and the village, but for the best deals and rooms it might pay to look a little further out. Here are a few of our favourites near and a little further away from the action.
A beautiful retreat: The Hotel du Vin in Wimbledon village backs onto Cannizaro Park, so if you want somewhere to retreat to after a busy day, head here. The park has 34 acres of natural beauty, with ponds, an Italian landscaped garden and an aviary to explore, and the hotel' signature Bistro overlooks the gently sloping lawns.
For a budget stay: Located right next to Colliers Wood tube station, the Holiday Inn Express is both convenient and affordable. If you're travelling on a budget, this is your best bet for a reliable and cheap stay.
For an independent hotel: The largest independent hotel in Wimbledon, the Antoinette doesn't looks so special from the outside, but rooms are tastefully decorated and the staff are helpful and friendly.
Stay central: If you want to be closer to central London but still within reach of the tournament, The Dorsett in Shepherds Bush offers a sublime stay just a five minute walk from the enormous Westfield shopping centre and around 30 minutes by tube from the tennis club. All the rooms are wonderfully light, and their reasonably-priced suites (from around £200 per night) have a separate lounge area and come with a smartphone, loaded with free calls and data, which you can take out and about to help you get around London.
A stylish sleep: Just a 20-minute train journey from Wimbledon station, the Hilton Doubletree Kingston makes for a convenient base. The rooms are sleek and modern, with USB ports next to the beds for charging, the restaurant is superb and you get the famous Doubletree cookie on check-in – what's not to like?
Are there other things to do in Wimbledon?
This area of London doesn't exactly have tourist attractions, but if you do want to explore further there are a few pleasant things to do in Wimbledon. There's the Windmill Museum on Wimbledon Common which makes for an interesting afternoon out, and nearby Richmond Park (complete with deer). A little further afield (take the tram to Phipps Bridge) is Morden Hall Park, which has its own mills, a garden centre, café and gallery.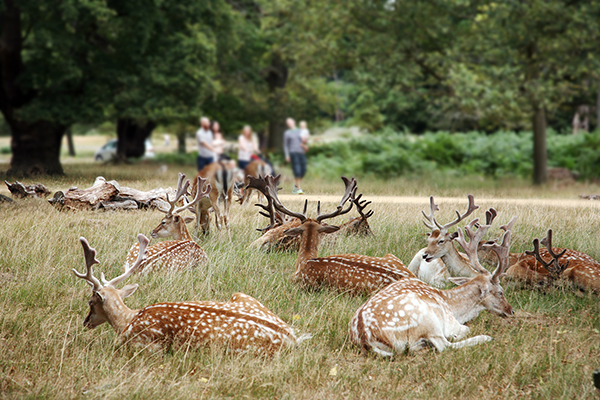 Bikeworldtravel/Shutterstock
There's also Hampton Court Palace, a 16th-century palace once owned by Henry VIII, which is just 30 minutes by train, and has a whole host of attractions within the grounds, including a Magic Garden for kids and tours of the palace interiors.
If you fancy heading into central London, check out our full London guide here.
Be the first to comment
Do you want to comment on this article? You need to be signed in for this feature