Explore Tokyo: what to do, where to eat and sleep
Experience traditional hospitality, shop for luxury goods, gaze across an endless sea of skyscrapers, and get a great bowl of noodles at midnight. Here's our guide on what to do in Tokyo, plus best places to sleep and eat, whatever your budget.
Introducing Tokyo
Tokyo is a microcosm of Japan, where the hypermodern sits easily alongside the traditional, and the key to its charm lies in how gracefully it manages that balancing act.
You can spend the morning in quiet contemplation at an ancient zen temple, marvel at the city's secular shrines to globalisation and modernity – its gleaming skyscrapers and luxury shopping districts – in the afternoon, then while away your evening in a tiny izakaya (Japanese-style pub) in a tumbledown wooden building.
All this, while enjoying some of the world's best food, most efficient public transport and warmest hospitality.
5 essential things to do in Toyko
1. Get sensory overload in Harajuku
No trip to Tokyo is complete without a visit to Harajuku's famous Takeshita-dori, a tiny street teeming with Tokyo's most oddly dressed teens. Getting from one end to the other can be a battle, but you're guaranteed a glimpse into most of Tokyo's subcultures, and souvenir stops range from cheap-and-cheerful hundred-yen shops to boutiques selling handmade gothic lolita gear.
Recuperate afterwards with a stroll around the enormous Yoyogi Park, home of Meiji Jingu, the venerable shrine dedicated to Emperor Meiji and Empress Shoken.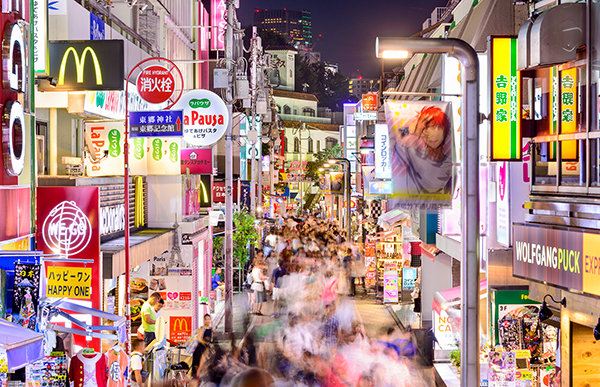 Harajuku/Sean Pavone/Shutterstock
2. Look over the city lights from the Park Hyatt
Staying at Shinjuku's Park Hyatt hotel is beyond most budgets, but non-guests can still make use of the (also eye-wateringly expensive) 52nd-floor New York Bar. The view is epic – try to arrive for sunset and stay to watch the city light up after dusk.
3. Explore old Tokyo at Senso-ji
In the ancient, earthy Asakusa district is Tokyo's most iconic temple, Senso-ji, entered through the huge Kaminarimon, or "thunder and lightning gate", where an enormous red lantern hangs. The gate is flanked by imposing statues of the Shintō deities Fujin and Raijin (though Senso-ji is Buddhist, Japan has a syncretic tradition) and followed by a bustling parade of market stalls and small shops. Pick up religious trinkets or traditional crafts here before heading into the main hall, purifying yourself with incense on the way, and admiring the intricate five-storey pagoda.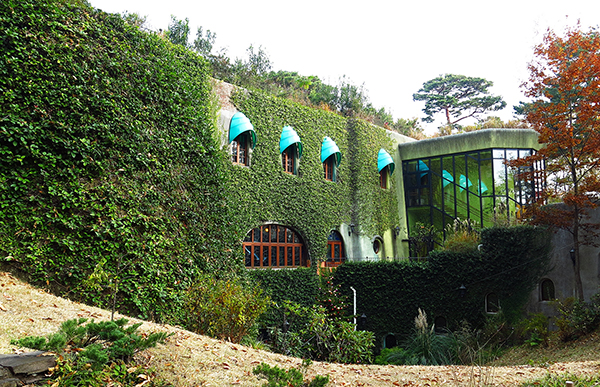 Ghibli Museum/PATCHAYA BURANCHANTRA/Shutterstock
4. Tour the city's museums and galleries
Tokyo is crammed with museums and galleries, from the big-hitters of the Roppongi Art Triangle to avant-garde spaces such as Design Festa and 3331 Arts Chiyoda. There are only-in-Japan experiences all over the city, with the Nezu Museum exploring the history of Asian art in a stunning Kuma Kengo-designed building, the Miraikan ("Future Museum") looking ahead and showcasing the county's startling technological achievements.
The Ghibli Museum takesyou to a different world altogether – inside the mind and creations of visionary animator and director Miyazaki Hayao.
5. Watch the giants at the National Sumo Stadium
If you're visiting Tokyo in January, May or September, be sure to watch a match at Ryogoku's National Sumo Stadium. Go in the morning and you might be able to sneak nearer the ring to watch the lower-ranking wrestlers; the stadium slowly fills throughout the day, in the lead-up to the more famous rikishi's fights. When the time comes for the final bout of the day, the atmosphere is frenzied, the crowd roaring, the wrestlers stamping and throwing salt around and finally, thrillingly, clashing. You won't forget it in a hurry.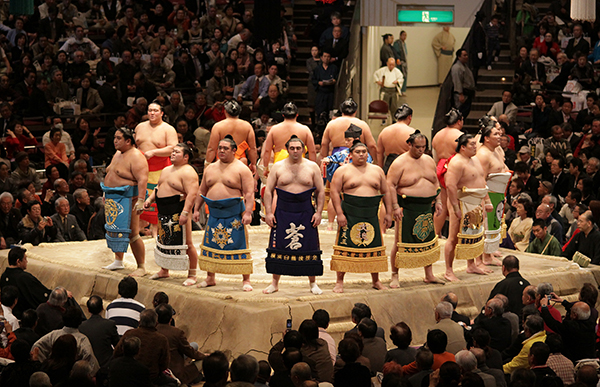 Sumo stadium/J Henning Buchholz/Shutterstock
3 alternative Tokyo highlights
1. Hang out with hipsters in Shimokitazawa
Shimokita is low on specific sights, which means it's left off most tourist itineraries, but it's actually one of the best places to get a sense of true Tokyo neighbourhood life. Just wander around, enjoy the fascinating streetlife, and duck into whichever places take your fancy; you may stumble on the next big designer, an innovative new chef, or a club night in the back room of a café.
2. Leave the city at the Institute for Nature Study
If you really want to see the ancient side of Tokyo, there's only one place to do it, and it isn't at a shrine or in a beautifully manicured garden. Before the city was even thought of, this area was a marshy, thickly forested landscape, and at the Institute for Nature Study they've managed to preserve a small slice of it. It's not found its way only the tourist trail yet, which means it really is a calming, quiet retreat, right in the heart of the city.
3. Be surprised by St Mary's Cathedral
Tokyo's most arresting religious building isn't Buddhist or Shintō – it's Catholic. Designed by Tange Kenzo, the startling modernist cathedral rises out of a pedestrian neighbourhood in Bunkyo-ku, completely incongruous but utterly serene. The metallic exterior contrasts with the cool, dark concrete interior, sliced through with lines of light from the windows, forming the shape of the cross.
This beautiful and affecting place is rarely visited by tourists, because it's a little way out of the centre; combine it with a relaxing walk through the Japanese gardens at Chinzan-so and a ride on the Toden-Arakawa tram line, though, and you've got more than enough reason to head out here for an afternoon.
Map of Tokyo
We've pinned all our favourite Tokyo sights, places to eat and hotels on this interactive map:
Where to stay in Tokyo
Blow the budget:
1. For the view: On the 26th–32nd floors of the Shinagawa East One skyscraper, The Strings Intercontinental hotel offers great views, chic Japanese-influenced style, delicious Chinese cuisine, and friendly staff. It's luxurious without being pretentious, and is ideal if you want to take day-trips – Shinagawa station is right next door, with bullet trains to the Fuji area, Kyoto and Osaka as well as regular services to Yokohama and Kamakura.
2. For Japanese hospitality: Tokyo doesn't have many high-end traditional ryokan (Japanese inns), but it does have Hoshinoya. The hotel offers an inspired mix of the very best of Western boutique hotels and Japanese hospitality, with a hot spring, spa, traditional Japanese cuisine and activities such as tea ceremonies and fascinating "ancient map tours" of the area.
3. For extravagance: With a 108ft-long pool with floor-to-ceiling windows looking out over the city, huge bathtubs made from black volcanic rock in each room and a meditation garden in the lobby, Aman Tokyo goes above and beyond to provide an oasis of serenity right in the centre of the city – you certainly pay for it, but this is the ultimate luxury hotel in Tokyo.
Save some yen:
1. For tradition: One of the few remaining ryokan in Tokyo, Sukeroku-no-yado Sadachiyo is a welcoming, homely place. You'll sleep on a futon, laid out on your tatami-mat floor, and can further embrace tradition by bathing in the sento (communal baths), dressing in a yukata (cotton kimono) and dining on multi-course Japanese meals.
2. For budget chic: A surprisingly sleek and sophisticated take on the capsule hotel, Ginza Bay Hotel is right in the middle of the upmarket Ginza district. Thoughtful details like USB ports by the pillow and design touches like the Japanese print in the showers make this a cut above the usual capsule hotel.
3. For a backpacker haunt: Retrometro Backpackers is a warm, welcoming and relaxed hostel designed with care and attention to detail. There are just two dorms, one of which is women-only, so it never feels too crowded, and you'll have a real chance to get to know the staff and other guests.
Where to eat in Tokyo
1. For late-night bites: Head to Omoide Yokocho, or "memory alley", and take your pick of the tiny, tumbledown counters and cafés. Most are open until midnight, and they tend specialise in one dish or cuisine, so you're bound to find something you fancy. If you're on a night out in the north of the city, head to 24-hour Isomaru Suisan, an izakaya specialising in seafood and always crammed will locals.
2. For a kaiseki experience: For the ultimate experience of rarefied Japanese cuisine, it has to be Kagurazaka Ishikawa – the highly formalised multi-course meal is offset by warm, unstuffy hospitality. A slightly more accessible intro to kaiseki is found at Ginza Kappou Ukai, where the lunch courses are under 10,000¥. Try to get a seat at the counter, and admire the sleek decor and skilled chefs.
3. For café culture: Imasa in Ochanomizu is a perfect place to relax with green tea and a slice of cake, tucked away in a wooden building that's almost a century old. If you'd rather relax with coffee and cats, try Calico, one of Tokyo's famous cat cafés, but a bit calmer than most. No kids are allowed, there's plenty of room, and the food is actually pretty good – though in all honesty, it's never going to be the main draw.
Insider tips
1. Save your JR Pass: A lot of visitors to Japan invest in a Japan Rail Pass, and they can save you a lot of money. However, most of the Tokyo subway is run by other rail companies – hold off using the JR Pass until you're heading to Kyoto or Sendai, and just use a Suica or Pasmo card instead.
2. Get festive: Tokyo, just like any other Japanese town, is at its best during a matsuri (festival). All the best food is served then – takoyaki, ringo ame, yakitori, and the infamous choco-bananas – and you can't help but get into the spirit of things. Some of the best include New Year (at shrines and temples throughout the city), Jibeta Matsuri (a fertility festival), and Shichi-go-san, during which three-, five- and seven-year-olds in bright kimono are brought to shrines by their proud parents.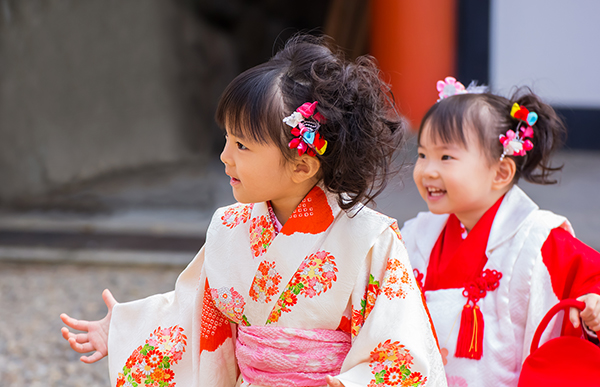 Children at Shichi-go-san/cowardlion/Shutterstock
3. Go on foot: Though Tokyo's transport system is excellent, the city is so huge you really can't get a sense of it on a human scale without walking. Wander the back streets and you'll stumble on local temples, specialist shops, ridiculously tiny bars and friendly locals who'll help you find your way out of the maze of narrow streets where you've happily lost yourself.
Tokyo day trips
1. Kamakura
Under an hour out of the city is this laidback seaside town, once the capital of Japan. People mostly come to see the Daibutsu, or Great Buddha, but there are plenty of other stunning temples and shrines scattered throughout the town, too. On the inland side Kamakura is surrounded by wooded hills, with excellent walking routes snaking over them, and out to sea is quiet little Enoshima – you'll feel a world away from Shinjuku.
2. Hakone
Mount Fuji itself is a little hard to visit in a day, especially if you want to climb it, but there are plenty of nearby places that offer stunning views of the famous volcano. Hakone is a great option; this onsen resort has been popular for centuries, for hiking, soaking in hot springs and marvelling at the mountain scenery. Make it a two-day visit if you can, so you can experience the resort's luxurious traditional ryokan. It's easily accessible from Tokyo – there are several routes, but none should take more than about two hours.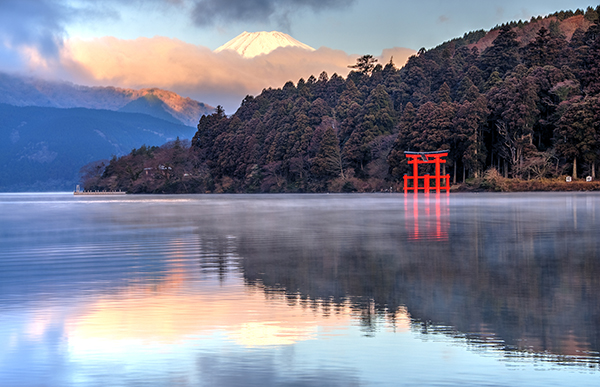 Hakone/Krishna.Wu/Shutterstock
3. Nikko
It may not even be 80 miles from Tokyo, but going to Nikkō feels like stepping back a few centuries. The big draw is Tosho-gu, an ornate shrine which holds the UNESCO-listed tomb of Tokugawa Ieyasu, founder of the Tokugawa shogunate (military government). Visit in Autumn if you can, when the trees around serene Lake Chuzenji turn red and gold, and Tosho-gu holds a festival with processions in historic clothing, and jaw-dropping displays of horseback archery.
When to go to Tokyo
As you'd expect from a country which makes so much fuss over the seasons, Japan is very different at different times of year. Tokyo follows a four-season pattern: oppressively hot and humid in summer; bitterly cold and often snowy in winter; and mild (though occasionally rainy) in spring and autumn. The latter two are probably the best times to visit, but each season has its charms.
You might also want to plan around seasonal events such as sakura (cherry blossoms) in March–April, koyo (autumn colours) around November, and various matsuri throughout the year. The main holidays are Golden Week in April/May, Obon in August and around New Year in December/January; many businesses will close around these times as people travel to be with their families, and everything will be booked up, but there are plenty of festivals and general merriment to make up for it.
How to get there
There are hundreds of flights every day to Narita Airport, about 45 miles from Tokyo; flights are less frequent to Haneda Airport, but it's much closer (in the south of the city, under 15 miles from the centre).
Both airports have frequent road and rail connections to Tokyo's major stations, and shuttle services to several large hotels. You can use a JR Pass to access both airports (Narita Express or JR Sobu/Yokosuka line to Narita, Tokyo Monorail to Haneda).
Be the first to comment
Do you want to comment on this article? You need to be signed in for this feature