Explore western Turkey: things to see and where to stay
From Istanbul and the Mediterranean coast to whirling dervishes and UNESCO World Heritage, Turkish delights abound in this compelling region.
Why go to western Turkey?
With Istanbul captivating city-goers and Mediterranean resorts like Antalya equally popular for a sunshine break, Turkey's western side is rivalled only by Cappadocia when it comes to luring travellers. Also featuring a wealth of UNESCO World Heritage Sites, from ancient Greek cities such as Ephesus to natural wonders like Pamukkale, it's home to the country's most famous landmarks.
Yet there's plenty to experience beyond the headline sights. Sipping homemade fruit wine in the seductive Aegean town of Şirince, discovering unspoilt enclaves along the Turkish Riviera, tucking into ridiculously good cheesy halva before exploring the legends of Troy… these are just three alternative pleasures to savour in western Turkey, where rugged mountains give way to caramel scoops of sandy beach and dervishes whirl mesmerically in billowing white robes.
From centuries-old traditions to continent-spanning cities and landscapes that often beggar belief, here are some of western Turkey's unmissable highlights.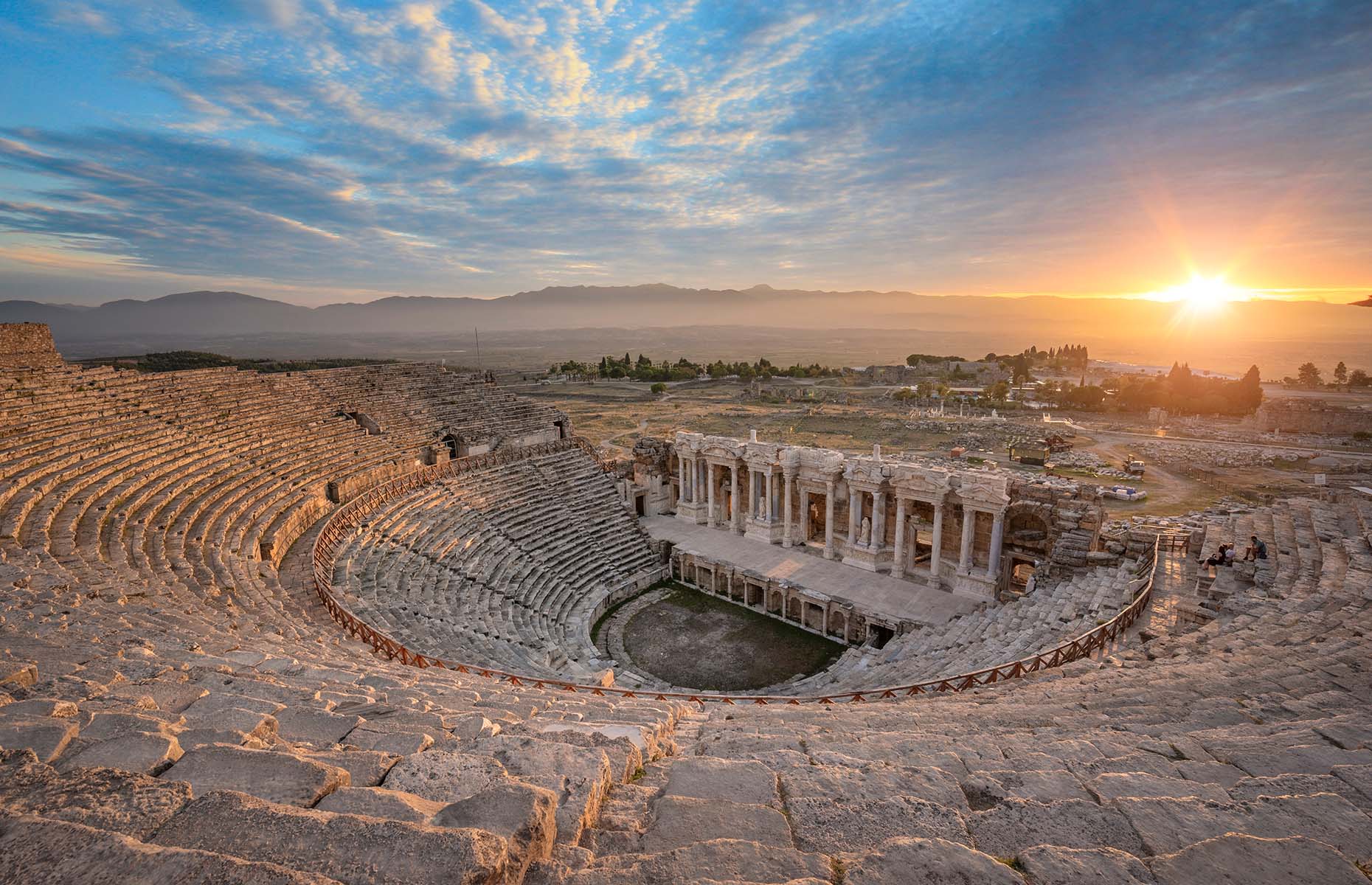 Mitzo/Shutterstock
Five must-see sights in western Turkey
1. Istanbul
Lapped by sea on three sides and straddling two continents, Istanbul is a geographical marvel – little wonder it's played capital to three mighty empires. From arts and archaeological museums to vast Ottoman palaces, multiple attractions tell the city's eventful tale, with many clustered around the old quarter of Sultanahmet and handily grouped under a museum pass.
Also sporting fine Byzantine mosques like Hagia Sophia, atmospheric bazaars and a raft of major new openings – including cultural complexes like Atatürk and Müze Gazhane, plus the £1.3 billion ($1.6bn) shopping and arts destination Galataport – Istanbul serves up contemporary innovation with over 1,600 years of history.
2. Hierapolis-Pamukkale
Combining an ancient Greek city with a natural phenomenon, this UNESCO World Heritage Site offers two must-see sights in one. Pamukkale is a terraced cascade of travertine thermal pools, which inspired its Cotton Castle nickname. Visitors can paddle in the pools and, while the limestone is quite tough to walk on (you must be barefoot to protect the structures), it's worth it for the fairy-tale vistas of white petrified waterfalls and milky blue waters as you descend.
Hierapolis, meanwhile, was founded in the 2nd century BC to take advantage of the area's springs – nowadays tourists can glimpse evocative traces of this once-thriving ancient Greek spa-city, including decorative temples and a necropolis.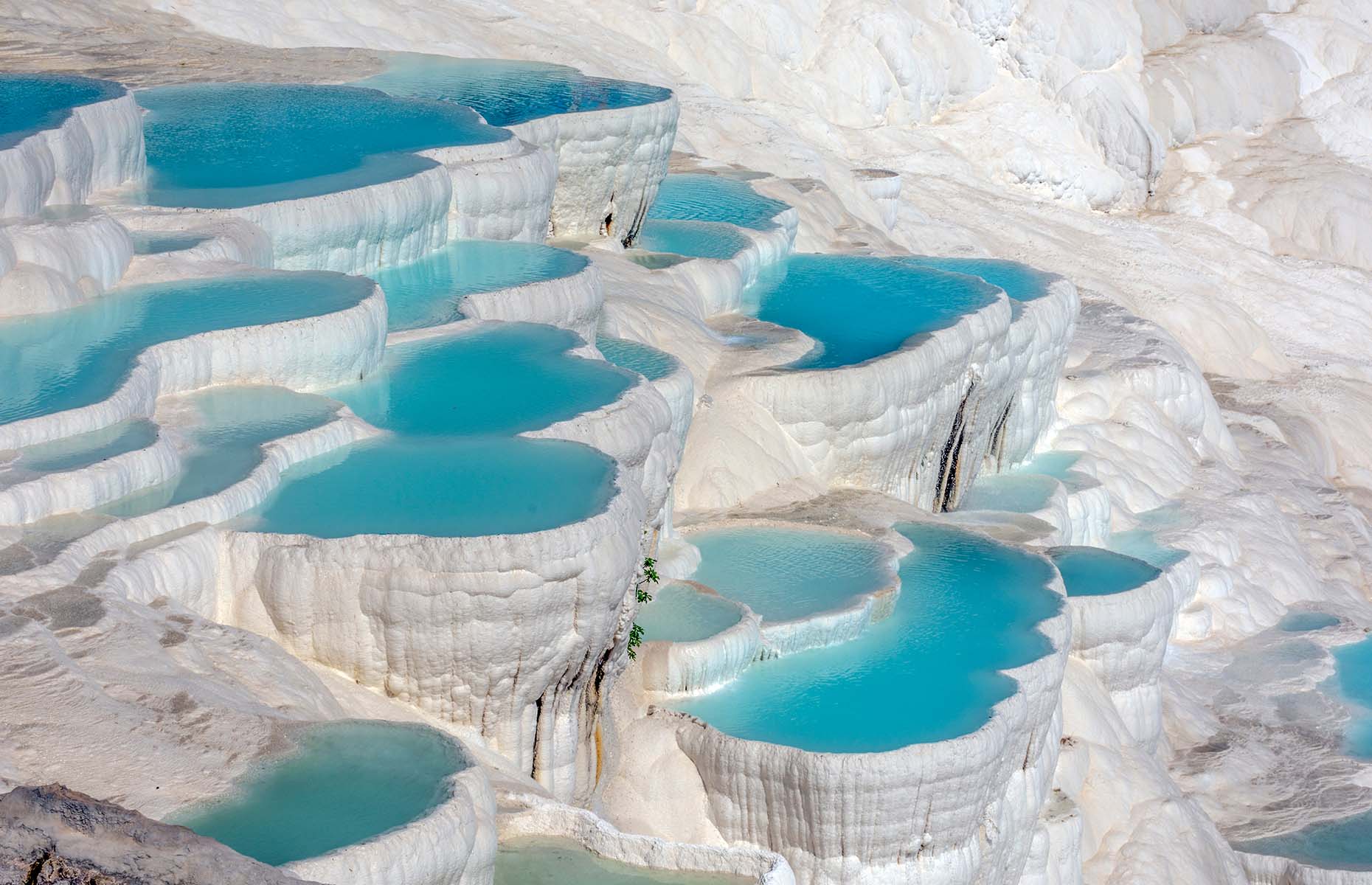 Saat0723/Shutterstock
3. Ephesus
Even older than Hierapolis and yet perhaps even better preserved, Ephesus was built in the 10th century BC by the ancient Greeks. It later became part of the Roman Republic and ultimately one of the Mediterranean's most important commercial hubs. This heritage is reflected in monuments like the imposing Library of Celsus and a theatre which could seat 24,000 spectators.
With more intriguing details, such as a carving of a footprint and heart (signalling a nearby brothel) and some stunningly preserved mosaics, even those who aren't archaeological buffs would struggle to feel bored at Ephesus – although a guide is recommended to understand the context.
Love cats? As with many places in Turkey, you'll find plenty of feline friends here too.
4. Kaş
This seaside town (meaning 'eyebrow' due to its shape) is a Mediterranean vision of bougainvillea-clad balconies, timber shutters and terracotta roofs. Arty stores and hostels line the cobblestoned streets, while the scenic harbour and mountainous backdrop demonstrate just why this area is nicknamed the Turkish Riviera. Activities abound, from diving to gület (local wooden boat) tours and you can even ferry to the Greek island of Meis.
Kaş is also on the Lycian Way, a long-distance coastal route once central to the Lycian civilisation, founded around the 15th century BC, which is scattered with relics like rock-cut tombs. You don't have to tackle it all – shorter sections from Kaş include the popular hike to Limanağzı beach (around 1.5 hours) where it's often possible to catch a boat back. If you've worked up an appetite, fill up at Bunbun, which serves lip-smacking bao buns with a Turkish slant (the meatball is hard to beat).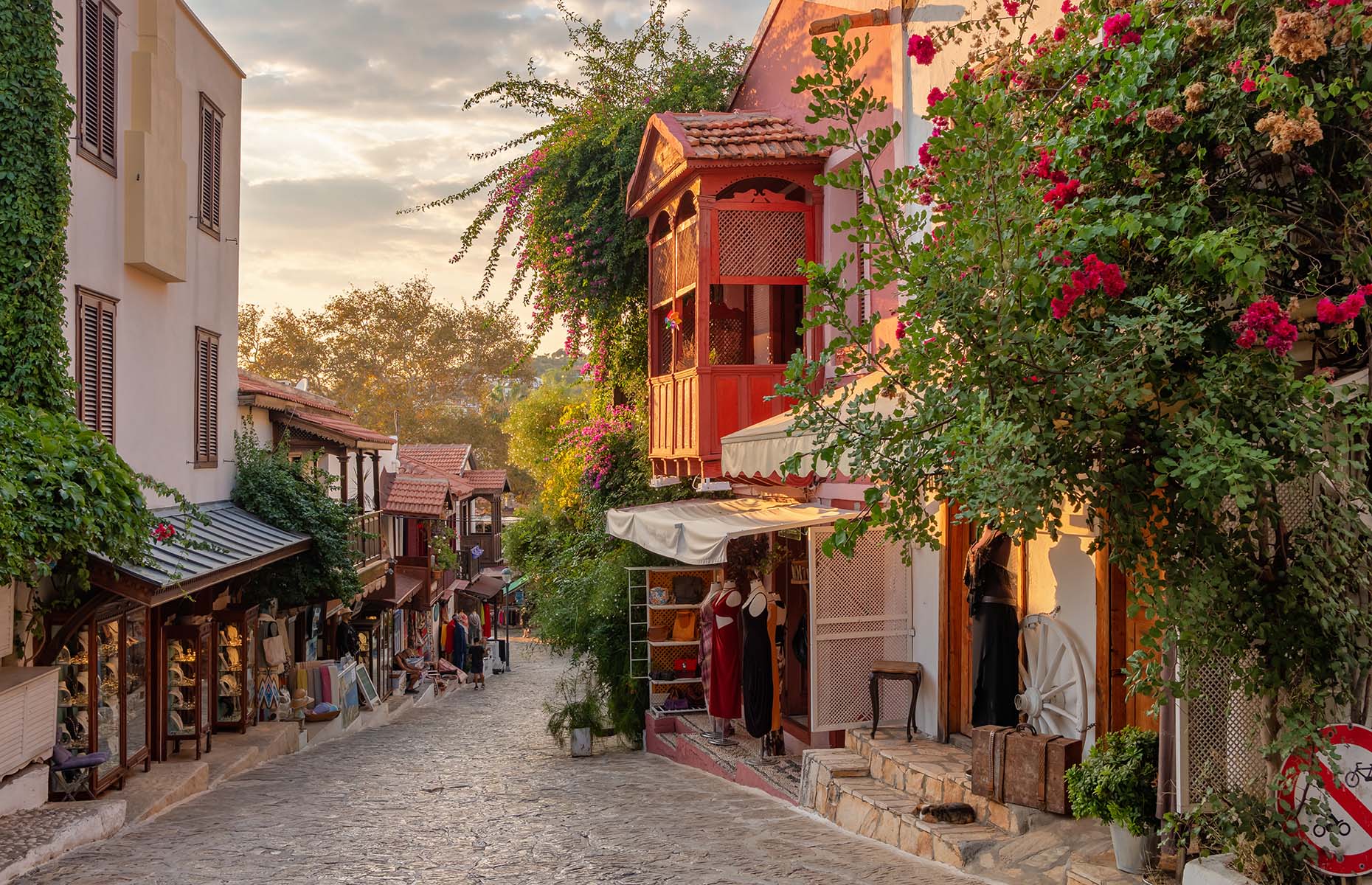 Mazur Travel/Shutterstock
5. Antalya
The province of Antalya may be full of lesser-known treasures, Kaş and Kekova being notable examples, but its capital city is something of a tourist trap. Nonetheless, it merits a visit, just try to go off-season and avoid staying in the old town of Kaleiçi, where the nightlife is particularly noisy at weekends.
Kaleiçi can be crowded by day and overpriced shops proliferate, but stray off the main drag and there's much to charm you, from characterful Ottoman houses to views of the sparkling marina below. Antalya city is additionally renowned for its sandy beaches – pair with a seafood dinner come sunset for the ultimate Med experience.
READ MORE: Discover little-known Roman ruins around the world
Five alternative highlights in western Turkey
1. Mevlâna Museum
It's not the best-known mausoleum in western Turkey – that would be the austerely handsome tomb of Mustafa Kemal Atatürk, founder of the Turkish Republic – but this enchanting site shouldn't be missed.
Mevlâna (meaning 'our master') Rumi was a 13th-century Persian poet and mystic who founded the famed whirling dervishes. His tomb is now part of a museum dedicated to this fascinating order in which followers, wearing voluminous white dresses, seek karma through meditative spinning. Sublime jewel colours and gold calligraphy characterise Rumi's resting place, which is topped with a traditional turban and housed in an exquisite former tekke (dervish lodge).
2. Şirince
Whitewashed facades with shady squares and pops of turquoise, sweeping valley vistas and a profusion of Ottoman Christian architecture – these are just some of the charms you'll find in Şirince. Add in a bustling market replete with handmade products, from aromatic soaps to quirky leather bags, and it's unsurprising that visitors flock to this old Greek hilltop town. Perhaps the most emblematic product is wine. Many shops offer samples, with delectable varieties including damson plum and mulberry. Just watch yourself on those cobbled streets after enjoying a few snifters.
Şirince isn't far from Ephesus and, while not especially notable itself, the town of Selçuk makes a handy base for exploring both destinations.
Robert Wyatt/Alamy Stock Photo
3. Troy
Made famous by Homer's Iliad, Troy was regarded as a mythical city until its ruins were discovered in the 19th century. Little survives at the UNESCO World Heritage Site, whose remains span the early bronze age to Byzantium, but the legends give it a unique character – and there's an impressive Trojan Horse too.
You'll find another recreation of the iconic wooden beast, this one from the 2004 Troy movie starring Brad Pitt and Orlando Bloom, in nearby Çanakkale: a lively harbour city on the Dardanelles Strait. Planning to visit? Don't miss the local cheese halva. Often served baked with a scoop of ice cream, it's the stuff of dreams.
4. Kekova
This UNESCO-designated region of islands, bays and ethereal Lycian ruins is best seen by boat. Trips start from towns like Demre (reputedly the birthplace of Saint Nicholas, or Santa Claus) and often entail a meal of freshly caught fish, the chance to swim in Kekova's aquamarine waters and stops at regional highlights like Kaleköy, whose castle commands views across sarcophagi-dotted hillsides and the underwater city beyond.
You'll also have ample opportunity to admire the spectacular Turquoise Coast scenery from onboard and maybe even spot some native critters; mountain goats are commonly seen, with turtles and dolphins sometimes making an appearance too.
Nejdet Duzen/Shutterstock
5. Gallipoli battlefields
Back in Europe, across the Dardanelles Strait from Çanakkale, is Gallipoli. Here, over 100,000 soldiers lost their lives during the First World War, when Turks fought off the bigger but badly managed Allied force. Nowadays, this sombrely beautiful peninsula is a commemorative national park.
Landmarks comprise the notorious landing site of ANZAC Cove, Lone Pine battleground – another significant location for the ANZAC (Australian and New Zealand Army Corps) – and various war cemeteries, along with other poignant memorials that sprinkle the windswept beaches and forested interior.
READ MORE: These are the cheapest (and most expensive) family holiday destinations
Where to stay in western Turkey
You'll likely want several days in Istanbul and the Mediterranean coast, for which we've given some suggestions below. Due to distances, however, those who want to see sights across western Turkey may need to consider a tour. G Adventures is a great operator, whose Absolute Turkey itinerary takes in all the places in this guide, plus Cappadocia (accommodation is included).
Istanbul
No trip to western Turkey is complete without spending a few nights in Istanbul. The Stay operates four design-led sites across the city, all of which exude character, and was recently awarded carbon-neutral status by sustainability specialist Bureau Veritas.
Mediterranean
For some fun in the sun without the crowds, Kaş is just the ticket. Boutique hotel Olea Nova is a short walk from town and has enviable views across to the Greek island of Meis, plus its own seafront lido. Or try Olympus Lodge, a collection of luxurious bungalows in lush surrounds, further along the coast towards Antalya.
Olea Nova Hotel, Kas/booking.com
READ MORE: Discover 12 Mediterranean islands where you can escape the crowds
How to get to western Turkey
Turkish Airlines, British Airways and Pegasus have direct flights from the UK, major airports include Istanbul and Antalya. Trying to fly less and have an extra four or so nights to spare? You could also try the train, by Eurostar to Paris and onward via Belgrade and Sofia or Bucharest and Budapest.
Map of western Turkey
Discover all of our favourite places in western Turkey with this handy map:
For further information and inspiration, visit GoTürkiye.
Lead image: Nejdet Duzen/Shutterstock
Be the first to comment
Do you want to comment on this article? You need to be signed in for this feature