Explore the Seychelles: top things to do, where to stay and what to eat
Lush rainforests, palm-filled valleys and white-sand beaches lapped by marine life-rich waters unite many of the islands that form the idyllic Seychelles. Here's how to uncover the best of this 115-strong archipelago…
Why go to the Seychelles?
Thriving marine life, Aldabra giant tortoises and bountiful endemic birdlife: the Seychelles abounds with wildlife both on and off the islands' pristine shores. This Indian Ocean archipelago is made up of the remote coralline Outer Islands and more accessible granitic Inner Islands, with much of the activity happening on the three largest Inner Islands of Mahé, Praslin and La Digue, while others provide the secluded setting for private island resorts.

The wildlife-rich environment on and off land draws much of travellers' attention here – think forest hikes, encounters with rare birds and giant tortoises, and scuba diving down to discover flourishing coral reefs. But time should be spent getting to know the country's cultural side too, from touring what's said to be one of the smallest capital cities in the world, Victoria, to visiting a historic rum distillery and tucking into traditional Seychellois cuisine.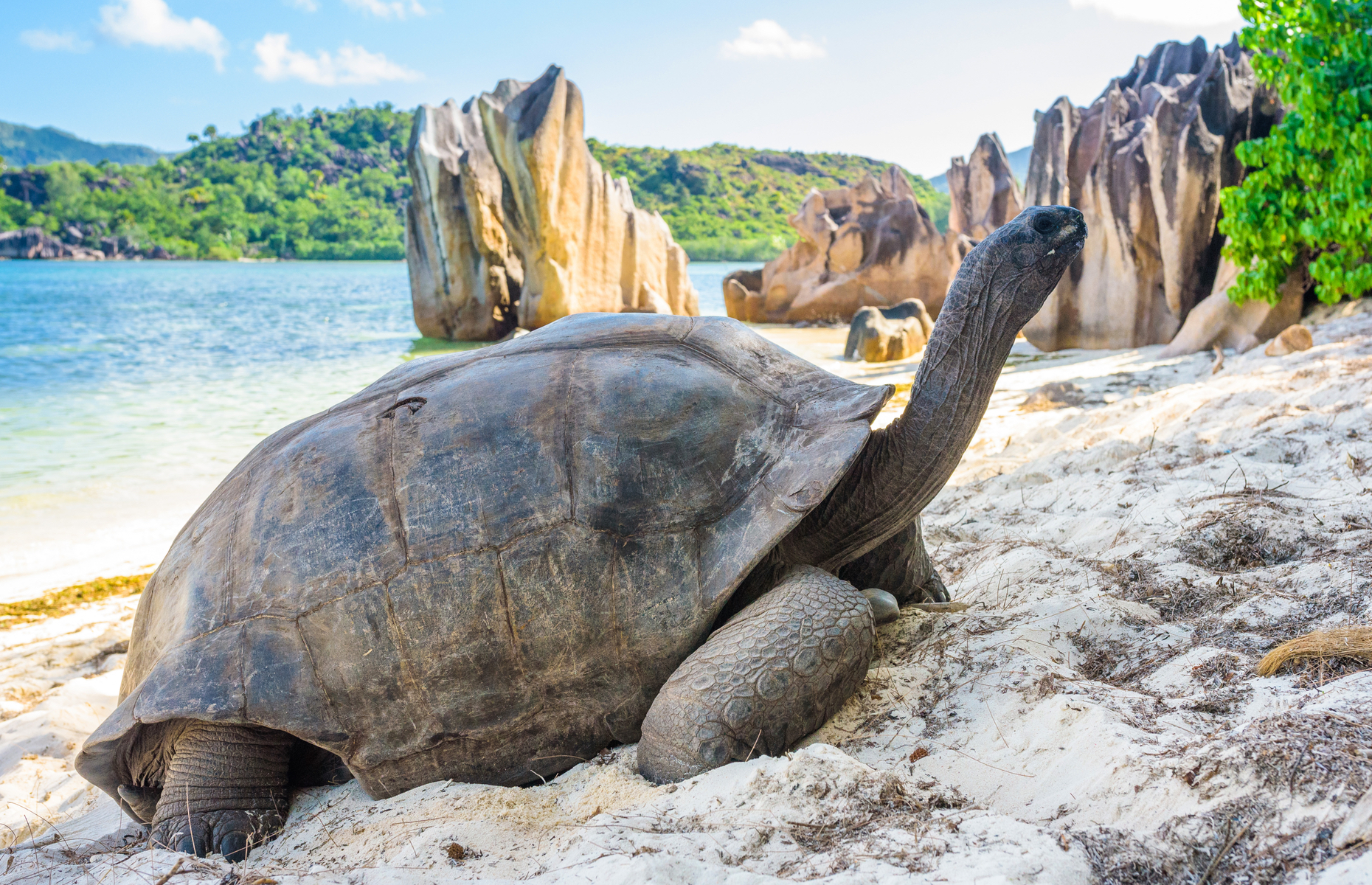 Jan Bures/Shutterstock
Islands to visit in the Seychelles
Mahé
The largest island in the Seychelles, Mahé is home to almost 90% of the country's population and is where most travellers start their journey, having flown into Seychelles International Airport. From Victoria, coastal roads lead to white sand bays, making up some of the 75 beaches that fringe the mountainous island. The Morne Seychellois National Park cloaks around a fifth of Mahé's lush interior. An abundance of beachside resorts include the recently opened Mango House Seychelles while characterful guest houses provide an alternative for the more budget-conscious traveller.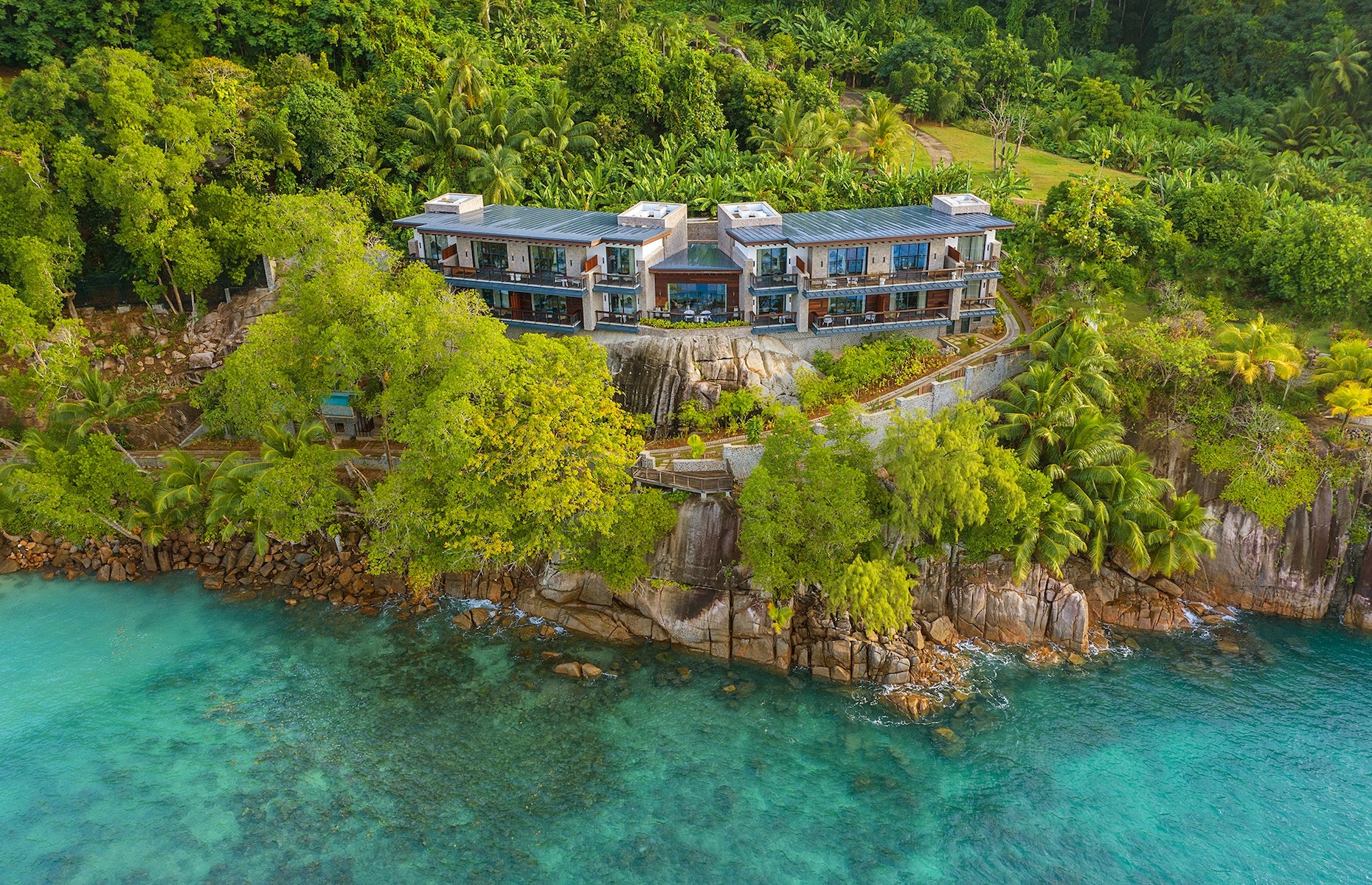 Courtesy of Mango House Seychelles
Praslin
An hour's boat ride from Mahé, Praslin is the second largest island in the Seychelles. It's also home to an airport. This island is distinguished by its granite boulder-strewn white sand beaches and valleys of endemic palms including the UNESCO World Heritage Valleé de Mai, the world's largest forest of endemic palm species coco de mer. This verdant island is the setting for the Seychelles' famed Anse Georgette and Anse Lazio beaches but it's the island's myriad national park trails that set it apart, allowing visitors to immerse themselves in its verdant wilderness. Highlights of Praslin's ample hotel offering include the hillside, ocean-view Raffles Seychelles.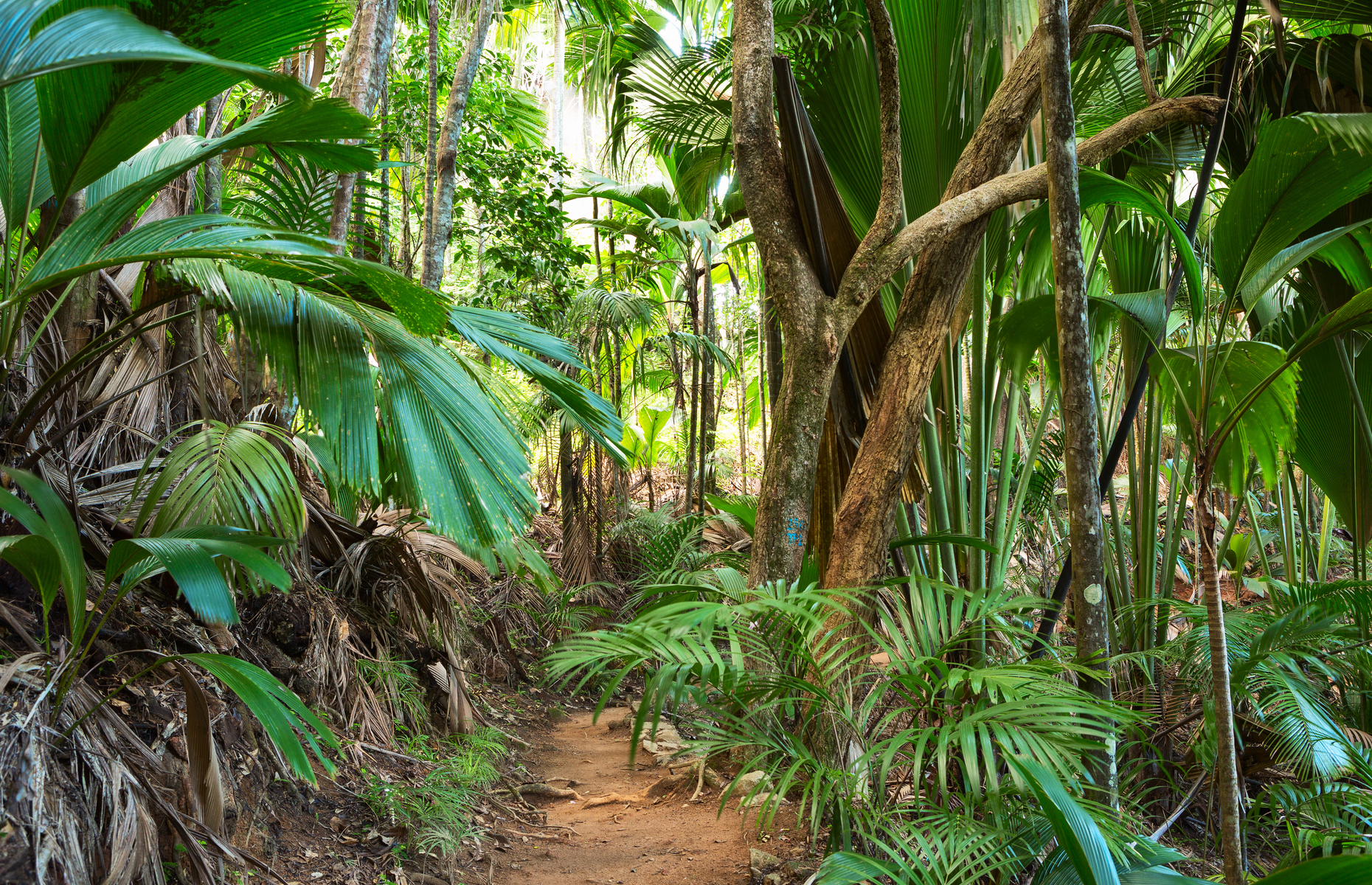 Nella/Shutterstock
La Digue
Accessible only by boat from Mahé and Praslin, La Digue is celebrated for its more isolated and traditional feel. Most people get around the sleepy island by bicycle. La Digue has the same archetypal white sand shores backed with boulders and palms of the Seychelles' larger granitic islands. Of particular note is Anse Source d'Argent, often named among the world's most beautiful beaches.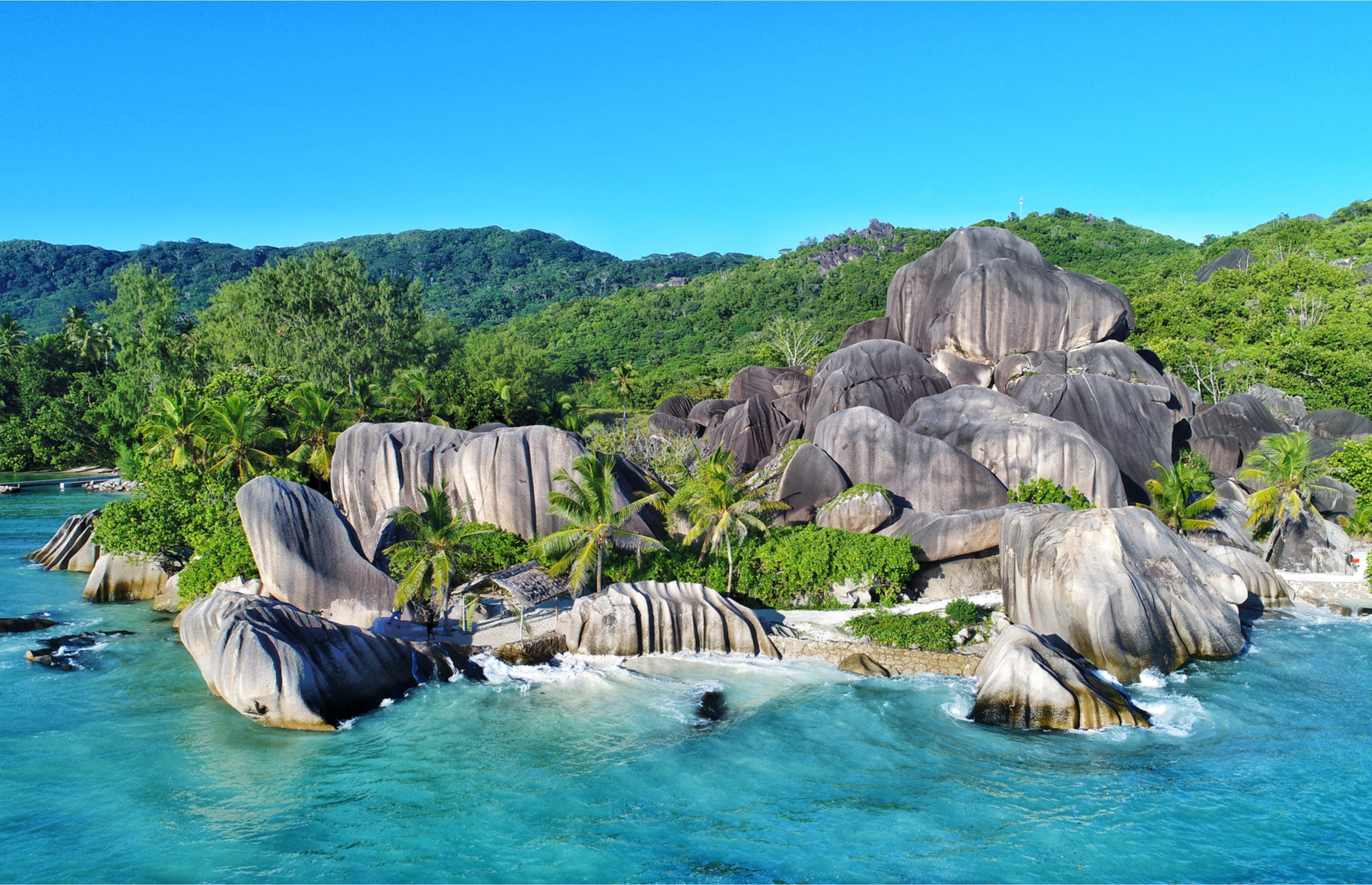 Mariia Kamenska/Shutterstock
Other tourist draws include the former coconut and vanilla plantation L'Union Estate Park, now an open-air museum, and Veuve Special Reserve on the western side that's home to endemic wildlife including the Seychelles black paradise flycatcher. Stay at Le Domaine de l'Orangeraie Resort & Spa or nip across the water to the tiny neighbouring island of Félicité, home to eco-conscious luxury resort Six Senses Zil Pasyon.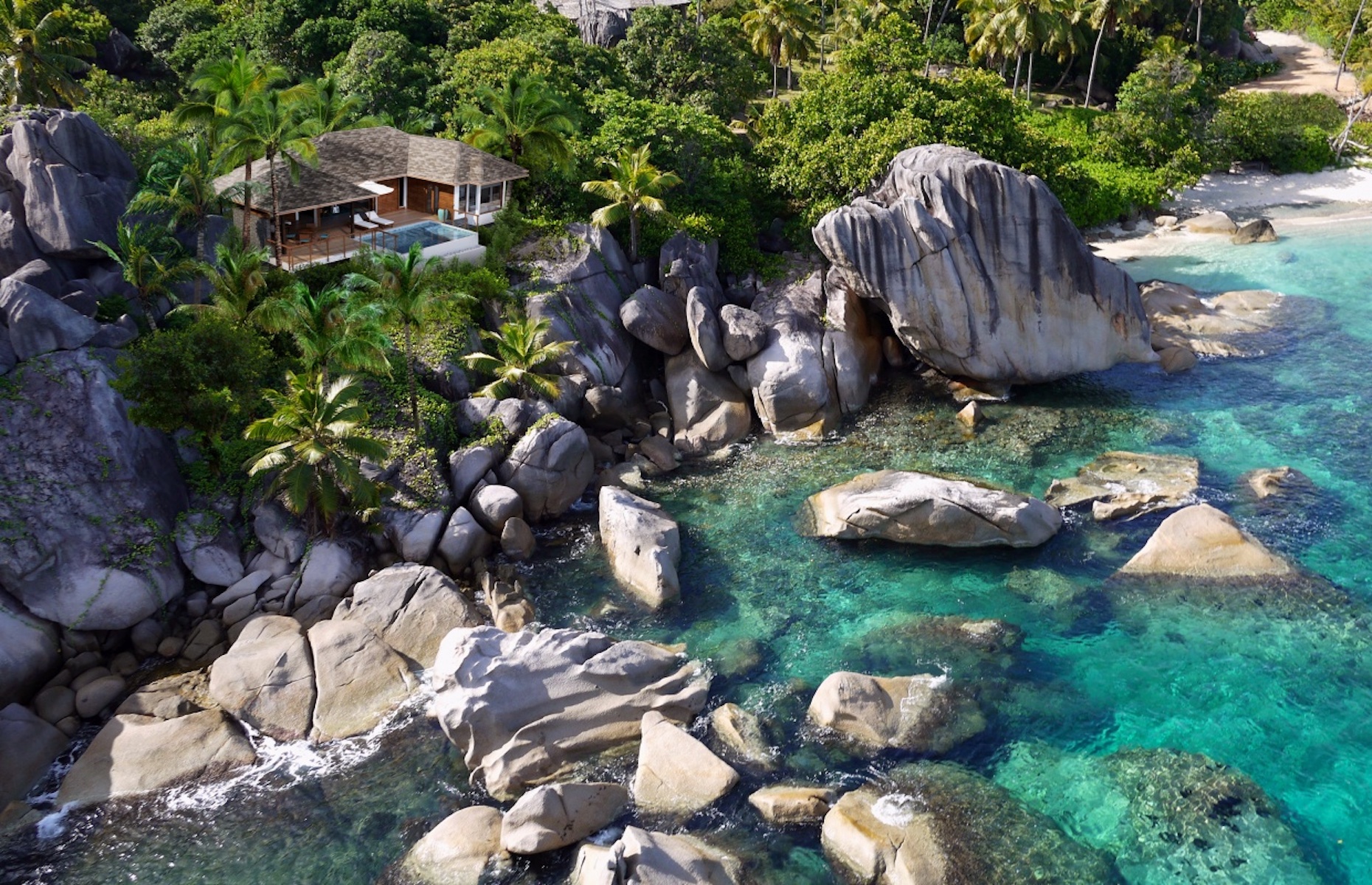 Courtesy of Six Senses Zil Pasyon
Smaller islands
Between the Inner and Outer Islands of this archipelago, opportunities abound for remote retreats replete with wildlife encounters. Seek out exclusive private island hideaways such as North Island, Fregate Island Private and Cousine Island, and follow nature trails around the exceptionally biodiverse Curieuse Island. The nature reserve can be reached by boat from Praslin. The far-flung Outer Islands offer even more seclusion, such as Desroches, home to a Four Seasons resort. Utterly remote and uninhabited, the UNESCO World Heritage-listed Aldabra coral atoll is the largest raised coral atoll on the planet and famous for its population of giant Aldabra tortoises. Visits here are strictly controlled.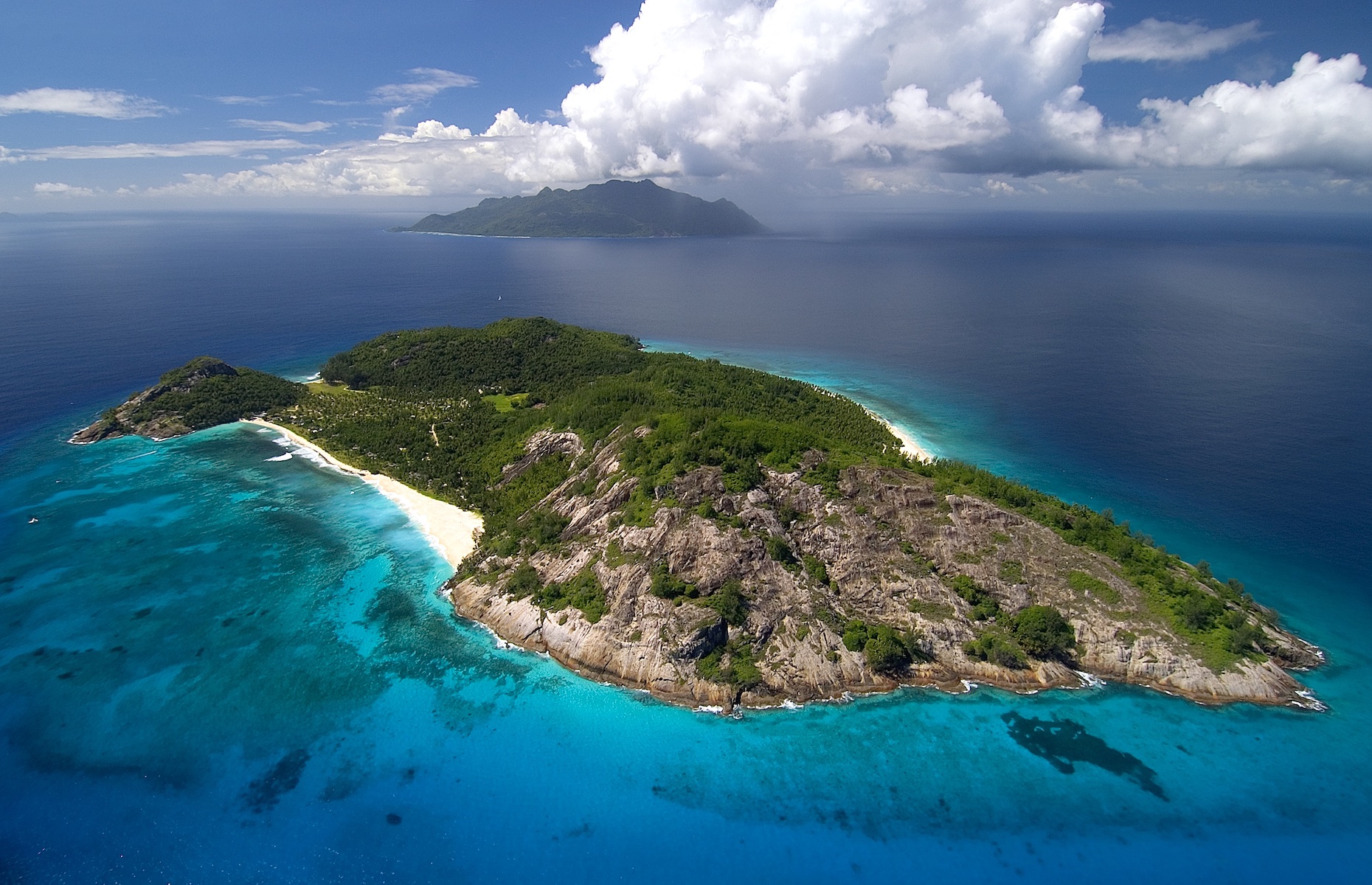 Courtesy of North Island
Top 4 experiences in the Seychelles
1. Island hikes
Across each of the islands, the Seychelles' valleys, hills and mountains of verdant forest lend themselves to exploration on foot with the promise of insight into the archipelago's endemic plant and bird species and ocean views from scenic lookouts. Follow the trails of Morne Seychellois National Park on Mahé, Praslin's Valleé de Mai Nature Reserve and Veuve Nature Reserve on La Digue. Other popular trails across the main islands include Mahé's scenic Morne Blanc Trail and the forest-shaded, wildlife-rich Le Glacis Noir Trail, starting in Praslin's Valleé de Mai. For a more sedate stroll, pay a visit to Seychelles National Botanic Gardens on the edge of Victoria, which was established over 100 years ago and is known for attractions like its coco de mer alley.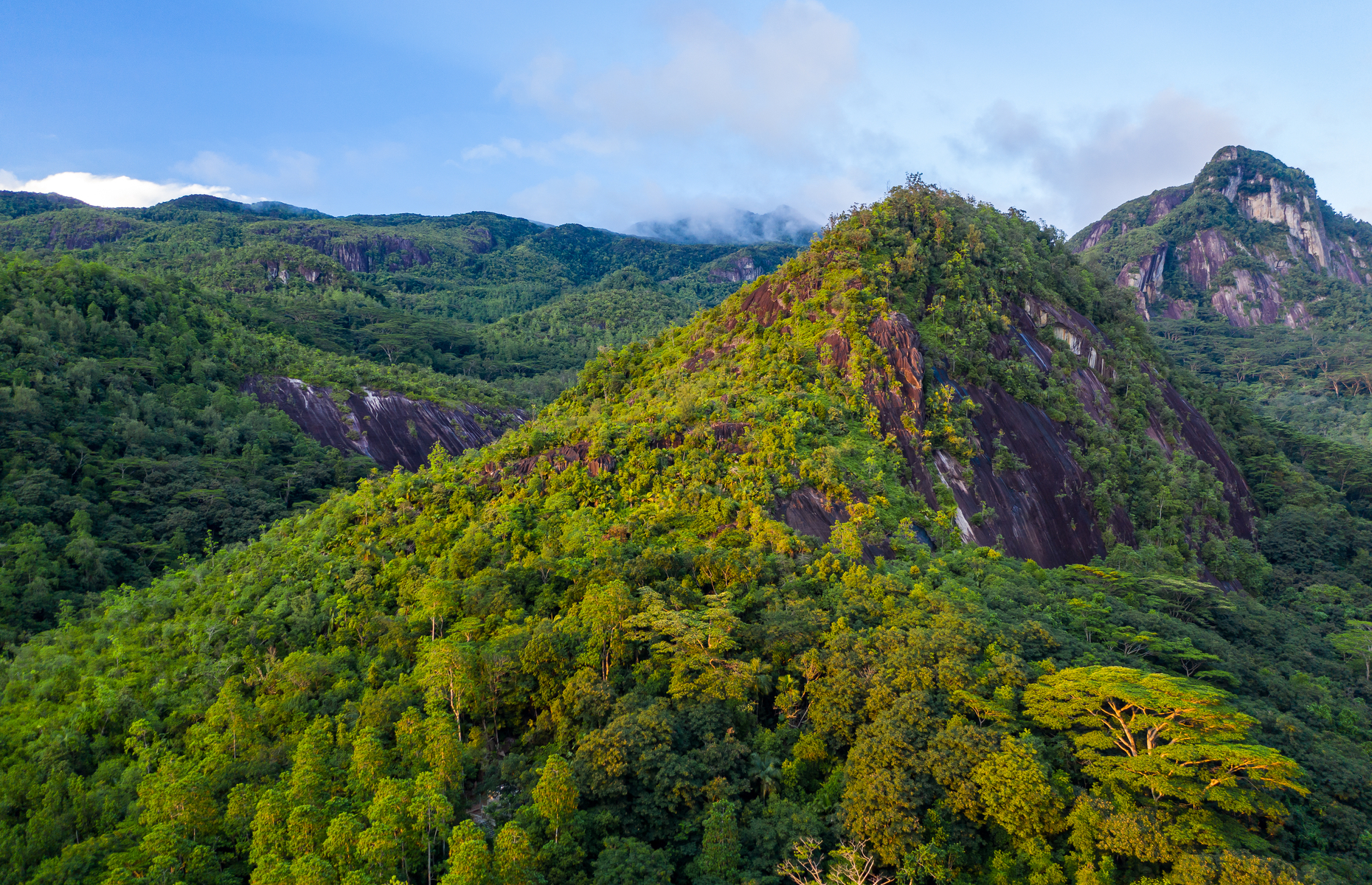 Aleksandra Tokarz/Shutterstock
2. Underwater exploration
Not limiting its biodiversity conservation efforts to the islands, the Seychelles is leading by example in marine conservation with as many as 18 different marine protected areas making up 30% of its territorial waters and a number of ongoing wildlife conservation projects including turtle monitoring. Coral outcrops, swim-throughs between giant boulders and both wrecks and underwater caves thrive with marine species such as rays, turtles and barracuda, with whale sharks pass through these waters seasonally. Snorkel straight off the islands' shores or head to renowned dive sites like Shark Bank and Dredger Wreck off Mahé.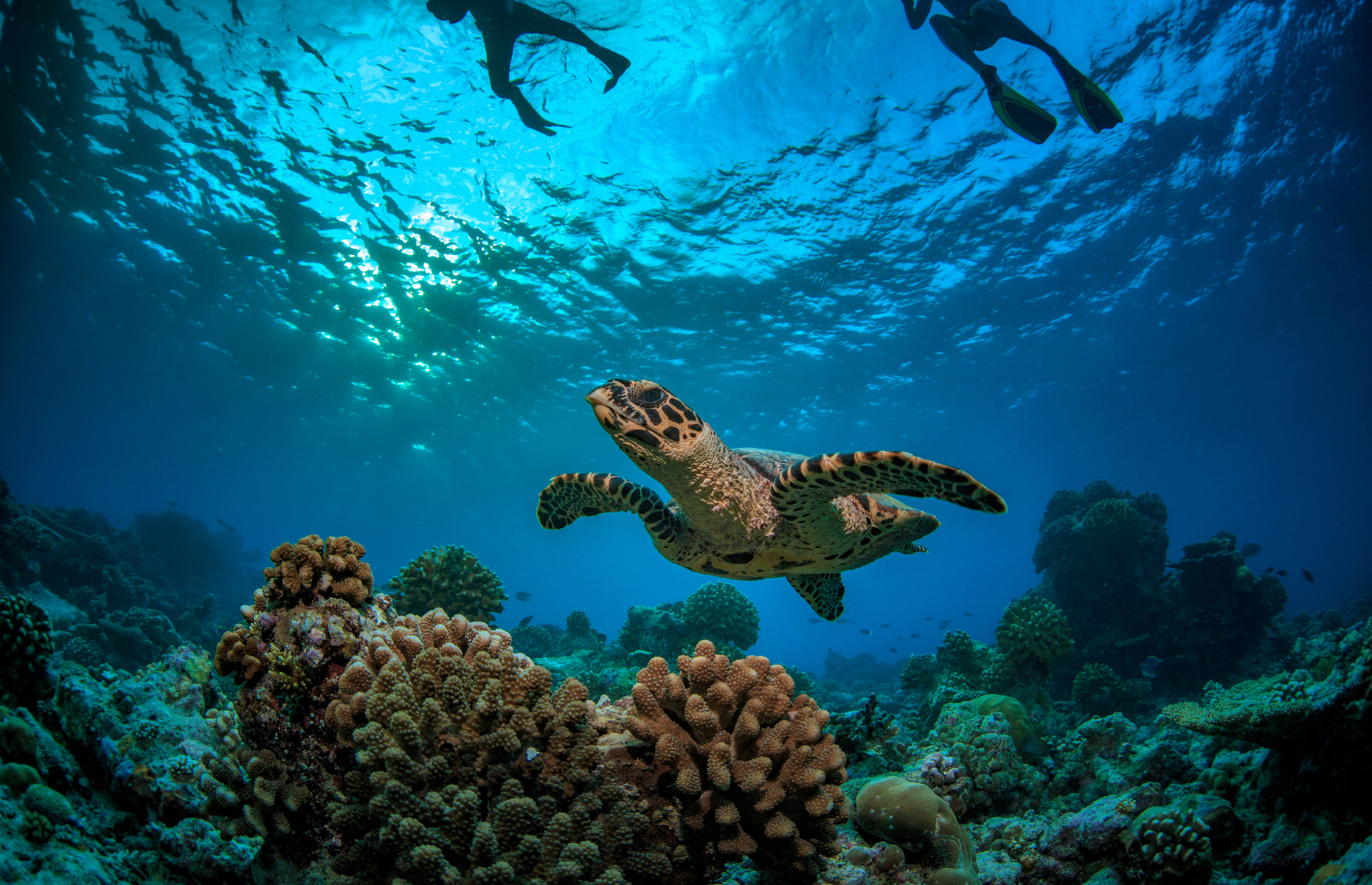 Willyam Bradberry/Shutterstock
3. Cultural discovery
Start in the compact capital to get an insight into this archipelago's history and culture. Victoria is centred around Lorloz, a 1903-built replica of the Little Ben clock tower on Victoria Street in London. The National Museum of History is housed within the restored Supreme Court Building, one of the city's cultural landmarks along with its cathedral, the Sri Navasakthi Vinayagar Hindu Temple, and the Liberty Monument, which celebrates the nation's independence. Discover Seychelles' burgeoning art community by seeking out the artist studios and galleries that lie dotted around its main islands – among Mahé's galleries is the studio and exhibition space of Michael Adams, one of the country's best-known artists.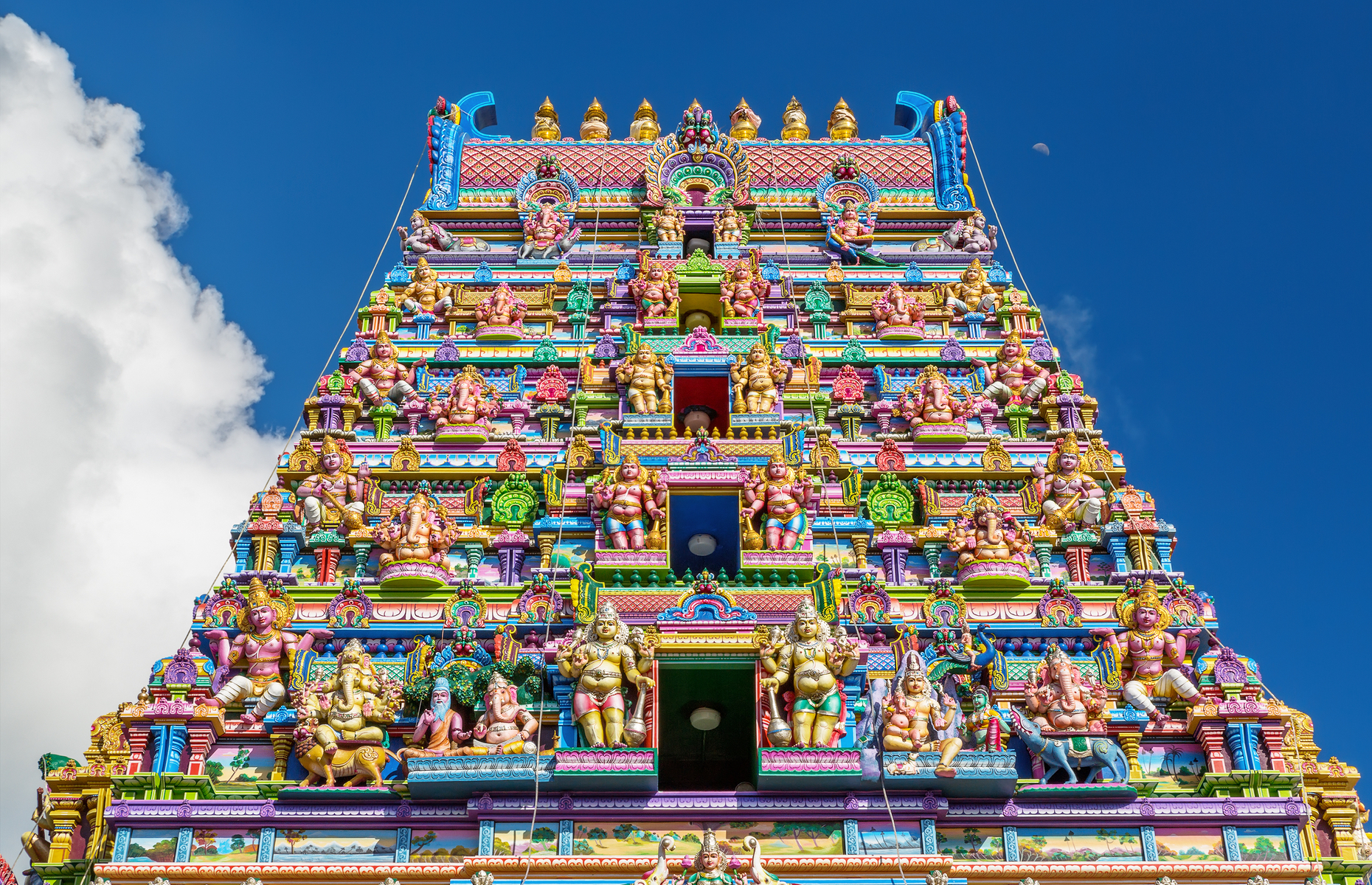 18042011/Shutterstock
4. Local flavours
African, Asian and French influences are all a part of Seychellois Creole cuisine. It's a delicious mix of local produce and flavours, from ginger, chilli, tamarind and lemongrass to coconut milk, locally grown fruit and fresh fish. Pay a visit to the colourful 1840-built Sir Selwyn Selwyn Clarke Market to buy some of this local produce and seek out legendary restaurants like Le Jardin du Roi and Marie Antoinette on Mahé for a taste of the islands' traditional cuisine. Visit Mahé's popular Takamaka Rum Distillery in La Plaine St André. Also home to a museum, it gives a brilliant insight into the rum-making process and you can try their different rums in cocktails at the Takamaka Rum Shack afterwards.
Getting to and around the Seychelles
A number of airlines including British Airways, Emirates and Air France have flights between London and the Seychelles. The most frequent and economical options fly into Seychelles International Airport on Mahé but it's also possible to fly into Praslin Island Airport.
Travel between the main islands can be arranged by chartering a boat or by catching one of the regular ferries. The private islands are then accessed via private boat transfers, light aircraft or helicopter. Travellers can get around the bigger islands of Mahé and Praslin by taxi, rental car or on the islands' network of public buses.
For more information, visit the Seychelles Tourist Board's website.
Main image: Kim Brunner/Shutterstock
Be the first to comment
Do you want to comment on this article? You need to be signed in for this feature