Scotland's K66 driving route
As Scotland's North Coast 500 gets more clogged every year, a slow travel alternative driving route has opened further south in a deeply scenic corner of Argyll – the K66, or Kintyre 66.
Where and what is the Kintyre 66?
The Kintyre 66 is just 66 miles (106 km) long, sweeping around the Kintyre peninsula, opening up a world of big skies and big beaches, cute wee villages and the grand old whisky town of Campbeltown.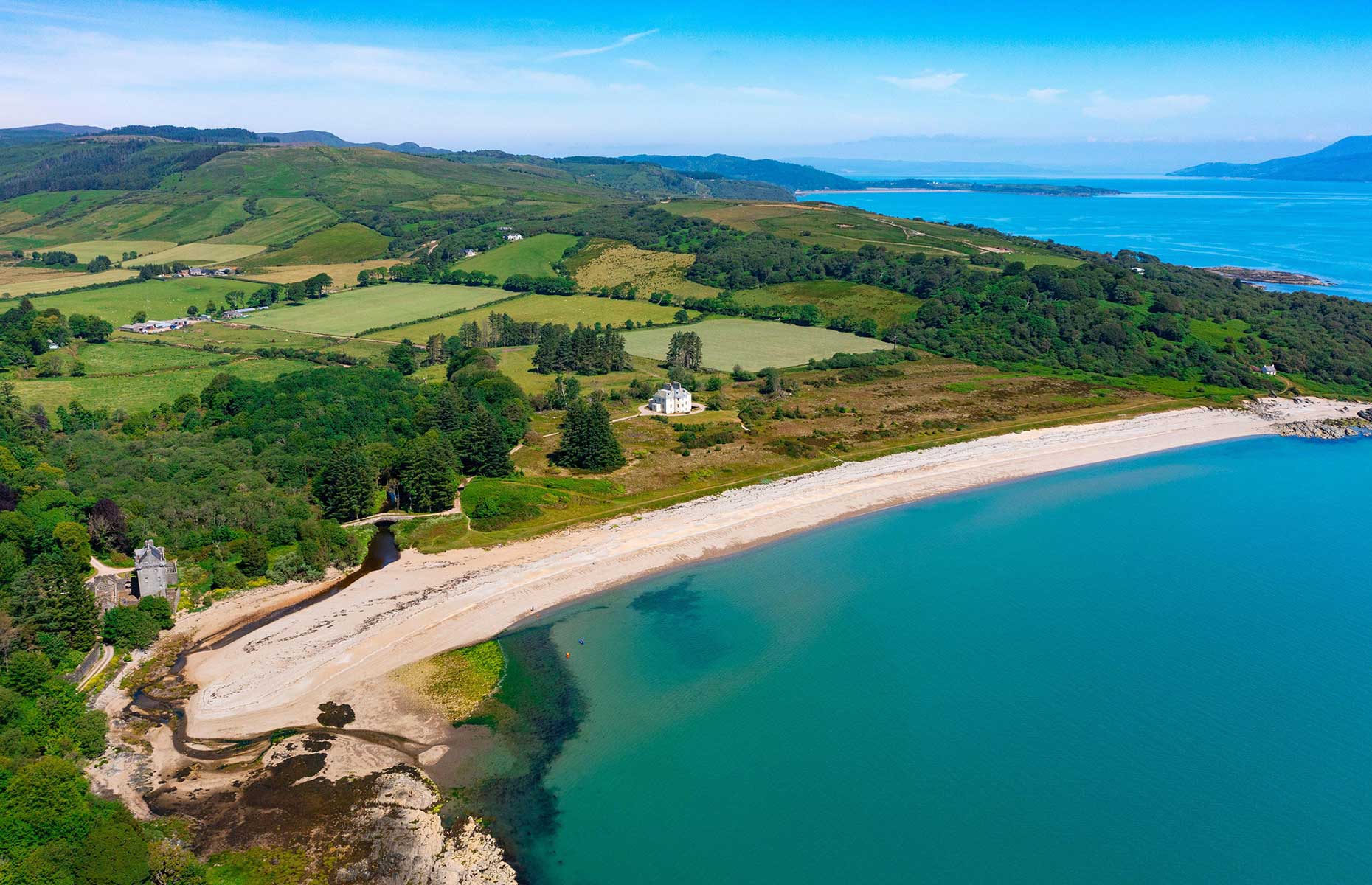 Iain Masterton/Alamy Stock Photo
The route starts and finishes at the northern tip of the fishing village of Tarbert. Heading south, the main circular route hugs the beach-fringed A85 south down the Atlantic coast in the west, before cutting across the peninsula to hit Campbeltown. It then snakes back up the sinewy B842 that opens up the little-explored east coast of Kintyre; the Arran Hills glowering back across the Kilbrannan Sound painting a dramatic backdrop.
Given the short total distance the K66 is designed to be explored slowly. It's broken down into six areas, some of which ease off the main route as 'spurs', such as the short ferry trip to the wondrous Isle of Gigha. The others are Tarbert & Skipness, West Kintyre, East Kintyre, Campbeltown, and finally Machrihanish & Southend.
Highlights along the Kintyre 66
Tarbert
This postcard-pretty fishing village feels more Hebridean than mainland, its lively pubs fuelled by the active fishing fleet. Tuck into local seafood after you've worked up an appetite wandering along the boat-dotted harbour. Don't miss Tarbert Castle, a free to access ruin that rambles over the hillside above Tarbert. For a pamper nip over on the ferry to Portavadie Marina for a massage in their spa, or to gaze back towards Tarbert from their heated infinity pool right on the shores of Loch Fyne.
Dmitry Naumov/Shutterstock
Western Beaches
Before you step into the water, Kintyre's western beaches are a dead ringer for the Caribbean. These white sand wonders sprinkle down much of the west coast. It's easy to see why Westport is a local favourite with plenty of parking and space on the wide beach for everyone. The most famous sands are at Machrihanish, which sports a renowned golf course too.
Shaun Barr/Shutterstock
Gigha
This southern Hebridean community-owned isle is a wee stunner. Fringed with white sands and emerald green hills it's a real-life Treasure Island. You can just amble around leaving the world behind, losing yourself on beaches and amid standing stones, but make sure to chat to the islanders too to hear their inspirational story. The community-run wind turbines not only power the island, but sell electricity back into the National Grid. They are currently on the look out for new islanders – there is a fair chance you'll want to stay, especially once you've seen the eclectic Achamore Gardens.
Allan Wright/Alamy Stock Photo
Campbeltown
It's said that in its heyday more money flowed through whisky-soaked Glebe Street than the City of London – there were over 30 distilleries at one point. Only three remain and they are corkers, creating malts so unique Campbeltown has its own geographical whisky denomination. There is literally nothing else like it.
The most famous name is Springbank, but pop into Glen Scotia too. In 2021, their 25-year-old malt was named the world's best – snare a bottle so Kintyre can linger on your palate and in your heart long after you go home.
Copyright Robin McKelvie
Guided tours open up the stories behind Campbeltown's grand mansions, while Beinn Ghuilean is a cracking hill – an ascent reveals the grandeur of Campbeltown's setting. Don't miss Campbeltown Picture House, a Glasgow School Art Nouveau gem alive with a century of heritage.
Mull of Kintyre
Forget syrupy ex-Beatle ballads; the real thing is far more dramatic. Scotland pulls off one last grand scenic flourish here before plunging into the tumultuous Atlantic. Ships struggled to battle around this infamous peninsula within a peninsula; you'll sympathise hacking back up the steep incline. It's quite an effort and not one to be taken lightly as the weather can change quickly – we recommend staying on the road.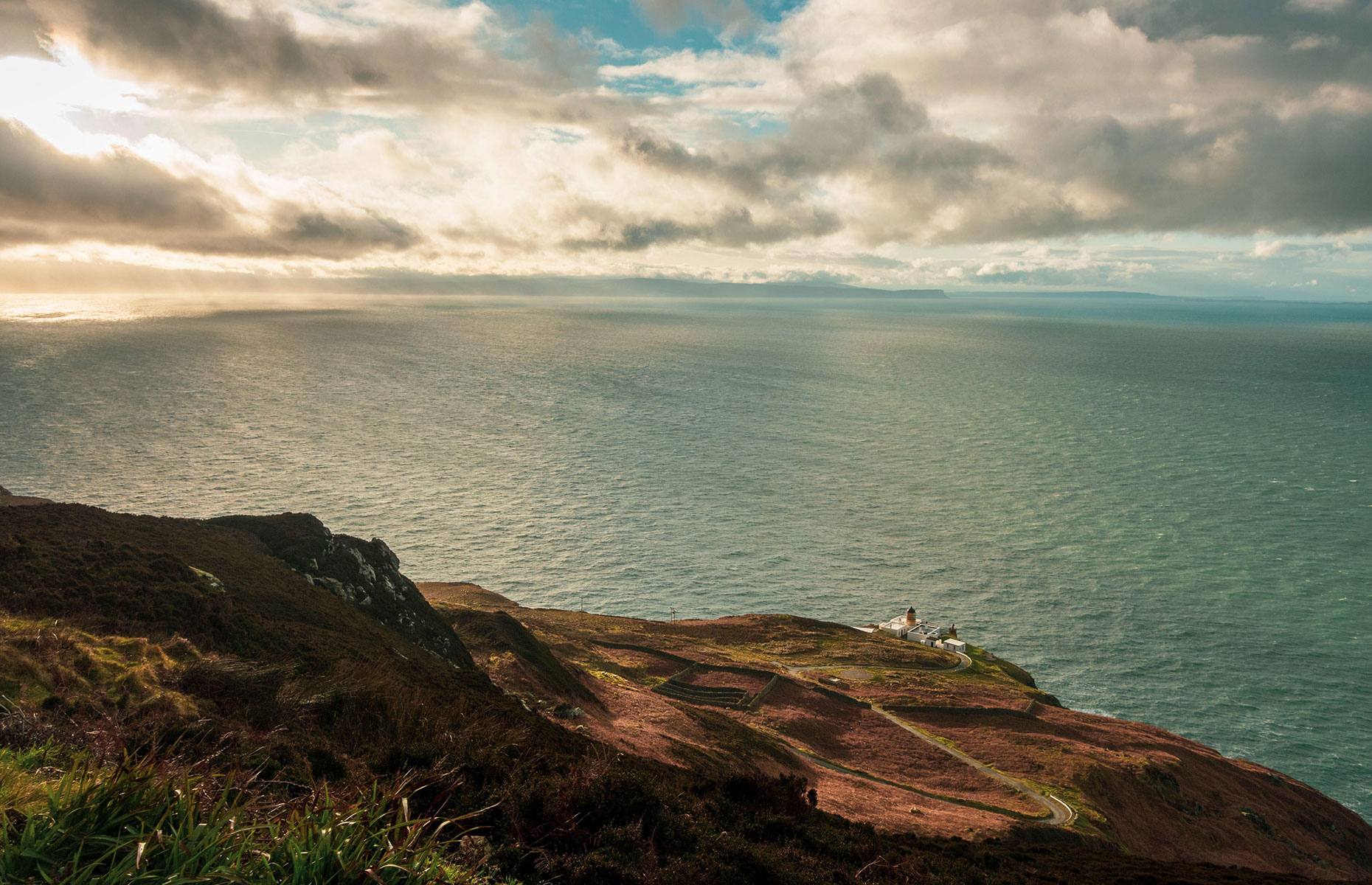 Rebecca Cole/Alamy Stock Photo
The sleepy east
The east coast of Kintyre makes Campbeltown feel like Manhattan. As the road narrows and turns rougher you enter a world of huge, fragrant rhododendrons and swaying palms (Kintyre is washed by the Gulf Stream).
An essential stop is to view the Antony Gormley statue at Saddell Bay. It's the only one left of his work on Kintyre – secured by a mysterious benefactor – and casts a striking, lonely presence on the rocky coast peering out over the cobalt waters.
Rebecca Cole/Alamy Stock Photo
Further north, is a community still scarred by the Royal Navy, whose submarine dragged four Kintyre fishermen to their deaths in 1990. Enjoy a bracing walk from the wee harbour up across the cliffs by the golf courses, with epic views across to the Isle of Arran.
Where to stay along the Kintyre 66
Start or – preferably finish – relaxing just across from Tarbert at Portavadie Marina. This remote oasis offers hotel rooms and a wide variety of self-catering options – the designer apartments come with floor-to-ceiling windows and saunas. The spa awaits with an indoor pool backing up that outdoor infinity pool and myriad health and beauty treatments.
There is a hotel and a sprinkling of other accommodation options on Gigha, but there is only one yurt. This cosy abode sleeps up to four, with a wood-burning stove in the middle to keep you toasty. The sea is just a short stroll away. It's all very hygge, or coorie as they say in these parts.
Retreat to a cosy holiday cottage on Kintyre's east coast, with the Skipness Seafood Cabin, a hulking castle and the sea all within easy striking distance. The cottages lie within a sprawling country estate alive with livestock and mixed woodland.
Embrace the local whisky vibe in Campbeltown in this trim hotel in one of the historic stone mansions. Their brilliant whisky bar has won awards – ask them to arrange a special tasting with Watt Whisky. On sunny days their garden is the place to relax with a wee dram.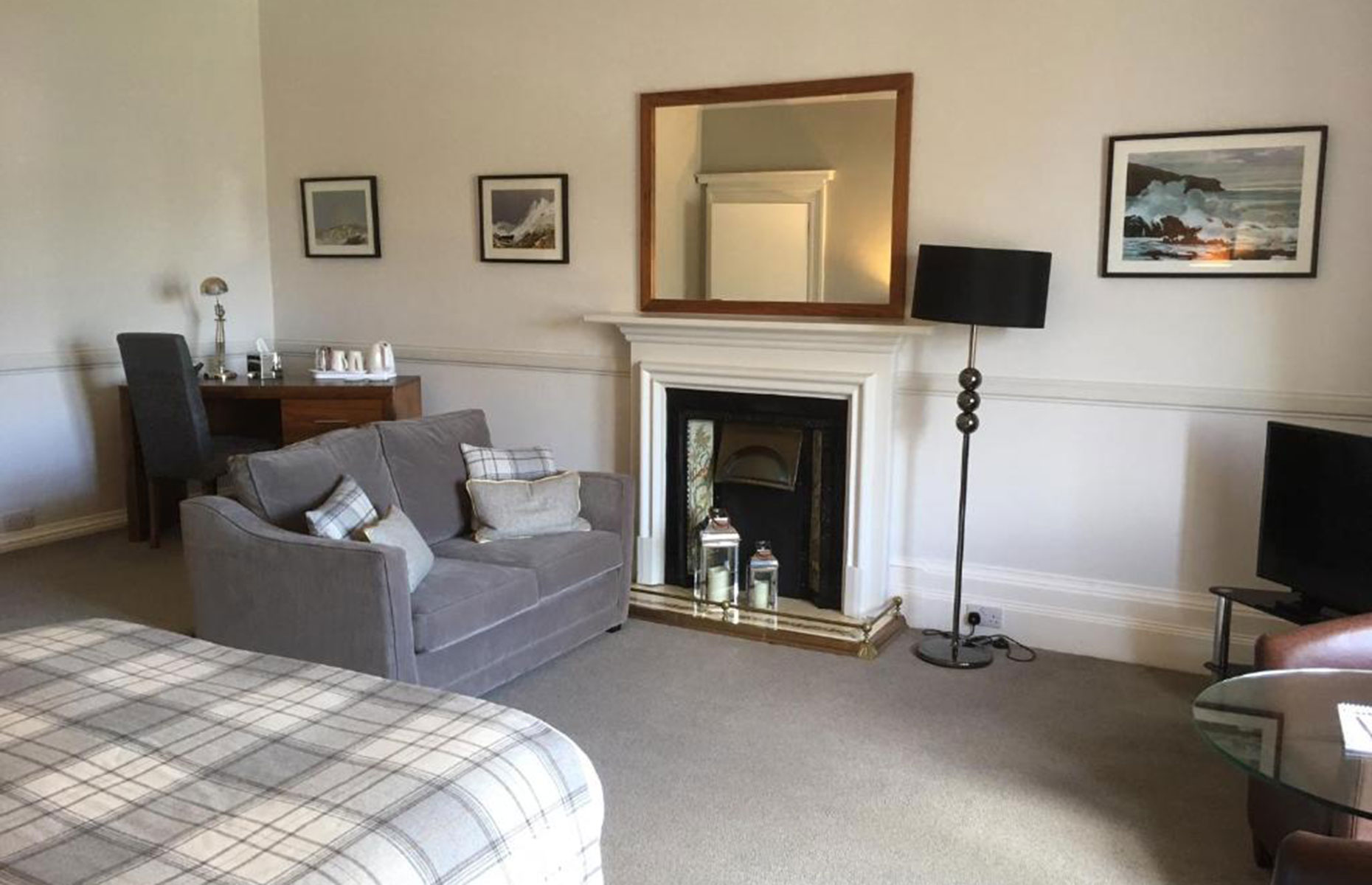 Ardshiel Hotel/Booking.com
Make sure to book a room with a view at this Carradale bolthole – you'll be gazing out over the Kilbrannan Sound. Their gregarious bar is the hub of the local community.
Where to eat along the Kintyre 66
Feast on as fresh-as-can-be fish and shellfish hauled ashore by the boats that bob just outside the window in this Tarbert restaurant. Spicy prawns kick things off before you launch into a plump local lobster, washed down with a crisp Sauvignon Blanc. Excellent daily specials too.
It's worth sailing to Gigha just to dine here overlooking a starched white sand beach and the ferry terminal. You'll find Gigha Halibut on fine dining menus in Edinburgh and London; it's best savoured right here, along with local oysters.
Seafood is the star at Campbeltown newbie Number Forty Two, which looks and feels more Shoreditch than Southern Scotland. Settle in with a local ale and oysters, before treating yourself to a hulking turbot hauled in by one of the local boats.
Number Forty Two/Facebook
Whether you like gin or not, snake up through the sprawling Torrisdale Estate for lunch at the bright new café. Hearty soups vie for attention with sandwiches and paninis, with local produce in there too, plus sweet treats. It's a bonus if you do like gin – they offer fun and engaging tours of their small-batch distillery with delicious tastings.
Chef Steve is all about local produce. Tuck into Kintyre Smokehouse salmon and quail's egg 'Scotch Eggs' with a beetroot chutney from the garden you can see out the window. Next up is local beef stew with wild garlic mash. The final flourish? Lemon posset with homemade chocolate fudge infused with Campbeltown whisky.
Getting around and more information
Once past the Islay ferry terminal at Kennacraig the fast road down the west coast presents no real challenges, bar speeding locals and the odd lumbering whisky lorry.
It's a different story out east and when you snake off the main drag; expect to take twice as long coming back up the east. Single track roads are the norm in the east – brush up on how to use a passing place properly before setting off. Look out for the local sheep whose boredom seems to have driven them to playing a fearless, species-crossing game of chicken.
At only 66 miles you're unlikely to have much use for your sat nav. Mobile phone and data coverage can be seriously patchy anyway, so it's worth bringing a paper map – Ordnance Survey Explorer 356 covers Kintyre South; Explorer 357 covers Kintyre North. The free Kintyre 66 map produced by Explore Kintyre and Wild About Argyll can be picked up locally and is really handy with trip highlights and details of the six spurs. The K66 website is stuffed with information too and also features a downloadable map.
Top tip: There are petrol stations in Tarbert at the top of the route and then Campbeltown in the south, so you'll never be more than 30 miles (48km) or so from fuel too.
Map
Main image: Shaun Barr/Shutterstock
Be the first to comment
Do you want to comment on this article? You need to be signed in for this feature