Explore Ljubljana: the top things to do, where to stay and what to eat
Slovenia's pretty capital has charm and intrigue in abundance, and is begging to be visited when travel is back on the cards.
Why go to Ljubljana
Slovenia and its small-but-perfectly-formed capital Ljubljana – complete with a pedestrianised centre, a charming river and an attractive castle – provides the best introduction to the states of the former Yugoslavia, if not the whole of Eastern Europe.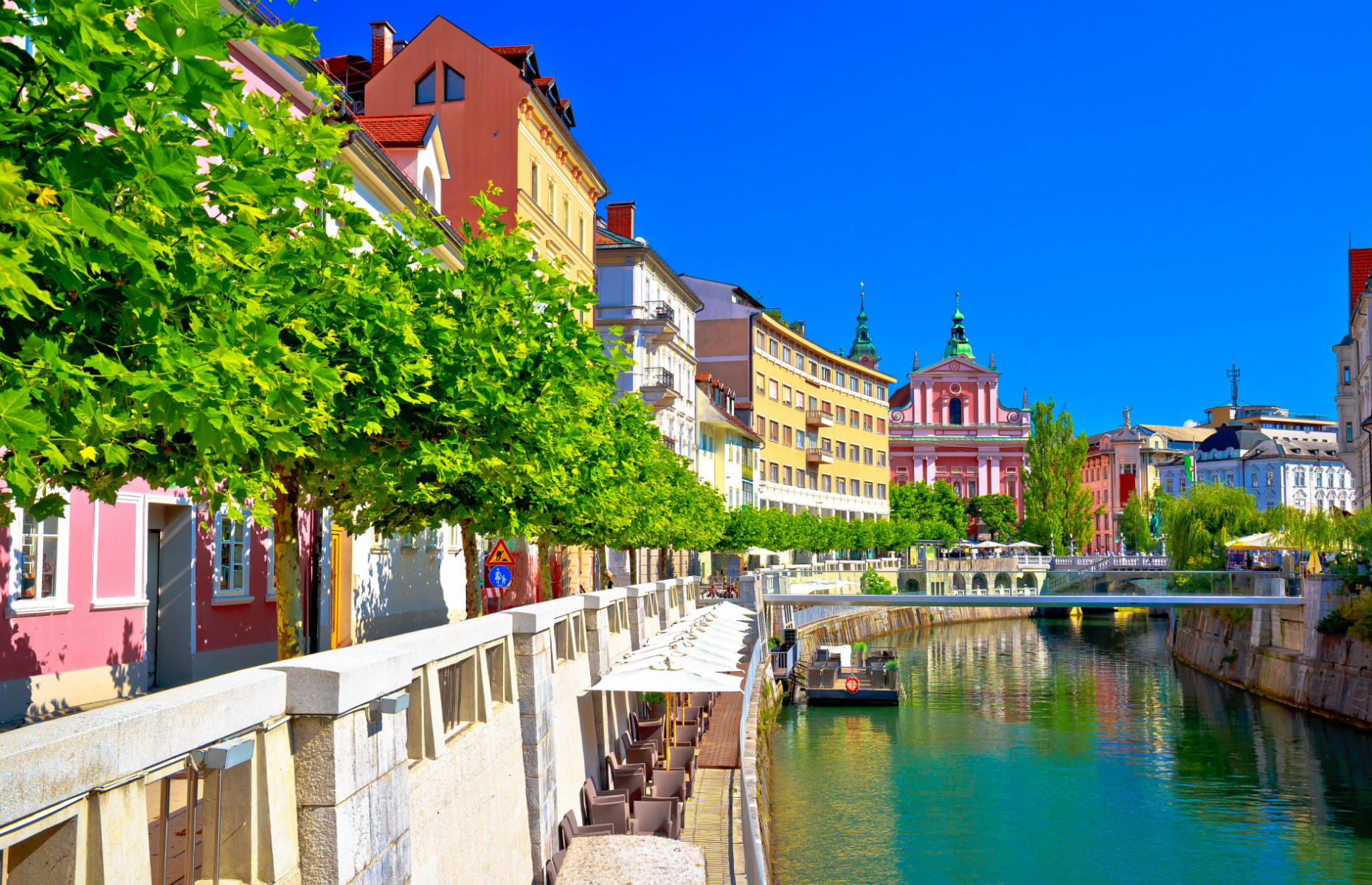 xbrchx/Shutterstock
Being a provincial capital, Ljubljana escaped the worst excesses of Communist reconstruction and preserved its former architectural grandeur, more like Vienna than Belgrade. But most of all, after independence – achieved only in 1991 – its people are keen to show off their city to visitors with a newly acquired pride.
READ MORE: Europe's most stunning national parks
Top things to see in Ljubljana
Ljubljana Castle
Ljubljana's defining landmark has experienced many transformations through the ages but the current fortress stems from the 15th century. After the middle of the 17th, a long, slow decline was only reversed in the 1960s when the last inhabitants were forced to leave and a long renovation spruced it up to its former stature.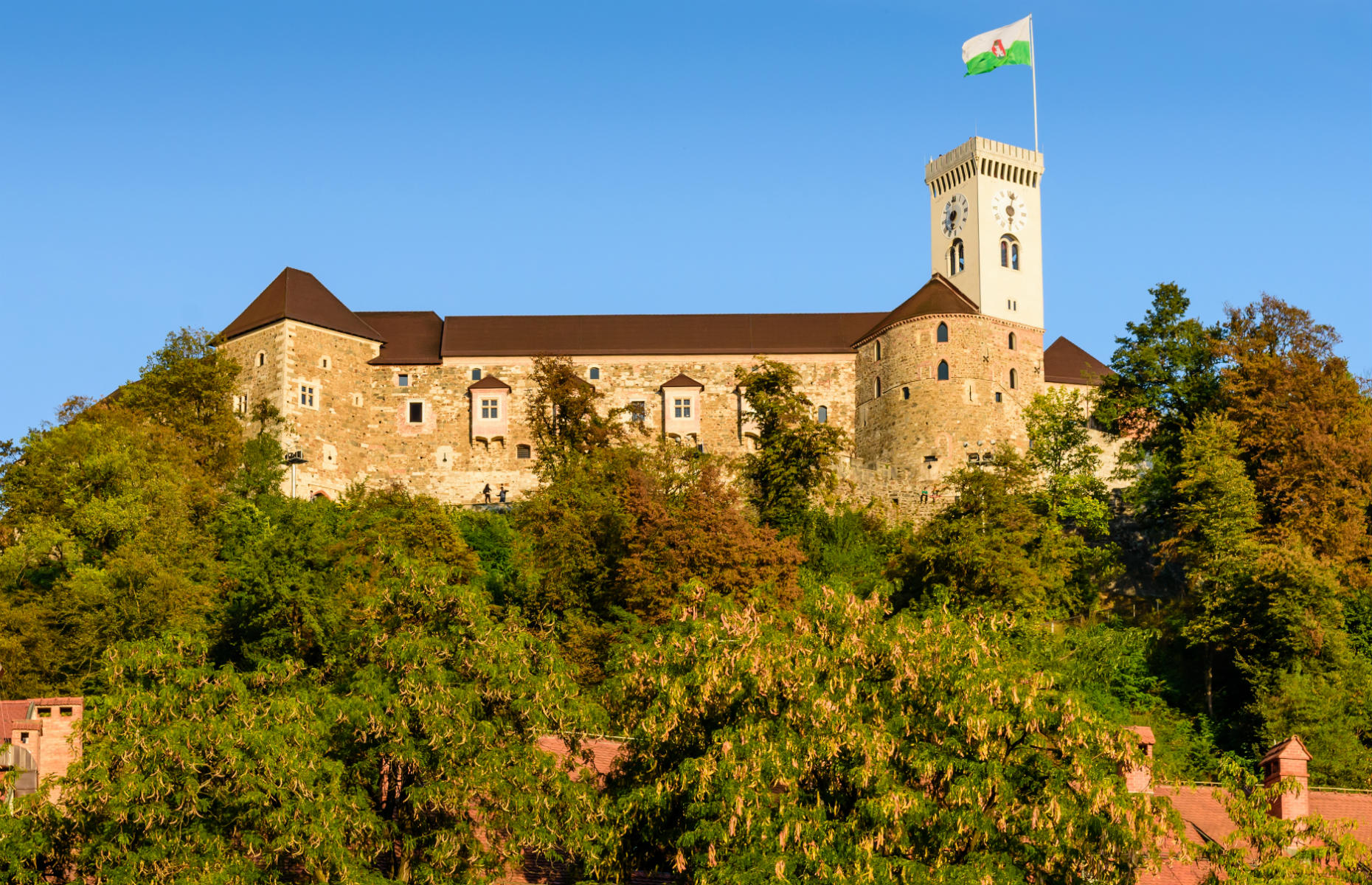 RAndrei/Shutterstock
READ MORE: 30 of Europe's most beautiful castles
Ljubljanica River
Serene, placid and surprisingly unpolluted, the river that runs through the capital draws you inexorably to its banks for selfies, walks or late-night carousing. During the summer months you can even explore its length kayaking, pedalo-ing or paddle surfing.
Prešeren Square
Ljubljana's answer to Piccadilly Circus is an irregularly-shaped open square on the left bank, whose surroundings deliver a crash course in architecture: the coral-pink Baroque Church of the Annunciation stands in front of the Art Nouveau splendour of Grand Hotel Union, while the city's prime shopping address Galerija Emporium (temporarily closed) rubs shoulders with the refined eclecticism of the Central Pharmacy.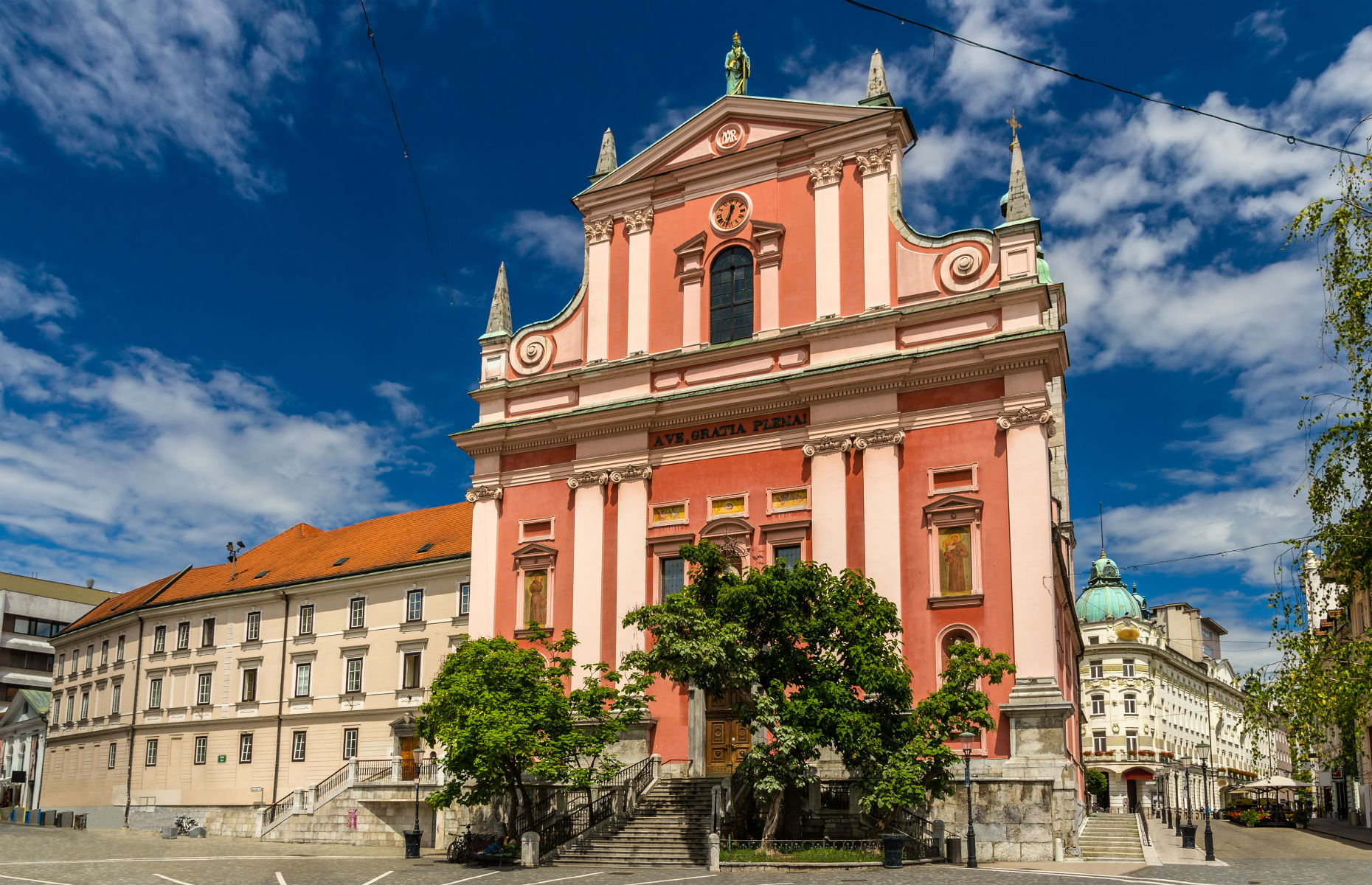 Leonid Andronov/Shutterstock
Tromostovje
Built on Ljubljanica's abrupt eastwards bend, this beautifully balustrated ensemble of three interconnecting bridges supplies that only-found-in-Ljubljana moment. The two outward gangways are a 1930s idiosyncratic addition to the pre-existing central bridge dating from 1842.
Matej Kastelic/Shutterstock
Tivoli Park
Save some time for the city's landscaped lungs, an undulating green space around four times the size of London's Hyde Park, favoured by joggers, dog-walkers, picnickers and courting couples. Criss-crossed by tree-lined walks and dotted by fountains, it features an open-air gallery on the central Jakopič Promenade.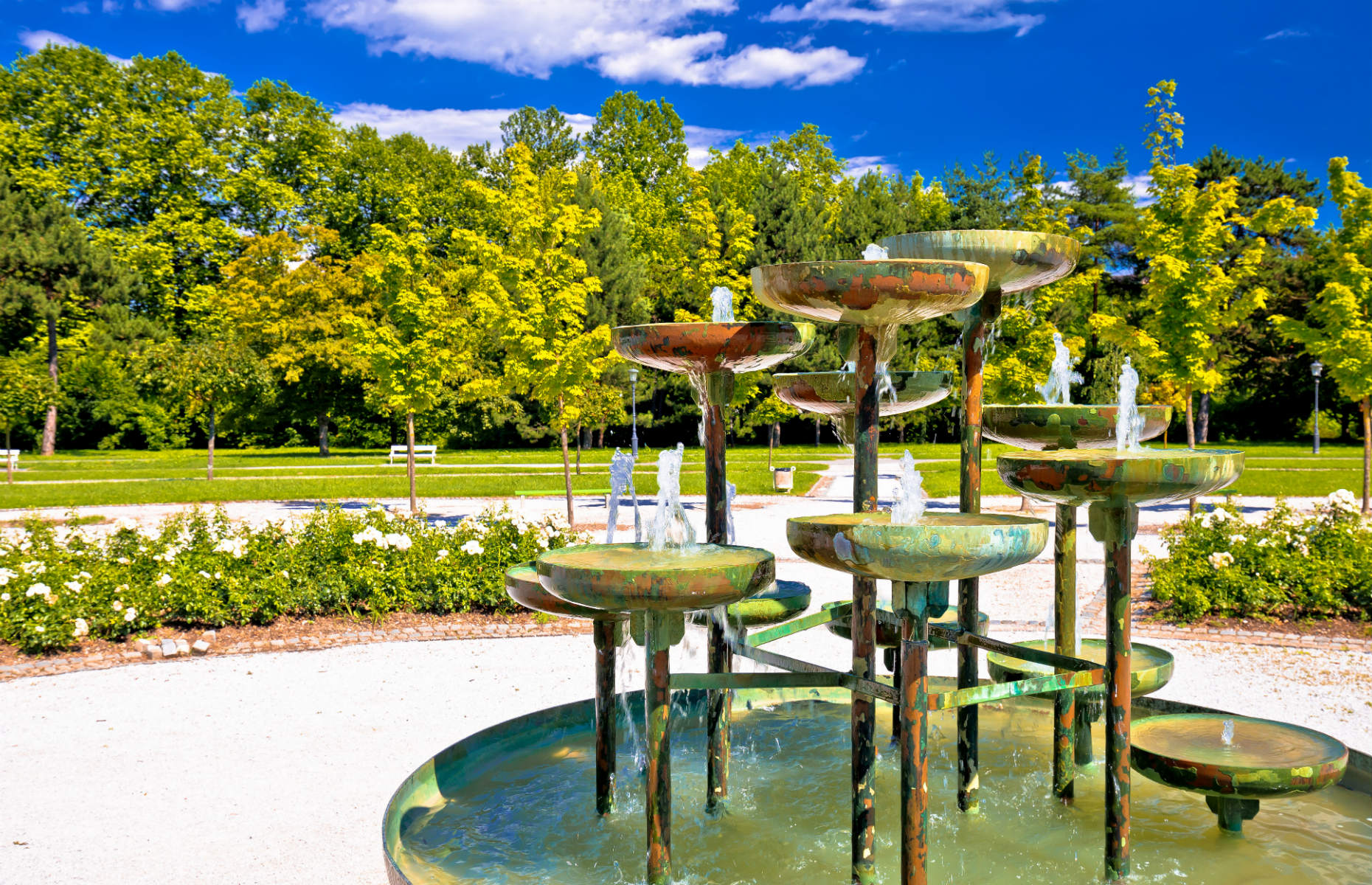 xbrchx/Shutterstock
Top tip – the centre of Ljubljana is all pedestrianised, but seven green electric vehicles marked Kavalir can take you around you free of charge. Flag them down, or call them to pick you up (+386 31 666 331/2).
Key neighbourhoods in Ljubljana
Old Town
The medieval part of Ljubljana lies below the castle, roughly between the Dragon and St James Bridges, full of narrow labyrinthine passages and concealed alleyways. Don't miss the outstanding St Nicholas Cathedral (€2) whose rich Baroque interior lies behind two brilliantly carved bronze doors commemorating Pope John Paul II's visit in 1996.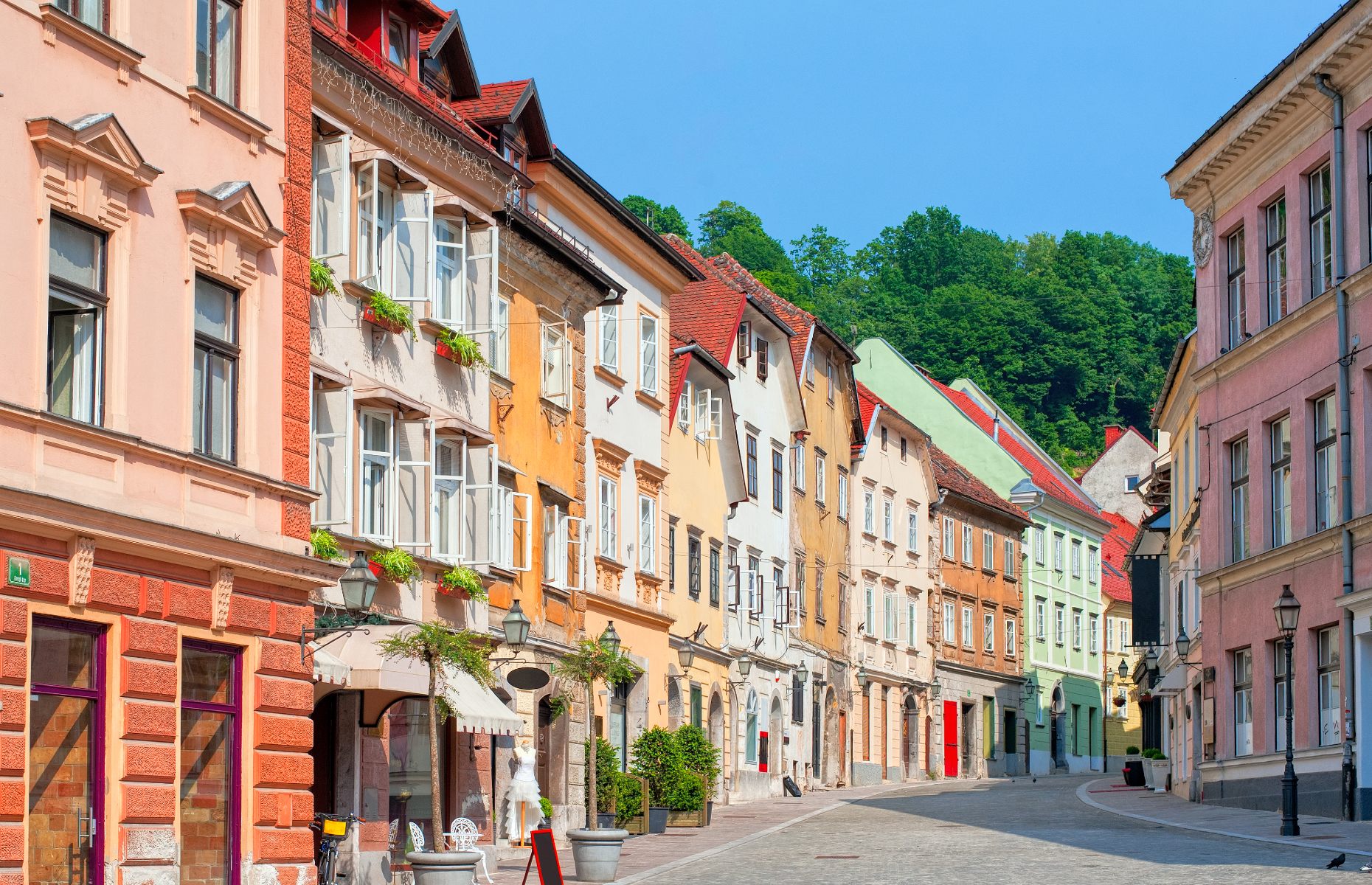 Boris Stroujko/Shutterstock
Left Bank
The river's left bank is the oldest part of town. This is where the walled Roman settlement of Emona was sited, before it was abandoned for the huddle below the castle (and repopulated later). Neoclassical and Art-Nouveau-ish today, it feels less cluttered than the medieval city and this is where you'll find most chic hotels and gourmet restaurants.
READ MORE: Europe's most adorable small towns and villages
Metelkova
Street art lovers adore Metelkova, Ljubljana's alternative neighbourhood where not a single square foot of wall remains un-graffiti'd. When the Yugoslav army retreated in 1991, squatting artists swarmed in the abandoned barracks and battled it out with the city council that eventually caved in. A Modern Art Museum, a Cinematheque, a designer hostel and no fewer than six bars and clubs now operate with the blessing of the authorities.
Museum District
Between Republic Square and Tivoli Park the city goes full Vienna in its mien. Outside the banks of the Ljubljanica there is no better district for a stroll than this: the graceful mansions that line the streets now house various ministries, museums and embassies.
Republic Square
If you look at the buildings and wonder whether Ljubljana was ever behind the Iron Curtain, you'll find your answer a few blocks east of the main artery of Slovenska (a buzzing boulevard). Here, around the expanse of Republic Square (formerly Revolution Square) you'll encounter the sky-high socialist brutalism of the communist era. But you'll struggle to spot any monstrosities: indeed the National Assembly with its two-storey sculpted portal is a modernist palace par excellence.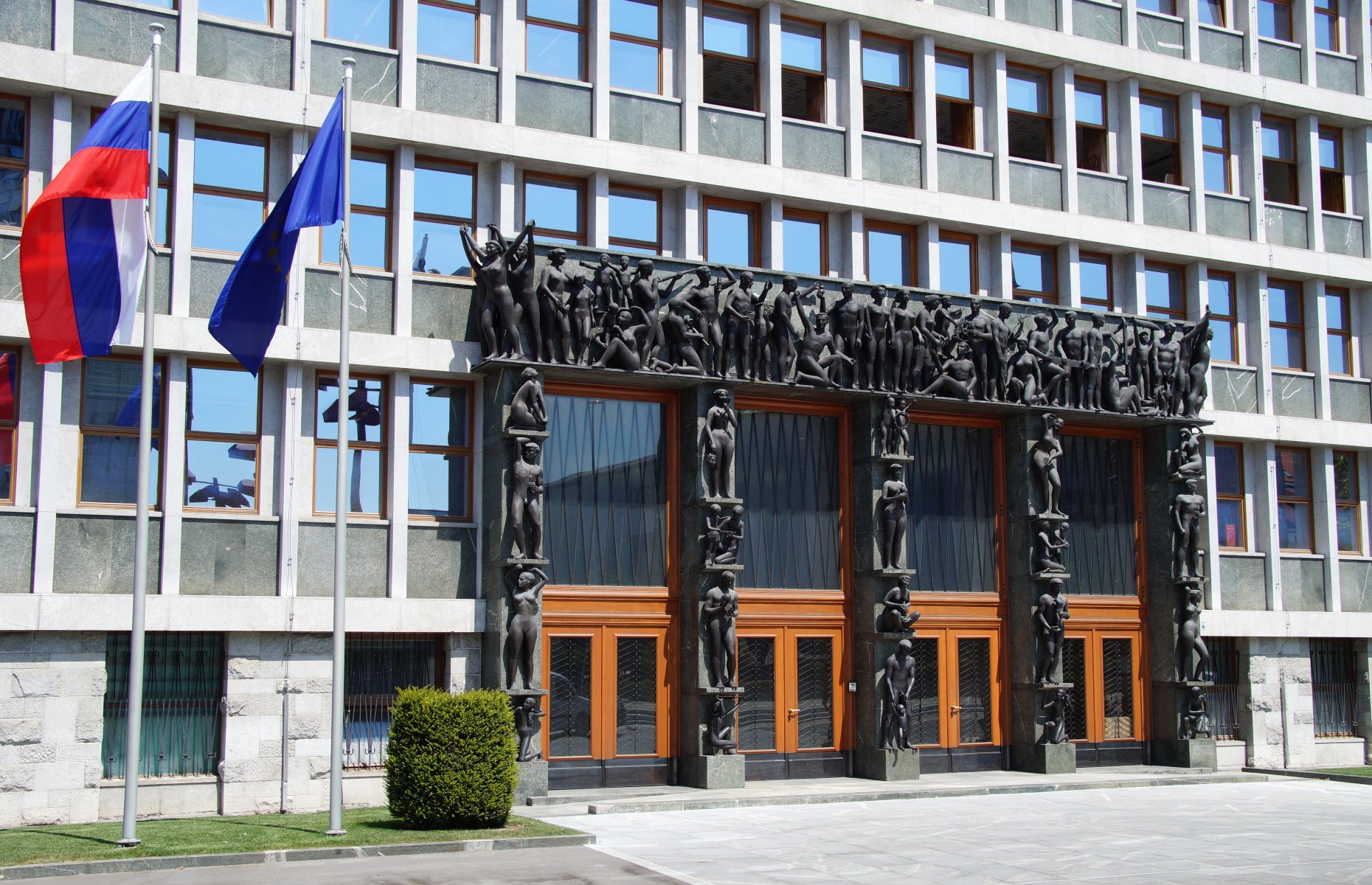 Jarretera/Shutterstock
READ MORE: From cars to bunkers: the world's striking communist remains
Krakovo
The traffic noise of the Ring Road may put you off continuing beyond St James Bridge on the left bank, but you'd be making a mistake. Here stretches Krakovo, a district with a village feel, where every house has its own garden or allotment. There are truly local haunts like the 1950s-inspired Nostalgija vintage café, or the yummy Dunajska Pekarna bakery that holds its own against any of its Viennese cousins.
Where to stay in Ljubljana
Despite the existence of reliable international chains like Best Western and Intercontinental, go for affordable designer chic...
Your first search should be for Cubo on the main artery of Slovenska, within walking distance of everything. A sleek boutique hotel with muted colours that offers a free smartphone-to-go for the duration of your stay (very useful for Google Maps), it also comes with free parking spaces that are like gold dust in the centre.
If you must stay in the Old Town, try the Vander Urbani Resort where four 18th-century buildings have been imaginatively fused together into a paean to minimalism. When you see the gourmet Champagne bar and the luxurious restaurant, the infinity pool on the roof with its priceless river views feels like an extravagant bonus.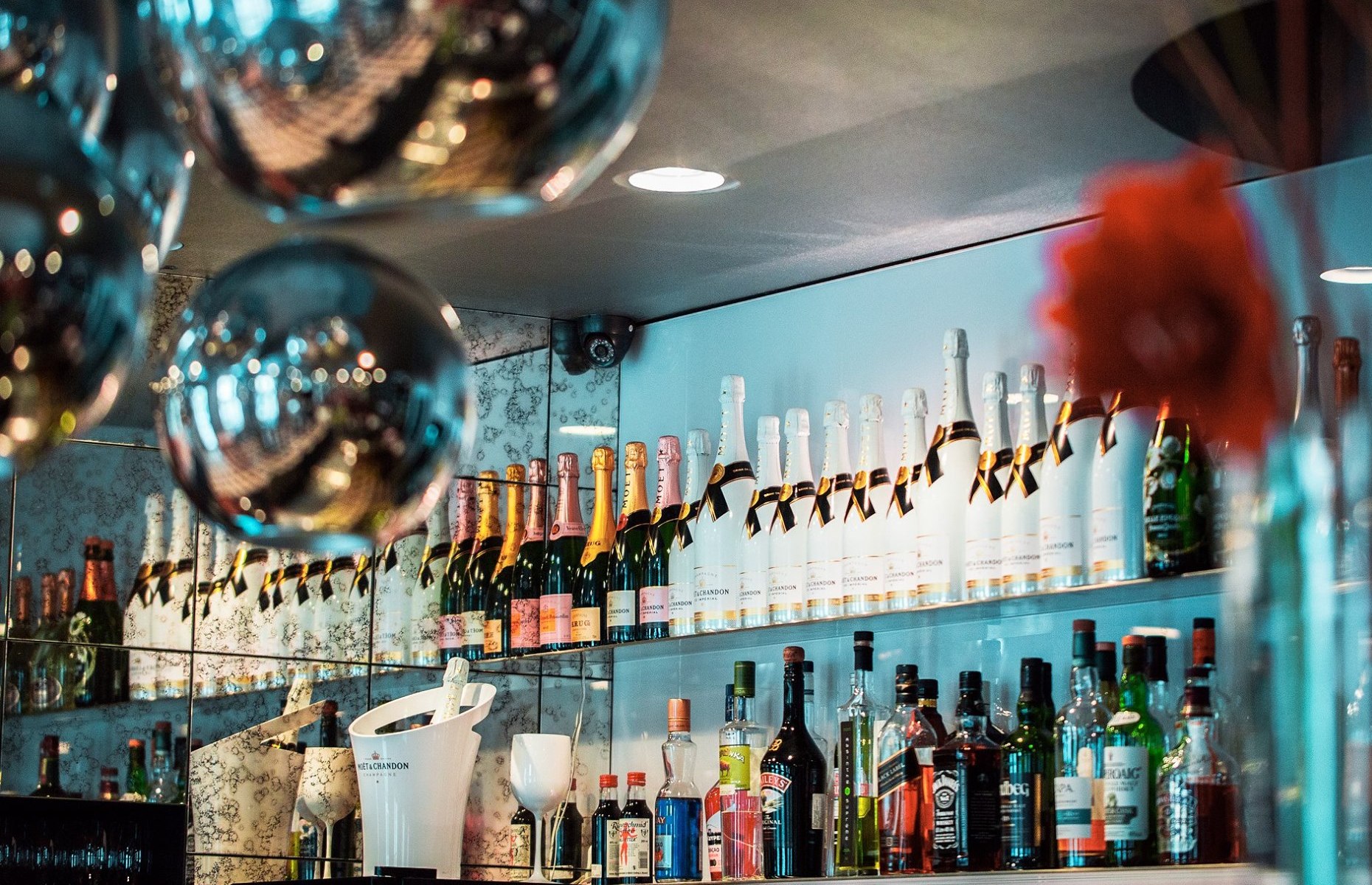 Vander Urbani Resort/Facebook
At the higher end of the scale, the Grand Hotel Union overlooking Prešeren Square is the town's undisputed grande-dame, while at the more affordable end lies the comfortable, no-nonsense Ljubljana Park, which has the advantage of being a short drunken traipse from the nightlife of Metelkova.
What to eat and drink in Ljubljana
The story goes that when Pope Francis met Donald Trump, he asked Melania whether she cooks him potica and the US networks mistook this for "pizza". But no, the Pope is indeed a devotee of this ring-shaped roll with walnut filling that defines Slovenian patisserie and will likely appear on your hotel's breakfast buffet.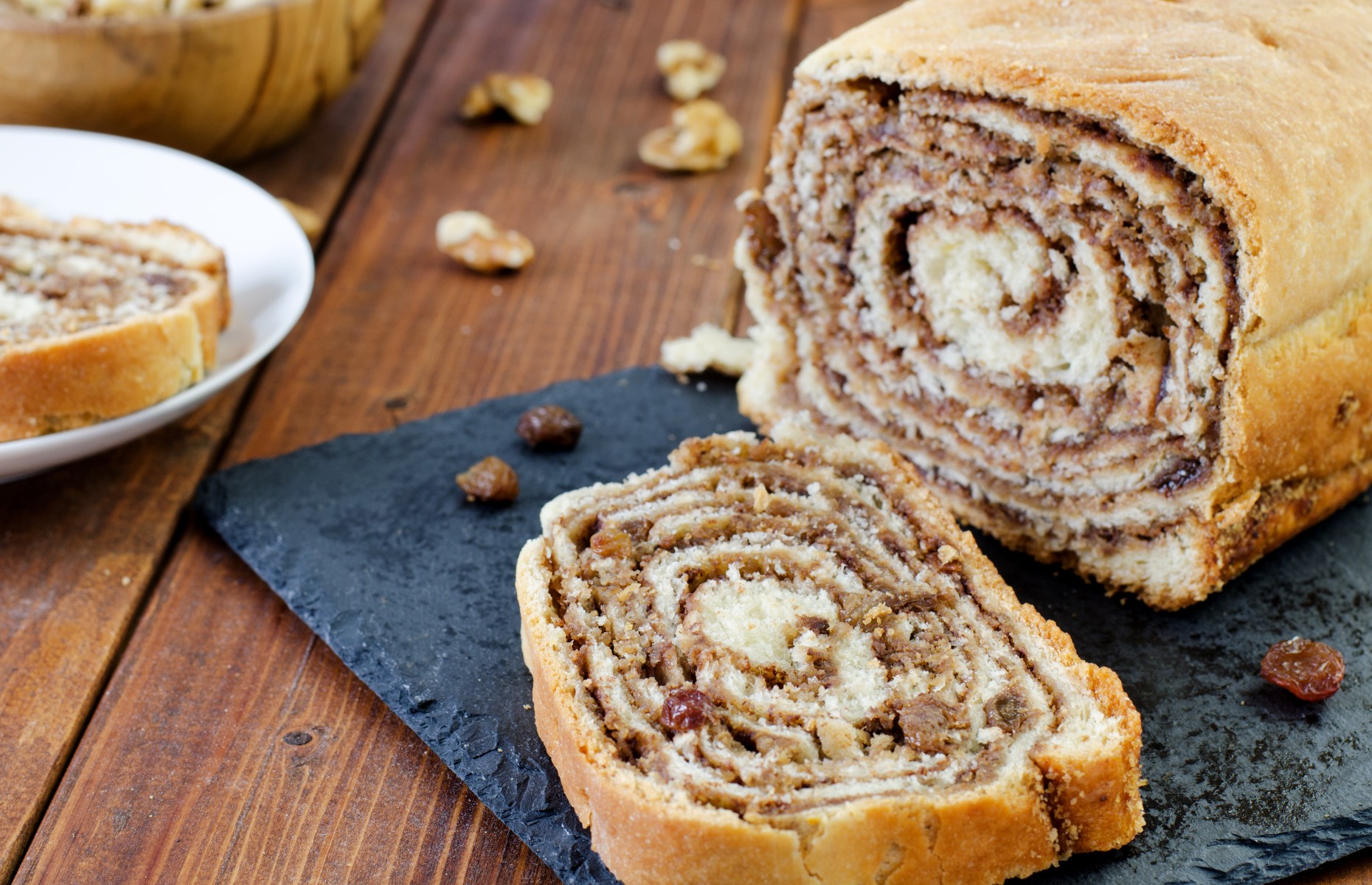 Natalija Sahraj/Shutterstock
Alongside potica, štruklji are the most Slovenian of dishes: they are made with thin dough rolled with sweet or savoury filling and boiled in water like dumplings. They are then allowed to cool and cut into servings, each one of which is then steamed before serving.
Much of Slovenian peasant cuisine revolves around off-cuts like tongues, cheeks and oxtail that the Austrian aristocracy wouldn't touch. But once in the EU Slovenia emerged victorious in a multi-state dispute for the denomination of origin of the famed Carniolan sausage.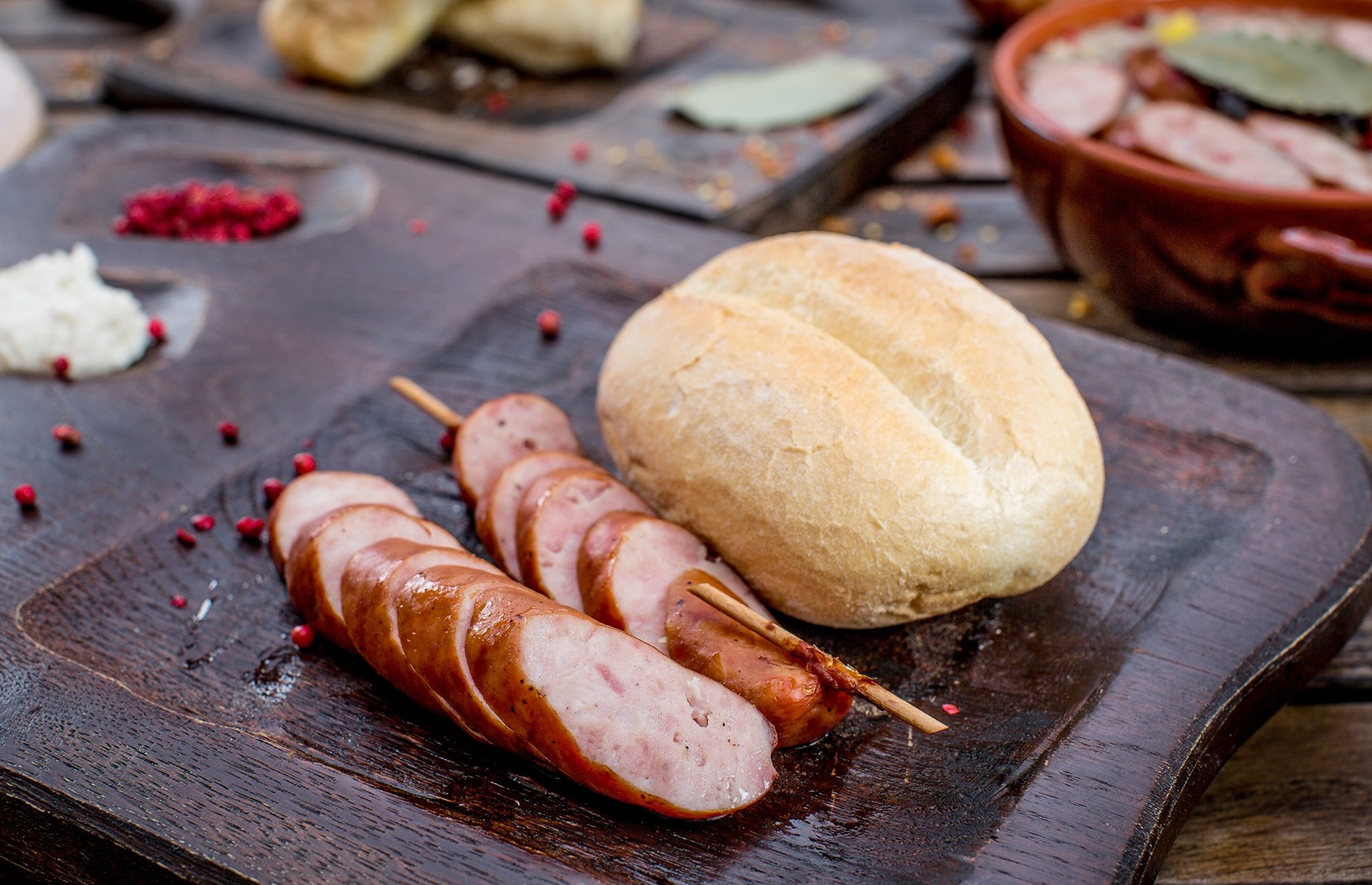 Klobasarna/Facebook
You can taste that garlic-and-pork banger in the hole-in-the-wall Klobasarna takeaway opposite the cathedral. Tip: you'll only need a half portion.
Beer is highly drinkable and the most popular local lager is Laško (around €3 for 0.5lt), but Slovenian wine may well be your greatest discovery. Although there are some great pinot gris and cabernet sauvignon brands (try a bottle of Bagueri), seek out a dry white from the native pinela grape, grown almost exclusively in Slovenia's Vipava Valley – Ferjančič is one of its better known cavas.
The ultimate Ljubljana itinerary
Day 1
Check into: Hotel Cubo and walk to Congress Square, a huge open space whose splendid view of the castle, is matched by the surroundings: the Baroque university on your right, the fin-de-siècle Philharmonic in front and the Neoclassical casino – today the Institute of Contemporary History – on your left.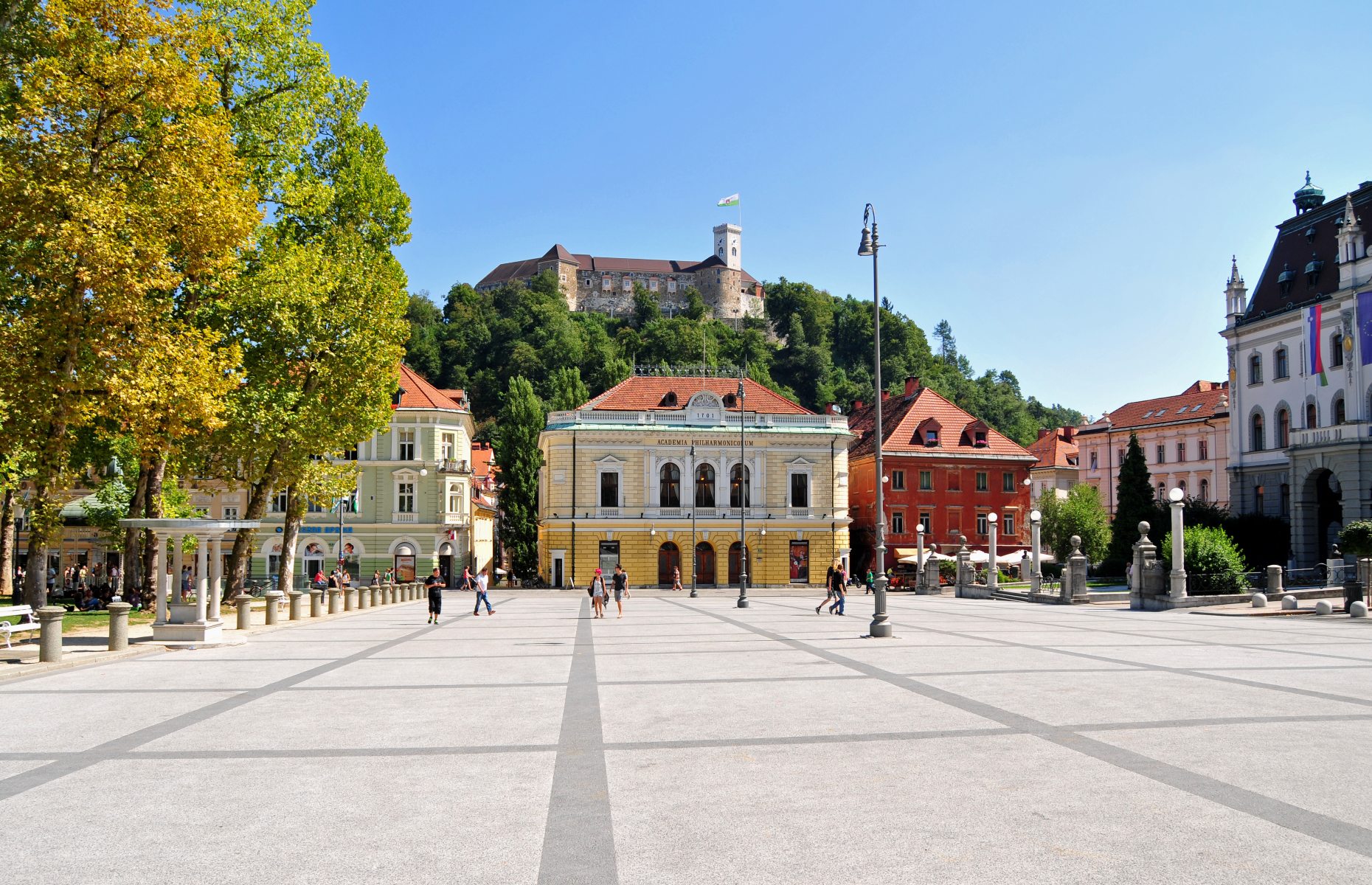 Soru Epotok/Shutterstock
Fill up on local food: further up from Congress Square, still on Slovenska, pop into Gostilna Šestica to taste proper Slovenian fare in a farmhouse ambiance, served by waiters in traditional garb. As the restaurant opened in 1776, the tradition of hospitality runs since the American War of Independence.
End your night at: Captain's Cabin, a basement bar buzzing till 3am even on a school night. Dubbed 'the best cocktail bar in Old Town Ljubljana', the many fruity offerings will leave you spoiled for choice.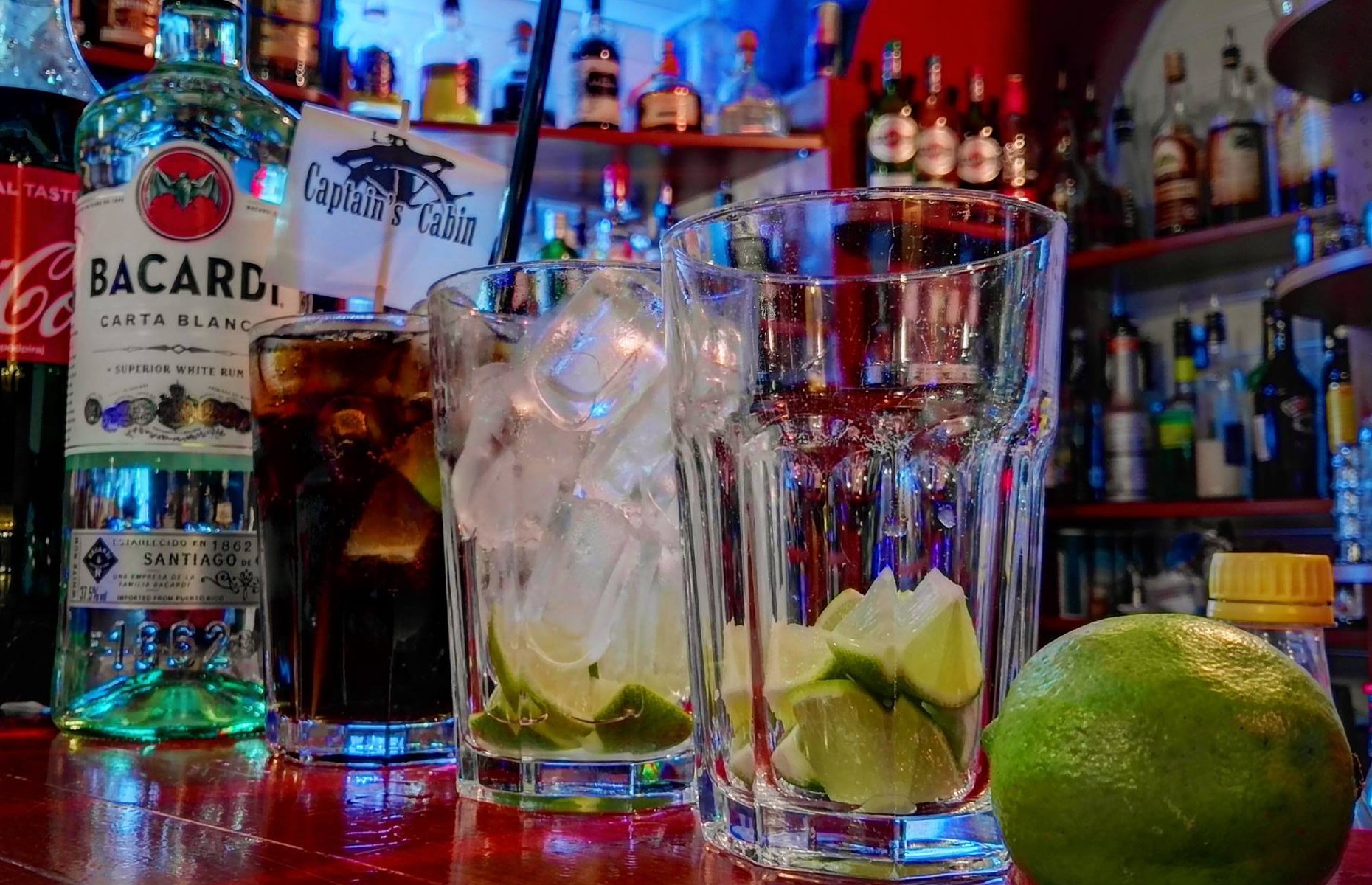 Captain's Cabin Ljubljana/Facebook
Day 2
Walk to: the dainty Dragon Bridge and pop inside the adjoining Central Market to buy Slovenian specialities at Učilna Okusov. Wines, honey and truffles should be top of your list. Next to it, Moji Struklji is the best place to sample – what else? – struklji.
Take the funicular: for the obligatory visit to the fortress. Even if you tut-tut at the presence of a café, a restaurant or a jazz club inside, the sweeping panoramas from the Viewing Tower will win you over; they say that on a good day you can see a good third of the country.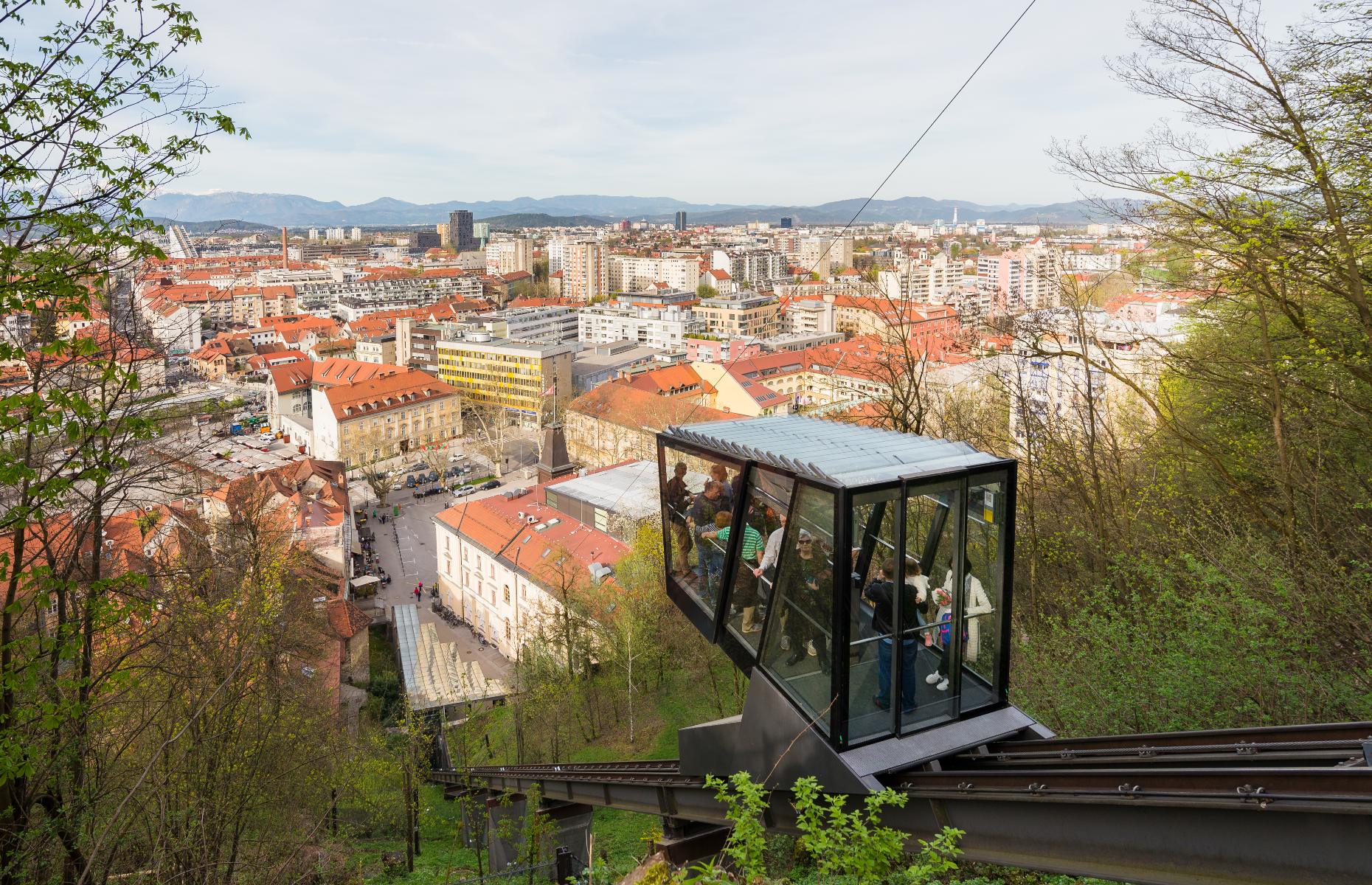 blazg/Shutterstock
Eat out: at JB. Janez Bratovz is one of the most celebrated chefs in Ljubljana and his JB restaurant combines opulence with Michelin-quality food (menus from €50). There's deliberately no Wi-Fi so that you can concentrate on enjoying the imaginative dishes.
Walk through: doorway number three on Čopova ulica, opposite McDonald's, and you're through to Knafljev Prehod, an Alice in Wonderland-esque inner square for the dedicated tourist with insider knowledge. Finish your night at As Aperitivo a stylish wine bar/club featuring wines from its own vineyard and a live DJ.
Day 3
Take a walking tour: around the capital. There are many tours on offer in Ljubljana – from river boat trips to bar-hopping in Metelkova – but a walking tour will help you make sense of the place and its history. Book at the Tourist Office by the Central Market.
Have lunch in style: at Hotel Slon 1552. An elephant passed through Ljubljana en route from Trieste to Vienna in 1552 and stayed at that very building! The restaurant within the hotel is one of the finest in town. Choose the fixed price lunch menu and expect dishes like smoked pork with horseradish, beef cheeks and a Pavlova for a smashing finale.
Snap the best view: of the castle from the broad, crowd-free Breg embankment above St James Bridge. If you haven't done so already, continue for a final ramble along the weeping willow embankment towards Trnovo, where wide steps allow you to reach the water's edge.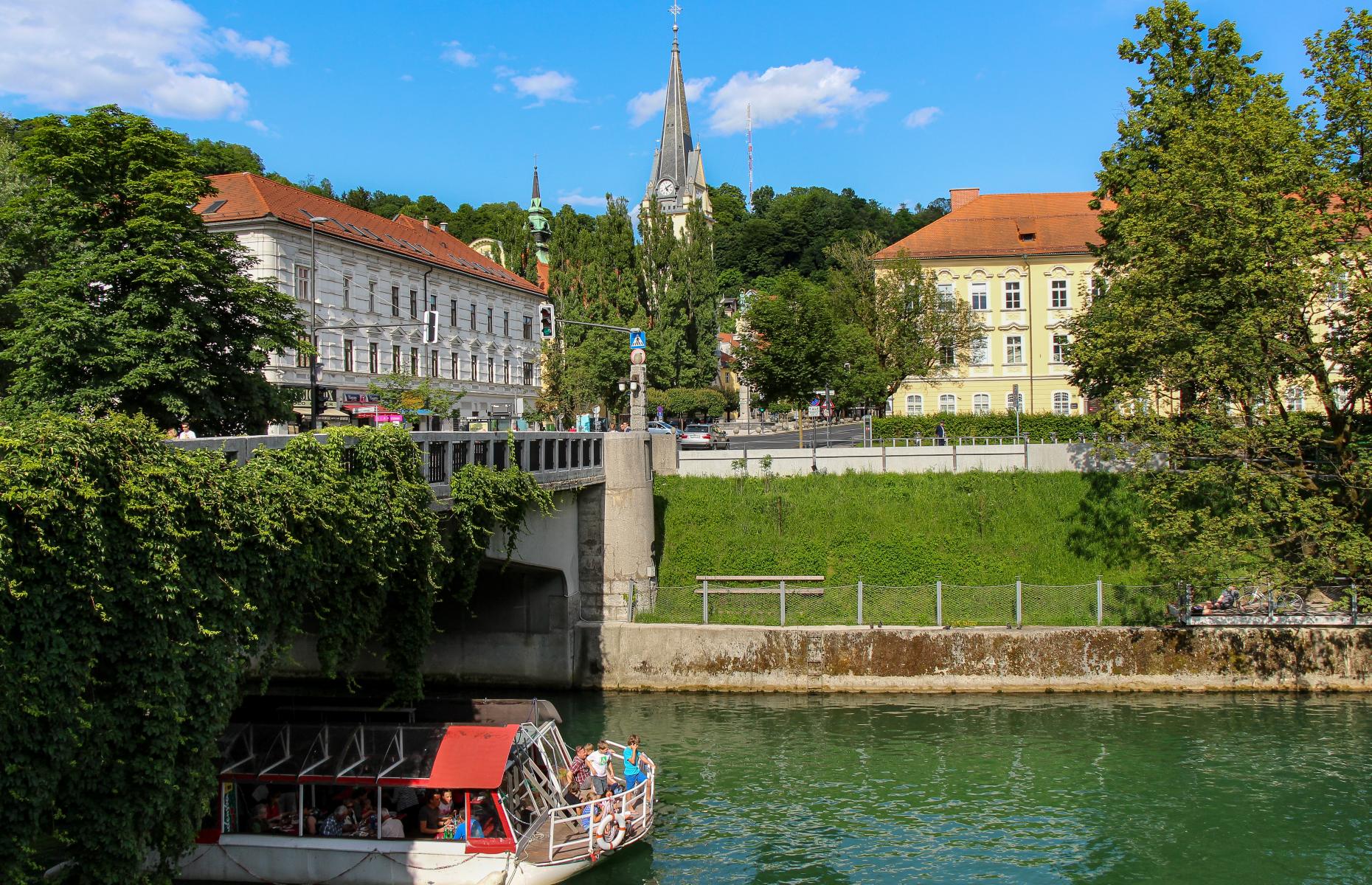 SnapTPhotography/Shutterstock
Lead image: Matej Kastelic/Shutterstock
READ MORE: 12 reasons to love Slovenia
Map of Ljubljana
Be the first to comment
Do you want to comment on this article? You need to be signed in for this feature