What to do in Buenos Aires: the best things to see, where to stay & what to eat in Argentina's capital
Buenos Aires is like a shiny skyscraper with a dive bar tucked in the basement. It's sleekly sophisticated yet deliciously down-to-earth, cosmopolitan yet contagiously cheeky. Beyond the elegant squares, opulent theatres and upscale steakhouses are low-key neighbourhoods, hidden tango clubs and understated restaurants where flavour (and portion size) is more important than presentation. It's this blend of style with substance – and history with the living, breathing, pulsating present – that makes Argentina's capital such a delight to explore.
Key neighbourhoods in Buenos Aires
Downtown
Two neighbourhoods, San Nicolás and Monserrat, make up the financial and political centre of the city. The sprawling area is a mix of shiny towers, green spaces and historic buildings, most notably those around Plaza de Mayo, which is watched over by the colonnaded 18th-century Metropolitan Cathedral. The area around Avenida 9 de Julio is known as Buenos Aires' Broadway thanks to its concentration of theatres (the city has around 300 in total). Among them is the opulent Teatro Colón, considered one of the world's most beautiful opera houses.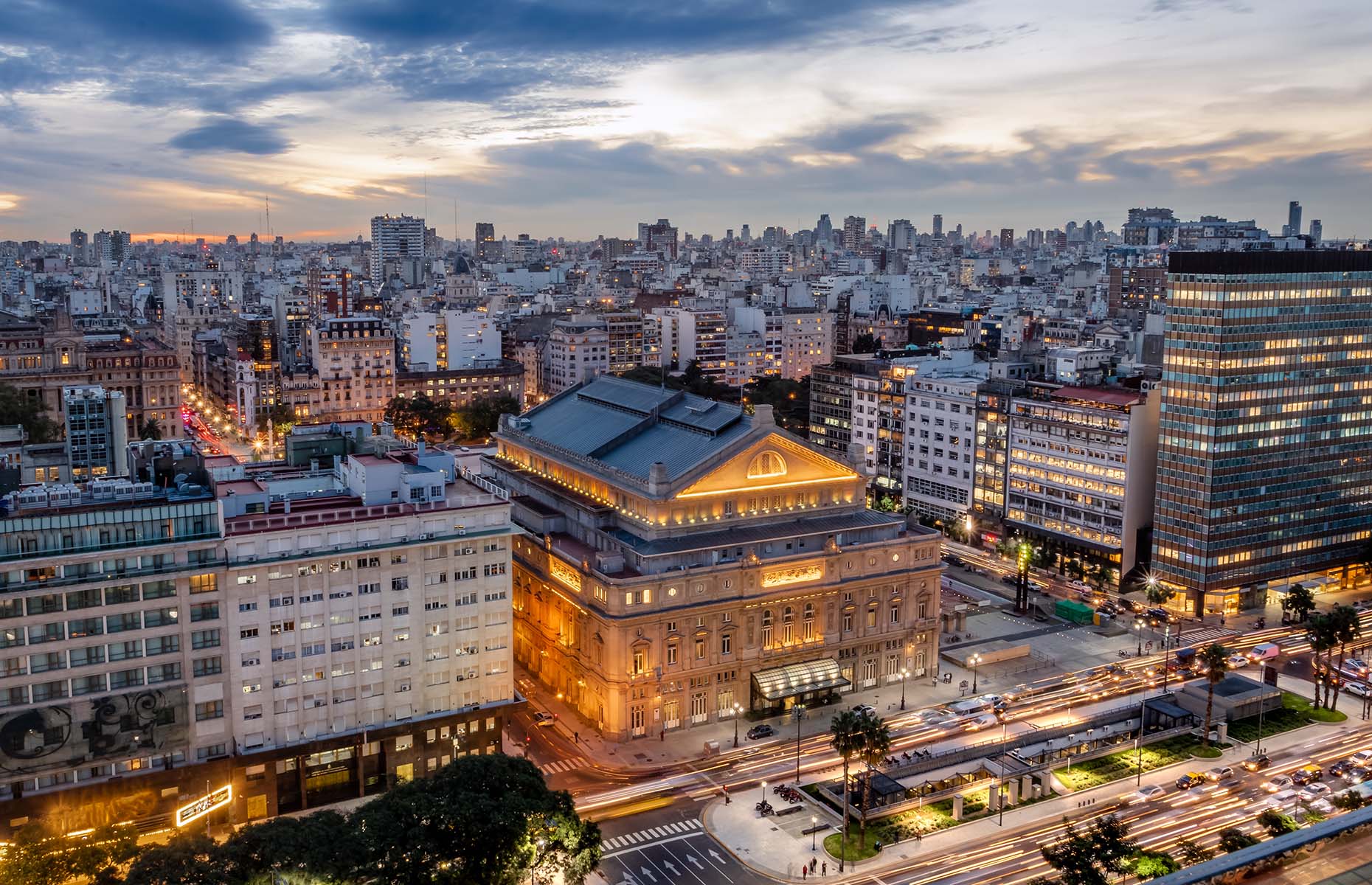 Diego Grandi/Shutterstock
La Boca
Colourful, chaotic, charming La Boca is one of the oldest neighbourhoods, centred around the port where mostly Spanish and Italian immigrants who shaped the city arrived between around 1850 and 1930. Buenos Aires residents often refer to themselves as porteños or port city people. Their often ramshackle conventillos (tenement houses) can still be seen throughout the area. On Caminito, an open-air museum built around a discontinued railway line, these houses are brightened with murals and shades of putty, spearmint and ochre.
Palermo
Trendy Palermo is too popular to be just one neighbourhood, breaking off into several distinct enclaves including Palermo Hollywood – dotted with studios – and Palermo Soho, where much of the nightlife, shopping and art scene is concentrated. The latter has several walkable blocks packed with tiny galleries, boutiques, shoe shops and leatherwork studios, with most corners brightened with murals. It comes to life at night, when the restaurants, brewpubs and hidden speakeasy-style bars fill fast.
Alexandr Vorobev/Shutterstock
San Telmo
San Telmo is a short distance from the financial centre, yet its bohemian vibe couldn't be more different. It's popular with travellers thanks to its laid-back yet lively atmosphere, with people sipping coffee and nibbling alfajores (dulce de leche sandwiched between shortbread biscuits) at cafés whose tables spill onto the cobbled streets. At eclectic Mercado de San Telmo traders sell antiques, rare spices, vinyl and retro toys.
Belgrano
Upscale Belgrano encompasses several leafy, residential enclaves and the city's Chinatown, Barrio Chino – home to street-food stalls, restaurants and specialist markets. The green slopes and tree-shaded benches of Barrancas de Belgrano are often dotted with people picnicking or cheering by the bandstand, where folk bands and tango dancers perform. People also come to Belgrano to shop: Avenida Cabildo is the place for designer labels and Argentinean fashion.
Best Buenos Aires hotels
Palermo Soho has some of the city's best boutique hotels. Jardín Escondido is the former home of Francis Ford Coppola – the director lived here with his family while shooting 2009 film Tetro. The seven rooms are arranged around the plant-filled courtyard, whose small pool is a joy in hot weather. Charming touches include wardrobes fashioned from travel trunks.
Bourbon Hotéis & Resorts/Facebook
Nearby Legado Mitico is another refurbished house, with each room named for and inspired by a notable Argentine. The First Lady, for example, is all about that most beloved of Argentines, Eva Perón – and is suitably dripping with satiny glamour and gilded touches.
What to eat and drink in Buenos Aires
Meat is the thing here. Porteños are as passionate about asado – the tradition of gathering, often on Sundays, over endless amounts of barbecued meat – as they are about football, music and sticky-sweet milk candy, dulce de leche.
Get your meat and Malbec fix at upscale steakhouse or parrilla Don Julio or feast on endless cuts of meat in an actual home via Adentro Dinner Club, part of the city's growing trend for closed-door restaurants. Couple Kelly and Gabriel welcome diners into their house for empanadas, steak, salads and plenty of wine.
Don Julio/Facebook
The strong Italian influence might not be immediately obvious, perhaps because you can find Italian restaurants in most cities around the world. Dig a little deeper – usually through a mountain of cheese or tomato-rich sauce – and you'll find fascinating takes on familiar classics.
Take pizza, for example. At Pizzería Güerrin, a longstanding favourite on busy Avenida Corrientes, you can try the very porteño fugazza. It's heaped with so much gooey, onion-laced cheese that the base is almost irrelevant and cutlery is essential.
Try some more porteño cuisine at Los Galgos, a traditional bodegón (typical neighbourhood restaurant). Dishes showcase the city's Spanish and Italian heritage. Try the milanese – breaded veal escalopes smothered with tomato, mozzarella and ham and topped with a fried egg – or matambre, a roulade of flank steak, puréed veg and boiled egg.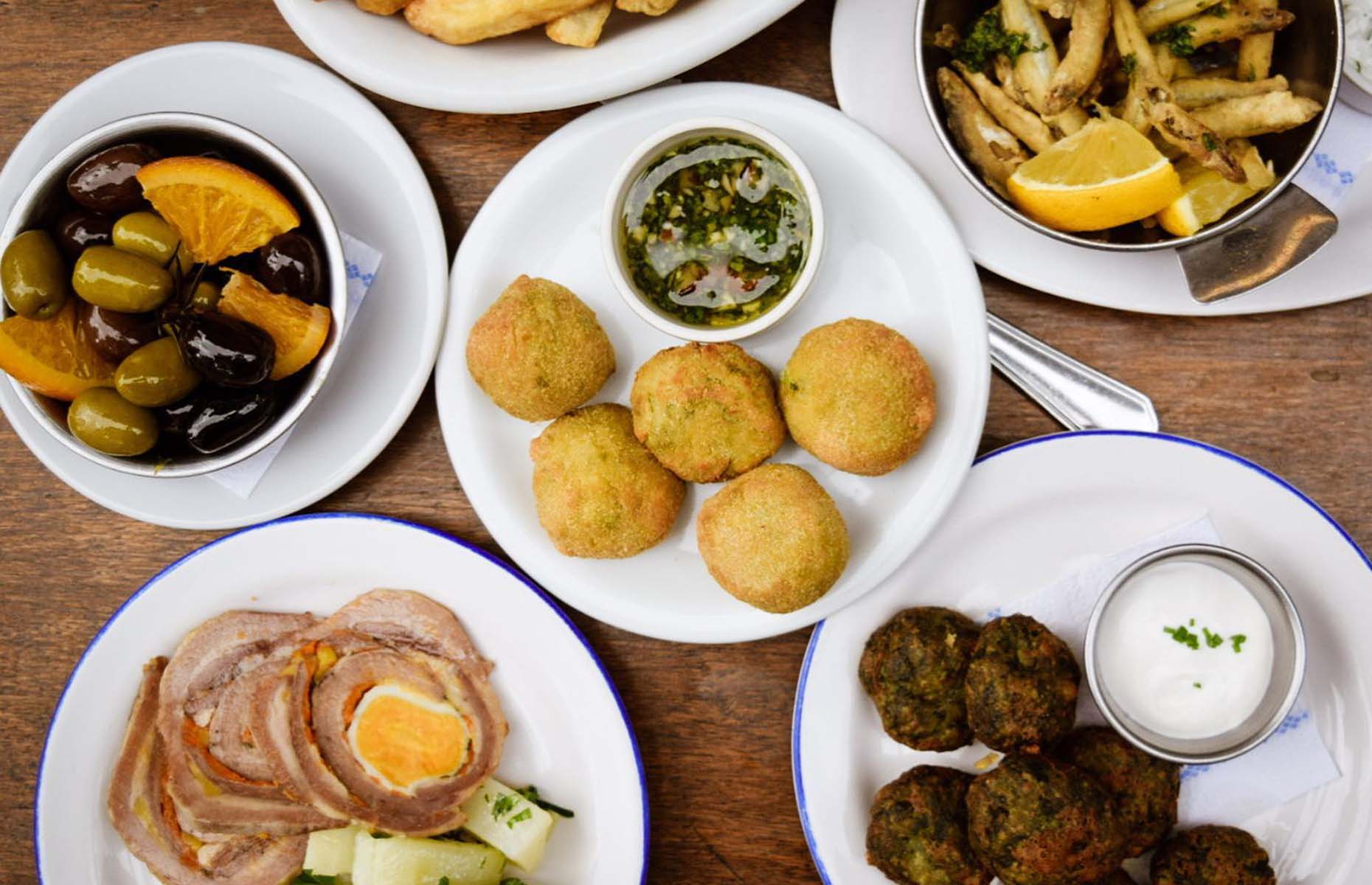 Los Galgos/Facebook
The Italian influence extends to imbibing tastes, too. Fernet is the country's third most consumed alcoholic drink (after beer and wine), with more consumed in Argentina than in its native Italy. Porteños guzzle it with cola at parties, though La Ferneteria is proving it has more potential. The hip Palermo Soho bar, occupying an old garage brightened with murals, shakes up the herbaceous amaro spirit to make cocktails like the Italo-Argentino, a delicately frothy, violet-hued mix of fernet, red vermouth, Malbec and rosemary syrup.
For a wine-centric evening, head to Vico Wine Bar Palermo. The chic space has a rotating selection of around 120 wines served via dispensing machines, with sommeliers on hand to help you choose. The small plates are impeccable, too.
Things to do in Buenos Aires
Take a tango lesson
Argentines learn to tango before they can walk. Or at least it seems that way when you see them tearing up the dance floor. Bring home the moves at a dance school like La Viruta, which has classes for all levels. Or leave the pros to it and book dinner and a show at Rojo Tango in Hotel Faena, where each course is served with a side of dramatic, stirring dance performed to a live orchestra.
Seek shade in botanical gardens
Buenos Aires Botanical Garden, or Jardín Botánico, is a tucked-away triangle of lush greenery and broad-canopied trees on the edge of the Palermo district. The lush, landscaped gardens are divided into sections dedicated to different parts of the world from Africa to Europe, with a 1900s iron-and-glass orangery forming the centrepiece. Stroll along paths overhung by the tendrils of native trees and ferns and cool off by the fountains, ponds and Roman-style sculptures.
La Bitacora del Artista/Shuttertsock
View a vast collection of Latin American art
MALBA's (Museo de Arte Latinoamericano de Buenos Aires) distinctive cubic building contains an inspiring array of Latin American artworks with exhibitions on Argentine cinema and sculpture. The impressive permanent collection includes paintings by Frida Kahlo, Diego Rivera and Antonio Berni.
Tour an Italian masterpiece
Palacio Barolo, on broad Avenue de Mayo, was Buenos Aires' tallest building when it was completed in 1923 (surpassed by rocket-shaped skyscraper Edificio Kavanagh in 1935). Now it's the building's elegance and intricacy that sets it apart. The palace is an architectural homage to Dante's epic 14th-century poem The Divine Comedy, with 22 floors – one for each stanza – and a central spiral staircase ascending up to 'heaven'. Thanks to the 1920s-themed rooftop bar, it comes in the form of an apéritif with views across the city. Take a tour to learn more about the building's fascinating history and get a close-up of the dome, inspired by 11th-century Hindu temple Rajarani in Bhubaneswar, India.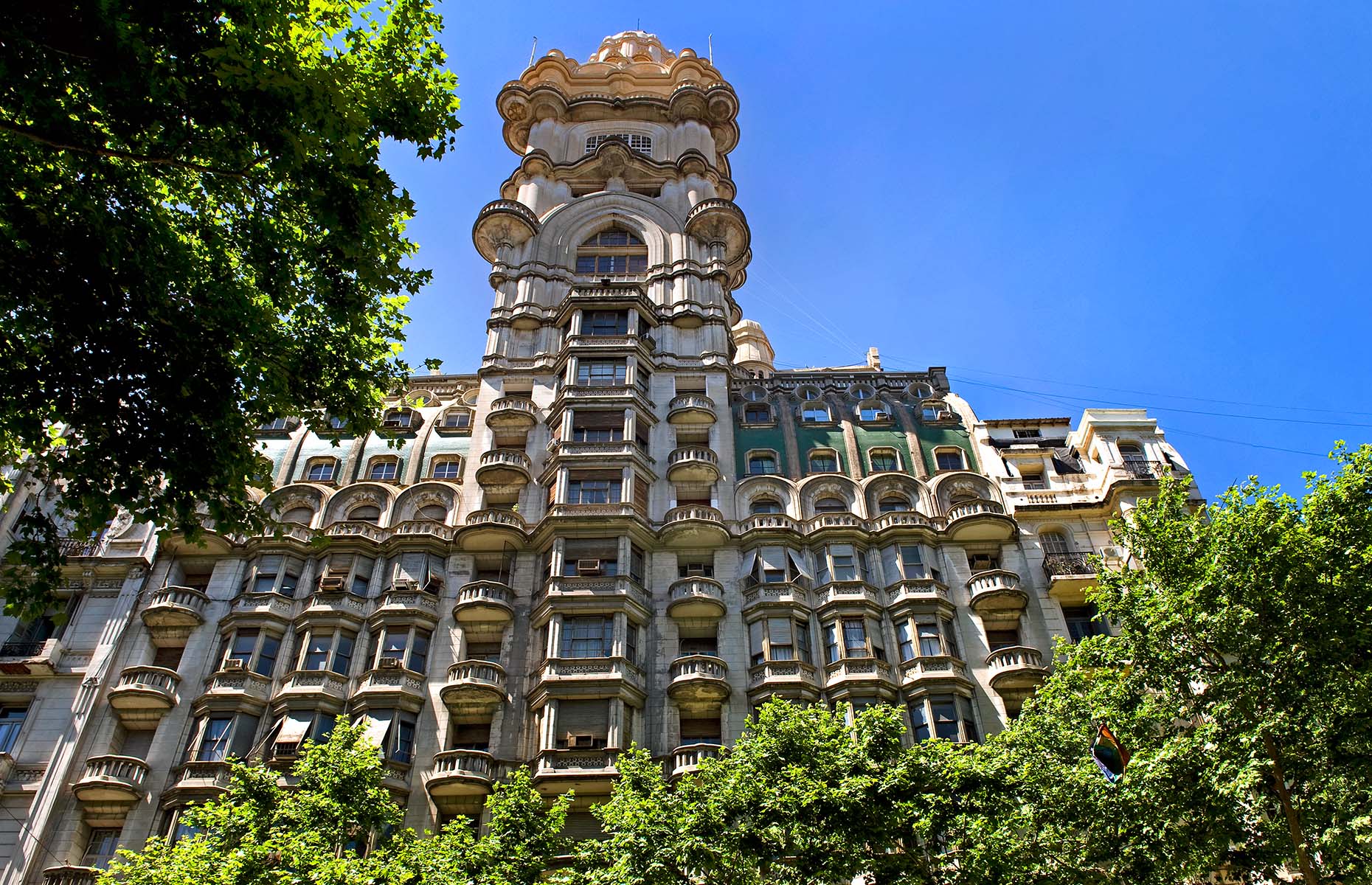 Bernd Zillich/Shutterstock
Dance to a percussion band
Weekends just aren't big enough to contain the party in Buenos Aires, so one of the liveliest events takes place on Monday nights. La Bomba de Tiempo, a 16-piece percussion group, have been drawing in crowds at Ciudad Cultural Konex since 2006. A conductor uses more than 100 different hand gestures to create an improvised outdoor show that responds to the crowd's mood, which is usually one of boundless joy (and fuelled by a few cups of fernet and cola).
The ultimate Buenos Aires itinerary
Day 1
Check-in to: Jardín Escondido. Its Palermo Soho location puts you in the heart of one of the city's most walkable, charming neighbourhoods.
Get your bearings: with a stroll around the area. Boutiques, galleries and craft breweries line the tree-shaded streets and mural-plastered alleyways. Don't miss FACON, filled with the prettiest, regionally sourced homewares, gifts and artworks.
Dine at: La Locanda, a trattoria-style restaurant in posh, tree-lined district Recoleta. Sardinian-born chef Daniele Pinna creates delicious dishes like ricotta-stuffed ravioli, ossobuco (slow-braised veal) and a silky chocolate mousse laced with olive oil and pink sea salt.
Day 2
Spend the morning exploring: La Boca, one of the city's oldest neighbourhoods and Diego Maradona's birthplace. Walk down Caminito, a riot of colourful, cobbled-together tenement houses, murals and sculptures, and see the famous blue-and-yellow football stadium, home to the Boca Juniors.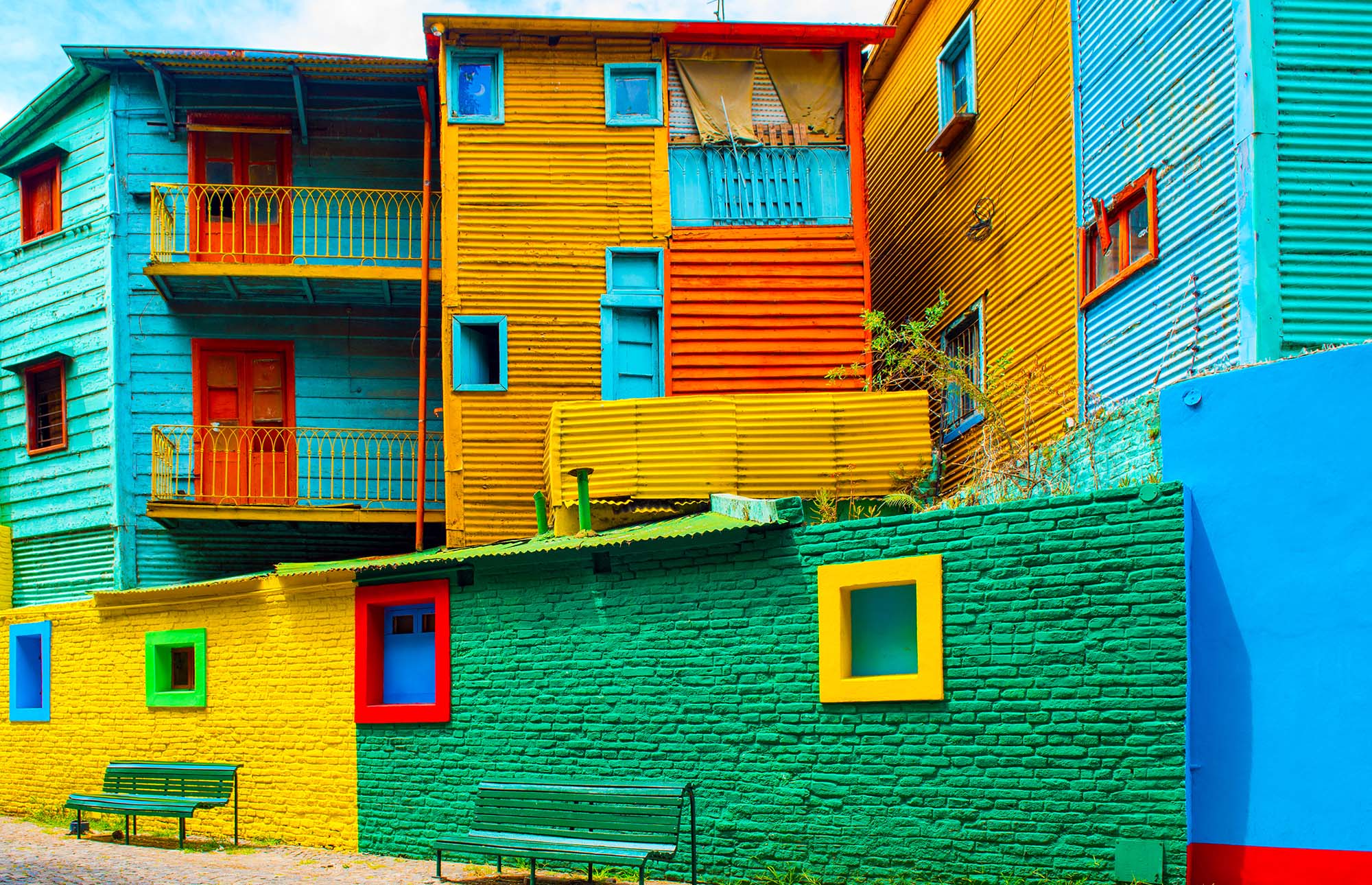 gg-foto/Shutterstock
Lunch at: El Obrero. Beyond the faded exterior is a gallery of La Boca culture with framed football shirts and scarves alongside photos of famous diners (including Robert Duvall and Bono). The menu is typically meaty, interrupted by a few pasta dishes and pizzas.
Grab a gelato at: Finde, on the outskirts of Palermo Soho. Inventive scoops include vanilla bourbon, dulce de leche and zingy lemon and ginger.
Join the party at: Crobar, a stylish, sprawling Palermo club with themed nights from disco to trance.
Day 3
Brunch at: La Alacena, whose turquoise doors open to a delicious world of homemade pasta, salted chocolate tarts, crostini and griddled sandwiches.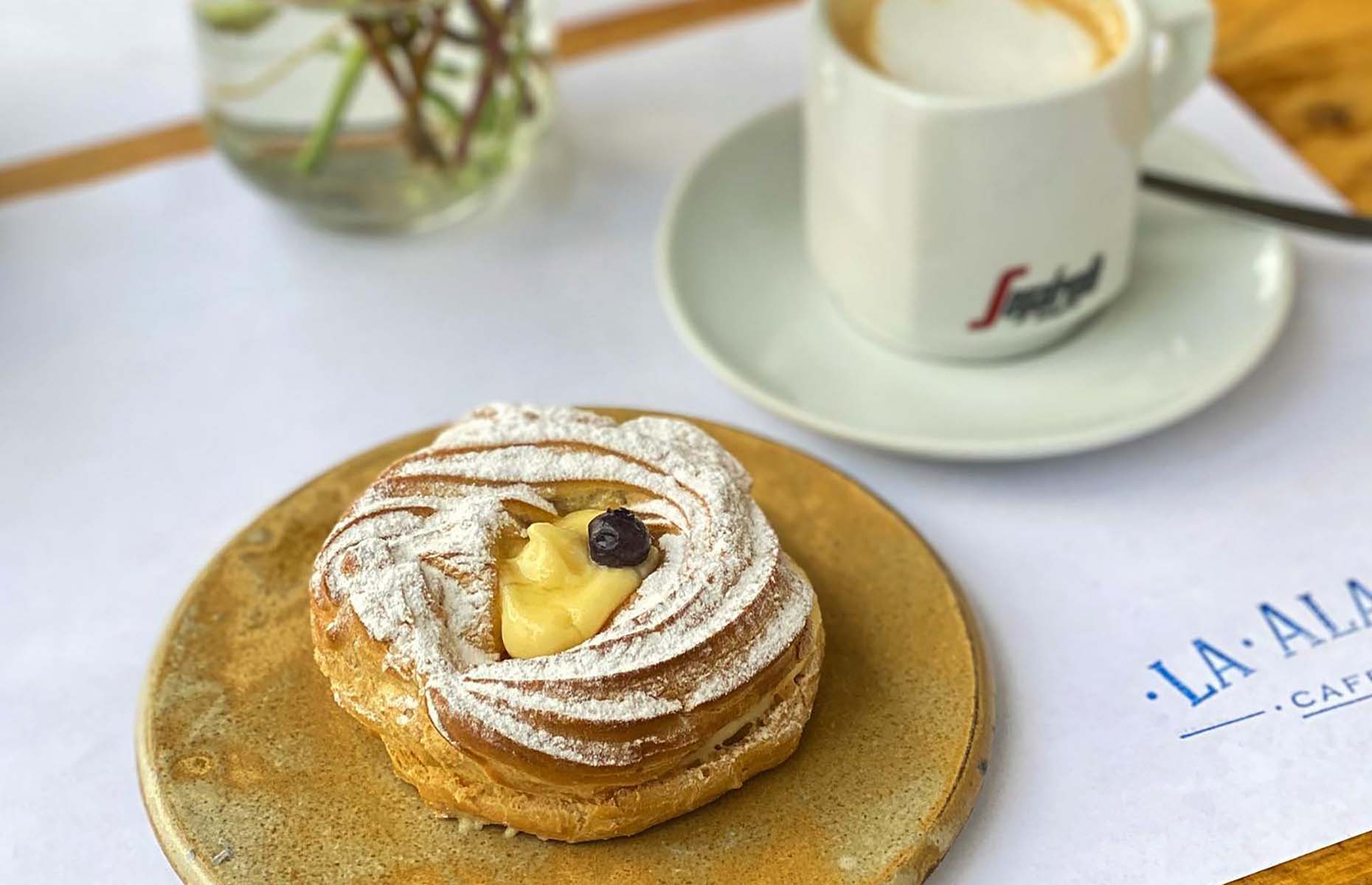 La Alacena/Facebook
Have a stroll around: Plaza de Mayo. This elegant central square is lined with 19th-century buildings including the Metropolitan Cathedral, City Hall and pink-tinged presidential palace, Casa Rosada.
Take a tour of: Palacio Barolo, an ethereal homage to Italian poet Dante's The Divine Comedy.
Enjoy aperitivo hour at: Salón 1923, a vintage-themed bar on the top floor of Palacio Barolo. The drinks and tapas are delicious, and the views from the terrace, loomed over by the palace's dome, even more so.
Map of Buenos Aires
Use this handy map to explore all of our favourite places in Buenos Aires:
Lead image: saiko3p/Shutterstock
Be the first to comment
Do you want to comment on this article? You need to be signed in for this feature